Alien Friend
Meet the New Wave / James Friend
Alien Friend
Meet the New Wave / James Friend
Filmography (so far):
The Liability (2012), Papadopoulos & Sons (2011), Piggy (2011), Turnout (2010), Ghosted (2010), The Academy (TV).
When did you discover you wanted to be a cinematographer?
I always wanted to be a filmmaker since I can remember. The first time I saw Alien when I was 13, I didn't know how to articulate who was responsible for the atmospherics and why I was so drawn to it. Before film school I did plenty of research and I gravitated to camera and lighting.
Where did you train?
I studied electrical engineering when I left school and went up through the lighting department. I attended the Craft Extension Programme in Cinematography at the London Film School and most of the short camera courses at the NFTS. Paul Wheeler BSC took me on as an apprentice when I was 18 and remains a great mentor to this day. I have had the honour of being his operator and 2nd unit DP.
What are your favourite films?
Alien (1979, DP Derek Vanlint CSC), Lawrence Of Arabia (1962, DP Freddie Young BSC), Road To Perdition (2002, DP Conrad L. Hall), The Godfather (1972, DP Gordon Willis ASC), Kenneth Branagh's Hamlet (1996, DP Alex Thomson BSC) and the 007 James Bond movies – for being part of my childhood.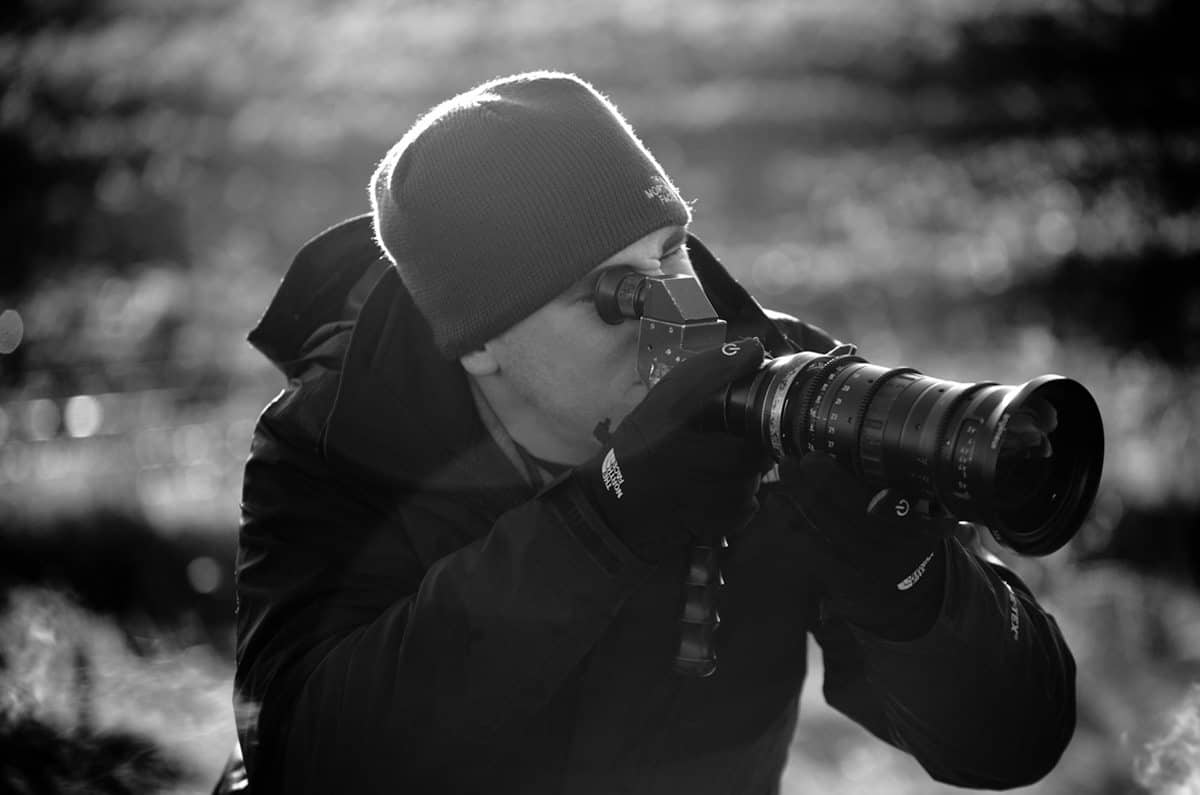 What's the best advice you were ever given?
Paul Wheeler taught me to light one lamp at a time, and that sometimes turning lights off is more effective than turning them on!
Who are your industry heroes?
Paul Wheeler BSC – for endless advice, support and teaching me everything they don't at film school.
Phil Méheux BSC – I adore his work and for being a great mentor.
Roger Deakins BSC ASC – for being a master of the craft and his naturalism in his imagery.
Doug Slocombe BSC – a master of the craft too.
What's your proudest moment so far?
Being asked to fly to LA to shoot a pop promo for Ozzy Osbourne.
Tell us about your best and worst moments on set?
Best: shooting on Underwater Stage at Pinewood for the film Ghosted. The scene is the film's finale and also the day we wrapped. Must also be last year working with Sir Ian McKellen and Tim Roth. Two heroes of mine.
Worst: as an arachnophobe, I shot a music video with fifty tarantulas on set, When we wrapped only 47 were found!
What's your most hilarious faux pas?
Mistakingly using a prop toilet - it looked real!
Away from work, what are your greatest passions?
My family, friends, sailing holidays and my three beautiful golden Labradors. Great food, 12-hours sleep and going to the cinema on my own. Its sad, perhaps, but I live and breathe film. 
"Paul Wheeler taught me to light one lamp at a time, and that sometimes turning lights off is more effective than turning them on!"
- James Friend
What was you biggest challenge on you latest production?
In December last year we started shooting a continuous action scene over five days in the most Northern point of the country, in very dense woodland. On the recces I discovered we only had six hours of usable light per day, and we were hit with every weather condition you can think of. We made the page count - just about!
What one piece of kit could you not live without?
I have a lucky light meter pouch and a pan glass that was given to me by my mentor.
What's weirdest place you've ever shot in?
A fully-functioning Wild West town in rural Kent called Loredo. People would live there in cowboy costumes for extensive periods of time with no electricity.
What's the hardest shot/thing you've had to light/frame?
A three-minute wonder for channel 4 that was one tracking shot with 200 dancers. Everyone had to hit their marks otherwise the shot was useless. Nearly forty takes later we got it on the final one as the sun was going down.
Tell us your hidden talent/party trick?
I am quite good at impressions.
In the entire history of filmmaking, which film would you love to have shot?
Can I have two? Alien (DP Derek Vanlint CSC) and Lawrence Of Arabia (DP Freddy Young BSC)
What are your current top albums?
Led Zeppelin, Pink Floyd, The Stones and Ennio Morricone are all I need.
What's your greatest extravagance?
A strong blend of English Breakfast Tea from Fortnum & Mason.
What's the best thing about being a DP?
The craft never stops evolving. I have never had the same day at work since I have been behind the camera. Collaborating with new people, with fresh ideas in different environments and that every day offers new challenges. It's a craft that allows you to imbue a story with your imagination.
What's the worst thing about being a DP?
I feel that I let my family and friends down too frequently with work commitments. I had to travel from my grandfather's funeral straight to set on one occasion. Also, I dislike trying to shoot a feature film in four weeks – I feel that I never can reach my full potential. We as cinematographers/filmmakers have to compromise too much and are judged on how the picture looks, not what it could have looked like with an extra ten minutes! But sometimes we do enjoy the chaos.
Give us three adjectives that best describe you and your approach to cinematography?
Enthusiastic. Simple. Passionate
If you weren't a DP, what job would you be doing now?
I'd be a secret agent.
What are your aspirations for the future?
To continue being challenged. Perhaps to shoot more commercials. To never stop learning, and one day, when I'm ready, to become James Friend BSC.