First Lady

Clapperboard / Frances Russell BSC
First Lady

Clapperboard / Frances Russell BSC
Header image: Frances (centre) with Helen MacLean (l) and Audra Marshall (r) at the 2016 BSC Summer Luncheon.
For 37 years, Frances Russell worked as company secretary for the British Society Of Cinematographers, before deciding on semi-retirement from the role in 2017. During that time she worked for no fewer than 17 presidents, with her gregarious nature and indefatigable enthusiasm proving priceless in the coordination of innumerable events – at home and abroad – in support of the veritable society, whilst often altruistically acting as confidant to members in times of personal difficulty. Little wonder then that she has earned the simple sobriquet of "Mother." Ron Prince caught up with the BSC's first lady to discover more about her life and times.
Frances Russell was born in Harrow, London, on 23 November 1950, and can vaguely recall sitting on her father's shoulders to watch the Queen's Coronation in 1953. She attended Halidon House School near Fulmer, now a set of luxury apartments, and later helped out on the accounting side of her grandfather's successful department store in Wembley. As was common in the 1950s, she enjoyed Saturday morning children's film performances at the local cinema, attending with her brother, and the 4pm double-bill on Sundays with her grandfather. She says she was fascinated by the big screen experience, but admits that her entry into the film industry was by pure chance.
"On departure from St. James Secretarial College, in 1969, I was originally destined for the BBC," she says. "But, much to the horror of the principal at St James', who had at great pains organised the opportunity, I turned down the position midway during the interview, as I thought the BBC surroundings too corporate for my liking."
During a stint working in Tottenham Court Road on the Northwick Park Hospital project, a colleague showed her an advertisement for the position of PA (to Les Ostinelli) at Rank Labs, in Denham – at double her current salary.
"I got the job, probably because of my English qualifications, although it might also have been because of the smart coat and gloves I was sporting outshining the other applicants. Les with his Italian roots had impeccable dress sense," she recalls. "They asked me at the interview whether I knew anyone in the industry, and were delighted when I responded 'Alan Hume'. I had known the Humes for several years, as a boyfriend had been a great friend of Alan's son Lindsey, who sadly died in a car crash in 1967. So there I found myself in 1970 assisting the lovely Leslie Umberto Ostinelli, who had recently arrived from Humphries Labs, on front-end feature production."
She says it was great fun working at Denham in those days, with enormous camaraderie and a marvellous atmosphere. "Les was an invaluable boss. In the early days at Denham we shared an office and, after every phone call, he would explain the technical part of each conversation in great detail."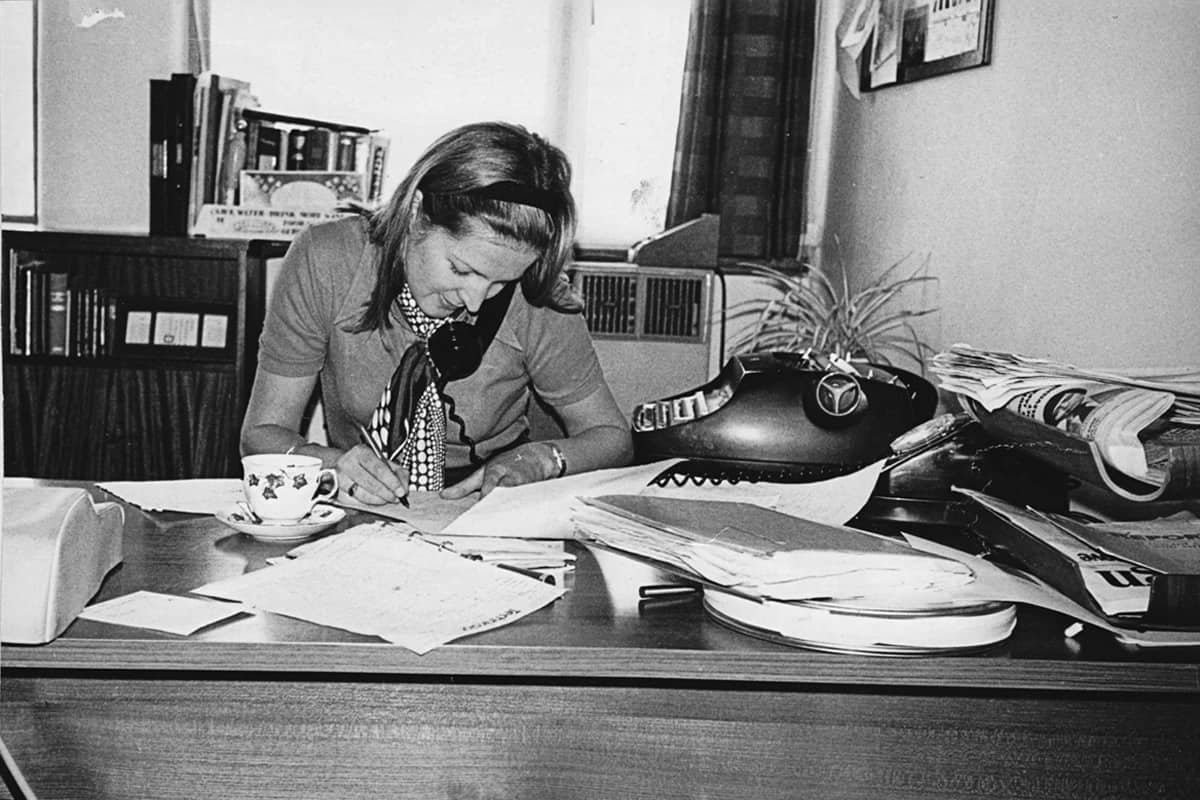 Ostinelli sent Russell on numerous training classes, including a production management course at the NFTS, and she regularly toured the studios and went on set visits with him. "I became very fond of the many cinematographers I met. They were such a lovely bunch – likewise the editors and directors, notably Stanley Kubrick, John Boorman and Dick Lester."
Such perhaps was Frances' potential that, whilst the lab was processing Clockwork Orange (1972, DP John Alcott BSC), director Stanley Kubrick tried to persuade her to work for him. But she turned-down the offer, explaining that, "I didn't think I'd be very good at having someone looking over my shoulder the whole time. He laughed at that."
Among the less pleasant tasks she had to undertake was to ring those whose negative had gone down in the bath. "One of these was Sam Peckinpah, who was filming Straw Dogs (1971, DP John Coquillon). He turned the phone blue, not surprisingly, and I just kept apologising till he ran out of steam."
In 1974, Ostinelli was headhunted by Technicolor and Frances went with him to West Drayton as his PA. A good many directors and cinematographers were entertained over long lunches, as was the norm in those days, and she recalls spending time in the company of Freddie Young, Jack Cardiff, Douglas Slocombe, Robin Vidgeon, Guy Green, Oswald Morris, Paul Beeson, Alan Hume, Adrian Biddle, Christopher Challis, Freddie Francis, John Coquillon, Jack Hildyard, Billy Williams, Tony Richmond, John Alcott, Vittorio Storaro, Geoffrey Unsworth, David Watkin, Norman Warwick, Dick Bush and Gil Taylor, among many others.
"Bearing in mind the extent of my contact with the camera department, it was not so surprising that I ended-up working for the BSC," she says. When Joan Calvert retired from the BSC in 1979, agent Maureen Moore took over for a year, but found the workload too taxing. Frances took over in 1980, whilst also still at Technicolor, and took up the role of company secretary fulltime after leaving the lab to have her first child Fiona, in November 1983. Her second daughter Pippa was born in 1985.
"In those days, the workload was considerably less than it is now," she says. "Most events were at weekends or in the evenings, and with the support of my husband Frank, I could manage it all from home."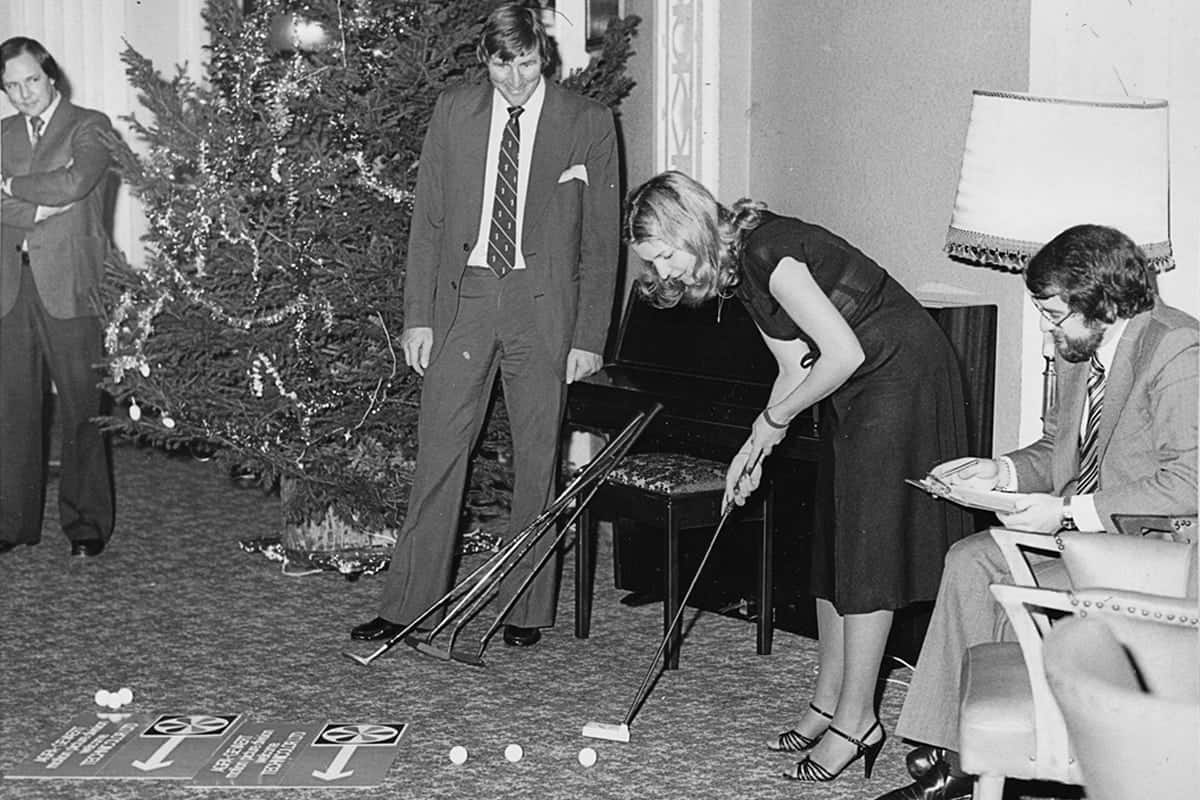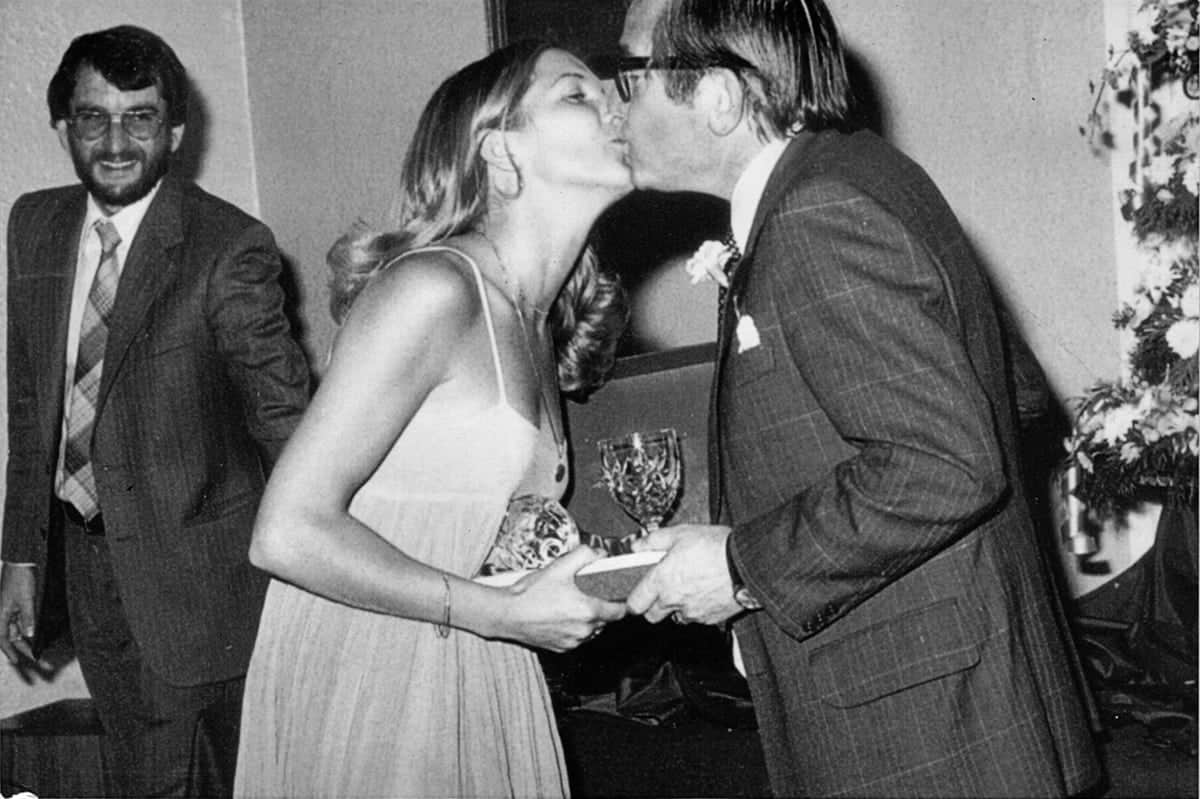 Looking back to the different presidents she supported, Frances says, "Each brought something new to the table and did an extraordinary amount of work behind-the-scenes, as do all our supporting governors."
Alex Thomson was an early president, "and what a wonderful man he was," she exclaims. "He adored the camera department and had the most marvellous literary bent, never short on irreverence where deserved. His newsletters were always hugely-entertaining and he orchestrated the magnificent volumes of Outstanding Stills and Take One, tales from the behind the camera, published sadly after his death as pledged at his hospital bedside. It was a great achievement and an enormous amount of effort on his part. He also, among so many other things, instigated the tribute to William Friese Greene – regarded as the father of cinematography – in commemoration of the BSC's 50th Anniversary, with a bronze homage beautifully-sculpted by his wife Diana Thomson FRBS, produced in April 1998 for presentation in January 1999 for 50th celebrations."
She also recalls Harvey Harrison, who became president in 1992 and was integral in the setting-up of IMAGO, the European Federation of Cinematographers, an initiative of Luciano Tovoli AFC, along with the Italian, French and German societies.
"One of the first major projects of IMAGO was the production of Making Pictures: A Century Of European Cinematography and Harvey was heavily involved with this in addition to overseeing BSC ventures, so it was a very busy two years for him. I have also been privileged to a preview of his memoirs, which are hugely entertaining and will hopefully be in print soon."
Other presidents included Bob Huke, Tony Imi, Frank Watts, Peter Newbrook ("who instigated the BSC Portraits"), Tony Spratling, Ronnie Taylor, Robin Vidgeon ("another tireless worker for the BSC"), Mike Southon, Freddie Francis ("who was heavily involved with encouraging future cinematographers"), Clive Tickner ("who with the assistance of his son instigated the first BSC website"), Phil Méheux ("who took on the BSC newsletter, produced the 60th Anniversary Vimeo and has recently taken on BSC Portraits"), Gavin Finney ("whose advice is always flawless"), Sue Gibson ("the first woman president, who spearheaded the evaluation of different film and digital cameras, with the results screened at the BFI Southbank and showcased in Bristol and Glasgow"), John de Borman ("who revived the Q&A screenings and instigated the BSC Club") and latterly Barry Ackroyd ("who among other things wrote stirring columns for the British Cinematographer Magazine").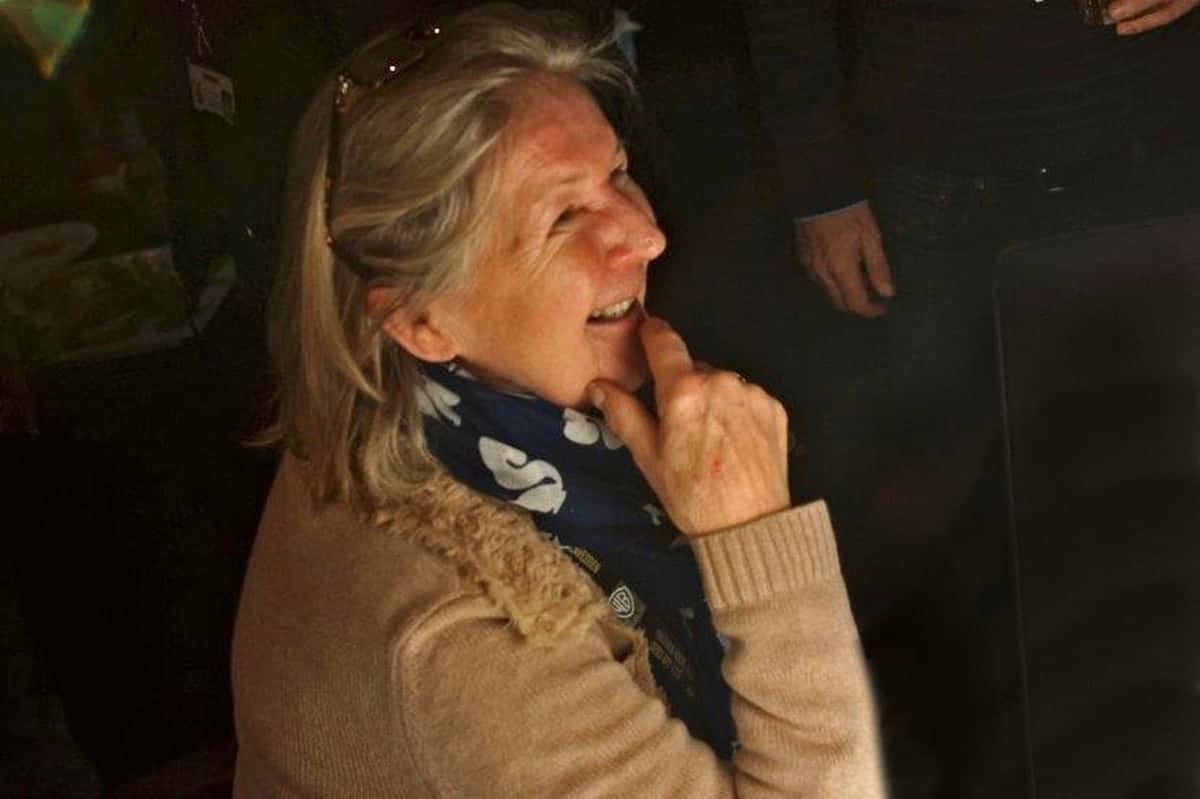 "Concern has been raised in various quarters over the years regarding the lack of female cinematographers within the BSC. When I started in the labs, there were no female cinematographers at all. Thankfully that has started to change."
- Frances Russell BSC
Over the years, Frances also worked very closely with Joe Dunton on the BSC Equipment Shows, starting in 1993 at Shepperton, plus other activities at home and in the US to promote the society.
"The equipment shows were always challenging, but fun. Joe has always been a terrific showman," Frances declares. "He worked tirelessly on them with huge support from his son Lester and his wife Pat. In 2005, Rob Saunders came on-board to relieve Joe and I of this ever-growing organisational feat, and it is wonderful to see how the show has flourished into an extremely popular professional event. I have to mention John Daly who was such a wonderful support with the BSC Expo in recent years."
Inspired by Dunton, the BSC encouraged the British Film Commission and Department Of Trade & Industry to host a British Pavilion at Showbiz Los Angeles between 1997 and 2002, to show Hollywood what the British Film Industry had to offer, with Russell flying over to support the BSC's presence.
"We had tremendous fun in Los Angeles during these shows, meeting up with our ASC friends – such as Richard Crudo, Wally Pfister and Bill Fraker – and enjoying their hospitality at their clubhouse, North Orange Drive," she recalls. "Much fun was also had at the ASC BBQ on the Saturday over the years."
With unswerving spirit, Russell was, down the years, central to the successful organisation of all manner of BSC events: the annual BSC Ladies Night (which ran from 1970 to 1998), Operator's Night, BSC Summer Luncheons, Q&A Screenings, Star Café meets in Soho, patron-sponsored cinematographer lunches at Orsinos, as well as annual trips to the Camerimage Festival of Cinematography in Poland. Whilst sometimes the workload proved exhausting, she attests to having enjoyed these experiences greatly.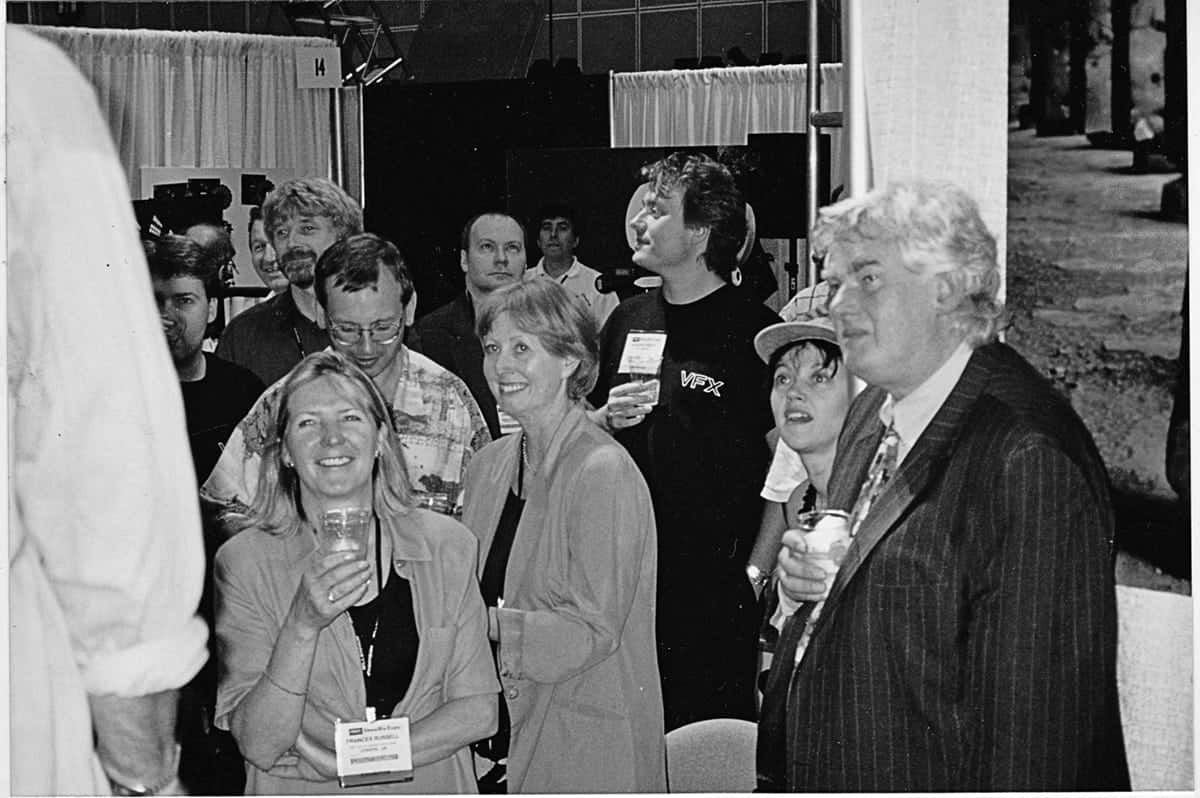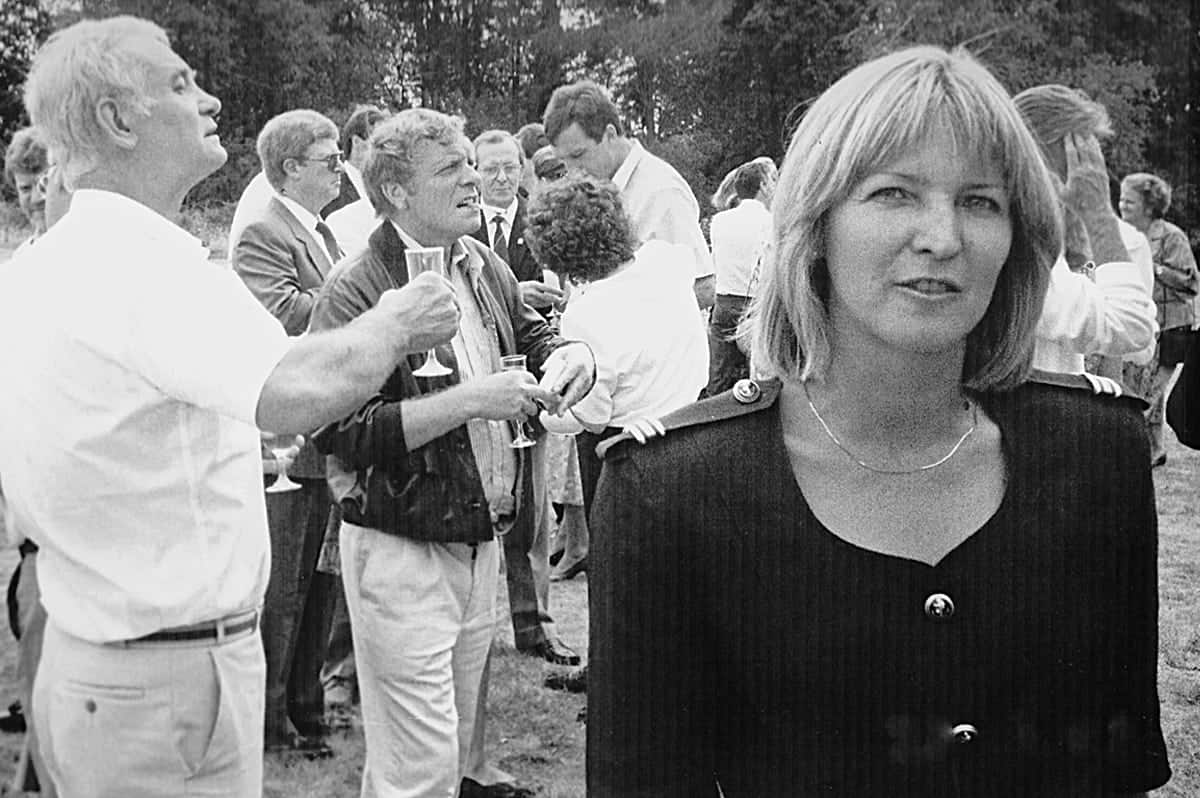 So what does she think of diversity, especially the rise of women, within the industry. "Concern has been raised in various quarters over the years regarding the lack of female cinematographers within the BSC. When I started in the labs, there were no female cinematographers at all. Thankfully that has started to change. The first female member was Sue Gibson in 1992, who went on to be president, followed by Nina Kellgren (in 1999), Cinders Forshaw (2000), Ula Pontikos (2015), Polly Morgan (2016) and most recently Suzie Lavelle (2018). The number of female cinematographers applying to and graduating film schools as cinematographers has risen enormously. The BSC is understandably eager to include more female cinematographers, and I am confident their numbers will be ever-increasing."
Upon her semi-retirement from the frontline, Frances was given a Leica camera from the board, which she admits she still has to master, and a scarf from the ACO, which she wears constantly. BSC patrons collected funds for a set of Calloway golf clubs and trolley, and she plays once a week in fair weather or foul. She also embarked on a two-month trip with her "long-suffering" husband Frank encompassing South East Asia and the Antipodes, South America and Cuba.
Although she is still active for the BSC, continuing to look after its finances, elements of the BSC Expo and attends board meetings, her day-to-day activities have been taken over by Audra Marshall and Helen Maclean whom she describes as "a fantastic team".
Obviously 37 years spent working in any one job, and for one organisation, is quite an achievement. So how did she manage it all? "I loved working for the BSC, and still do. It has been such fun, because they are such a lovely gang, and there's rarely been a dull moment."