As we head into 2019, a lot happened for IMAGO in the year that has just passed. The federation has started building-up to be able to focus more intensely on cinematographer's authorship rights and on-set safety/working conditions. We are continuing to build our good collaboration in several important areas with ASC, the American Society Of Cinematographers, and we have entered into a closer collaboration with FERA, the European Federation Of Film Directors, especially to focus on working conditions. These are great forward steps. IMAGO is built on the idea of "collaboration across the borders", and closer collaborations are to the benefit of all. We have many topics of common interest, and again referring to the background idea of IMAGO, together we are vastly stronger!
After Mark Milsome's tragic death while working in Africa, it really is time for international cinematographers to see that the efforts to ensure safety on-set are intensified. IMAGO intends in 2019 to focus strongly on this important area, together with our 53 member societies in all corners of the world, and with other important colleagues in film production: directors, set designers, actors, sound engineers, editors, production personnel, and more.
We simply must get a system in place where at least those accidents which can be avoided, are avoided. And statistics tell us most accidents can be avoided if a satisfactory control system is implemented on-set.
Also, since Haskell Wexler and Roderick E. Stevens introduced the 12-on/12-off campaign in 2004, little or nothing has happened when it comes to working hours. Regularly, reports come to IMAGO of film team members working 14-15 hour days, and this cannot go on any more. Filmmakers' safety is closely connected with working hours. After 10-12 hours working hard, concentration is statistically proven as being strongly reduced.
IMAGO plan to collaborate with all our member societies, and relevant European and American unions, like Local 600, and the aim is to make producers and film companies aware we will no longer automatically accept what is unacceptable.
In 2019, IMAGO is arranging a broad international Working Conditions Conference in Vienna. We will have action points during the Berlin Film Festival, and in April we will have meetings with EU members of parliament to advocate our important and necessary views, in order to create awareness about this unacceptable situation in European political circles.
One of IMAGO's other main priorities in 2019 will be to strengthen cinematographer's authorship rights, and to secure a system where more cinematographers will be able to get fair remuneration for "secondary use" when their images are used in transmissions abroad.
In addition, IMAGO will arrange the IMAGO International Cinematographer's Awards and a grand, black tie gala in Belgrade on 16th March. Our many juries for the different categories are already at work, and will conclude very soon. The nominees will be announced during the BSC Expo in London on February 2nd. IMAGO will arrange a Teaching Cinematography event in Brussels in April, and we are planning a new Oslo Digital Cinema Conference in the autumn of 2019.
IMAGO at Camerimage 2018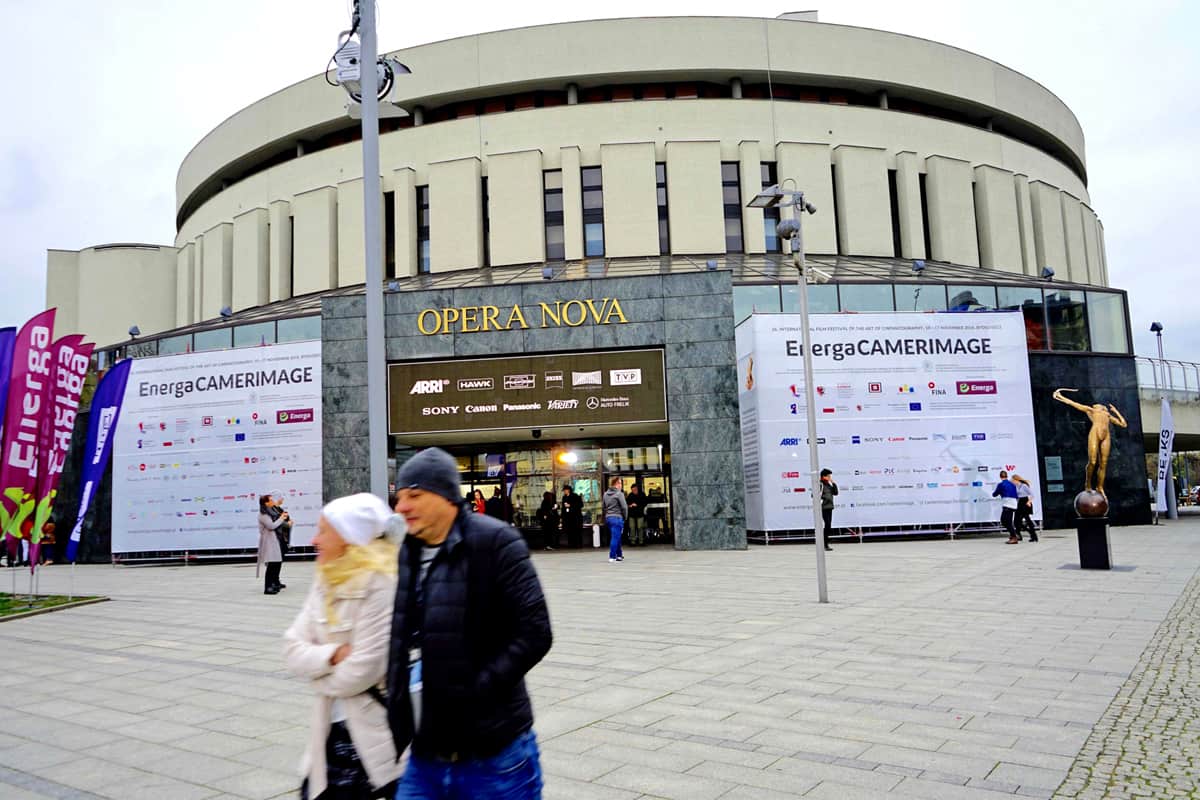 The 26th edition of Camerimage took place between 10-17 of November last year. The festival has, since its foundation in 1993, been the most important place and festival for international cinematographers to meet and to exchange their experiences. Once again it was a great success, although the festival director Marek Żydowicz's speech at the closing ceremony was alarming: the Opera Nova, the magnificent opera house where most of the screenings and manufacturers' exhibitions are located, is now utilised to its fullest capacity, and there is no room for planned further expansion. In addition, Camerimage has been facing cuts in its support and budgets. Clearly, there are some serious challenges here, and to work in support of securing this important festival's safe future should be a priority for the whole international community of cinematographers.
ASC/IMAGO Panel 2018: How international series producers will influence future film production and cinematography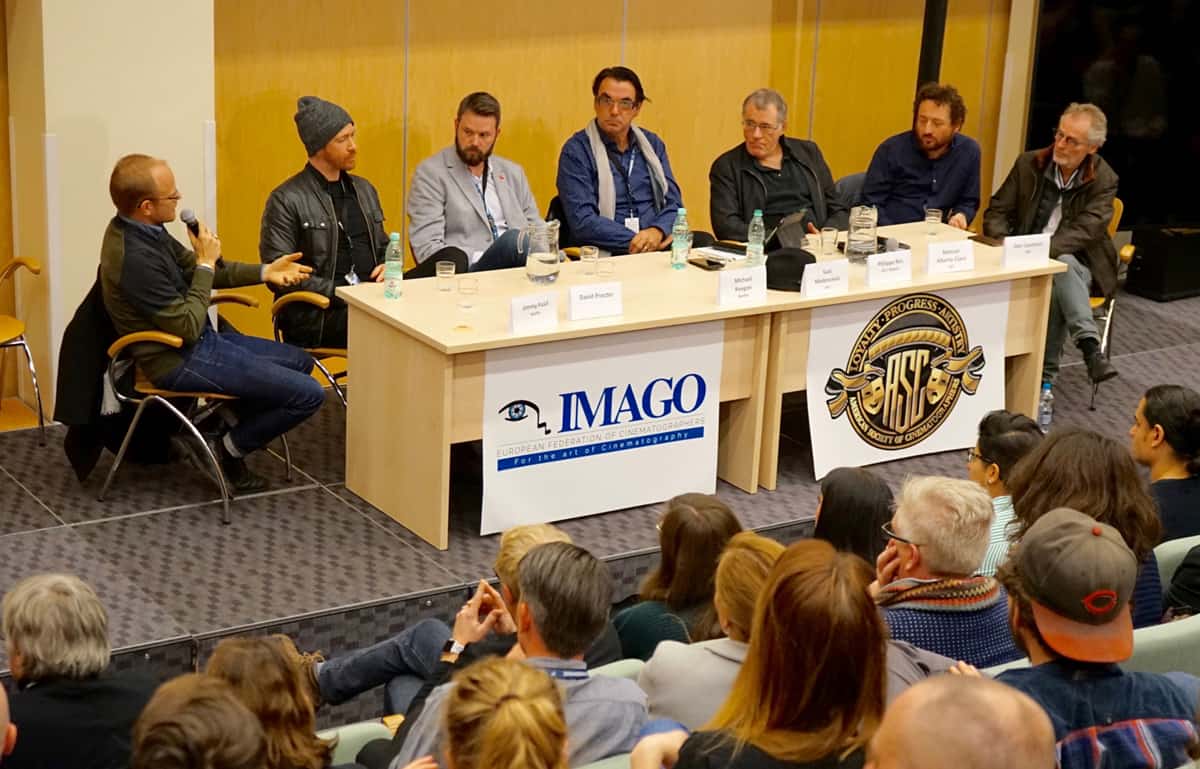 IMAGO and the American Society of Cinematographers collaborated in arranging a panel of cinematographers and Netflix representatives to discuss the rapidly growing impact the large international series producers have in influencing international production, and not least cinematographers.
Moderated by Suki Medencevic ASC, and with cinematographer panel participants Dan Laustsen DFF ASC, Manuel Alberto Claro DFF, Philippe Ros AFC and David Procter, and with Netflix participants Michael Keegan and Jimmy Fusil, the seminar was so fully packed that people had to sit on the theatre stairs. Many cinematographers present were interested in hearing more about Netflix's 4K standards, and the topic was thoroughly discussed.
Several cinematographers expressed their concern, and said they felt "a little offended" not to be able to discuss more openly what are the most suitable tools for the visual expression of a production. Jimmy Fusil from Netflix said the reasons for the company's 4K standard were future utilisation of the content and archival.
What the attendees appeared very satisfied with was Netflix's intent to have a continuous and open dialogue with cinematographers about this and all other areas of concern. Netflix are dependent on a good relationship with international cinematographers, dialogue is the only way to find solutions all can accept, and this dialogue and collaboration is a permanent part of the Netflix philosophy.
Netflix will, in the years to come, expand its international productions further.
Netflix can now boast 1,000 original productions, and with a production of between 100 and 200 films/series a year and operating in 190 countries, it has quickly become the major influential production company in the world, and this trend will continue to expand.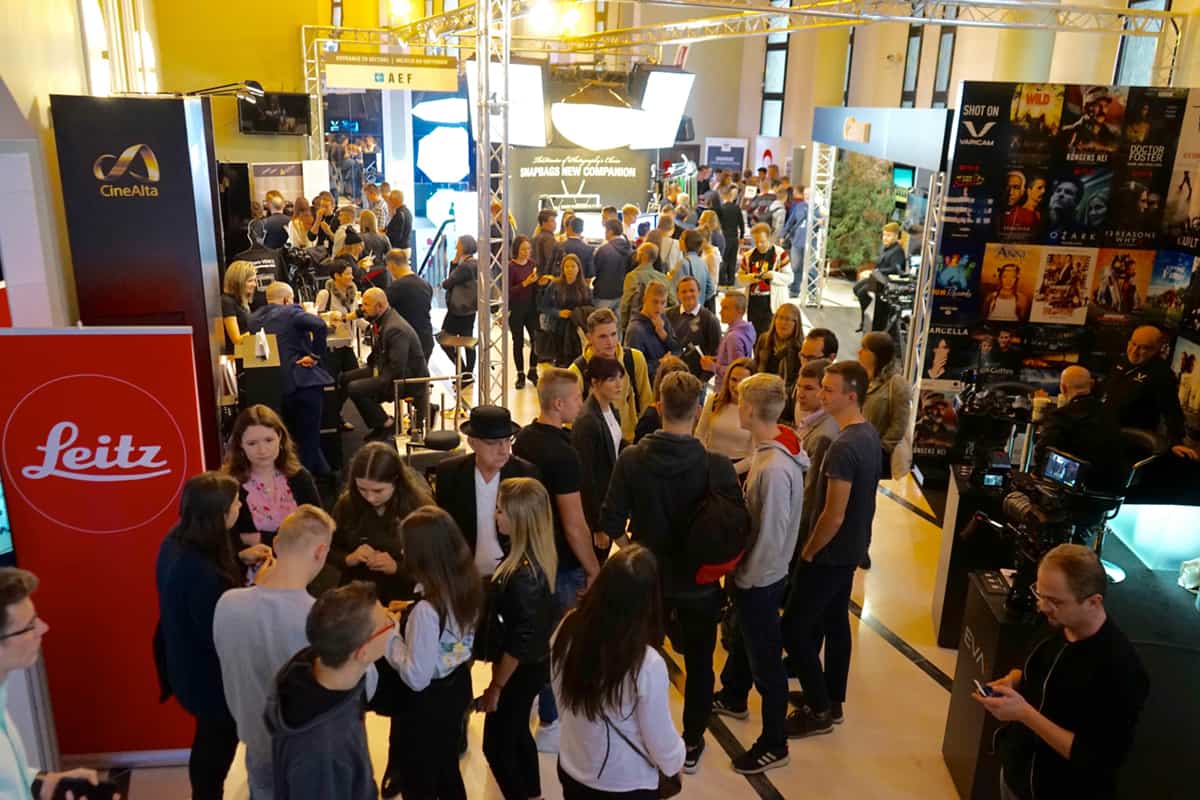 .
IMAGO Diversity & Inclusion Panel at Camerimage 2018 – Report by Elen Lotman ESC
This year the third edition of IMAGO's Diversity and Inclusion Committee panel discussion focused on private life versus career choices, and the livelihoods of cinematographers. The discussion kicked off from the results of the international Survey On Living And Working Conditions Of Cinematographers that IMAGO conducted some years ago that were far from delighting; especially looking at cinematographer's private lives. Looking at the results a huge question arises – how is it possible to maintain a career, yet rear children and keep a family together? This issue permeates gender and age borders – the results of the survey showed that majority of cinematographers are struggling with maintaining their quality of life on the side of developing their career.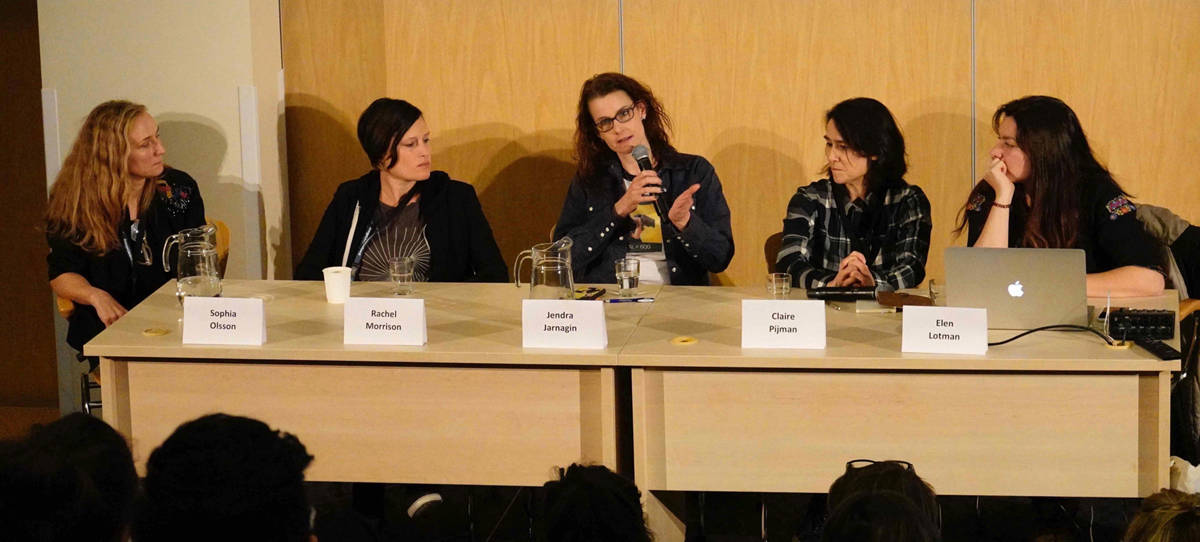 Panel discussion was lead by Elen Lotman ESC and panelists included:
 Rachel Morrison ASC – the first female cinematographer to be nominated for an Academy Award in cinematography for her work on Mudbound.
 Jendra Jarnagin – since graduating from NYU's Tisch School Of The Arts, she has amassed over 20 years experience as a DP.
 Sophia Olsson FSF – the multi-awarded cinematographer whose work has been honoured both locally and internationally. She has won the Sven Nykvist Award for best cinematography at Gothenburg Film Festival two years in a row, for Sameblod (2017) and The Charmer (2018).
Claire Pijman NSC – the cinematographer and documentary director-cinematographer who has shot films in The Netherlands and internationally, who has been a board member of the Netherlands Society Of Cinematography (NSC) since 2015, and also a member of the IMAGO Technology Committee.
The panel was complemented by a lively and engaged audience and, for the first time, the organisers tested interactive audience engagement, whereby everybody present could answer questions with a poll based on the discussion to take the topics forward. After the event with the help of our kinds sponsors from Vantage/Hawk, a cosy networking event followed. Feedback after the panel showed yet again, that it is a much-needed event and hopefully will be repeated again next year.
A longer article on the industry's challenges on diversity and inclusion will be published in the March edition of British Cinematographer Magazine.
IMAGO Technology Committee meetings during Camerimage – Report by Philippe Ros AFC, co-chair IMAGO Technology Committee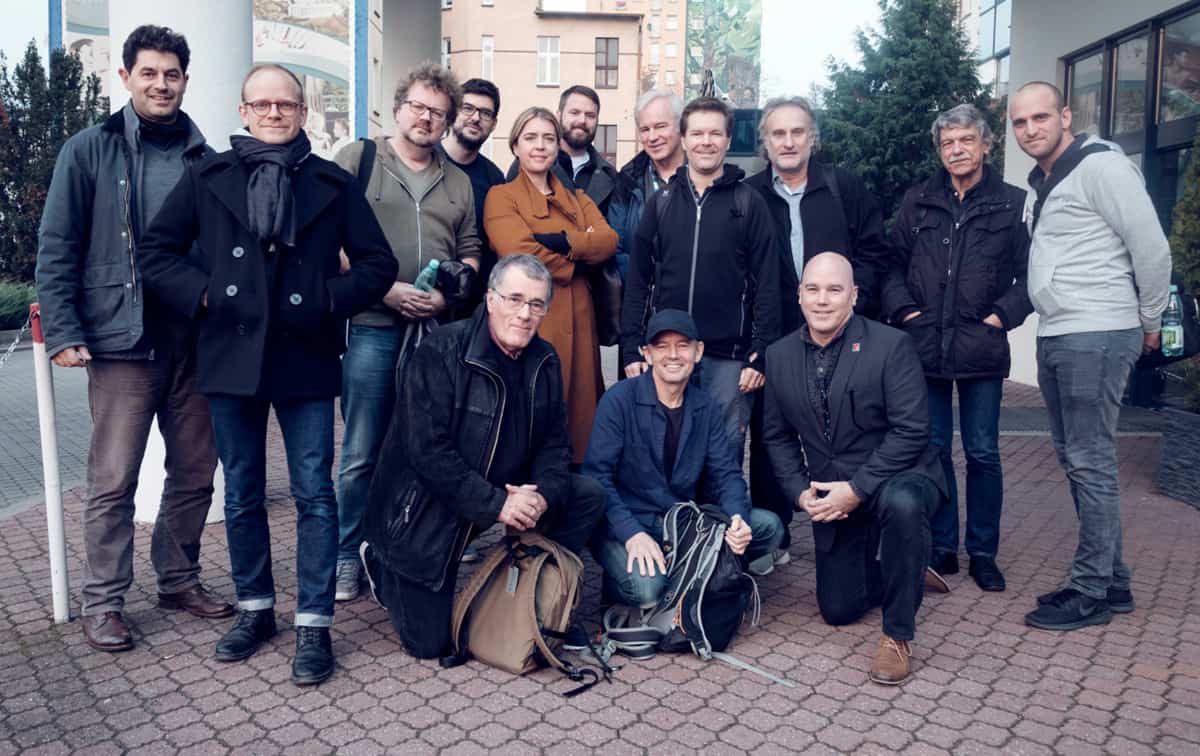 During the 2018 edition of Camerimage, the IMAGO Technology Committee (ITC) had an extensive agenda.
Sunday morning, the second bi-annual meeting started with two hours dedicated to internal affairs, including the way the committee will treat the huge amount of data provided by the international survey launched at the beginning of this year.
This survey, named "Requests To Manufacturers", is giving ITC members a precious amount of information on the way cinematographers would like to change the methodologies provided by the manufacturers in the industry. Results will be officially given to manufacturers at Camerimage 2019 after consultation with all our interlocutors.
Following on the agenda, Dr. Charles Poynton, the internationally-known colour scientist, attended the meeting. His presentation, an "avant-premiere" was focussed on the specificities of noise in the digital image. Far from our expectations, we discovered amazing facts, which lead to reconsidering the way we analyse the cause, the structure and the side effects of the noise and specifically its link with the photon. Important research, which will be officially released soon.
Ending the morning activities we received a delegation of Netflix representatives, Michael Keegan, Jimmy Fusil, Kate Morrison-Lyons, and Richard Smith, who came to explain the different strategies deployed by this very important new actor in the media industry. It was an intensive discussion, during which all manner of questions were asked. We received important confirmation on how the artistic decisions of directors and cinematographers should be maintained in the process of actual productions. The technical specifications of Netflix requesting 4K cameras created an interesting debate including on the famous interrogation: "Should we be driven by numbers?" The discussions at this meeting will soon be entirely transcribed and made available on the IMAGO website.
New technical features of the Filmlight grading system, about the control of texture, were presented and discussed. Led by Daniel Siragusano and Andy Minuth, a clever educational part featured the live demo of these amazing tools which also allow control over the side effects of when HDR is applied during colour grading. Filmlight will deliver a complete presentation for the IMAGO website.
The rest of the week, many encounters with the numerous manufacturers who attended Camerimage allowed us to discover new artistic and technical features. We are proud to announce that we will soon be able to communicate about new parameters requested by ITC.
To be sure that we all understand the specifications of the company, several meetings have been organised between the ITC, ASC and Netflix.
Do you want more news from IMAGO? Then please sign up for the IMAGO Newsletter here: www.imago.org