IMAGO will intensify its work, but especially in the following areas:
Authorship and working conditions:
With the help of, amongst others, former BSC president Gavin Finney BSC, we are in the process of working out an easier-to-use standard contract for cinematographers. We will research into the possibility of registering all member cinematographers who are willing to be registered by national Collecting Societies. We are planning to arrange a conference on Working Conditions in Brussels next year, hopefully in cooperation with FERA (The Federation of European Film Directors). The plan for this conference was originally initiated by former IMAGO president Nigel Walters. The conference has so far been difficult to arrange due to the lack of funding, but we intend to succeed in 2017.
Gender equality:
Have you noticed? There are too few women around in our business.
Luckily, there are some very good ones who we all admire, but the IMAGO board, not least with the help of board members Elen Lotman and Nina Kellgren, will see how IMAGO can inspire more women to choose cinematography as a profession. And when they do, make it possible for them to both be able to choose to have a family and still stay in the business. We need them!
Securing restoration quality:
Much restoration and transfer of our film heritage to digital files is done to a good quality, but unfortunately not everywhere and not always. IMAGO will work to establish a closer cooperation with archives and restorers to promote the need for the original cinematographers of the films being restored and digitised to be included in the restoration process. By standardising the participation of the film's cinematographer during restoration, when possible, will help secure the most correct colour grading and restoration quality of the film. We are already in a good dialogue with archivists and international restoration federations to discuss how our already good cooperation can, hopefully, be even closer.
Cooperation with camera equipment manufacturers:
IMAGO's Technical Committee (Committee for Creative Technologies in Cinematography) has already successfully worked with both Sony and ARRI to inspire camera manufacturers to make equipment that is maximally designed and suited to cinematographers' daily needs and wishes. This work will be intensified with other camera manufacturers in the coming year. IMAGO believes that camera manufacturers who succeed in making the cameras best-suited to cinematographers' need for user friendliness, design and quality will have a great future advantage.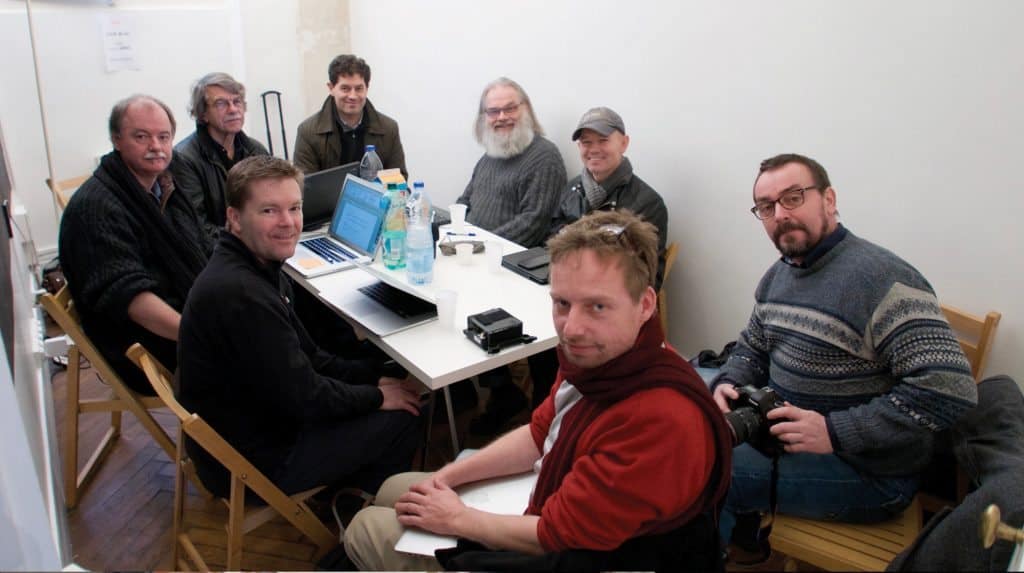 Education, training, knowledge and experience sharing:
IMAGO has for many years arranged conferences and masterclasses where cinematographers and experts from around the world gather to share knowledge, discuss new developments in equipment and software, and consider the challenges for cinematographers in the digital age. These conferences and meetings are costly. IMAGO will try to find financing through the EU system for the coming years, so these gatherings can be increased in number and become more diversified geographically, with the aim of reaching more cinematographers.
IMAGO Award:
IMAGO believes there will never be enough awards for cinematographers, especially awards given to cinematographers by cinematographers. IMAGO is therefore planning to initiate an IMAGO Award. Ron Johansen ACS, Tony Costa AIP and Timo Heinanen FSC are working on planning this event, which hopefully will take place for the first time in Helsinki in 2017.
Cooperating with the American Society of Cinematographers:
IMAGO will attend the ASC Cinematographers Summit in Los Angeles in June 2016. We hope to discuss extending the very good and successful cooperation we have already, especially with ASC's Technical Committee, in exchanging experiences and discussing challenges. Amongst others, there will be a focus on working conditions. Working conditions have, in recent years, not been moving in the right direction in many places. Too long working days and working weeks are a global challenge for all cinematographers.
IMAGO present everywhere:
IMAGO intends to increase its presence in venues around Europe. Too many still ask "What is IMAGO", so some concerted work lies in front of us to do a better job at communicating what IMAGO really does. In addition to having had a strong presence at the BSC EXPO in London (thank you to Alan Lowne for your help) and the AFC Micro Salon in Paris, we will also have strong presence at the Micro Salon in Rome in March. IMAGO's next General Assembly will be at the Manaki Film Festival for the celebration of cinematography in Bitola, Macedonia, in September, and IMAGO will again be present at Cinec in Munich, and of course at Camerimage in Poland.
In addition, we will increase our communication with our members through the IMAGO website www.imago.org, through our monthly newsletters, and through Facebook. We will also print information leaflets that we will bring with us everywhere to hand out, which will tell the story of IMAGO and its philosophy.
Our aim is that when 2017 starts, not many in our business will be unaware of what IMAGO works for and does for cinematographers. But we cannot say it enough. IMAGO is working to unite cinematographers around the world, exchanging experiences, knowledge and ideas, and discussing how to find solutions to common challenges. In addition, we are promoting the importance of cinematography, updating and training, and working on informing member societies about the developments on cinematographers' authorship rights, monitoring working conditions, just to mention a fraction of what IMAGO works with. Please visit our webpage to read more: www.imago.org.