Sovereign states
John Mathieson BSC / Mary Queen Of Scots
Sovereign states
John Mathieson BSC / Mary Queen Of Scots
The story of Mary, Queen Of Scots – encompassing her notorious rivalry with Queen Elizabeth I for the throne, prolonged imprisonment and eventual execution at the behest of her matriarchal cousin – has been the inspiration for all manner of plays, operas, movies and television series over the years.
In these, Mary has been typically depicted as either a long-suffering martyr or power-hungry traitor, with Elizabeth portrayed as bitter and Machiavellian.
However, a new, big-screen version of the historical saga, helmed by theatre director Josie Rourke, making her feature film debut, explores their iconography from a more modern perspective, with British cinematographer John Mathieson BSC entrusted to create the atmospheric visual aesthetics.
Based on John Guy's biography Queen Of Scots: The True Life Of Mary Stuart, and adapted by Beau Willimon, Mary Queen Of Scots stars Saoirse Ronan as the eponymous character and Margot Robbie as her distant cousin, Queen Elizabeth I, with both actresses being tipped for nominations in the 2019 Awards season.
Born in Scotland, Mary Stuart was the great-niece of King Henry VII. She grew up in France and wedded Francis II, but after he passed away, Mary returned to Scotland to take up her throne. With the approval of her cousin, Elizabeth I, she married the English Lord Darnley and had a son with him. However, Darnley was murdered in mysterious circumstances, by, according to some accounts, the Scottish Earl Of Bothwell, who then became her spouse. Whilst early letters suggest a warm and cordial relationship between Mary and Elizabeth, the anxious, under-threat and Protestant monarch had the Catholic Mary imprisoned in a castle for 18 years accusing her being the leader of overthrow conspiracies. When evidence of an assassination plot surfaced, Elizabeth ordered Mary's execution, whereupon she was summarily beheaded in 1587.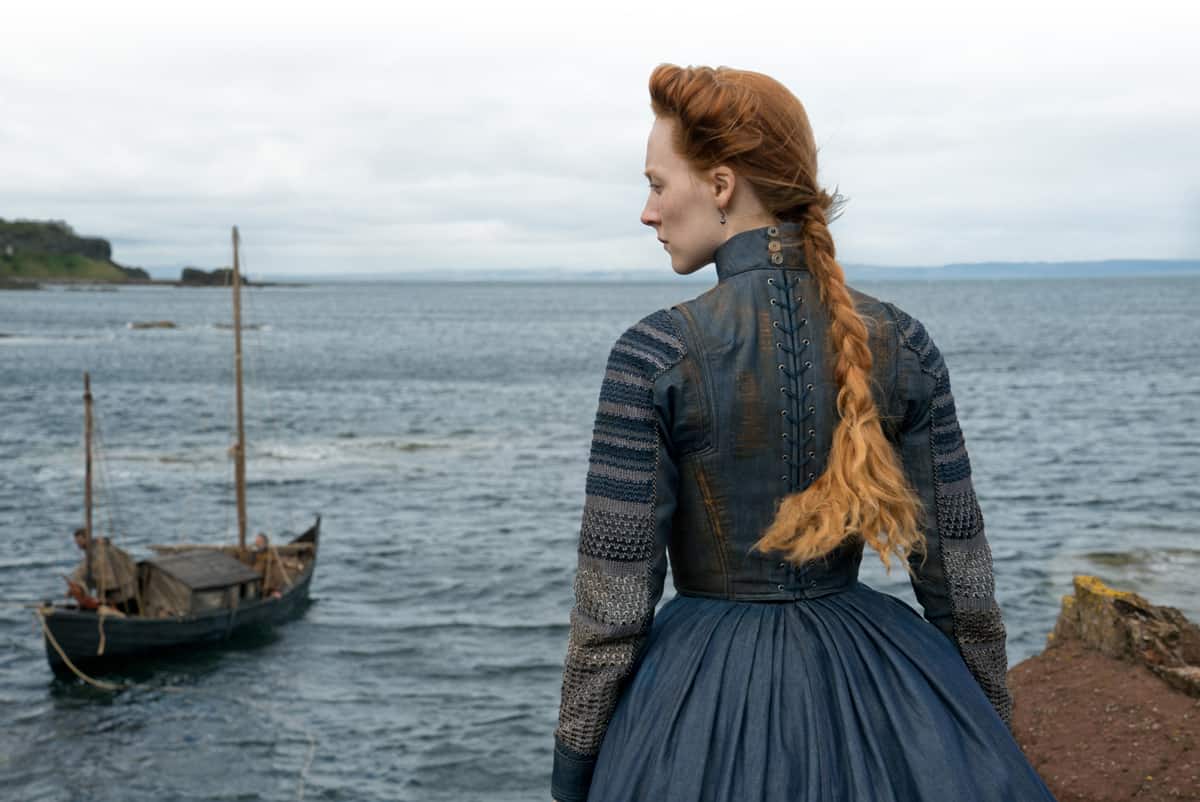 "We had the opportunity to paint our own portraits of both Mary and Elizabeth as powerful rulers and as women in a male-dominated world, albeit differently affected and motivated with their own uncertainties and flaws as well as their personal strengths and virtues," says Mathieson. "We were also lucky enough to shoot in and around some of the most incredible hidden architectural gems of Scotland and England, and I encouraged Josie to absolutely make the most of these in the film."
Mathieson found himself attached to Mary Queen Of Scots within just a few days of returning from Massachusetts, at the end of May 2017, following the shoot for director Jake Scott's American Woman. He then promptly embarked on extensive technical scouts of the film's numerous locations, recalling, "We hit the ground running on this one and simply had to get out there and get on with it.
Principal photography on Mary Queen Of Scots commenced in mid-August. Landscape exterior locations included Glencoe on the banks of Loch Leven, along with Aviemore and the Glenfeshie Estate, both within the Cairngorms National Park. The ancient Blackness Castle on the Forth Estuary near Edinburgh, Haddon Hall near Bakewell, Derbyshire, plus Dorney Court near Windsor, all offered exterior and interior opportunities for Mary's Scottish court. The production took advantage of the quadrangled cloisters of Gloucester Cathedral, for a set-piece in the film depicting Elizabeth's changing demeanours. The Great Barn at Harmondsworth, nearby Heathrow Airport, was used for an Elizabethan kitchen scene. Elizabeth I's private chambers were built on one of the stages at Pinewood Studios, and further depicted during a stint at Hardwick Hall, in Chesterfield, Derbyshire.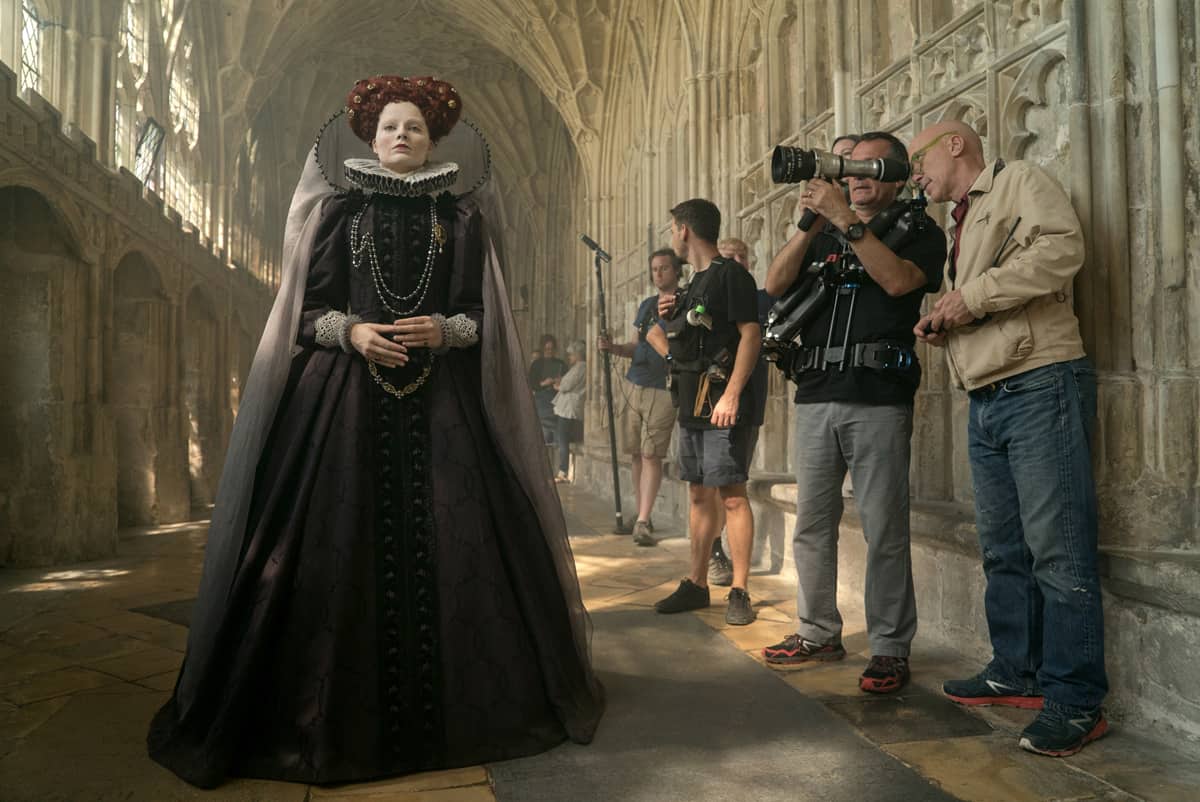 During prep, conversations were had about shooting the production on film, although Mathieson says these were fleeting. Consequently, this gave him the chance to try out something new and different in terms of digital camera systems. After testing, Mathieson elected to shoot Mary Queen Of Scots using the then recently-released Panavision DXL, fitted with Sphero 65 lenses, shooting in 1.89:1 but framing for a 2.40:1 extraction.
Whilst Mathieson is appreciative of the various aesthetic qualities of the vintage Sphero 65 lenses – including their moderate focus roll-off, subtle aberrations and pleasing flesh tones – he says they also offered a wide-enough choice in terms of focal lengths, and were fast enough, offering up to T2, to cover most bases – from landscapes to close-ups, and day-lit exteriors to the pokey confines of low-light interiors.
"The Spheros have a softer and somewhat warmer look compared to some of the alternatives I looked at," he remarks, "and I knew they would faithfully render the wonderful hair and make-up design by Jenny Shircore, Alexandra Byrne's costume work, and our exquisitely beautiful locations. I like to create a sensation of depth in the image, and whilst the Sphero 65s offer a good degree of natural background separation, the addition of smoke to create fuggy interiors also helped to enhance that feeling of depth. The smoke also went some way to mitigating the crispy cleanness of the DXL's sensor."
Mathieson's crew included Peter Cavaciuti as main unit A-camera/Steadicam operator, supported by 1st AC Simon Hume, with Rodrigo Gutierrez working as the main unit B-camera operator, assisted by 1st AC Lewis Hume. David Appleby was key grip, with Alan Martin working as gaffer, whilst Alex Golding was the DIT. To help infuse the narrative with additional Scottish sweep, Angus Hudson BSC shot B-roll on second unit around a variety of locations around Scotland.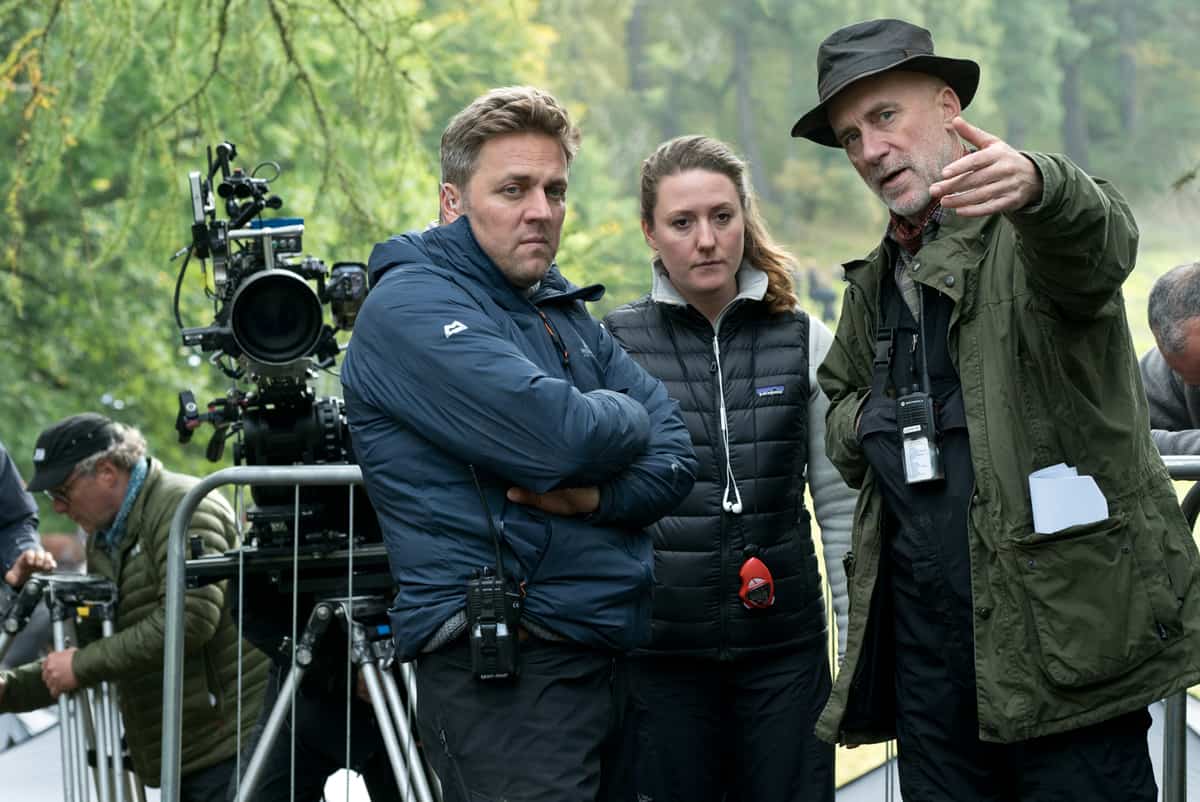 "Most modern LEDs are too squeaky clean, brittle and sharp to have real integrity. When it comes to illuminating faces, LEDs can make the result look like a lump of meat in a mortuary. Far and away the best way to illuminate a face nicely is the age-old trick of using candles supplemented by a domestic 60W or 100W pearl light bulb"
- John Mathieson BSC
Regarding the portraiture of the two central protagonists, Mathieson says that along with historical fact about the two women, he also took his cues from the costume/make-up design and physical performances of the two actresses.
"Elizabeth was a powerful monarch with a commanding presence," he explains, "so I made the lighting sharper and more theatrical, and hit her hard to make sure the kabuki-esque whiteness of Margot's painted face, blood red lips and oyster eyes, would stand out along with the lacy pomp and pearls of her gowns. The camera was commensurately a lot less animated and lively during her scenes.
"By contrast, Mary is often pictured living in the confines of damp, fire-lit rooms, and there's more Irishness in Saoirse's colouring, with delicate porcelain skin and a rosy blush in her cheeks. I really wanted to emphasise the velvety goldness of the guttering candlelight, and made a conscious effort to let the light wrap around her face. As Mary was much more of a livewire, I let the camera run around and be a lot looser than it was for the scenes featuring Ellzabeth."
As for photographing the locations themselves, Mathieson remarks, "Rather than being theatrical and wash a scene with an overall colour effect, I decided to capture the detail of what I saw, and tried to be as faithful as I possibly could be to our locations and the period of the story.
"So, whilst I might smash a 20K through a window into a room and bounce the light off the floor to give a sensation of contrast and depth, I might also use 61 Blue and 1/4 Green on Spacelights high in the air to give the impression of dankness on deep interiors. I might help to define a space by picking out the lobes and cusps of a carefully carved arch with a small tickle of light. And, I was absolutely determined to make sure we captured the natural honey colour of oak beams, and the verdigris dapples of diamond-shaped light coming through original lead-lighted windows."
He adds: "The thing for me is that most modern LEDs are too squeaky clean, brittle and sharp to have real integrity. I find the older lights – like Maxi and Mini Brutes – much better at penetrating into a room, especially in old castles up and down the land. When it comes to illuminating faces, LEDs can make the result look like a lump of meat in a mortuary. Far and away the best way to illuminate a face nicely is the age-old trick of using candles supplemented by a domestic 60W or 100W pearl light bulb. It's not too hot, and the result has surprising punch and shape."
Mathieson completed the colour grade on Mary Queen Of Scots with Paul Ensby at Company 3. He openly admits to not being a fan of digital cinematography cameras, but says the images captured by the DXL were perfectly good for DI purposes, and its ability to handle highlights and contrast elicited complementary comments during post production.
"It's so hard to view and judge the digital image correctly on-set, never mind through the viewfinder, so I like to stand behind the camera and assess a scene with my eyes," he says, "On Mary Queen Of Scots, Alex my DIT, helped to protect the image from burning-out with over-exposed blocks of clipped white by suggesting we stop-down. But even on those occasions I felt we could get a bit bold, and place something in that space to alleviate an overblown highlight and get some detail in the image, rather than adjust the exposure. The DXL showed it can give you that level of highlight detail. I also like the fact that it can take spherical lenses for big format production, rather than Anamorphics, which look great when the lenses are wide open, and you can feel the bite of the narrow depth-of-field."