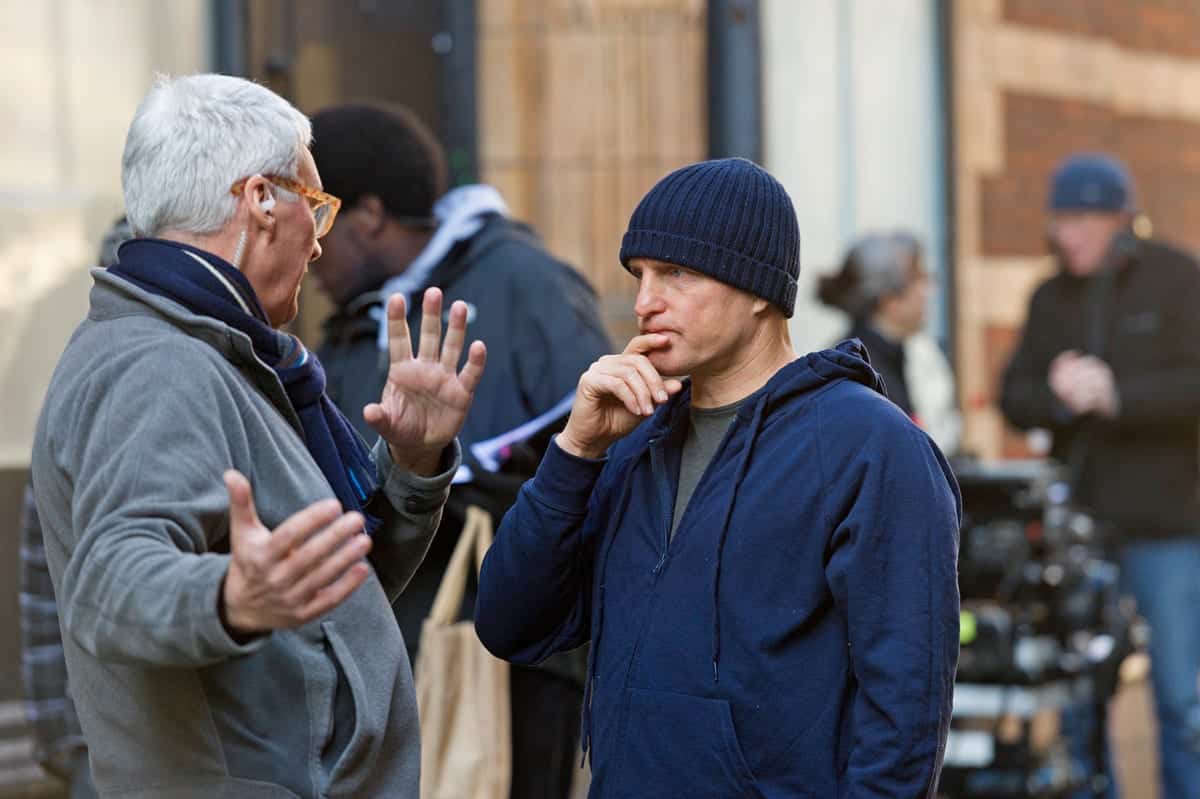 Cinematographer Nigel Willoughby kindly wrote-in with details about his work on the groundbreaking simultaneous live production and broadcast of Lost In London, directed by Woody Harrelson.
"When Woody first approached me with his idea for Lost In London, the plan was to shoot the entire film in one night using a multi-camera format. Once we had locked down the locations and planned a route, it soon became clear that the multi-camera idea was a non-starter, as it would be almost impossible to hide the units from each other without compromising the integrity and fluidity of the performance, so we came up with the notion of shooting single camera in one continuous shot.
It was a challenging enough concept already, and my next task was to find a camera operator willing to undergo the rigours of hand-holding a camera for more than a hundred minutes, over 24 locations, covering nearly three miles of walking, running and jumping in and out of vehicles, climbing and descending narrow staircases, squeezing into tiny rooms and tight corners. I called John Hembrough who, without hesitation, agreed to do it, and it was only at that point that I began to believe with certainty that the film could be achieved. Needless to say there were many daunting and complex challenges to overcome in the following six weeks of prep, not least Woody's bombshell a week later that we'd be transmitting 'live' to over 500 cinemas in the US and two in London.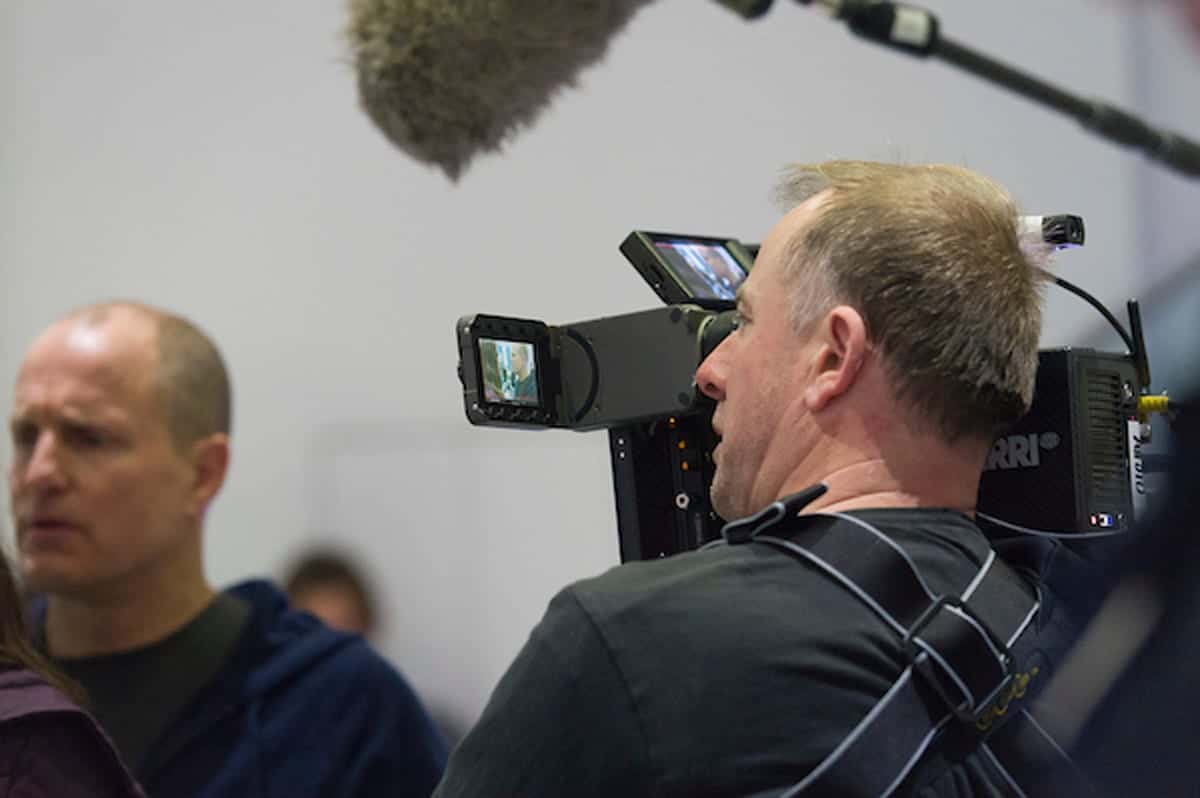 Perhaps the biggest challenge of all was how to accommodate all the hardware needed to maintain and transmit a live signal back to base. I wanted to shoot with ARRI Alexa, and for weight purposes decided on the Mini. To enable the 104 minute run time, and to reduce weight and stress on the camera, Graham Hawkins from 24/7 Drama came up with the concept of using a rucksack to support all the camera, sound, and OB transmitter accessories. An umbilical loom was created between camera and rucksack to carry power to camera for the camera battery supply, Teradeck for focus and RF transmitter, audio and ad hoc camera accessory power, 2 x channels wireless Audio, heated eyepiece and heated mattebox. The rucksack was custom-made with a lightweight hard shell, and meticulously assembled with all the hardware installed by Graham. It would be carried at all times by our grip, Steve Weightman, first behind camera in an ever-increasing entourage of technicians. First AC George Grieve resolutely took on the unenviable task of keeping it all sharp, with second AC Dan Evans as chief back-up and troubleshooter.
We were all discovering that we were in completely new territory, and without Woody's relentless optimism, the benign good humour and open mindedness of co-producer Andrew Warren, the dogged, never-say-no professionalism of location manager David Broder, and dedicated creative input of production designer Sophie Becher, I might have crumbled at the hundredth hurdle. But the spirit of cooperation throughout was unrivalled in my experience.
I wanted to keep the lighting as natural and low key as possible. This was made easy by virtue of the fact that we couldn't use generators or cranes in any of the exterior locations, as they would be impossible to hide. So David kindly sent out a posse of assistants to encourage certain local residents to leave their house lights on overnight to help fill the dark spaces en route. Sophie persuaded me of the merits of LEDs and these were used to great effect, especially in the nightclub bar, foyer and toilets. The rest was pretty straightforward and presented no real problem, other than having only one shot at getting it right.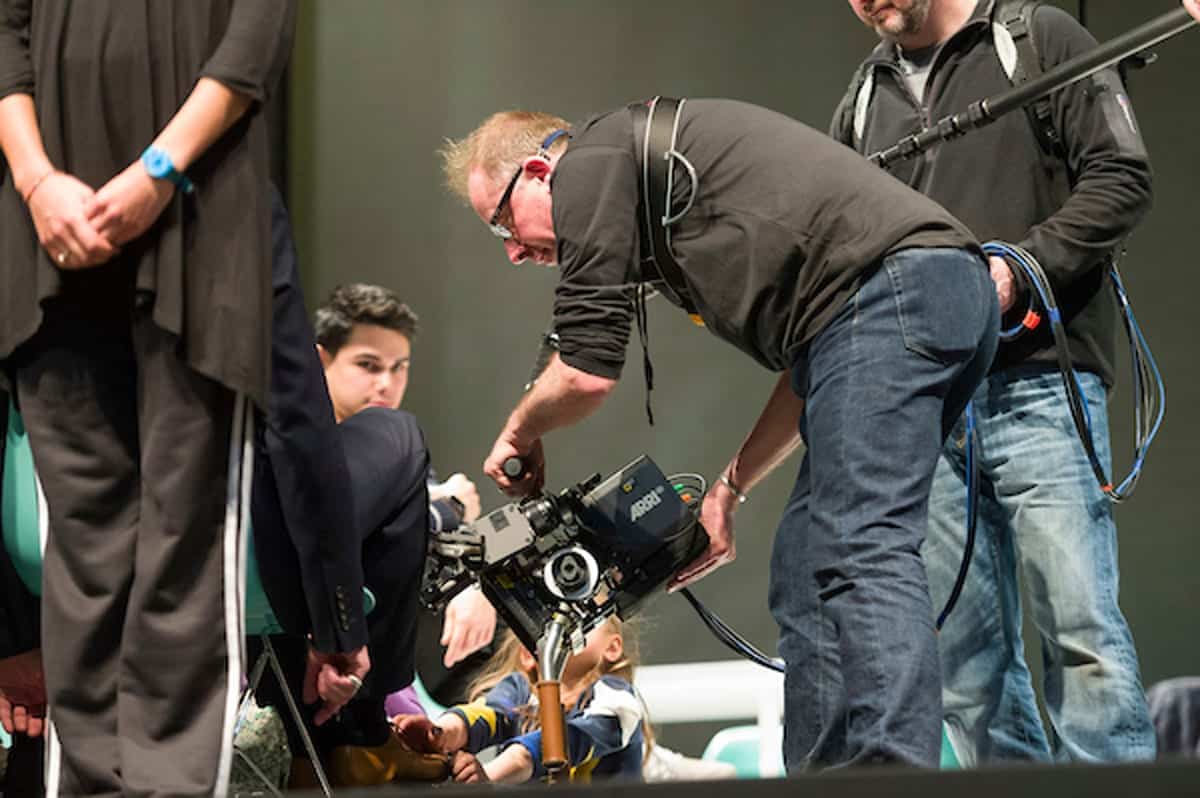 After the first week of prep, John Hembrough joined us and we began rehearsing at base in marked-out spaces with a camcorder, to get the feel of things. As the sets began to take shape we rehearsed in greater detail in the actual spaces we would be shooting. Woody was quite specific about what he wanted the camera to see, and gradually the whole piece began to evolve. Or so we thought. Every day he would change little things in every scene, and so it went on right up until the day before dress rehearsals. John, to his credit, embraced all this and took it in his stride.
I thought that it would be a good idea to have a back-up operator on standby, just in, case of mishap, Mark Milsome very generously agreed to join us for the last two weeks of prep. Mark was a profoundly gifted man, with an unwavering sense of humour. His good-natured spirit and dedication to the cause brought much relief to the camera department and, as we went into the final few days of prep, it is to his great credit that he learned and mastered all the moves in this most challenging arena. It was always a pleasure to work with him, and he is greatly missed.
On the night of the shoot, I sat with my DIT, Simon Keenan, behind two monitors, one 'live in' one 'live out', with no delay. We broadcast Log-C 1080p signal from the RF. The signal was split and sent into two independent HD-Link LUT boxes, from which we faded pre recorded LUTs taken from each location, meaning we could live grade as we shot. I was in radio contact with George who effected all the stop changes. On-set, there were a couple of glitches with lighting cues, but all things considered this film was a triumph of skill and optimism over adrenalin infusing adversity. Would I do it again? Yes!"