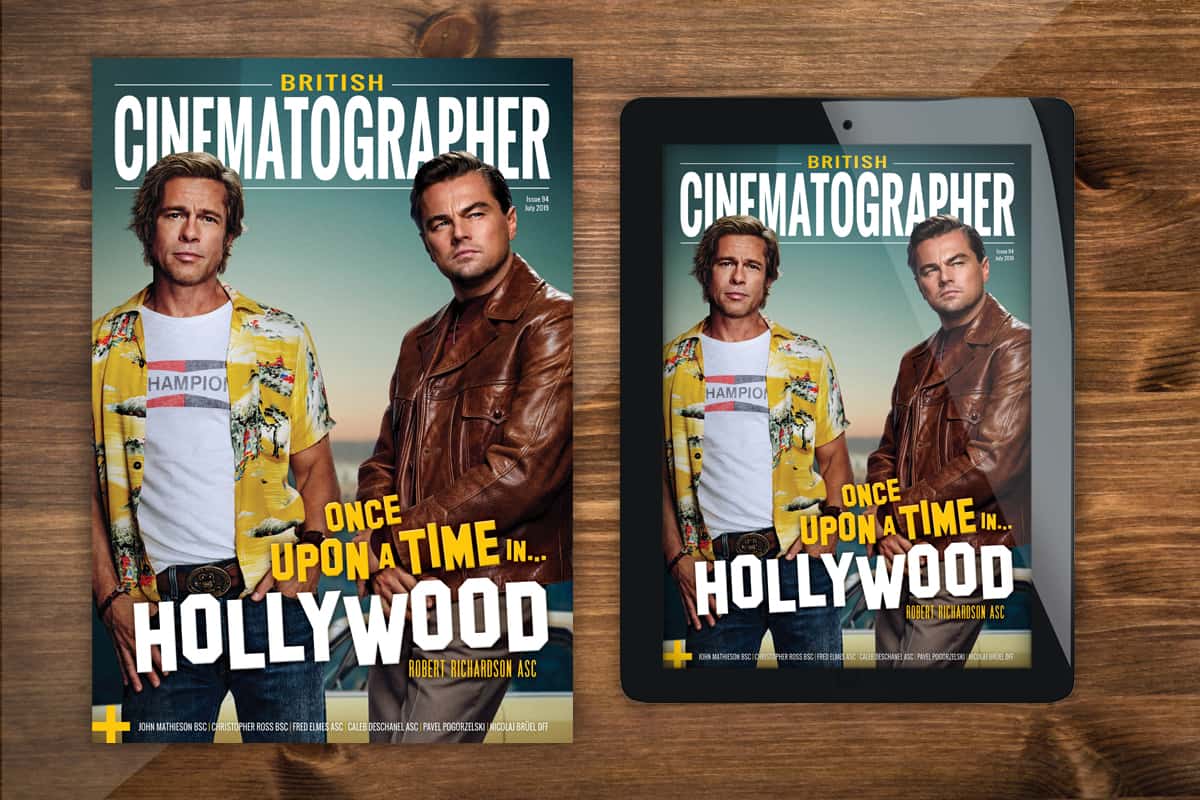 Feast your eyes on the new edition of British Cinematographer magazine – digitally* via our website, or in print**, from 17th July 2019 onwards.

On the Cover
Robert Richardson ASC on Once Upon A Time In Hollywood

In our latest cover feature, Robert Richardson ASC speaks to us about teaming up with Quentin Tarantino for a fifth time to produce the hotly-anticipated Once Upon A Time In Hollywood, which premiered at the 2019 Cannes Festival.
ASC Lifetime Achievement recipient Richardson tells us about his love of capture on celluloid film, keeping the capture grounded in the film's 1969 era and why the movie is so "very, very, very Quentin".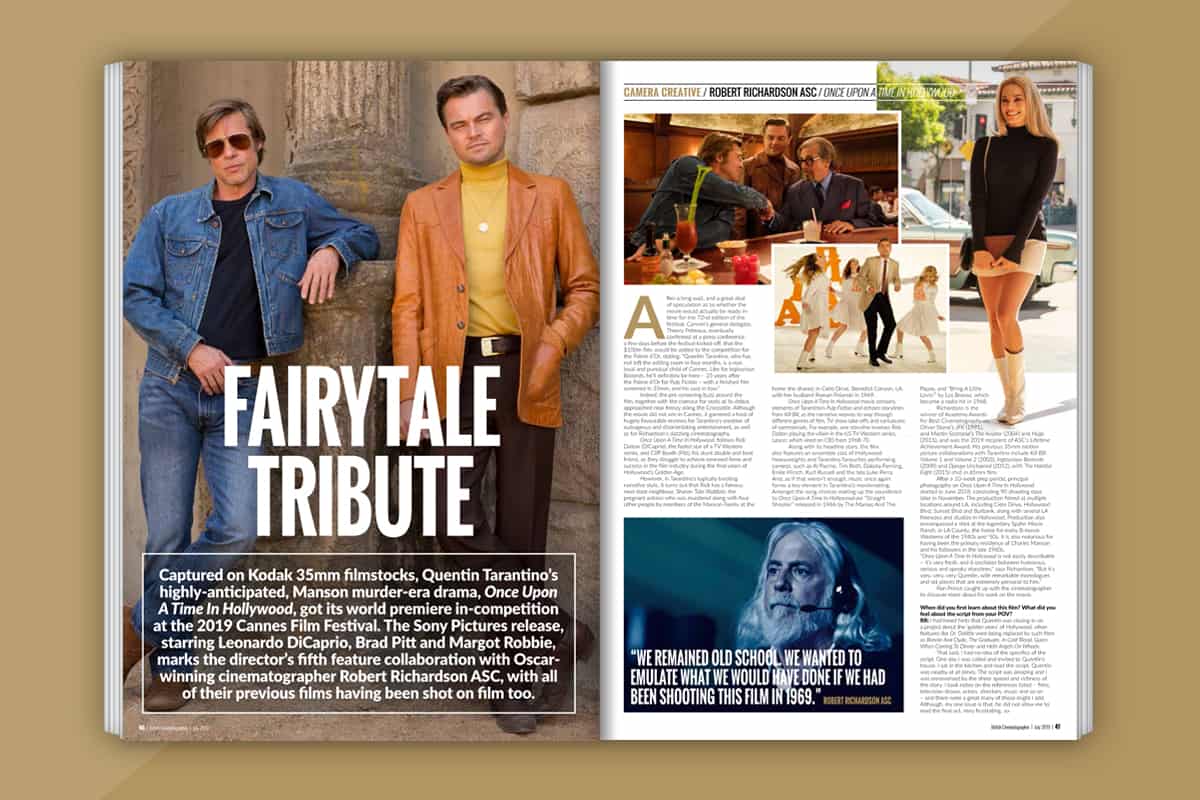 John Mathieson BSC on Pokémon Detective Pikachu

Having commenced on Mary Queen Of Scots, cinematographer John Mathieson BSC took on an all-together different look to display videogame movie Pokémon Detective Pikachu.
He reveals his thoughts on the title's Blade Runner-esque visuals, how traditional film proved feasible and profitable over digital, and the beauty of baking-in the look on-set rather than spending time in a DIT tent.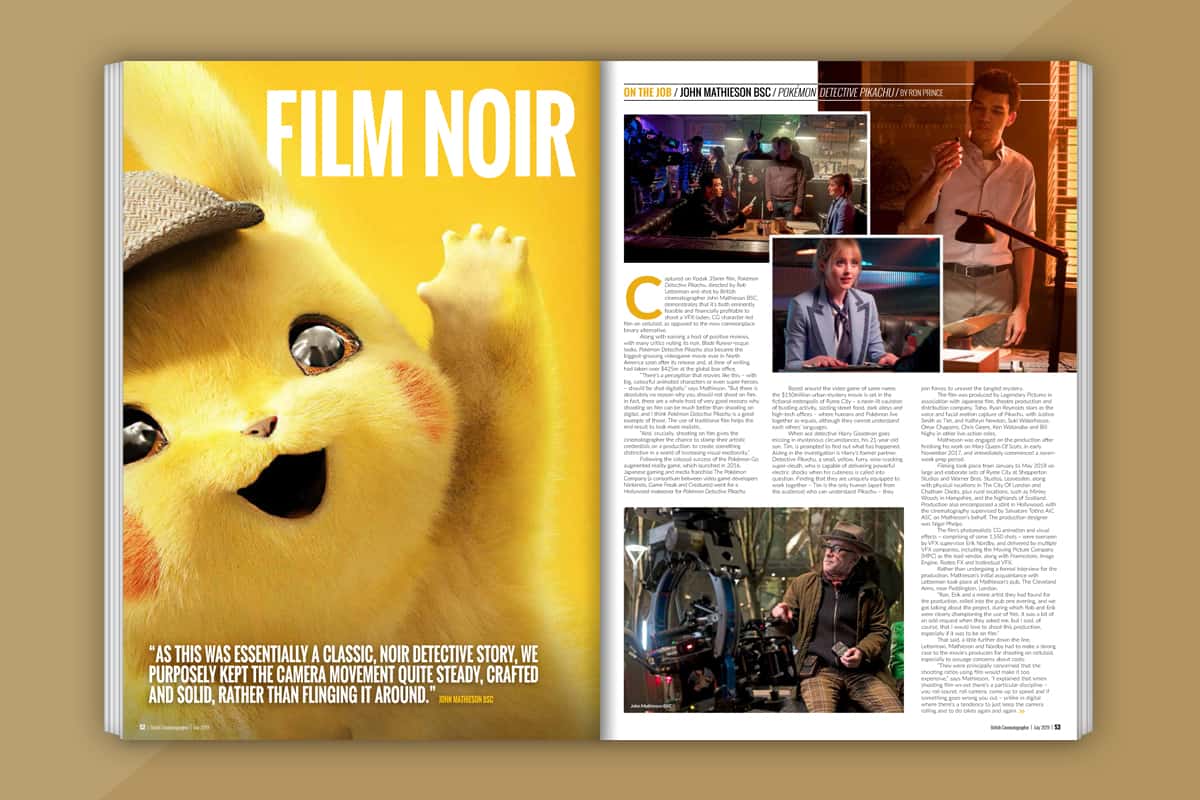 Caleb Deschanel ASC on Never Look Away and The Lion King

The American DP took on two wildly different experiences to lense 2019 Oscar nominee Never Look Away and Disney live-action remake The Lion King.

Deschanel's fascinating insights reveal the inventive and immersive VR filmmaking techniques deployed on capturing the latter, and how he set about presenting the emotions of 30 years of tumultuous German history for the former title.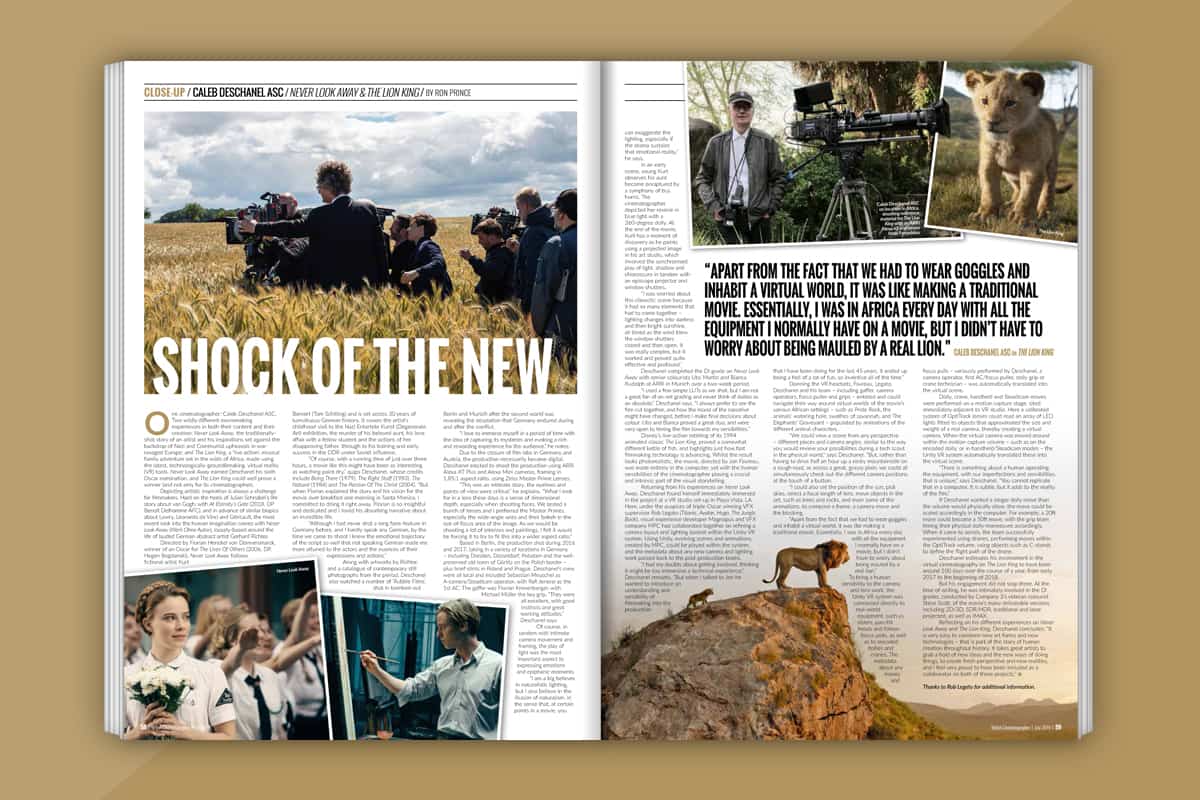 Peter Biziou BSC

2019 BSC Lifetime Award winner Peter Biziou BSC is among the most admired of British cinematographers from his work on titles such as Nine½ Weeks, Mississippi Burning and In The Name Of The Father.
Take a visit through his journey to date and the experiences that shaped him and his work, plus a collection of not-to-be-missed advice and inspirations for all aspiring operators and cinematographers.

Don't Miss…
Plenty more soundbites, comment and opinion from productions by Fred Elmes ASC, Christopher Ross BSC, Nicolaj Brüel DFF and Pavel Pogorzelski.
Learn more about gaffer Carolina Schmidtholstein, DP Diana Olifirova and the BAFTA Albert scheme.
And that's not mentioning opinion from Steven Poster ASC, BSC president Mike Eley's column, a full round-up of Cine Gear expo 2019, our regular comprehensive guide to which DPs are shooting who and where, and more…
A subscription is still the only way to read the complete British Cinematographer, so buy one today to fully experience Europe's No.1 cinematography magazine.

ISSUE 94: AVAILABLE ONLINE* AND IN PRINT** FROM 17TH JULY 2019 ONWARDS.
* With an active 'Digital Only' subscription, or the digital part of an active 'Print & Digital' subscription.
** Issue 94 will only be received in printed format by those with an active 'Print' or 'Print & Digital' subscription purchased before 8th July 2019. Any new 'Print' or 'Print & Digital' subscription purchases made from 8th July 2019 onwards, will NOT receive this issue in print as part of their purchase. Eligible subscribers should expect to receive their copy within 7 days of the release date if in the UK, and 14 days if overseas.