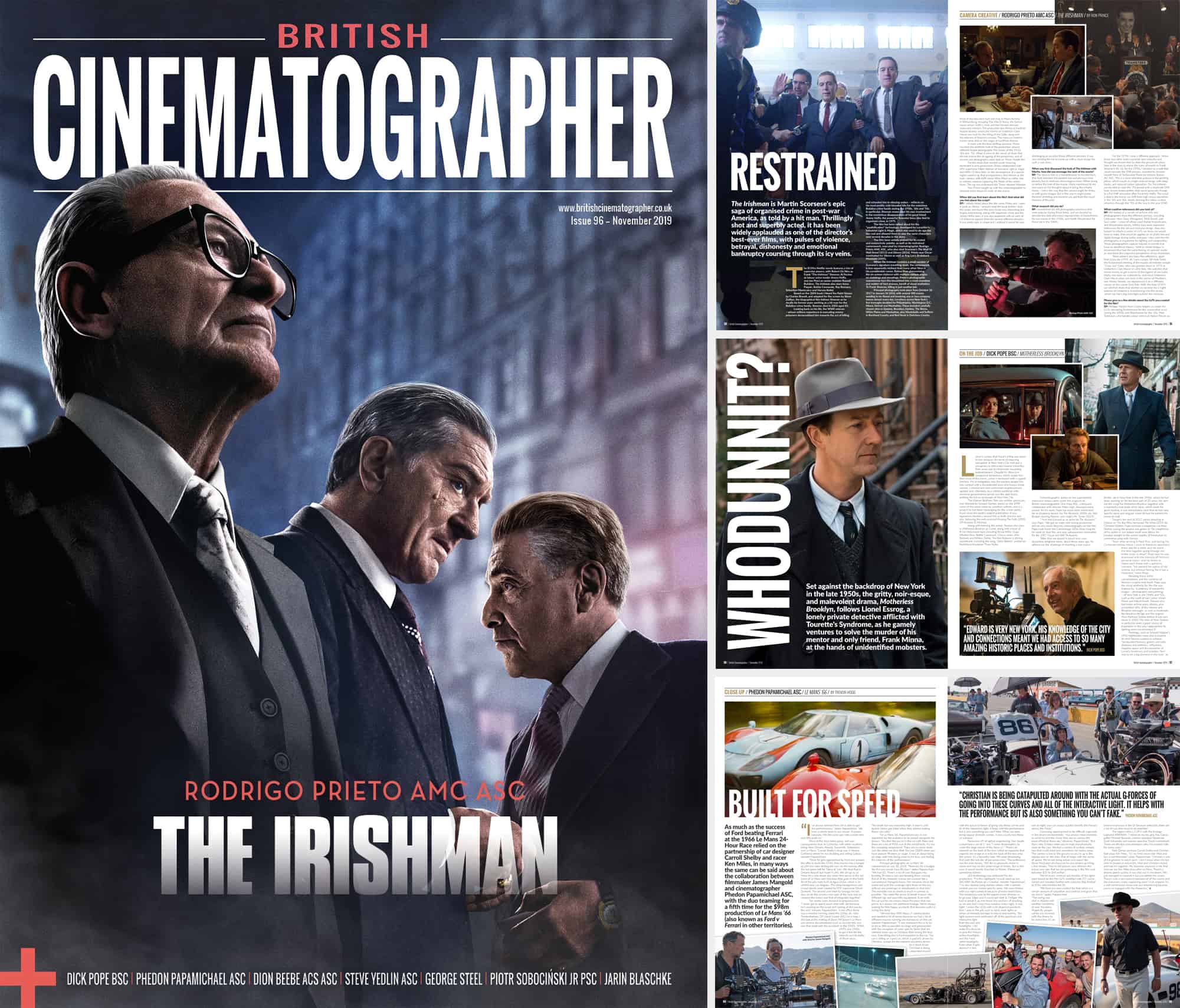 Feast your eyes on the new edition of British Cinematographer magazine – digitally* via our website, or in print**, from 11th November 2019 onwards.

On the Cover
Rodrigo Prieto AMC ASC on The Irishman

In our latest cover feature, Rodrigo Prieto AMC ASC speaks to us about work on director Martin Scorsese's new epic, The Irishman.
Prieto tells us about the 'three-headed monster' used for de-aging the actors, the changing colour tones through the decades, and why the visual tone was like a home movie.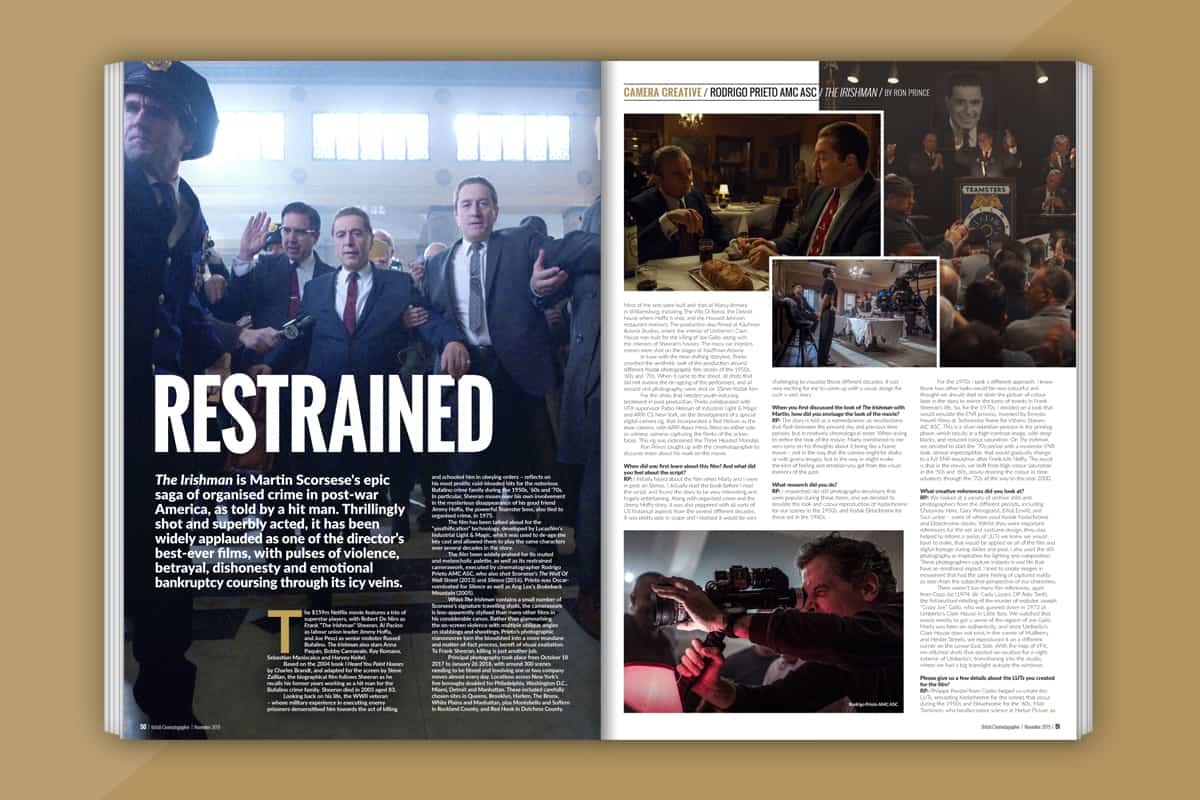 Dick Pope BSC on Motherless Brooklyn

Having met writer, producer and director Edward Norton on The Illusionist, DP Dick Pope BSC took on cinematographic duties on his noir-esque drama Motherless Brooklyn.
He reveals his thoughts on sculpting the scenes with light to set the mood, how he tackled the extensive car work required and the challenge of lighting an abandoned former Harlem Jazz Club.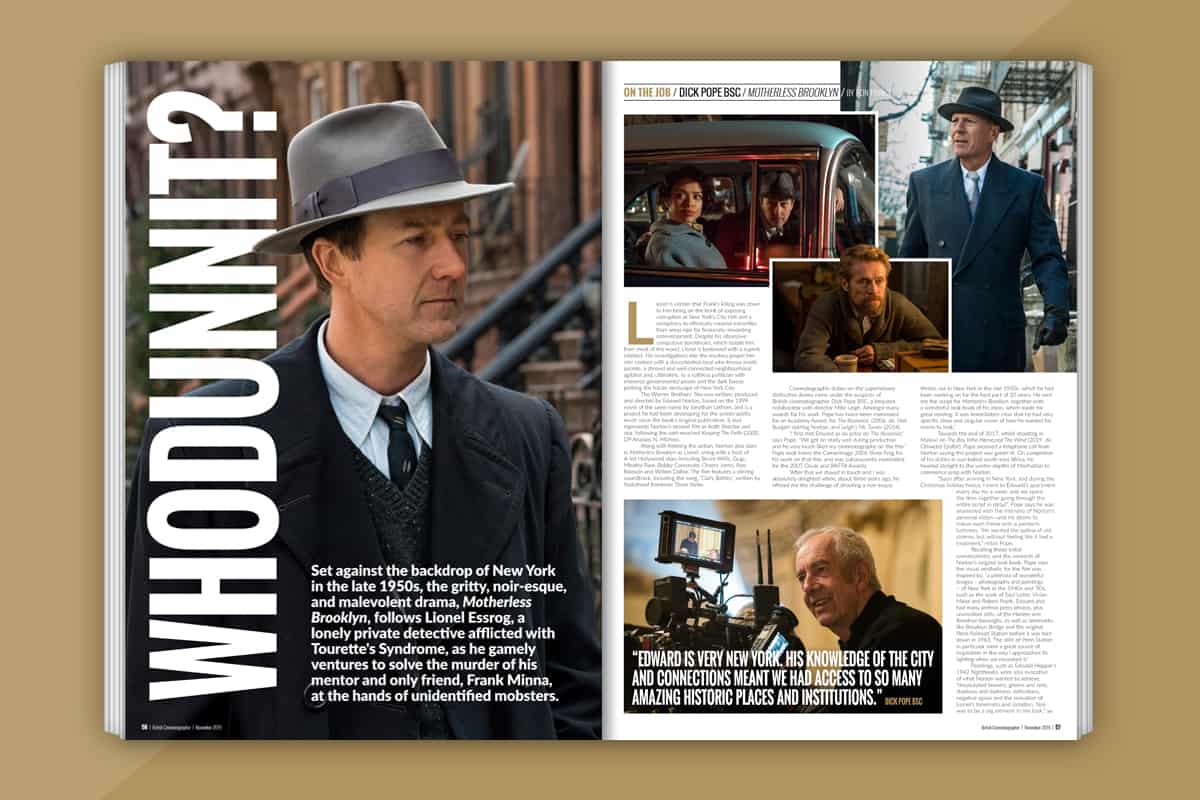 Phedon Papamichael ASC on Le Mans '66 (Ford vs Ferrari)

Filmmaker James Mangold and DP Phedon Papamichael ASC have teamed up for a fifth time to create Le Mans '66 (aka Ford vs Ferrari).

The Greek cinematographer reveals why LED technology was embraced for the production, how conveying speed proved difficult, and why the decision was taken to shoot as much in camera as possible.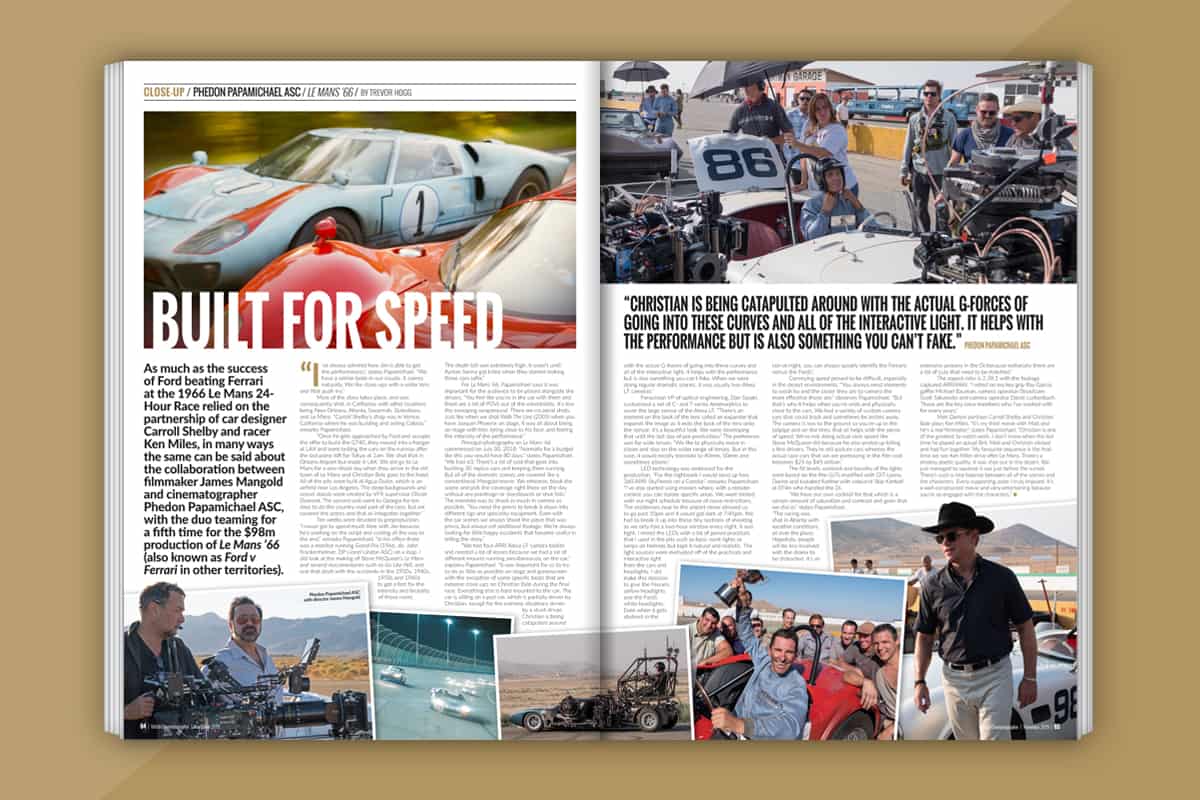 2019 EnergaCamerimage Festival Preview

The EnergaCamerimage Festival heads back to its roots this year to Torun, and what better companion to the International Art of Cinematography Festival than our guide to who's there and what's happening at this year's event.

Don't Miss…
More soundbites, comment and opinion from productions by Steve Yedlin ASC, Dion Beebe ACS ASC, George Steel, Piotr Sobocinski Jr PSC and Jarin Blaschke.
Learn more about the industrious Larry Smith BSC, gaffer Jonathan Spencer, DP Matias Penachino, the colour grading talents at Harbor Picture Company and lighting innovators MBSinnovations.
And that's not mentioning opinion from the GBCT's Tim Potter and John Keedwell, BSC president Mike Eley's column, a round-up of IBC 2019, our regular comprehensive guide to which DPs are shooting who and where, and more…
A subscription is still the only way to read the complete British Cinematographer, so buy one today to fully experience Europe's No.1 cinematography magazine.

ISSUE 96: AVAILABLE ONLINE* AND IN PRINT** FROM 11TH NOVEMBER 2019 ONWARDS.
* With an active 'Digital Only' subscription, or the digital part of an active 'Print & Digital' subscription.
** Issue 96 will only be received in printed format by those with an active 'Print' or 'Print & Digital' subscription purchased before 1st November 2019. Any new 'Print' or 'Print & Digital' subscription purchases made from 1st November 2019 onwards will NOT receive this issue in print as part of their purchase. Eligible subscribers should expect to receive their copy within 7 days of the release date if in the UK, and 14 days if overseas.