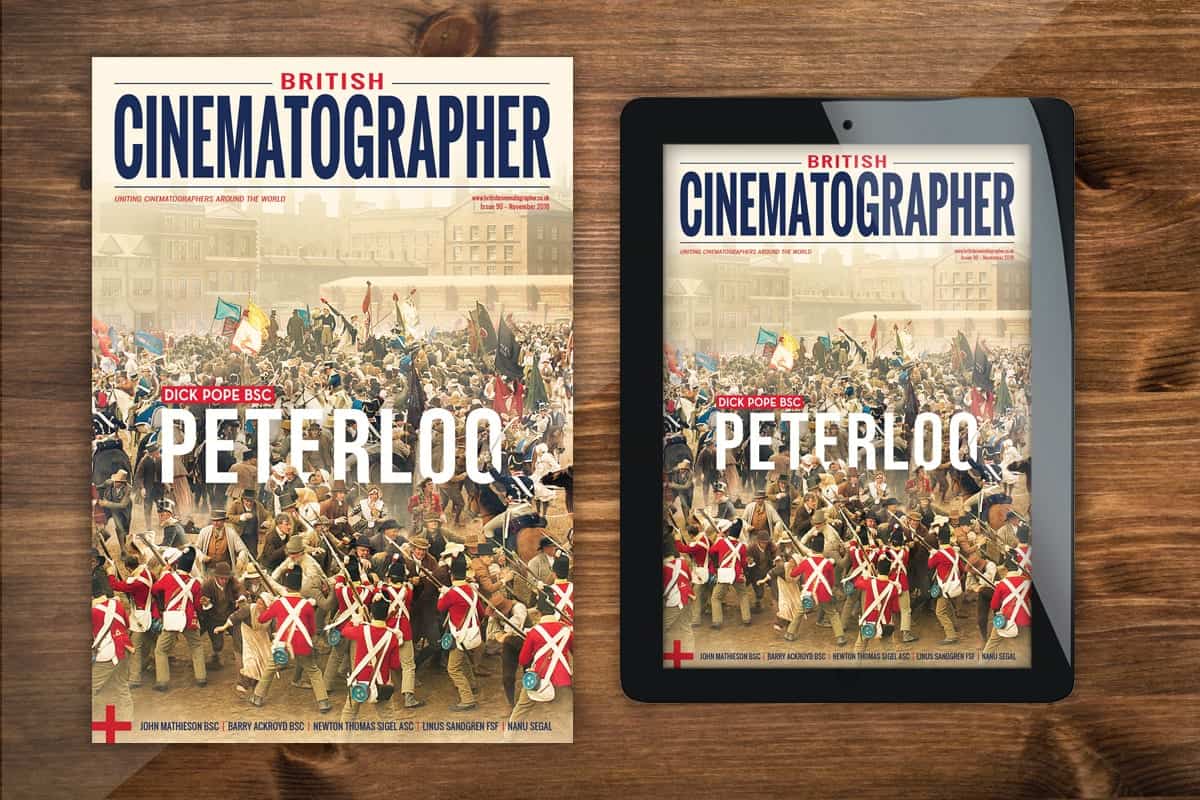 Feast your eyes on the new edition of British Cinematographer magazine – digitally* via our website, or in print**, from 12th November 2018.

On the Cover
Dick Pope BSC on Peterloo

The acclaimed production and ENERGAcamerimage main competition contender Peterloo, shot by Dick Pope BSC, depicts a bloody and brutal episode in British history.
Pope tells us why there is never a conventional script on director Mike Leigh's production, how he rose to the challenge of shooting the spectacular massacre sequence, and how Akira Kurosawa's techniques influenced how he captured the battle.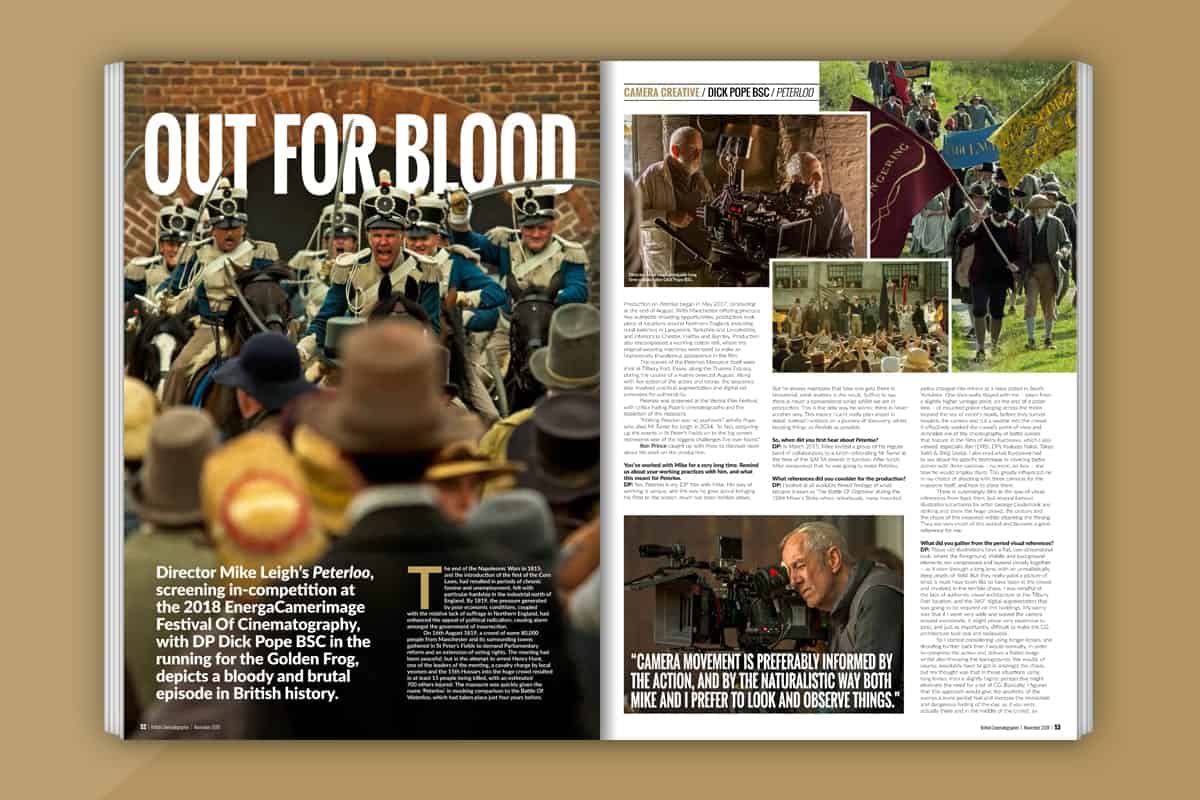 John Mathieson BSC on Mary Queen Of Scots

Another historical feature production, Mary Queen Of Scots, is a powerful telling of the relationship between the title character and Elizabeth I in the 16th Century.
DP John Mathieson reveals how he contrasted the different looks of the two feature characters, how the older lights were ideal, and why he took full advantage of the period locations.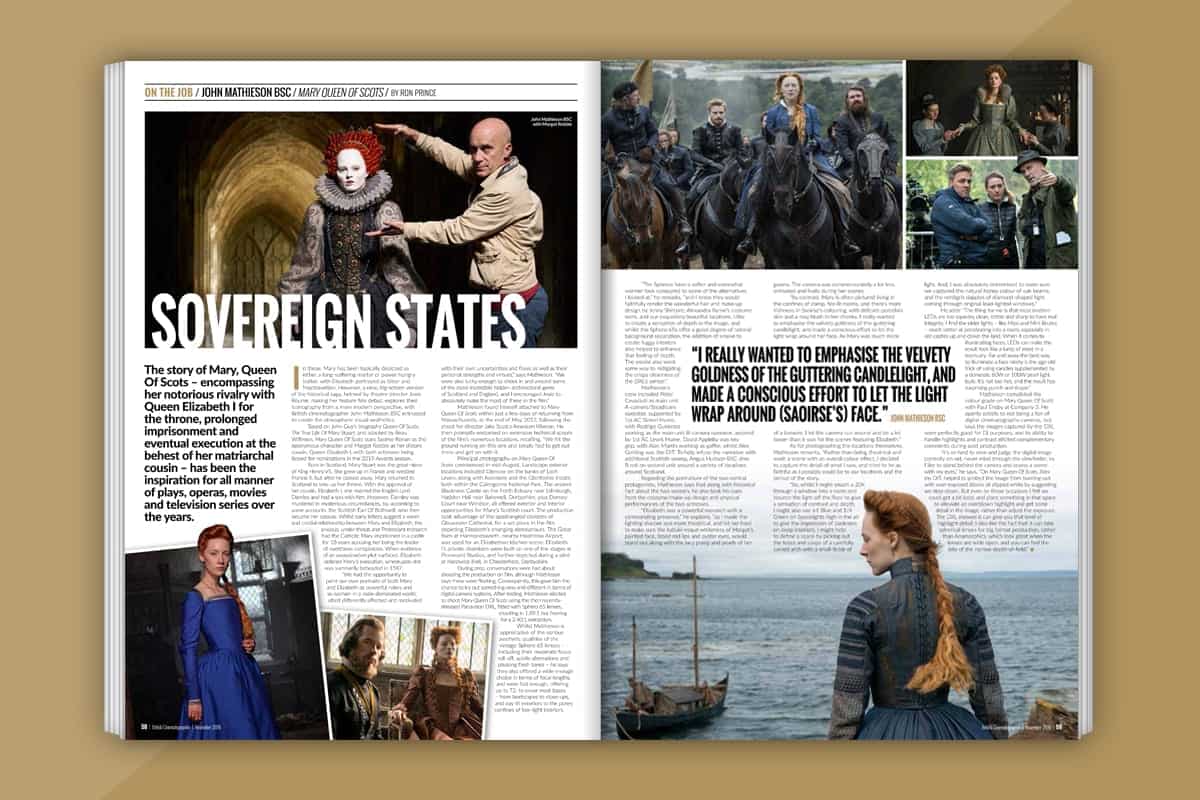 Newton Thomas Sigel ASC on Bohemian Rhapsody

A celebration of Queen and their frontman Freddie Mercury, Bohemian Rhapsody was lit by American cinematographer Newton Thomas Sigel ASC.

He tells British Cinematographer about the processes behind spectacularly recreating the band's iconic Live Aid concert, the changing looks during the band's rise to fame, and his enthusiasm for visually placing moments back in time.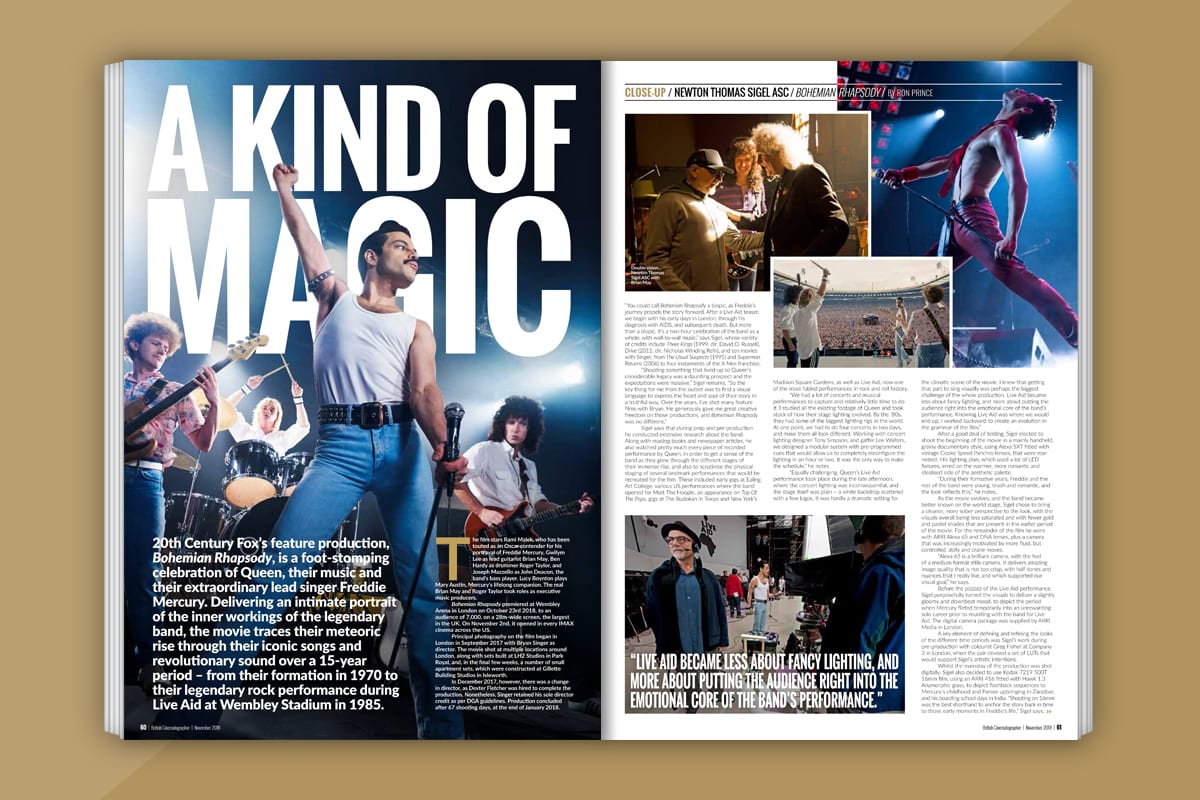 Linus Sandgren FSF on First Man

Linus Sandgren FSF reunited with La La Land director Damien Chazelle to capture the tale of Neil Armstrong's moon voyage in First Man, a contender for the Golden Frog at this month's ENERGAcamerimage festival.
Discover how he deployed a selection of Kodak film formats to depict the emotions across the story arc, utilized 65mm IMAX for the iconic landing scene, and the joy of combining some of the very latest on-set techniques with some of the oldest filmic tools.
You can also read our longer, web-exclusive feature interview with Sandgren on the production, by clicking HERE

Don't Miss…
Plenty more soundbites, comment and opinion from productions by Barry Ackroyd BSC, John Pardue and Nanu Segal.
We learn more about the BFI's most prolific female cinematographer, and IMAGO board member, Nina Kellgren BSC, gaffer Paul McGeachan and up-and-coming DP Will Baldy, as well as building up to the 2018 ENERGAcamerimage festival, and rounding-up the IBC and Cinec shows. There's also our regular comprehensive guide to which DPs are shooting who and where, all the latest production news, BSC president Mike Eley's column, and more…
A subscription is still the only way to read the complete British Cinematographer, so buy one today to fully experience Europe's No.1 cinematography magazine.

ISSUE 90: AVAILABLE ONLINE* AND IN PRINT** FROM 12TH NOVEMBER 2018.
* With an active 'Digital Only' subscription, or the digital part of an active 'Print & Digital' subscription.
** Issue 90 will only be received in printed format by those with an active 'Print' or 'Print & Digital' subscription purchased before 1st November 2018. Any new 'Print' or 'Print & Digital' subscription purchases made from 1st November 2018 onwards, will NOT receive this issue in print as part of their purchase.