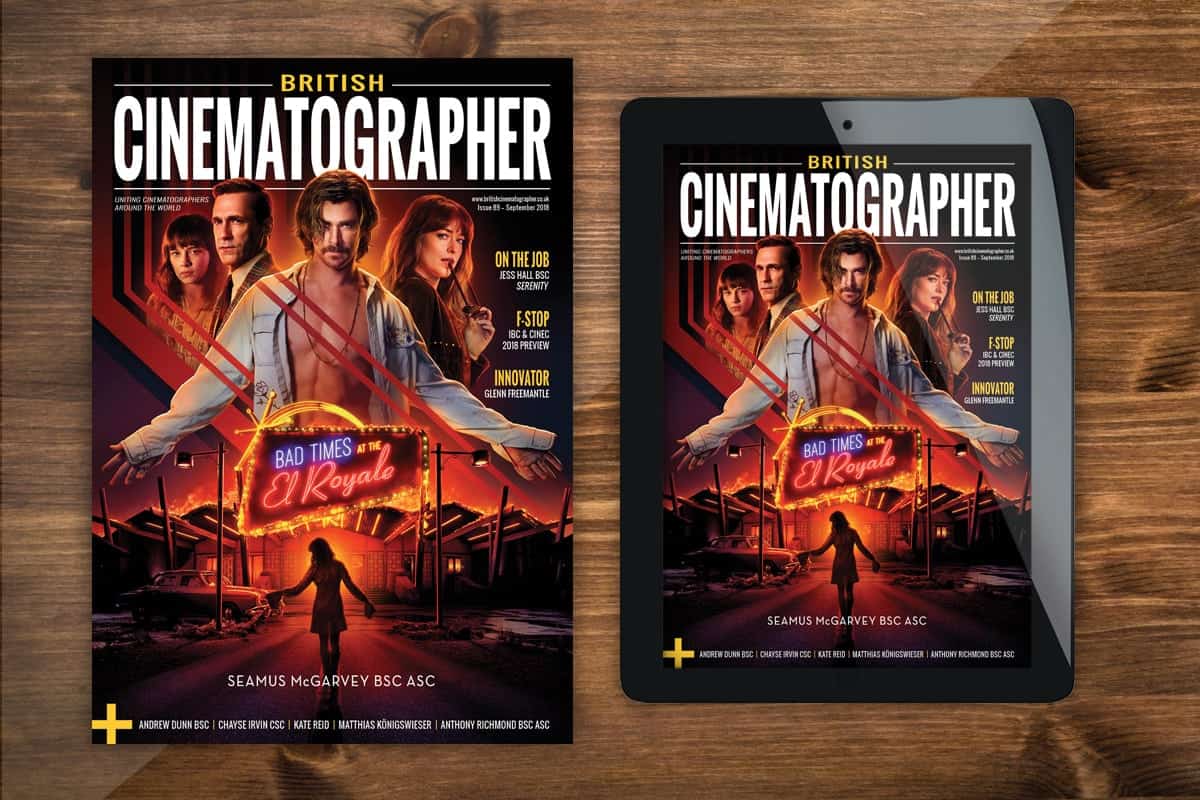 Feast your eyes on the new edition of British Cinematographer magazine – digitally* via our website, or in print**, from 10th September 2018.

On the Cover
Seamus McGarvey BSC ASC on Bad Times At The El Royale

Having graced our cover back in January (#85) with The Greatest Showman, Seamus McGarvey BSC ASC's latest production, Bad Times At The El Royale, takes centre stage in Issue 89.
He tells us why "film is for life" and vital in capturing the movie's recurring red tones, as well as explaining why shooting exteriors in a studio proved advantageous, and how gaffer Stuart Hegarty's flexible lighting plan aided production.

Jess Hall BSC on Serenity

Another former cover star, Jess Hall BSC (#80 – Ghost In The Shell) talks us through Serenity – described by one of its producers as an "existential fishing thriller".
Discover how he dealt with the challenges of shooting on Mauritius, his voyage of discovery in capturing the colours of the ocean and why Anamorphics were the way to go.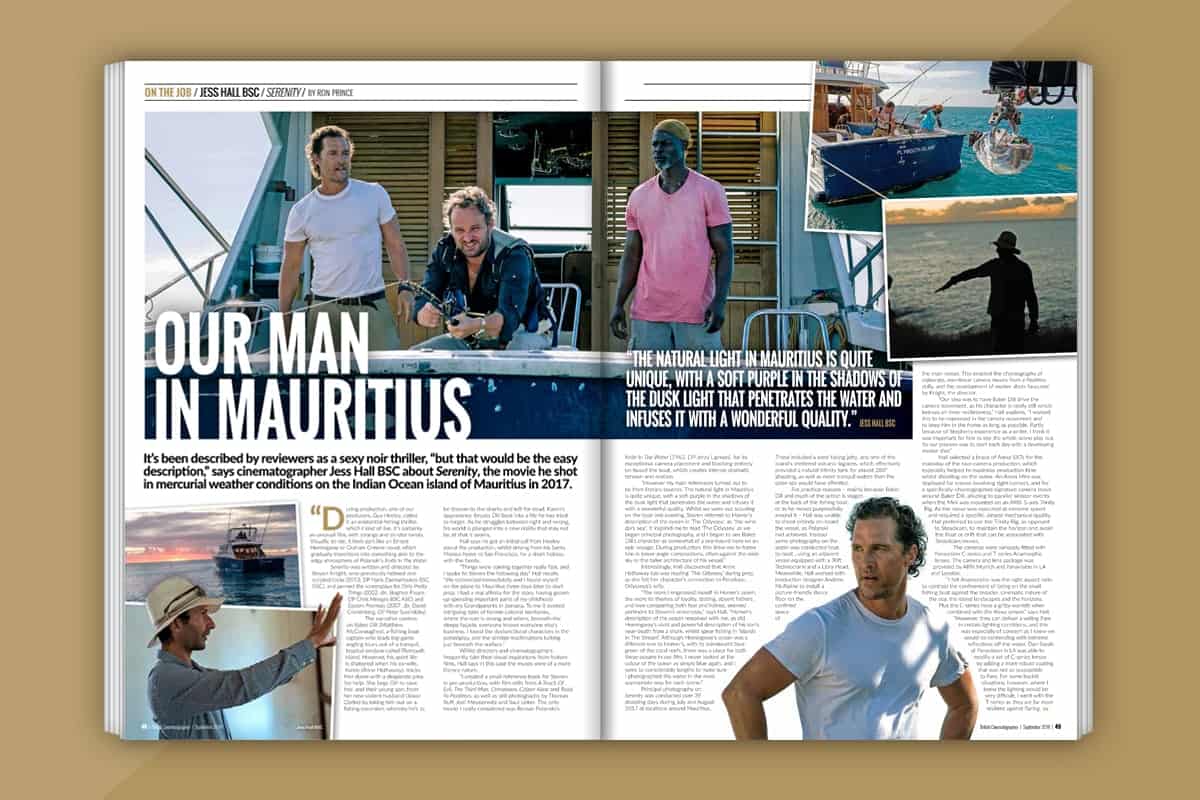 Chayse Irvin CSC on BlacKkKlansman

BlacKkKlansman has become one of the most talked about films of 2018, having won the Grand Prix at this year's Cannes Film Festival and competed for the coveted Palme d'Or.

Its North American DP Chayse Irvin CSC explains all about the experimental evolution of his approach, the virtues of using film and why he sees cinematography as a "jam session".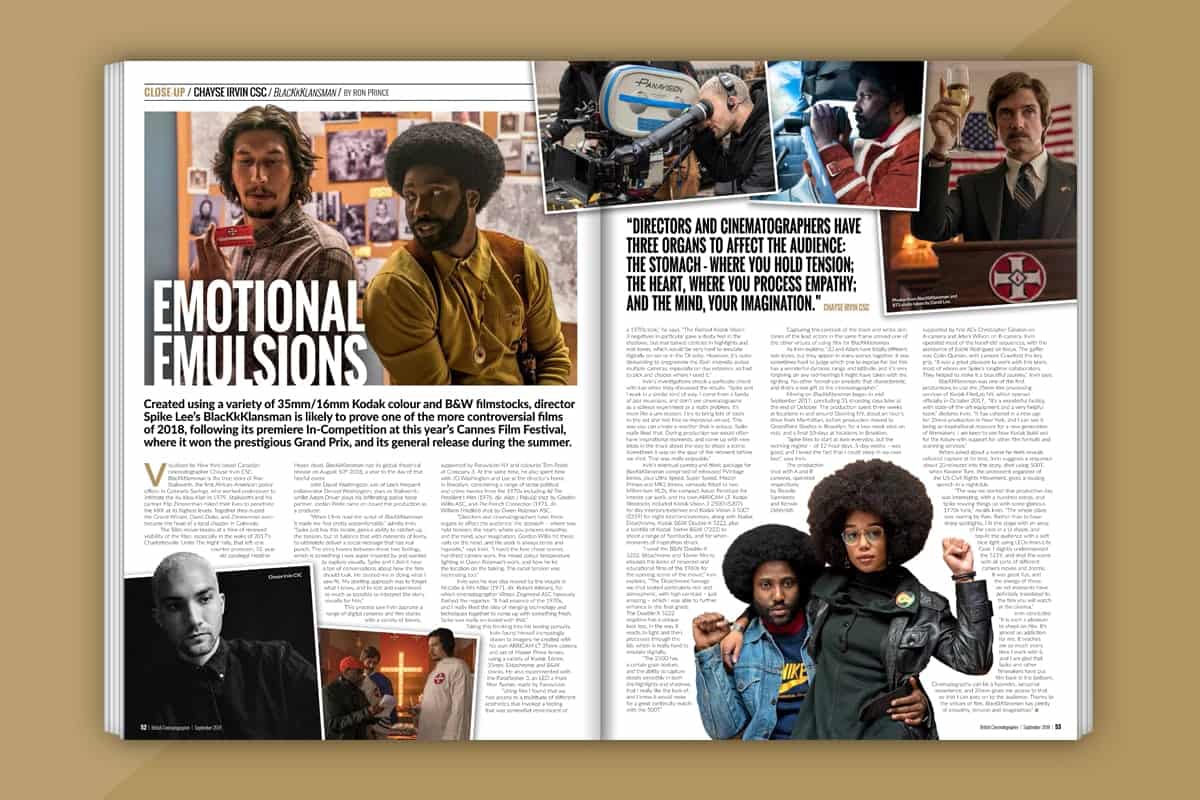 Innovator: Glenn Freemantle

Much of the focus of major productions are on the visuals, but we take the time to hail Academy Award winner Glenn Freemantle, a man who has made major innovations in sound, atmosphere and aural mood. Find out more about how brings personalities through sound, collaborates with directors and some of his more unusual techniques.

Don't Miss…
Plenty more soundbites, comment and opinion from productions by Andrew Dunn BSC, Kate Reid and Matthias Königswieser.
We learn more about DP of over 90 films Anthony Richmond BSC ASC, gaffer Shawn White and up-and-coming DP Esther Vardy, as well as building up to the 2018 IBC and Cinec events. There's also our regular comprehensive guide to which DPs are shooting who and where, all the latest production news, BSC president Mike Eley's column, and more…
A subscription is still the only way to read the complete British Cinematographer, so buy one today to fully experience Europe's No.1 cinematography magazine.

ISSUE 89: AVAILABLE ONLINE* AND IN PRINT** FROM 10TH SEPTEMBER 2018.
* With an active 'Digital Only' subscription, or the digital part of an active 'Print & Digital' subscription.
** Issue 89 will only be received in printed format by those with an active 'Print' or 'Print & Digital' subscription purchased before 29th August 2018. Any new 'Print' or 'Print & Digital' subscription purchases made from 29th August 2018 onwards, will NOT receive this issue in print as part of their purchase.