Steady-on!
Innovator / Dave Freeth & Paul Legall / Stabileye
Steady-on!
Innovator / Dave Freeth & Paul Legall / Stabileye
BY: Michael Burns
In the world of grip equipment, the Stabileye could one day be king. The remotely-operated, miniature stabilised head, which weighs around 3kg, and can easily be carried in hand, has seen action on films as diverse as Darkest Hour  to Assassin's Creed and has held its own on The Guardians Of The Galaxy Vol 2.
Stabileye is the brainchild of Dave Freeth and Paul Legall, co-directors of the eponymous company, who "try very hard to constantly modify and evolve the equipment, in order to supply the demand" from a growing fan base of grips and camera operators.
Don't call it a gimbal – Stabileye is a two-man operation. "While the grip is running around with Stabileye, the camera operator is off-set, looking at the monitor and framing-up," explains Freeth. "The camera operator will have a headset to talk to his grip and tell him where to go."
The Stabileye will automatically stabilise the camera, while the operator lines up the shot. It is, in fact, more akin to a dolly, though it has no need for a track, and you'd find it hard to hand one of them through a window.
The Stabileye has its roots in attempts by Legall and Freeth to develop an aerial camera platform in the early days of drone use. Freeth, who trained as a watchmaker, and was then employed by the MOD to work on guidance systems, caught the filmmaking bug through working with 35mm cameras fitted under the wings of fighter planes.
He followed this up with a position at film kit hire company Griphouse, becoming head of its electrical department, and working with early versions of gyro-stabilised camera heads. A move to Megamount (known today as Camera Revolution), saw him become one of the first stabiliser technicians, working with the Libra Remote Head.
"Paul and I decided to develop a very small stabilised head that we could use as an aerial platform," Freeth says. "And Stabileye was born. We wanted it to be as small and as light as possible, so it could fly and we could meet aviation authority targets of weight. Which we did."
Although gaining civil aviation approval to fly drones, the duo found they didn't relish going too far down the aerial camera route.
"It's inherently risky, even with all the fail-safes that we incorporated," explains Freeth. "We turned very quickly from flying these things on helicopters and drones, to wire work.
"We've had operators half a kilometre away, with Stabileye zipping along the line at 40mph," he adds. "We can go across lakes and get very close to the water - you don't have the surface of the water affected by a boat, or the downwash of an aerial platform."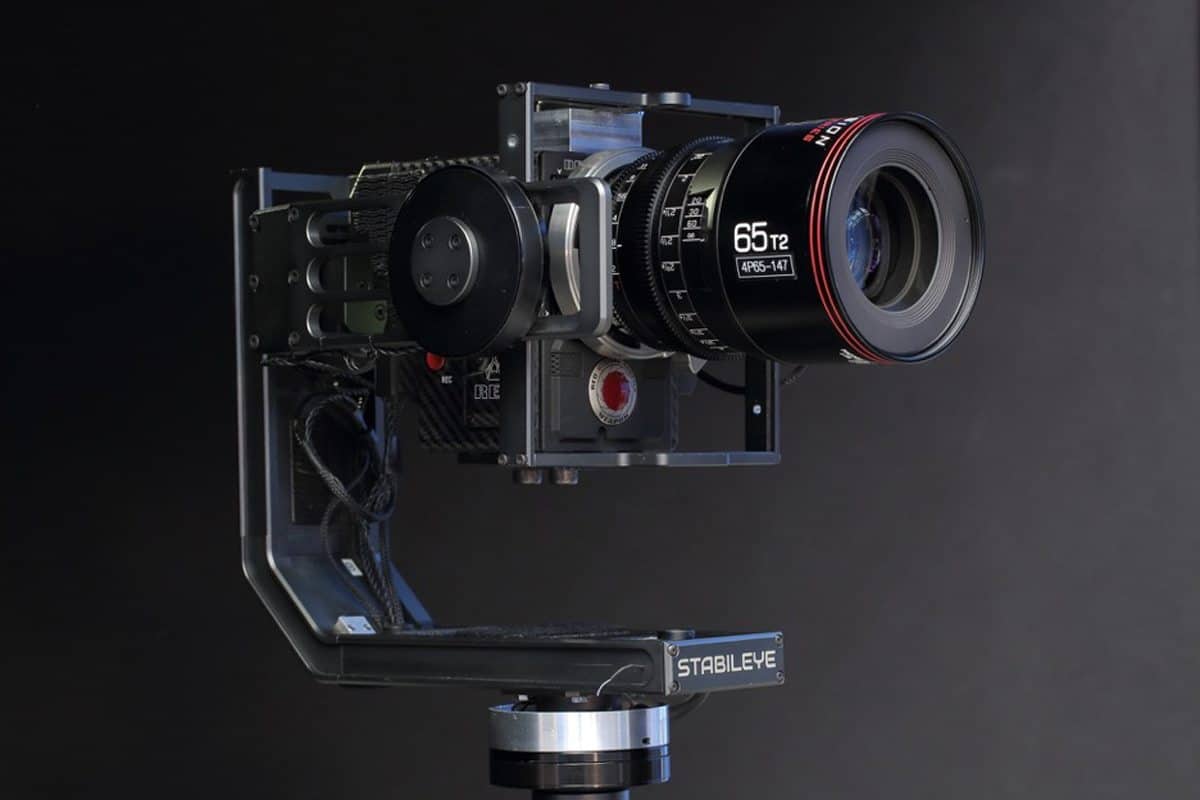 "[Around four years ago] Henry Braham BSC decided to use Stabileye on The Bastard Executioner [for two episodes of the ten-part FX series]," says Freeth. "He used it brilliantly, really seeing the potential in what he could do with it. Instead of hanging off a drone, the Stabileye was picked up and carried around. They shot a lot with it that way and saved a lot of time. Henry went on to do several big films with it, including Legend Of Tarzan. We were asked to do some re-shoots with some wire work, and Henry introduced the Stabileye in its hand-held mode to director David Yates."
This kind of viral contact continues to spread the word about the technology.
"Camera operator Des Whelan was introduced to Stabileye on Darkest Hour, and went on to use it on the opening sequence of Dumbo, and The Commuter," says Freeth. "Instead of grabbing the dolly, they would grab Stabileye.
"It can be a constantly evolving shot – being walked about the set, then grabbed and clipped onto a line, then it'll get drawn up to a bridge where someone will take it off and pin it to another piece of equipment," Freeth adds. "On a film set, when you film something, and then you do the reverse, you have to turn around. Often there is lots of equipment that has to be put away, to get out of shot, but with Stabileye being so small, you can just walk, then just turn around - it saves a lot of time.
"It doesn't work for every shot," he admits. "If you're doing a very long dialogue part you don't want your poor grip to be standing there, holding this camera for the entire time. You would use a dolly, or set of legs."
"We advertise Stabileye as grip equipment. So, it is like a dolly, but as we evolve it, we try to make it as powerful as possible, while keeping the weight as light as possible. Stabileye is currently about 2.8kg without a camera. I think some of our closest competitors are many times more than that."
- Dave Freeth, Stabileye Co-Director
When Freeth spoke to British Cinematographer, he was heading for a shoot in New Zealand where Stabileye was to be used on horseback.
"It's not uncommon for us to be asked to do things on radio-controlled cars, and drones," he adds. "On Aladdin, Guy Ritchie wanted a very close shot of the actor singing while running through the souk. We just put it on a backpack and ran around the set with it. We had it on bicycles on Mary Poppins, and we've been asked to use it on a spinning 'bucking bronco' simulator."
It also sounds ideal for a typical movie battle scene - where 100feet of track and a dolly would be a bit more obtrusive – and less dynamic – than one grip with a Stabileye in the thick of the action.
"We can be right among it," agrees Freeth. "The camera operator will see it all happening and say, 'Come wider, come wider, go left and high'. That's how these shots evolve. It's an age-old formula that works really well, but that's what we do with Stabileye – it maintains the relationship of an operator and his grip."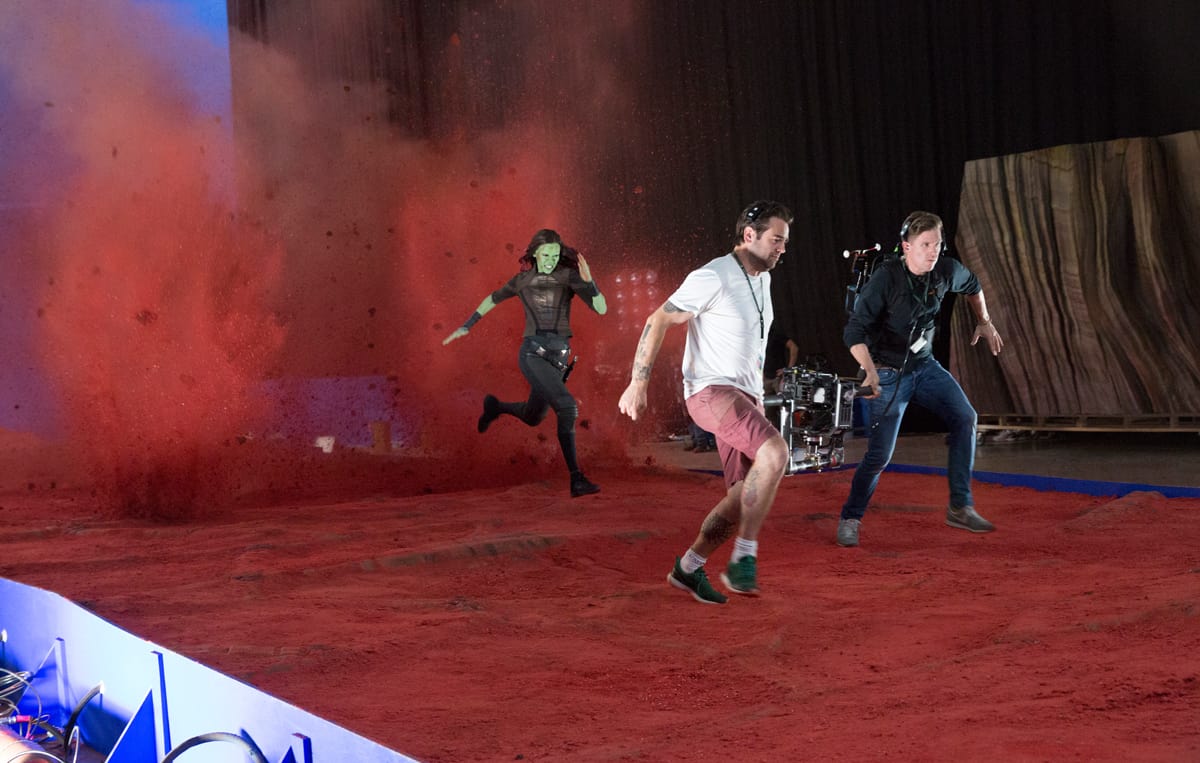 But what makes Stabileye different from other shot-stabilising kit on the market, such as gimbals?
"With a gimbal you will need to know the difference between the operator deliberately pointing the lens and accidentally moving their arms," argues Freeth. "One you'd need to stabilise, and the other you'd need to follow. What you get is a distinct lag and a very floaty feeling.
"Then there are contraptions where the operator has spring-assisted arms and great big poles on their backs, with dangling cables, to carry the weight on their hips. That's all fine and it does work," he admits. "But the grip should be able to bend down and put the lens all the way to the floor, and stand up and reach to their full height… and they should be able to do that on the move, to be able to walk through doors; to be able to hand the camera through a window to someone. None of that is achievable when you have an exo-suit, or one of these lifting-assisting vests on.
"We advertise Stabileye as grip equipment," he adds. "So, it is like a dolly, but as we evolve it, we try to make it as powerful as possible, while keeping the weight as light as possible. Stabileye is currently about 2.8kg without a camera. I think some of our closest competitors are many times more than that."
"I'm always delighted to see when someone 'gets' Stabileye – and James Gunn got it straight away," says Freeth, about the writer/director. "He dived in head-first and used it [extensively] on Guardians Of The Galaxy Vol. 2 in Atlanta last year."
Henry Braham BSC shot that film on a Red Weapon 8K VistaVision camera with Panavision 70-series lenses. Director Gunn announced that 80% of the footage was shot using Stabileye.
"We're all very proud of Guardians 2 because it was a large format camera and 70mm," he says. "Projected, that image is so big that the slightest tremor... well, put it this way… we would be toast if it wasn't perfect. But it held up. Everyone was pleased with it. The visual effects people were delighted with the stability of the footage. When you've got such big images and such big lenses being run around a film set, achieving that level of stabilisation, that everyone is happy with it – well that's one of my very proudest moments."