Sense Of Purr-pose

Christopher Ross BSC / Cats
Sense Of Purr-pose

Christopher Ross BSC / Cats
The musical fantasy Cats follows a tribe of felines, called the Jellicles, who must decide yearly which one will ascend to the Heaviside Layer before coming back to a new Jellicle life.
The vivid, dance-filled film is based on the stage musical of the same name by Andrew Lloyd Webber, which in turn was based on the poetry collection Old Possum's Book Of Practical Cats (1939) by TS Eliot.
The movie was directed by Tom Hooper - his second musical feature following Les Misérables (2012) - from a screenplay by Lee Hall, and features an ensemble cast, including James Corden, Judi Dench, Jason Derulo, Idris Elba, Jennifer Hudson, Ian McKellen, Taylor Swift, Rebel Wilson and Francesca Hayward.
Cinematography on the production came under the auspices of Christopher Ross BSC, whose previous credits include Sex & Drugs & Rock & Roll (2010), Top Boy (2011), Blackout (2012), Oasis (2017), the BBC/HBO/FX TV series Trust (2018) and Yesterday (2019). He is currently working on Sally El Hosaini's The Swimmers.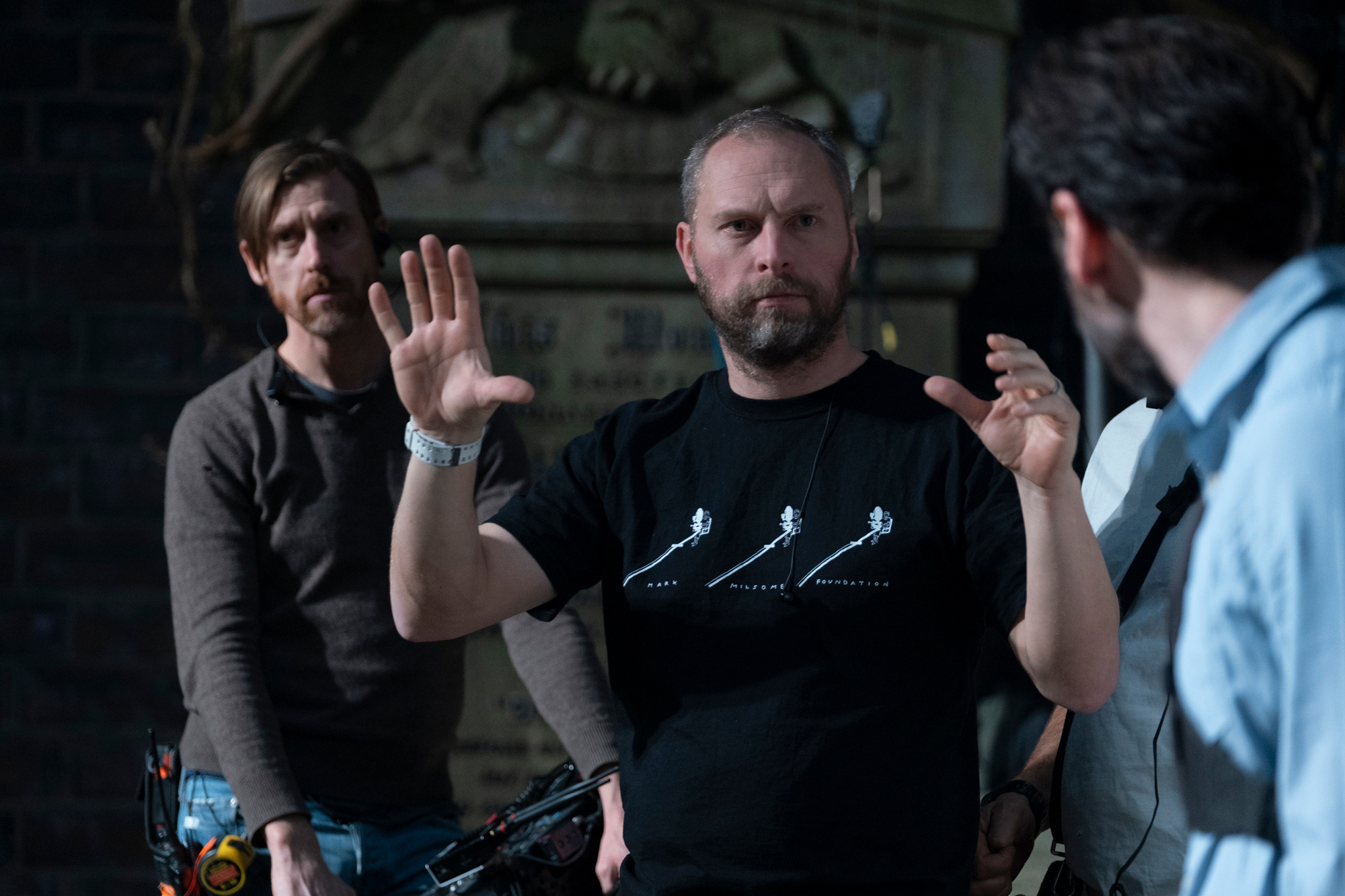 Principal photography took place entirely at Warner Bros. Studios Leavesden, beginning on 12 December 2018, before wrapping 66 production days later on 2 April 2019. Vast sets, conceived by production designer Eve Stewart, were built to scale in order to set the cats themselves in the world of human beings - the 2.5:1 scaling ratio being based around a cat standing on its hind legs. This meant a skirting board might be two-feet high, and a doorway well over 20ft. It was also a formula that Ross used to help plan the lighting requirements, camera equipment and camera moves.
Ross says his initial discussions with Hooper about the movie were based around concept art developed by production designer Eve Stewart.
"The story is set in Soho's theatreland in the late 1920s, where the cats command the dingy, decaying, smoggy backstreets and wasteland. Although there were going to be a lot of VFX elements - such as adding digital fur to the actors, set extensions and CG backdrops - Tom wanted do shoot as much as possible in-camera with our performers on physical sets."
Ross had 15 weeks of prep, during which time he and his camera crew attended and shot the evolving choreography in the dance rehearsals. "This really helped us embed the camera into the film, especially the visceral, first person perspectives of Victoria, our lead character," he says.
The DP also undertook extensive research into a sweep of feature films that would inform ways to reinforce the sense of scale and depth - such as Toy Story and Wall-E - as well as Hollywood musicals to inspire the filming of the movie's many song and dance routines.
"Almost every frame of our film had choreographed moves, and we had all sorts of geometric and free-form dance routines - containing everything from graceful and poised to sharp and fast movements - and I wanted to see how we could make those flow best with the storyline," he says.
References included elaborate Busby Berkeley productions from the 1930s, through to Singin' In Rain, An American In Paris, West Side Story, Cabaret, Grease, Chicago and La La Land. Music videos were a visual inspiration too, including Michael Jackson's Thriller and Smooth Criminal, and Madonna's Vogue. Ross also considered colour archive shots of Soho during the 1920s and 1930s to help set the decrepit mood.
"Tom [Hooper] has a love of keeping the camera moving, and it was a great deal of fun working out ways of moving the camera. The final film has some huge transformations in operating style from furtive, long-lens handheld, to the sweeping wide angle grandeur on a crane."
- Christopher Ross BSC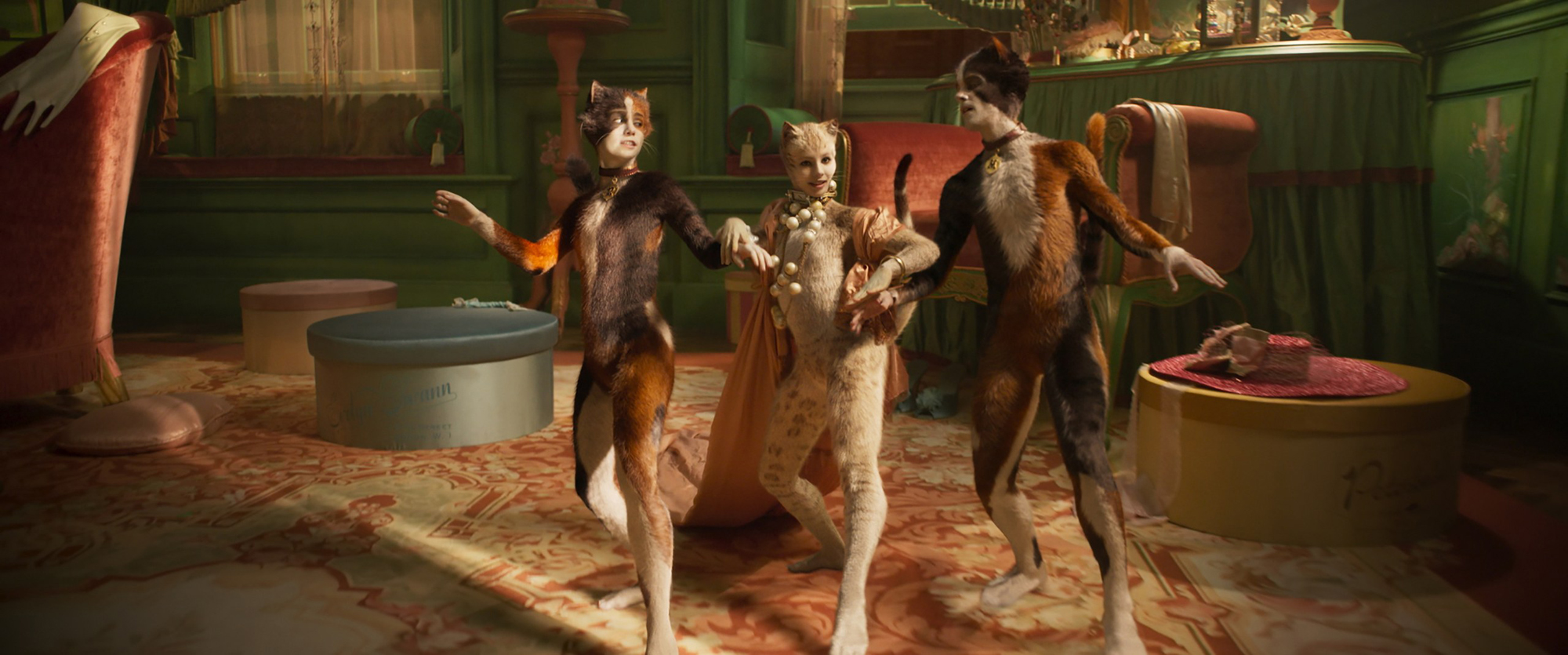 After extensive testing, Ross went with large format ARRI Alexa 65 cameras, fitted chiefly with ARRI Prime DNA lenses, which he says, "gave me the best balance of low contrast and fast T-stop to deliver the soft and painterly feel Tom likes. Being spherical, they don't have the rectilinear issues you get with Anamorphics, and they have fewer aberrations, which would help the VFX vendors. Additionally, I could compose shots with less separation, retaining background details whilst the cameras were focussed on the performers in foreground."
Cats utilised four Alexa 65s - three for daily production, and the fourth ready for Steadicam sequences - rated at 800ASA, shooting Open Gate ARRIRAW at 6560 x 3100 resolution, with an aspect ratio of 2:1:1, but framing for a 2.39:1 extraction. Ross operated A-camera during production, with Ian MacKay as B-camera/Steadicam, and Oliver Loncraine on C-camera. The production gaffer was Mark Clayton.
"Tom has a love of keeping the camera moving, and it was a great deal of fun working out ways of moving the camera. The final film has some huge transformations in operating style from furtive, long-lens handheld, to the sweeping wide angle grandeur on a crane," he remarks.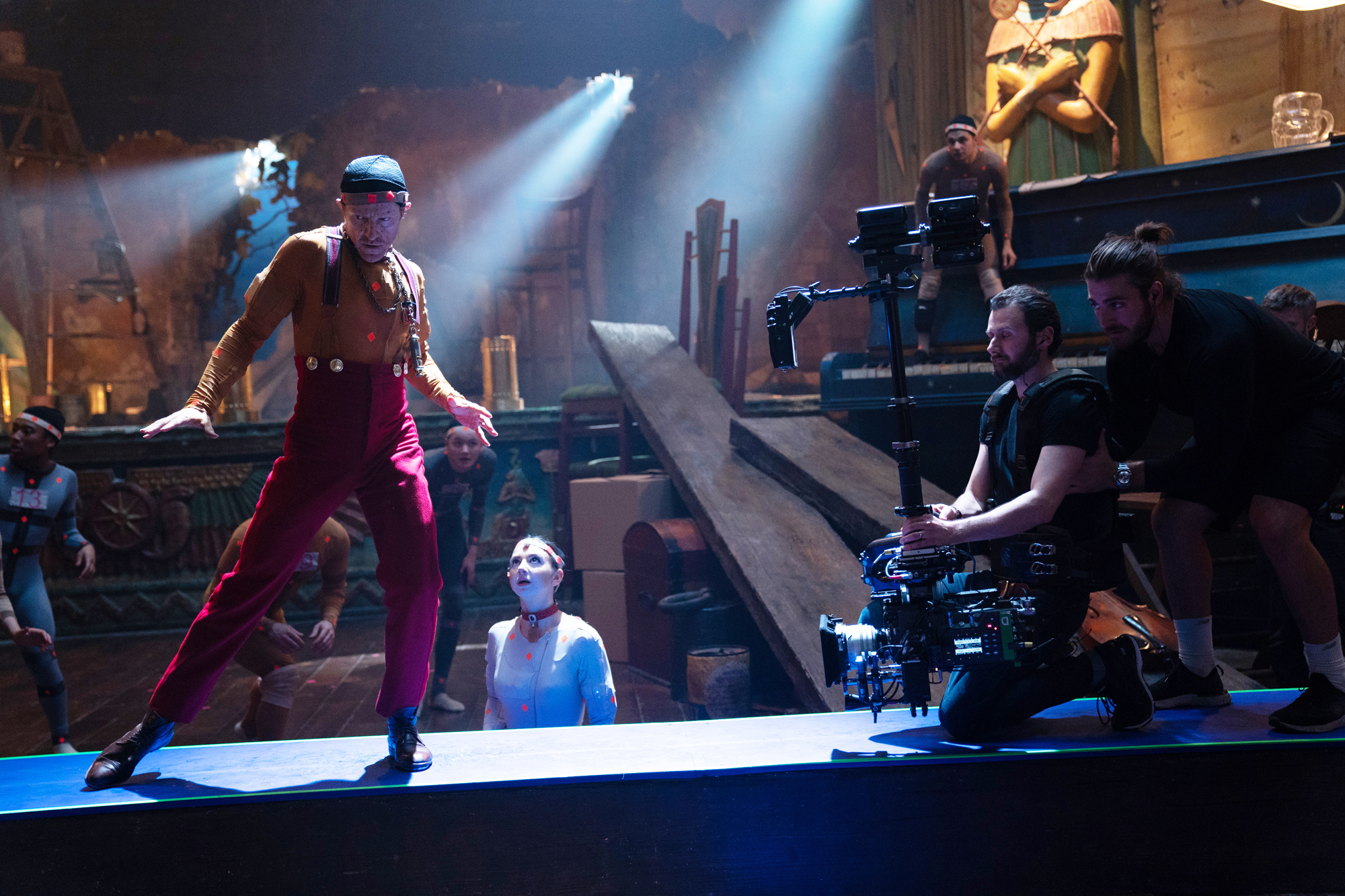 The camera-to-post workflow was established and supervised by a team from Mission - DIT Thomas Patrick, head of colour Pablo Garcia Soriano, technical director Tom Mitchell and digital lab operators Alec Garner and Patrick King. The camera original negative was recorded onto high-performance drives that have a bandwidth of up to 20GB/sec, and use high density encoding to substantially reduce the data footprint.
Patrick used Pomfort Livegrade to perform on-set colour timing for Ross, as part of an ACES colour pipeline that would ensure colour consistency both on-set and downstream in post production. Mission's near-set digital lab at Leavesden, supplied files for the main editorial team and online cloud dailies, and also managed the VFX pulls. The set-up meant that Hooper and Ross were able to visit editorial at lunchtime to review footage that had been shot in the morning.
Cats required extensive VFX throughout almost all of its 1,887 shots to convert the live-action actors into cat-like characters. Companies that worked on the film included Industrial Light & Magic, together with Technicolor SA subsidiaries Mill Film and MPC. On-set the actors typically performed in Xsens motion capture suits with tracking dots on their costumes and faces. Using the on-set motion data, the bodies of the cat characters were then rendered in post with digital fur which was blended with the actors' actual faces.
Ross concludes: "I am very proud of my work, and that of my crew, on Cats and consider myself very lucky to have been in a team of people who did extraordinary work in bringing an imaginary world to life. Indeed, all of the crafts done on behalf of the film and its storytelling were seriously impressive."