Tomorrow Never Knows

Christopher Ross BSC / Yesterday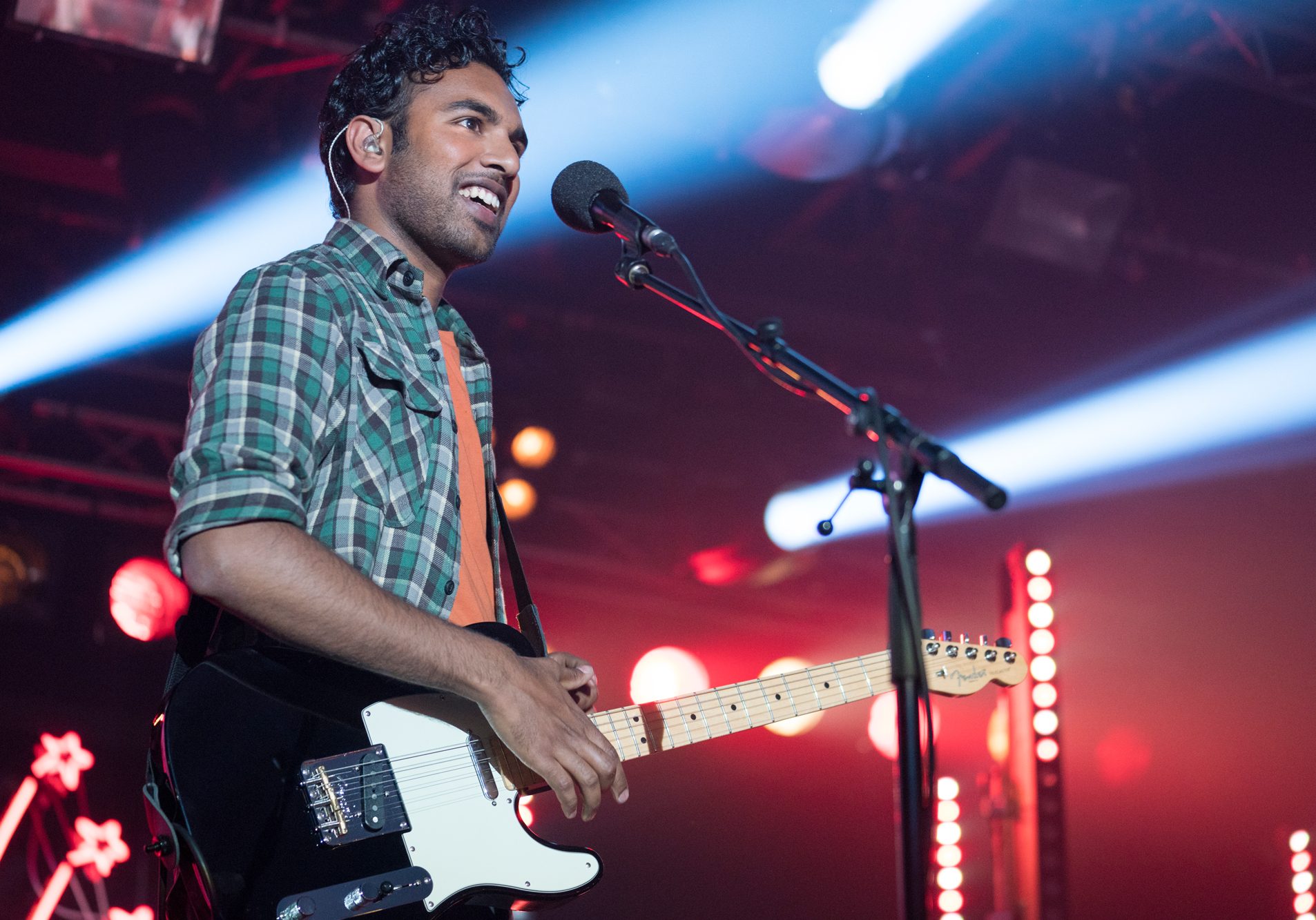 Tomorrow Never Knows

Christopher Ross BSC / Yesterday
When the whole world experiences a random and momentary blackout, hapless Jack Malik (Himesh Patel) is hit by a bus, rendering him unconscious. He awakens to find that he is the only person on Earth who knows The Beatles and their music. To everyone else, The Fab Four never existed.
As a flailing musician, this puts him in an odd predicament - one that ultimately changes his life - and his true love (Lily James) forever.
Yesterday, deftly led by its director Danny Boyle, is both fun and funny. It is also one of those movies that, for a cinematographer, is less about creating beautiful frames and lighting per se, and more about other creative skills. This is neither good nor bad - it's simply all part-and-parcel of the art and craft of cinematography.
"When a film that is based in reality has a fantastical moment in time, it can become a bit 'otherworldly'," says Christopher Ross BSC, the movie's cinematographer, whose recent credits also include director Vaughn Stein's Terminal (2018) and Tom Hooper's hotly-anticipated Cats. "If you want your story to resonate, you need to bring realness to the rest of the production as much as you can."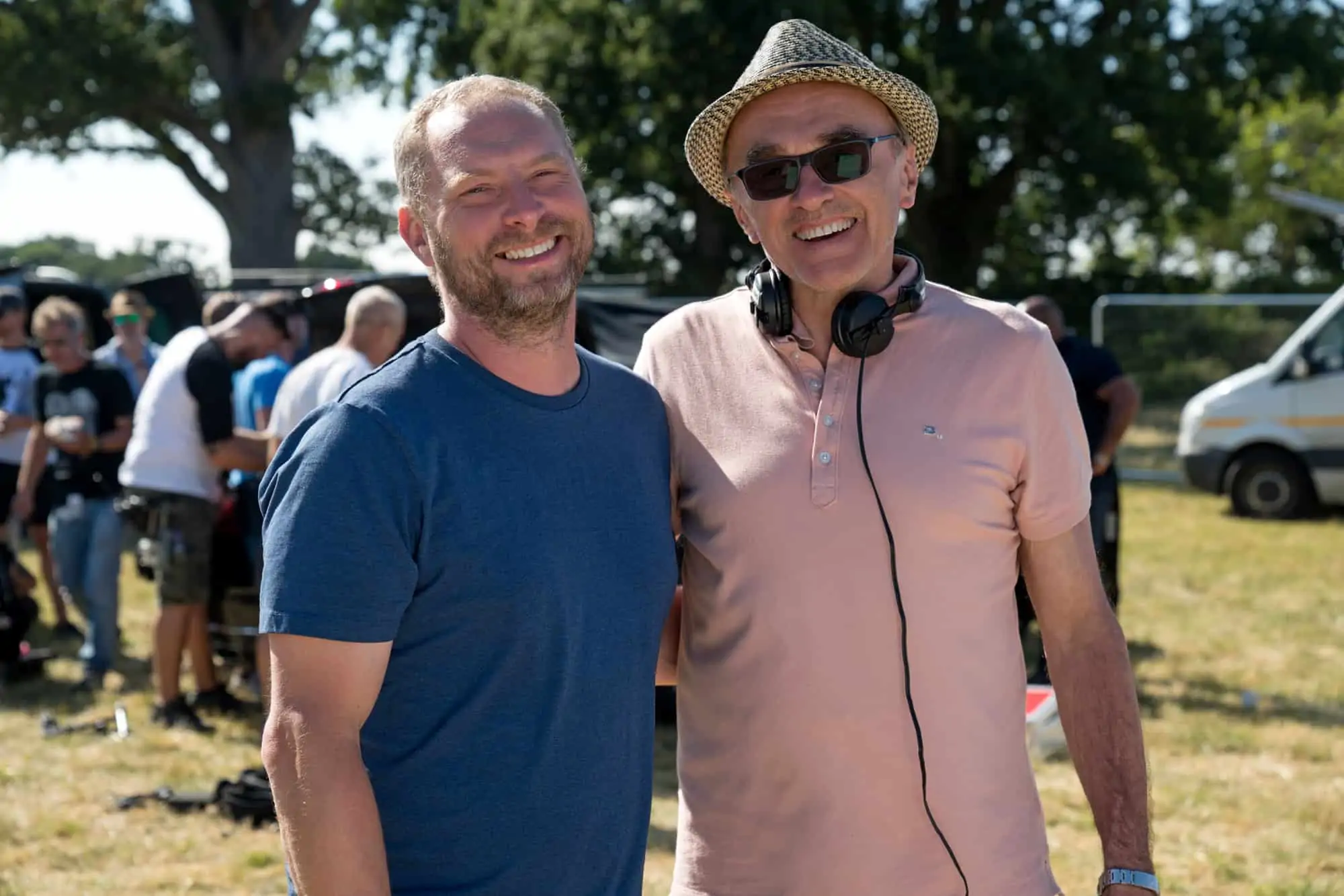 Ross's goal was to maintain a level of truth to the imagery so that the audience would always feel grounded in the real world. His choice of camera for that was the Red Helium, which he'd previously used on Trust, the BBC Two/FX Network mini-series about the Getty family and the first project he and Boyle had collaborated on.
"I love the colour response of that camera," Ross says. "I often describe that it's like using a roll of Fuji film in 2005." He paired the Red Helium with a set of Panavision P-Vintage lenses, attuned to the fact that these lenses can be a bit quirky and don't quite have the same colour rendition or chromatic aberration as other glass of the same ilk that he's tried. He adds: "In a world where we are in control of everything, where everything matches and that's the hero of technological Utopia, I prefer the lack of matching. I think it's much more fun when there's a bit of a conflict from shot-to-shot; it makes the cut feel more real and slightly takes away from the artifice of filmmaking."
"The bigger concerts were the most complicated set-ups and shoots I've had to date in my career. Besides being technically rigorous and logistically tricky with all the approvals needed, the real challenge was to make it appear that you're not showing off."
- Christopher Ross BSC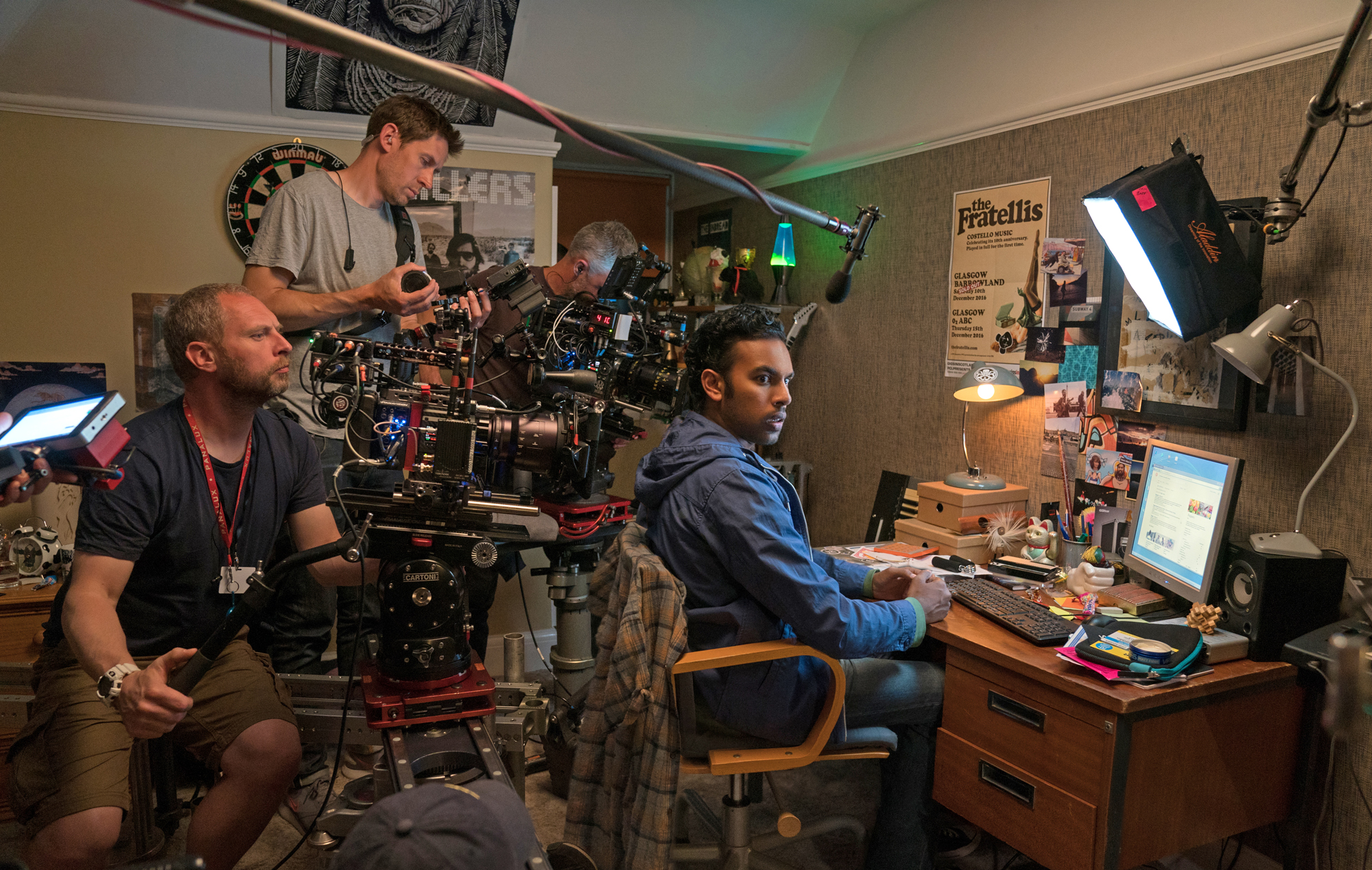 Among Ross's challenges for Yesterday were the many performance and concert scenes that take place - some only for a few moments - throughout the narrative. These encompass a street busking scene, pub gigs, a small concert in a Russian venue and quite bigger one at The Academy in Liverpool, all the way through to Wembley Stadium and then to the rooftop of The Pier Hotel in Gorleston-on-Sea on the Norfolk coast (the latter being an homage to The Beatles' final public concert, on 30th January 1969, from the rooftop of their Apple Corps building on Savile Row in London).
"I'd say those bigger concerts were the most complicated set-ups and shoots I've had to date in my career," says Ross. "Besides being technically rigorous and logistically tricky with all the approvals needed, the real challenge was to make it appear that you're not showing off. Lots of films with concert scenes of this magnitude might be more flamboyant, but this was just Jack, a guy on stage, performing, and that was part of his life at that moment."
The two concerts that dominated Ross's prep period were The Pier Hotel and the Wembley Stadium concerts. For The Pier Hotel rooftop homage, he referenced archival imagery and footage from The Beatles' performance on that day. And, since there were Dinos on that roof-cum-stage, Ross had Dinos in his set-up. With around 6,000 extras recruited to appear in the scene, Ross deployed seven cameras, using cranes swinging around in front of Jack, and even a helicopter unit, trying to put as much energy as possible into the images to best visualise the emotional rollercoaster that Jack was on.
"We did three takes of the song and a few takes of crowd beforehand," Ross says, referring to his team of operators and the helicopter unit. "Himesh did amazingly well. He is an accomplished musician and singer, having studied those throughout his school years. For every song in the film he's playing guitar and singing for real."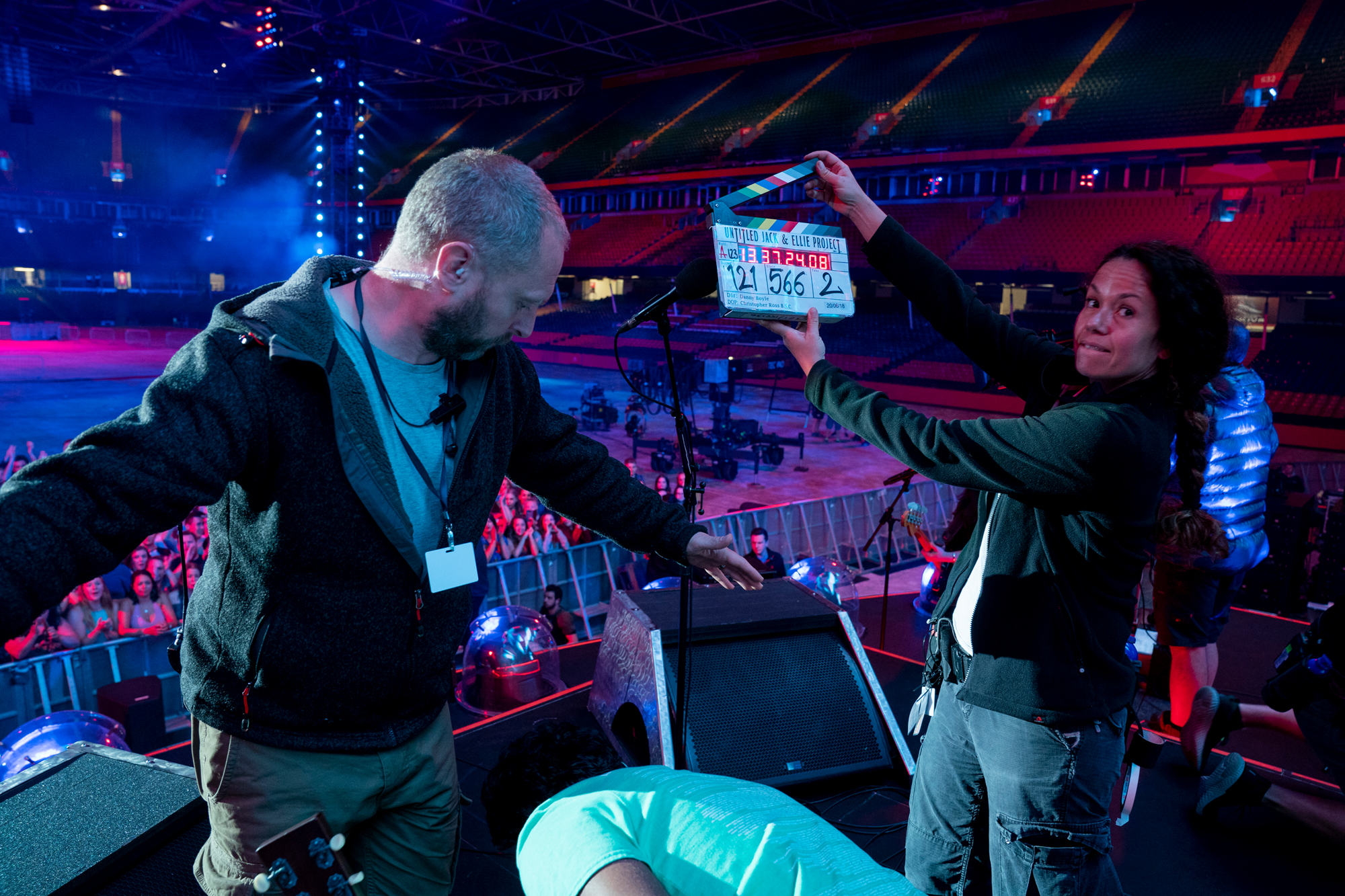 Part of the story of Yesterday sees Jack become more famous than Ed Sheeran, who plays a cameo role in the movie. This association with Sheeran ultimately helped Ross to get coverage of all of Jack's Wembley Stadium concert performance. In the lead up to that shoot, Ross and Boyle attended four of Sheeran's 'Divide' tour shows - "Danny became a big fan," he laughs. Ross and his gaffer Mark Clayton then worked side-by-side with Sheeran's lighting designer, Mark Cunniffe, to create a production and lighting strategy that would work for Jack's Wembley performance and the film's needs.
"Mark Cunniffe had developed a cue-based lighting system for every song on Ed's 'Divide' tour," Ross explains. "We had four Beatles songs for Jack to play at his Wembley gig. I picked an amazing moment at the end of one of Ed's songs, called 'Bloodstream', which is an explosion of light energy that lasts for about 35 seconds. Mark and I matched up our desktops to exchange files of that 35 seconds of light in order replicate and extend the effect to over two minutes. That became the light effect for Jack's rendition of 'Back In The U.S.S.R."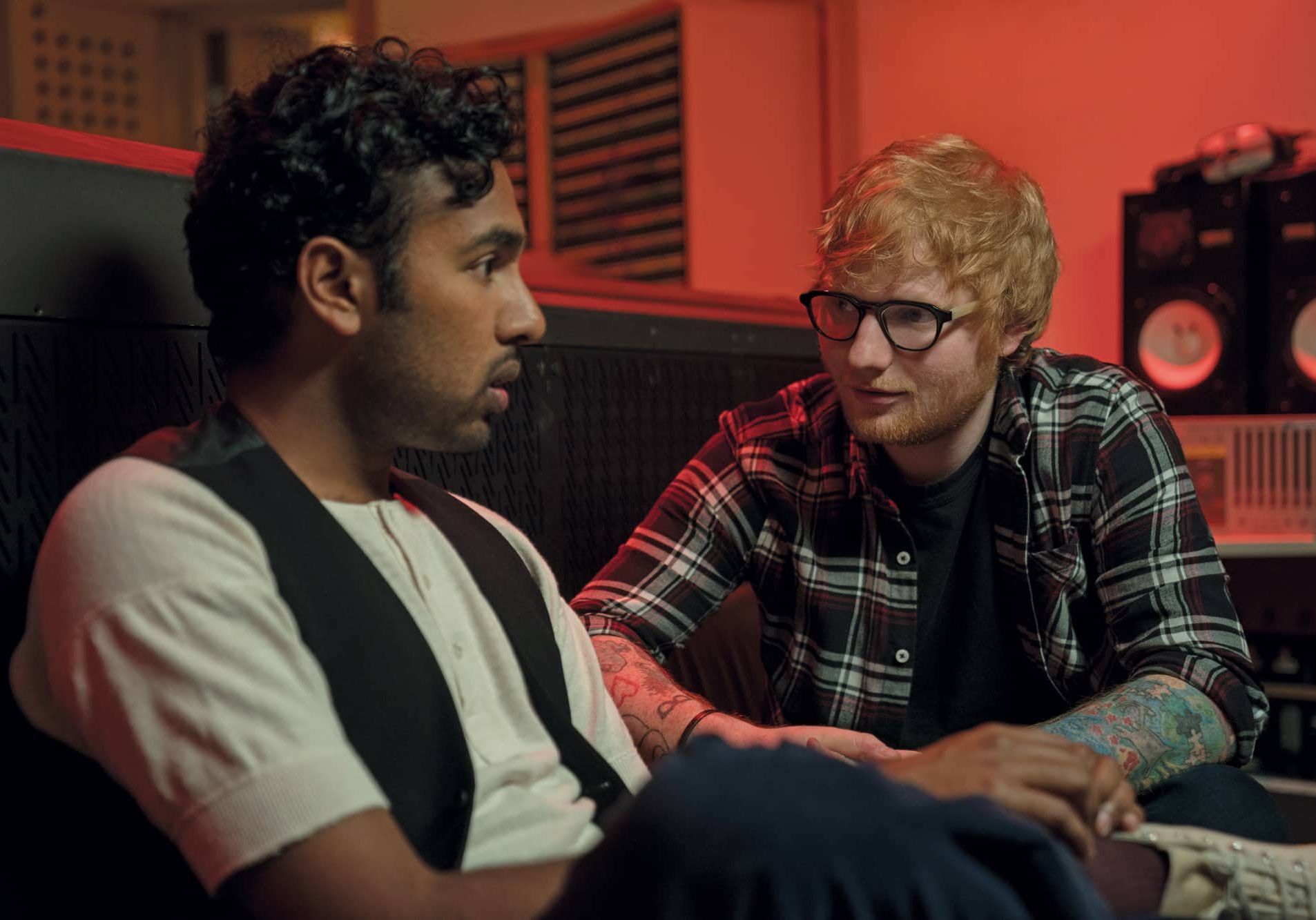 With the lighting plans in place, 17 cameras were set-up at Wembley Stadium. When Sheeran finished his set each night, and the audience had gone home, Patel would then come on stage and perform his four Beatles' songs using the replicated lighting designs.
In order to acquire footage of the crowd, which they had not focused on at Wembley, the production shot audience footage during four consecutive concerts of Sheeran's tour at the Principality Stadium in Cardiff. Using anywhere between 12 to 17 cameras every evening, Ross and his team got coverage from 48 different viewpoints, again working with Cunniffe to add his lighting techniques to the finish product. For these shoots Ross utilised a Spider Cam, Reds on dollies, Reds hidden amongst the crowd and tower cams. Every camera position had to be hidden, which made generating movement quite hard.
"When you watch the film," Ross says, "hopefully you've got no idea that there weren't 100,000 people there for Jack's Wembley concert."
Despite all this patchwork behind the scenes, and what sounds like a logistical nightmare, Ross has created a seamless experience for the viewer of Yesterday.