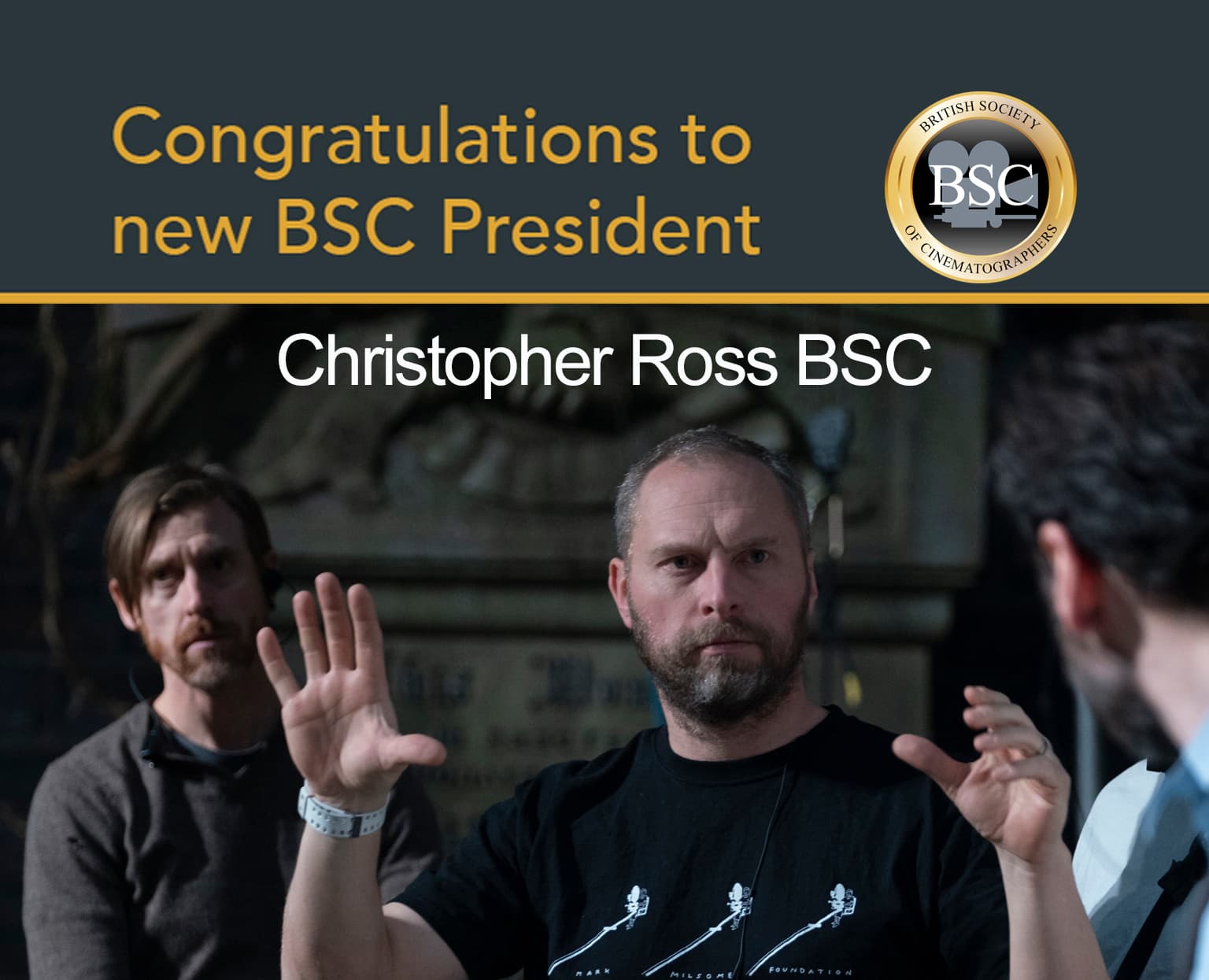 Christopher Ross BSC has been announced as the new president of the British Society of Cinematographers.
Ross takes over the reins from Mike Eley BSC, who served as president of the society for the last four years.
Congratulations to Ross on this exciting appointment. We look forward to working with the talented cinematographer to help continue to drive the industry forward and showcase the incredible talent and work of the production community.
Commenting on being appointed BSC president, Ross said: "Firstly, my heartfelt thanks to exiting president Mike Eley BSC. It has been an honour to serve on your board, your leadership over the past five years has been truly inspirational. You have guided the Society with diplomacy, wit, and a thoughtful diligence. I salute the hours that you have given in the service of cinematography, and I wish you a restful break from the email-chains and Zoom meetings.
"It may be argued, that one of our greatest career achievements is the recognition of our work by other cinematographers. Being invited to join a collective of dedicated and highly skilled practitioners of a craft, and to be considered an equal amongst their ranks is a proud and humbling experience.
"For those cinematographers to then ask you to work on their behalf as president is, for me, one of the highest honours that can be bestowed. Confronted with the role I am both overwhelmed and excited; overwhelmed with the thought of the 32 pairs of shoes that I now fill, and excited about the potential that the world of cinematography holds for us now and in the future.
"I hope that I can express my gratitude with hard labour and to show my affection for this great society with future endeavours. It is a great privilege to stand on the shoulders of the giants that came before me and to represent the interests of the BSC, cinematography and cinematographers, past present and future. Onwards!"
Ross's varied credits include Tom Hooper's Cats, Danny Boyle's Yesterday, Kevin Macdonald's Black Sea, Christopher Smith's Detour, Oliver Parker's Dad's Army, Everybody's Talking About Jamie, with director Jonathan Butterall, Trust with directors Danny Boyle, Jonathan Van Tulleken and Susanna White and the award-winning E4 series Misfits, for which he received an RTS nomination. For his work on Tom Green's political thriller Blackout, Chris received the BSC TV Award, an RTS Award and a BAFTA Craft nomination. This was followed by a BSC TV Award nomination for the second season of the critically acclaimed Top Boy.
The British Cinematographer team would also like to thank Mike Eley BSC who served as president of the society for the last four years, guiding with dignity, diplomacy, and great leadership. We appreciate the support he has given the magazine and incredible insight he shared in the President's Perspective pieces.