Cramped
Aaron Reid / 10x10
Cramped
Aaron Reid / 10x10
The psychological thriller 10x10 seesaws from quiet to bombastic, light-and-airy to dark, all cramped into the space of 90 minutes. Suzi Ewing's first feature, the film stars Luke Evans and Kelly Reilly in a battle between right, wrong and all the grey in between. To capture these dichotomies, cinematographer Aaron Reid shot mostly handheld with the Alexa Mini because of its mobility and stamina with long takes.
Because 10x10 is a fairly straight thriller, story-wise, and there's quite a lot of energy with only two characters in a physical and emotional battle, it would seem like a fairly straightforward shoot. But it is also secluded. Nearly the whole story takes place in a big, light, modern, one-story house in a clearing in the middle of the woods. The discussions Reid had with Ewing were focussed on how to make the visuals feel both secluded in this rural location, but also claustrophobic, since the film is indeed called 10x10, and it is in that 10ft by 10ft room that the bulk of the dialogue is confined.
"Because it was such intense dialogue there," Reid explains, "originally we spoke about doing more wides. But as we got into it we found out we wanted more close-ups. We tried to get as much out of the dialogue as possible, and as much out of Kelly and Luke as possible by giving them as much space as possible."
When it came to shooting in the 10x10 room and the corridor – which was built and filmed at West London Studios, while the house was in West Sussex and all exteriors of the town were shot in Atlanta – Ewing and Reid approached it pretty head on, rehearsing in the morning with the actors, and then constructing a shot list. Reid thinks that approach worked well for the room, because it gave the actors more freedom. All the scenes outside the room were planned and shot listed. However, shooting in a big house with 240 degrees' worth of windows to contend with was a big challenge.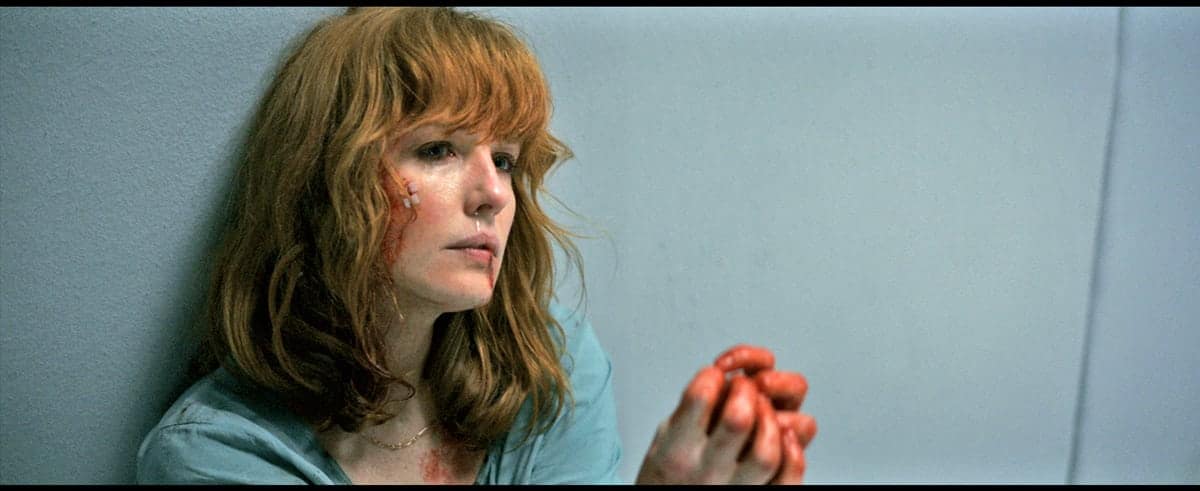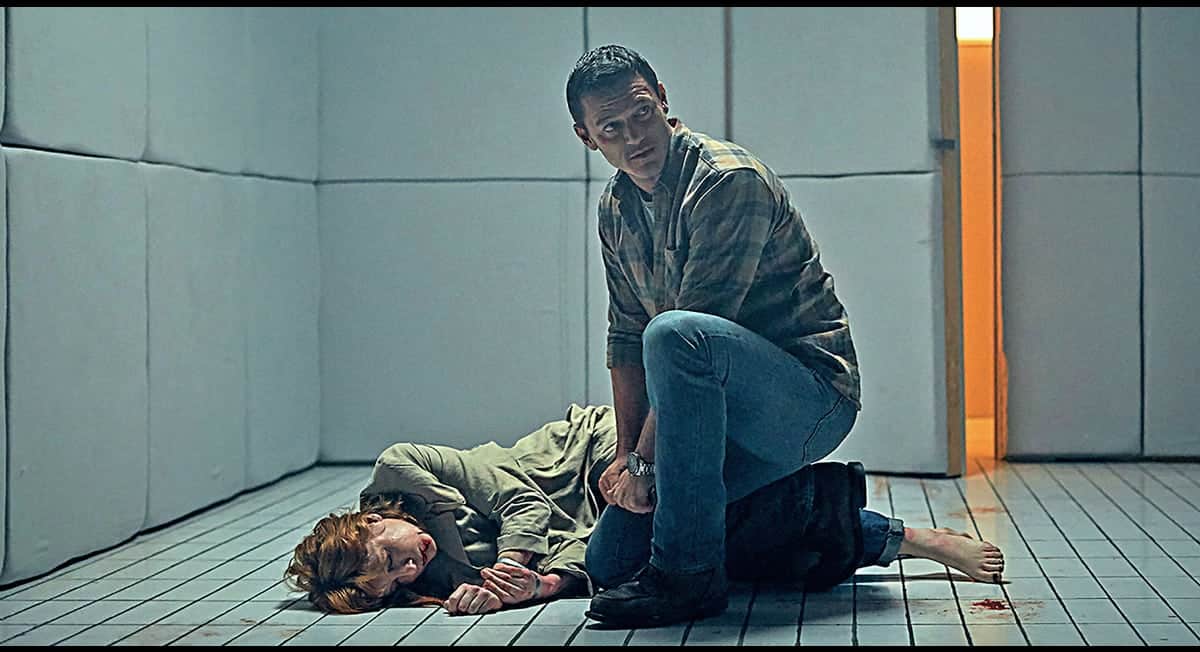 Reid, who received his Masters in Cinematography at London Film School, explains that from the get-go they knew they were going to use Anamorphic lenses, but ones that didn't curve. "The ARRI Master Prime Anamorphics suited that situation well," he says, "because on the 35mm you can get wide and make a room feel quite big and empty."
This was Reid's fourth feature film, but it was his first with Ewing. He'd known writer/producer Noel Clarke and producer Jason Maza from Brotherhood, and the two of them thought Reid would collaborate well with Ewing. To make sure they were on the same page, Ewing and Reid spent two days in the house, mapping everything out and creating shot lists (for everything except the small room). But when it came time to shoot, Ewing let the actors, Reilly and Evans, really collaborate on the action.
"These are two A-list actors," says Reid, "and they're going to have their own take on how it's going to feel for them in that space. Suzi was very keen to understand their motivations for how the action would work in the space. Because it is essentially only two actors for the majority of the film, making them comfortable with the things they were going to do was a necessity, rather than just saying, 'stand here and say your lines here.' It felt like it was more of an organic process."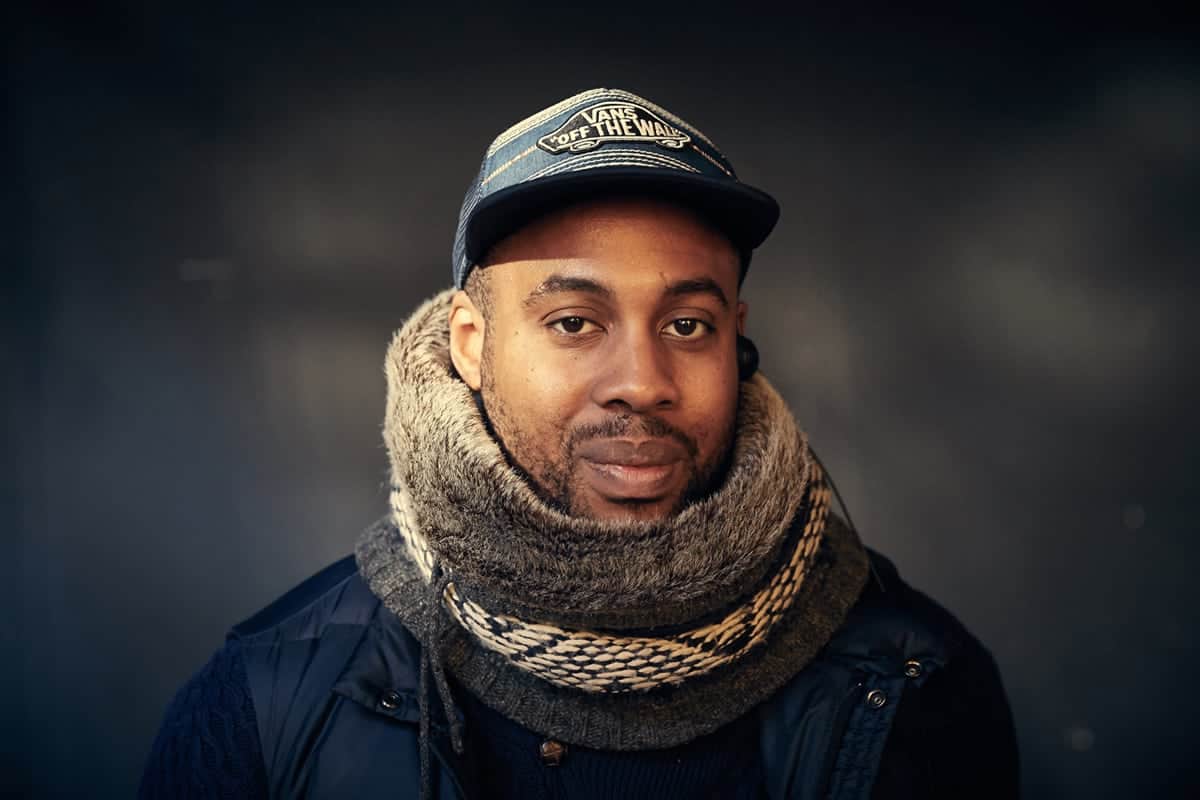 "Because it was such intense dialogue there, originally we spoke about doing more wides. But as we got into it we found out we wanted more close-ups. We tried to get as much out of the dialogue as possible."
- Aaron Reid
As filming and action scenes developed quite fluidly for the team, the weather had ideas all of its own. They were shooting in West Sussex in January and they got to experience all four seasons in the space of one month.
"We turned up on shoot-day one and it snowed for two days," says Reid. "We were basically in a glass box and we could see snow from every angle. I think production had to hire 15 people to clear the snow over two whole days."
Thankfully, it helped give the interiors a soft, warm glow and Reid decided to shoot close-ups in that time. "Not being able to shoot out windows and having to shoot down the line – that was a challenge," he adds.
On top of that, they were working with a 7:30am call, but the sun wasn't fully-up until around 8:45am. In terms of lighting a 100ft-long house with 240-degrees of glass and on a tight budget, it was another obstacle for Reid to overcome. So he put 18K HMIs on the roof and bounced them into ultra bounce to bring the illumination back inside to recreate daylight. "I was losing an hour and 15 minutes of daylight in the morning and then it was getting dark by about half three, so I was losing roughly around two and a half hours of daylight a day," he says.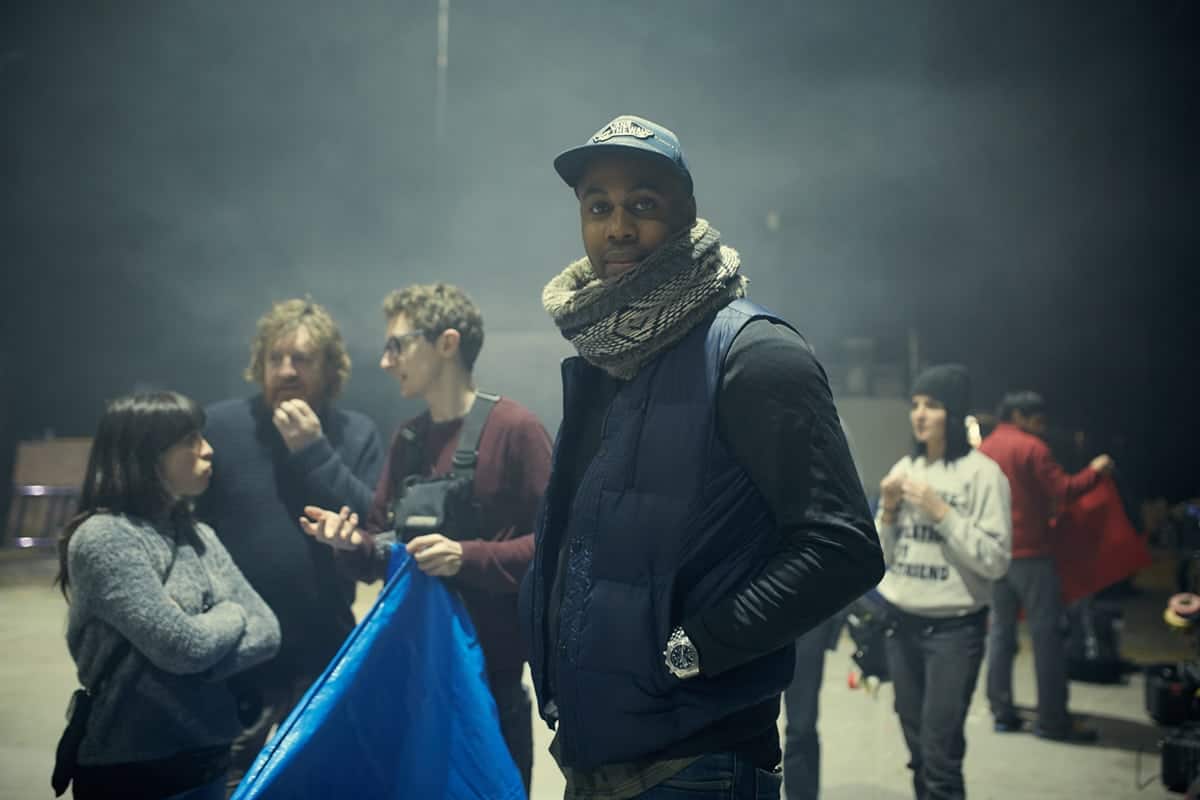 Along with the 18Ks on the roof, Reid deployed a line of 2.5K HMIs and some 575s, some hanging off the roof and dropping in to give him back key light fillers, plus two 5K Mole beams to bring a sunlight feel into the room towards the end scenes as the sun was supposed to be setting.
"Because I had all those different weather conditions to contend with," he says, "I shot everything quite soft, which was actually determined when I had to start shooting those close ups when there was snow. Once the snow cleared, the fog came and that was extremely dense, so again we couldn't shoot at windows. When that finally cleared some two days later, the sun came out and I had hard light coming through; so we defused one entire side of the house to remedy that."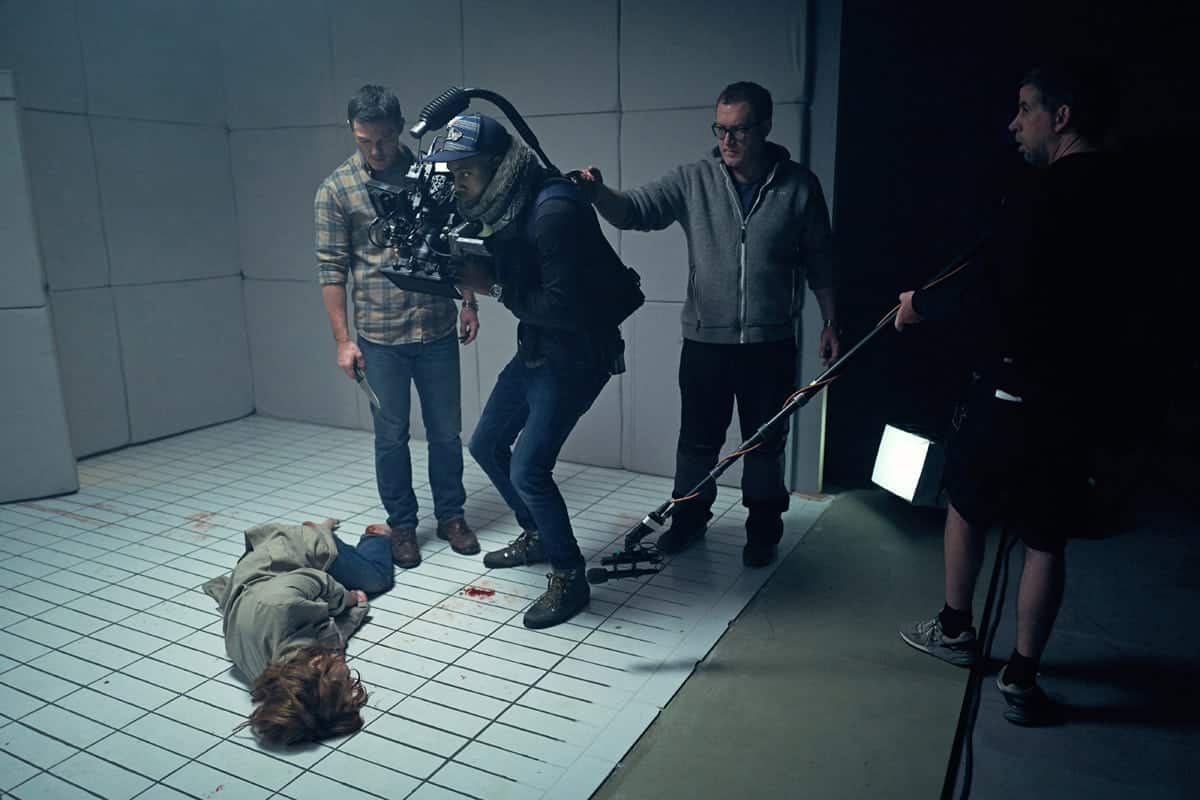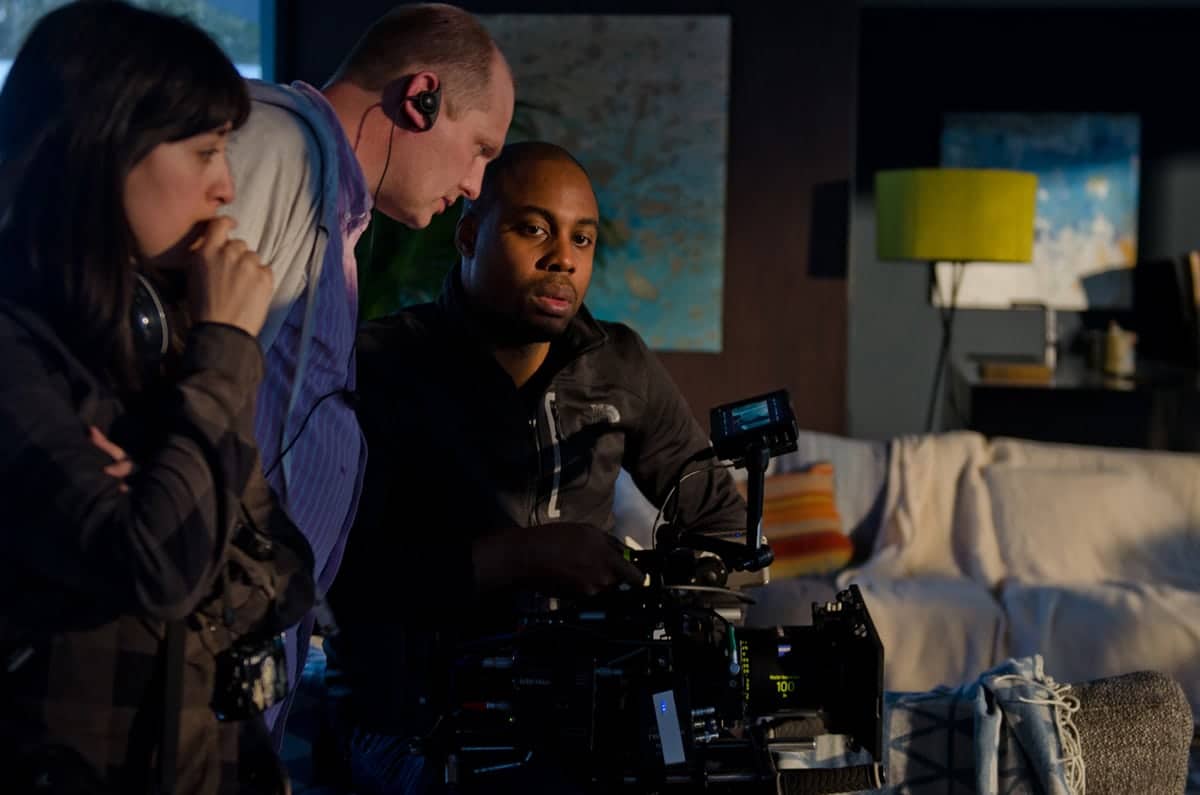 Colourist Jateen Patel at Molinare has graded all of Reid's features. They have known each other for over a decade and he worked wonders balancing the unexpected four seasons for the cinematographer.
"In theory," says Reid, "this film probably would have wanted to be a little bit more de-saturated because there's a dark, malevolent story going on. But in reality, because of the time of year that we were shooting, we felt like we needed to bring out the details and the colour tones."