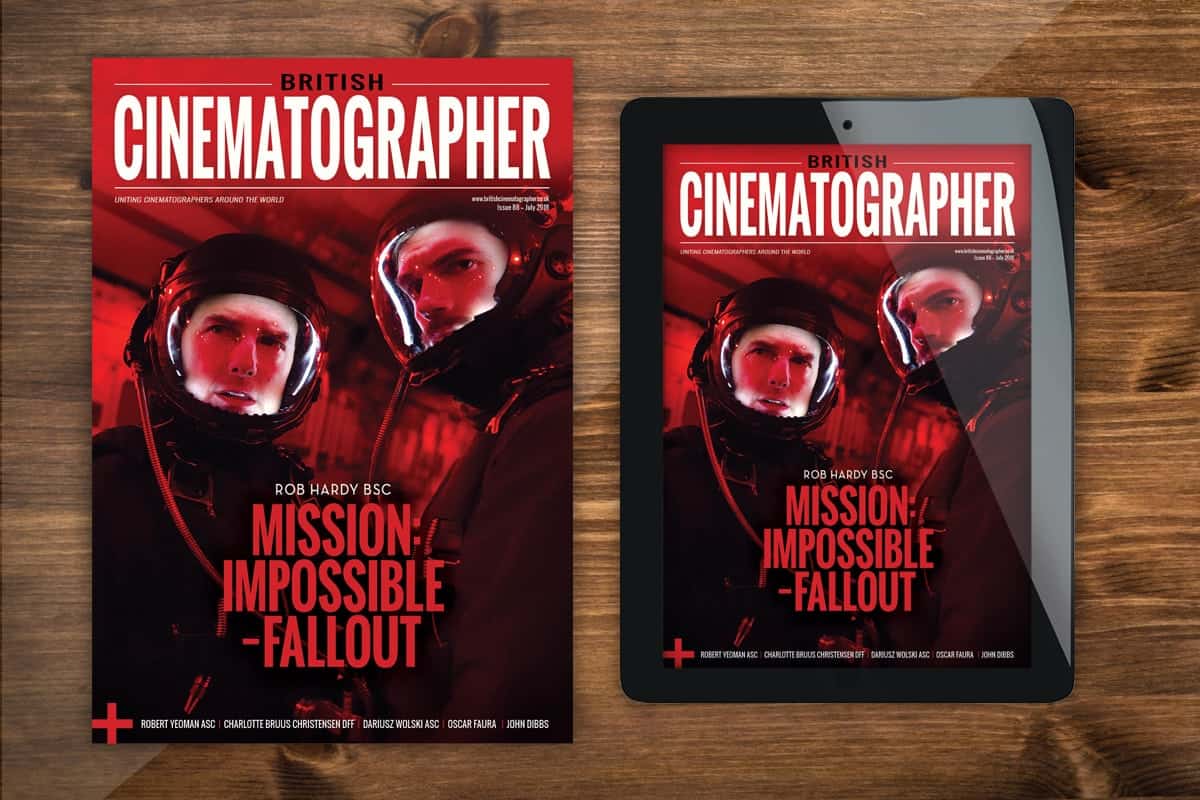 Feast your eyes on the new edition of British Cinematographer magazine – digitally* via our website, or in print**, from 13th July 2018.

On the Cover
Rob Hardy BSC on Mission: Impossible – Fallout

In the sixth incarnation of the Tom Cruise-starring series, Ethan Hunt finds himself in a race against time, hunted by assassins and former allies, while trying to prevent a global catastrophe.
Cinematographer Rob Hardy BSC tells us about why he chose the wider-end of the lens range, the choice to deploy a back-to-basics style of filmmaking, and the challenge of lighting inside Paris's Grand Palais.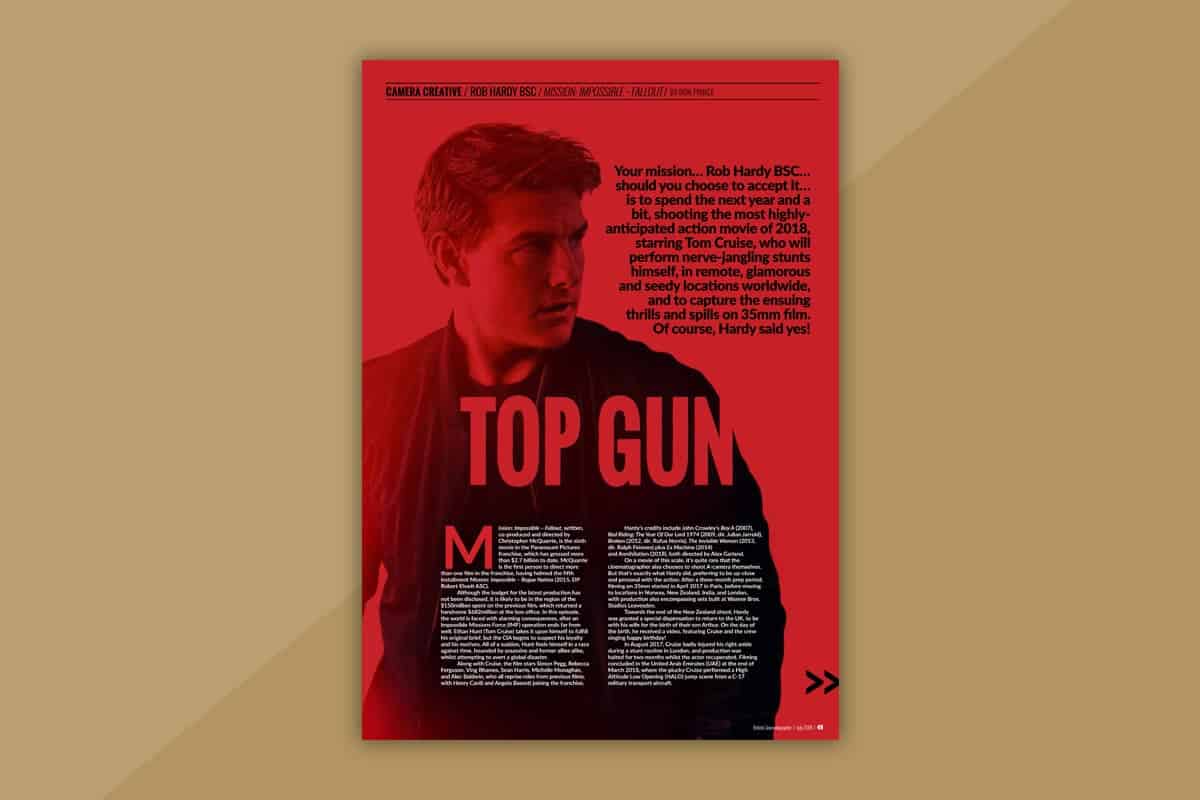 Robert Yeoman ASC on Mamma Mia! Here We Go Again

The smash-hit Mamma Mia! is back with another music-filled delight. This time Robert Yeoman ASC picks up the cinematography mantle to paint the sound of ABBA on-screen.
Discover how he differentiated between the modern and '70s flashback scenes, created a theatrical twist to his natural lighting, and how he worked closely with Gaffers 'R' Us inductee Pat Sweeney.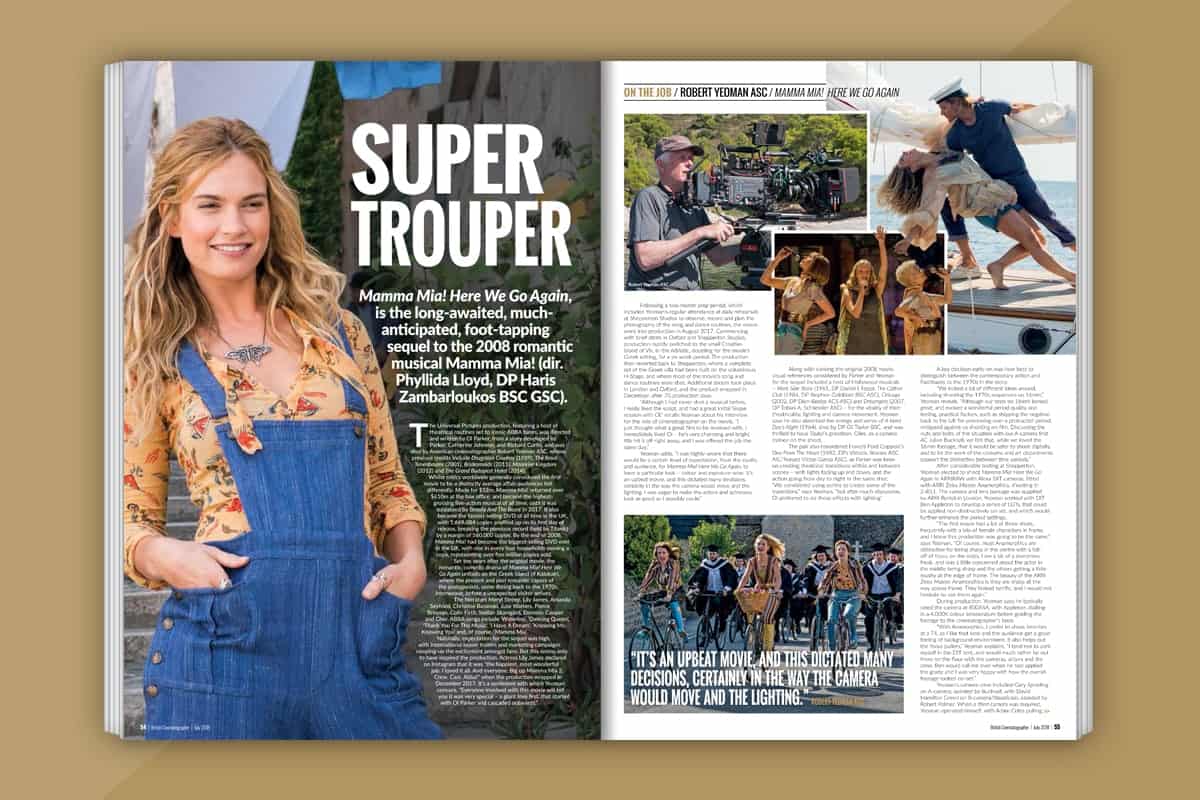 Charlotte Bruus Christensen DFF on A Quiet Place

The inaugural 'Sue Gibson BSC Award' winner took on the horror genre and shot 35mm film for A Quiet Place – the box office hit in which a family must live life in silence while hiding from creatures which hunt exclusively by sound.

Hear all about her love of the analogue way of working, how she collaborated with Panavision on a specific lens set, and why she believes film is uniquely atmospheric.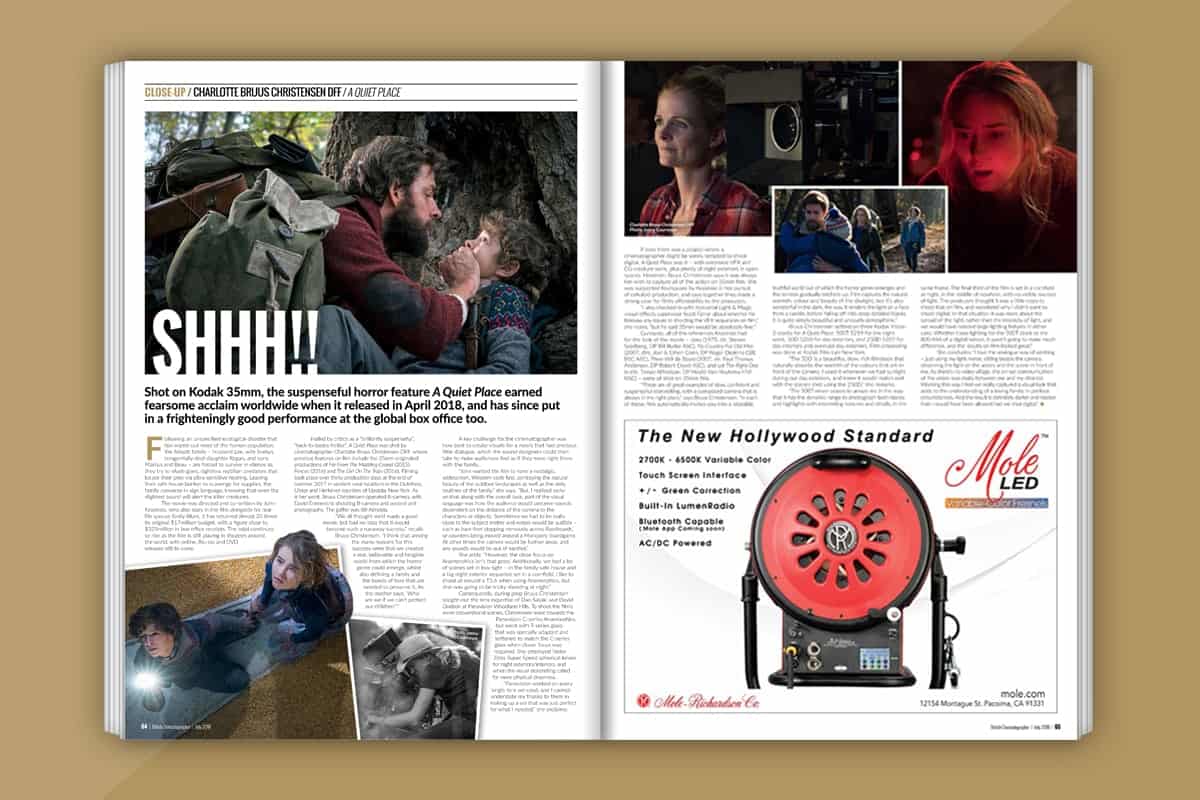 Panasonic at 100

In an era of significant anniversaries, Panasonic reaches its century this year. Delve into their history, including their roots under founder Konosuke Matsushita, how they moved into the AV markets, and why their cameras are evolving from capturing natural history to drama and film.

Don't Miss…
Plenty more soundbites, comment and opinion from productions by Dariusz Wolski ASC, Oscar Faura and John Dibbs.
We round up the 2018 Cine Gear Expo in LA, take in the wisdom of Richard Crudo ASC, and learn more about gaffer Eddie Knight, the multi-talented Alan Trow BSC and up-and-coming DP Patrick Meller. There's also our regular comprehensive guide to which DPs are shooting who and where, all the latest production news, BSC president Mike Eley's column, and more…
A subscription is still the only way to read the complete British Cinematographer, so buy one today to fully experience Europe's No.1 cinematography magazine.

ISSUE 88: AVAILABLE ONLINE* AND IN PRINT** FROM 13TH JULY 2018.
* With an active 'Digital Only' subscription, or the digital part of an active 'Print & Digital' subscription.
** Issue 88 will only be received in printed format by those with an active 'Print' or 'Print & Digital' subscription purchased before 3rd July 2018. Any new 'Print' or 'Print & Digital' subscription purchases made from 3rd July 2018 onwards, will NOT receive this issue in print as part of their purchase.