LET IT SNOW
Filming an instant Christmas classic is a notoriously hard task, but it's exactly what cinematographer Zac Nicholson BSC achieved in lensing Gil Kenan's magical A Boy Called Christmas.
Centring a narrative around Santa Claus' origin story may sound a little out there, but the scintillating story transcends time and realms of reality with the help of outstanding VFX and awe-inspiring camera work.
We caught up with Zac Nicholson BSC to understand exactly how the unique style of A Boy Called Christmas was achieved.
How did you collaborate with the director?
Our very first meeting was in Primrose Hill, which also happened to be very last location of the shoot. I was in the middle of shooting Misbehaviour. The next time we met was on a flight to Finland. We had a deadline to shoot arial landscapes and to capture the seasonal atmospheric conditions before they began to change. We were looking for a particular winter light, specifically distant horizons tinged with soft pink sunlight.
What I loved about the project from the first instant was Gil's passion and his intensely detailed vision for the world of the story. I was also blown away by the writing. Unusually for a Christmas film aimed at young adults it dealt with some very grown-up themes, such as the loss of a parent. In fact, for much of the film Nikolas is abandoned, and by the end he has lost both of his parents.
Gil's background in visual arts, as well as having a vivid imagination informed every aspect of the production, from the wonderful costumes of designer Ruth Meyer to the incredible set design by Gary Williamson. From the beginning we conceived the film as a western – one lonesome boy and his reindeer crossing the snowy windswept landscape, battling the elements in search of his father…on a quest to find Elfhelm. Sergio Leone was a big point of reference for Gil and in particular Once Upon a Time in the West, with its epic landscapes and high drama.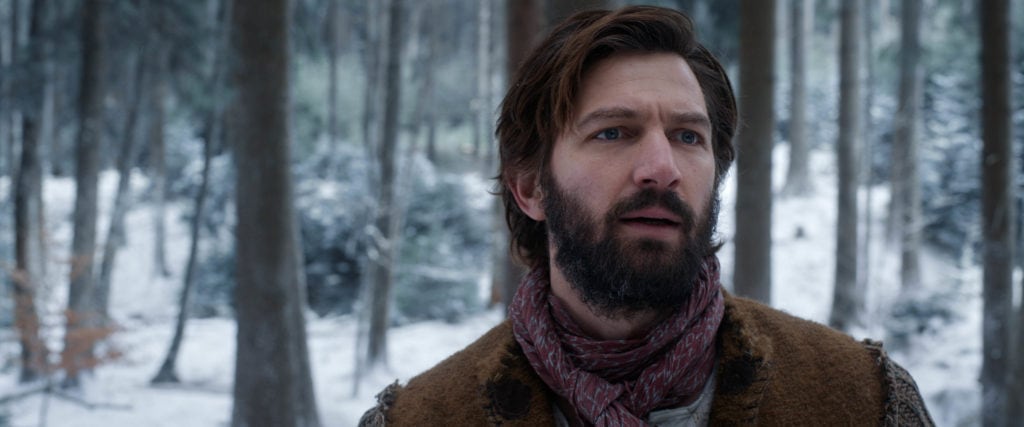 How did you use framing and composition creatively throughout the visual storytelling?
Gil also has an animation background, and well in advance had storyboarded large sections of the film. He was passionate that the visuals should have a real sense of epic scale and for the action to flow swiftly. Gil had planned in detail the different ways to transition from Maggie Smith in present day Primrose Hill to the world of the story as she tells it. Although all Maggie Smith's scenes were shot some months later in England, we were able to cross over elements of the two worlds, sometimes introducing arctic light or frame-matching props to the bedroom as we segue back and forth to the story and the snowy tundra.
How did you go about shooting the close-up interludes where the two worlds combine?
The London part of the shoot encompassed all of Maggie's scenes, and although the bedroom was fairly straightforward and contained, the opening shot of Maggie stepping off a bus was the opposite. We needed to close the high street in Primrose Hill in order to dress the street for Christmas, snowing-up a large area of Primrose Hill. Between the residents and the businesses we were allowed a very slim window of between 6 and 10pm on a chilly Sunday night in October to achieve this all important shot, including navigating busses and cars. It's a busy spot and I think even Alan Bennet wandered through shot at some point…Despite the odd hiccup we were all done and safely tucked up in The Queens pub by last orders for a final wrap drink.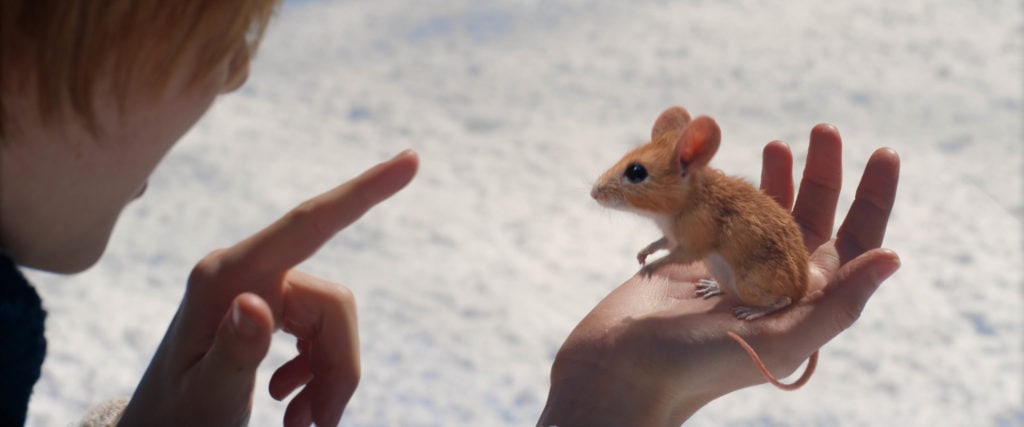 How do you personally go about shooting scenes with CGI involved?
VFX was obviously a key part of the realisation of Gil's vision for this film, with precious few shots not involving some effects work. Fortunately, we had an incredible VFX team from Framestore, led by Glenn Pratt who had vast experience when it came to creating totally believable animal characters, such as Miika the mouse. 
Some of the locations were pretty harsh and inhospitable, but Glen was always a calm and resourceful presence, brandishing his balls and fur references for the camera at the appropriate time in spite of the deep snow and ice winds howling through the set. Back in Barandorv studios, we fitted out an entire studio as one vast 360-degree green screen for all the flying sequences. Glen and his team had designed detailed tech vis files laying out the technical and space requirements needed. Our brilliant local grip, Kim Worthington introduced us to the then relatively new Maximus Head, rigged in Matrix mode on the end of a 50'technocrane, which allowed us to achieve fast sweeping camera moves from high to low without the kind of interference you might sometimes get from being underslung and bumping the top of the crane.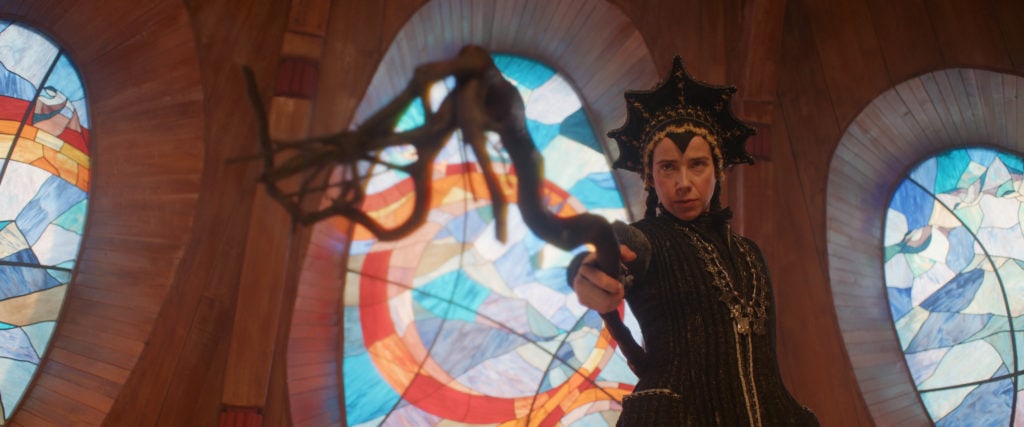 The set of Elfhelm was built on the backlot of Brandorv studios, and shooting took place in the middle of summer, so there some significant obstacles to recreating the arctic light and keeping it consistent. To protect ourselves from the sun we floated two 60 x 40 skyframes over the set and combined this with half a dozen flyswatters (20×20 frames on tele handlers) to fill in the gaps or reach into awkward spots. As the Sun is obviously constantly moving, so we had to shuffle the sunscreens constantly. We had a great local team of riggers who managed to be as discreet as one can be when wrangling tonnes of silk and rigging in all kinds of Czech weather, but we knew that any wide shot involved VFX set extension with the addition of further buildings and mountains beyond. It was really an exercise in protecting the actors and their immediate environment from the harsh sun and providing some consistency to the extended sequences.
For the chase through Elfhelm, with Nikolas and the Truth Pixie on the back of a reindeer, we used a small and lightweight electric all-terrain vehicle to rig a green model of the Reindeer for the actors to ride, and a 10' Scorpio telescopic crane mounted behind the driver. That enabled us to execute small camera moves around the artists as we hurtled through the set chased by Elves.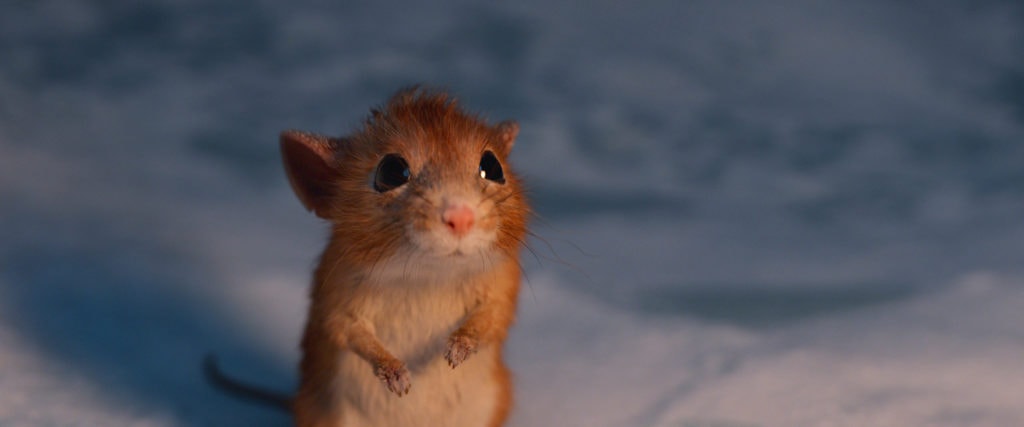 Out of the many extravagant sets, what was your favourite setting to film and why?
There were so many wonderful sets designed by Gary and they were all a real pleasure to light and shoot. One or two were large, like the main hall in Elfhelm which was the size of a church. The top was all VFX set extension and my brilliant and talented Gaffer, Johnny Franklin aided by our fantastic Riggings Gaffer, Martin Taylor did an amazing job of rigging the sets so that we could easily dial in looks or alter the mood without ever having to wait.
What camera package (and lenses) did you use to suit the production?
Gil was very passionate about the idea of shooting on the Alexa 65, so much so that he wanted to use the full width of the 6k sensor in all its glory and with absolutely no margin at all.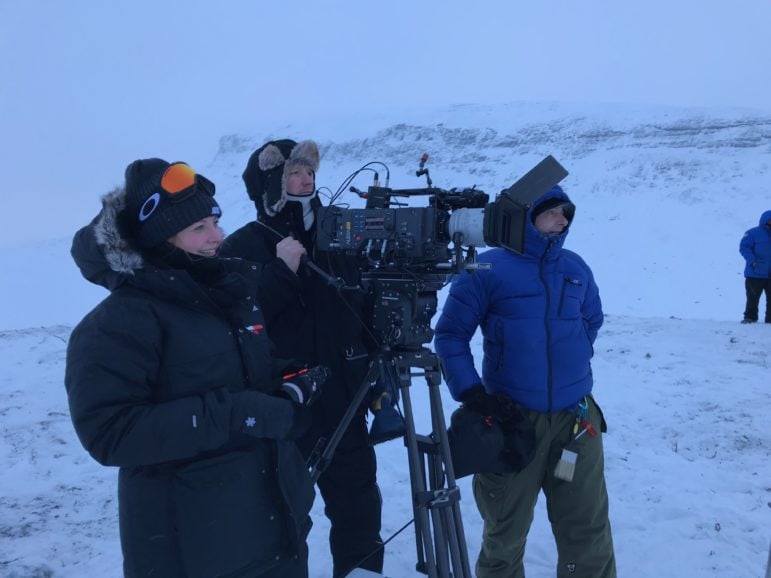 We also fell in love with the beautiful DNA prime lenses in combination with the Alexa 65, and although Arri Media in London weren't directly involved, Simon Surtees was hugely supportive with the initial introductions to Mirek Obrman at Arri Prague and preliminary testing arrangements in London.
Our starting point was a trip to Munich where we were able to assemble our personal set of lenses from a very large table laden with every available DNA lens.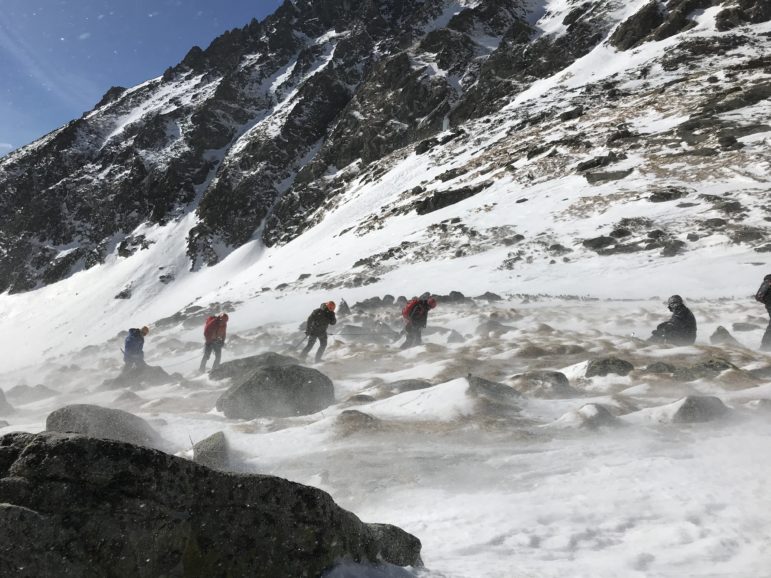 The next thing we knew we were heading up to northern Finland for a pre-shoot in – 30 degrees. The main aim of the trip was to shoot arial footage of the landscape, but we were also able to take a stand-in with us to shoot some sequences on a frozen lake. There were all kinds of challenges associated with shooting in these conditions, but nothing that phased our brilliant local camera team led by focus puller Jami Granström.
One good indication of how cold it was came when I realised I had left my mobile phone in an outer pocket, and barely ten minutes into the day the battery had died, but there is something thrilling about having to dig down 4' through the snow to get to the frozen lake before putting the tripod down!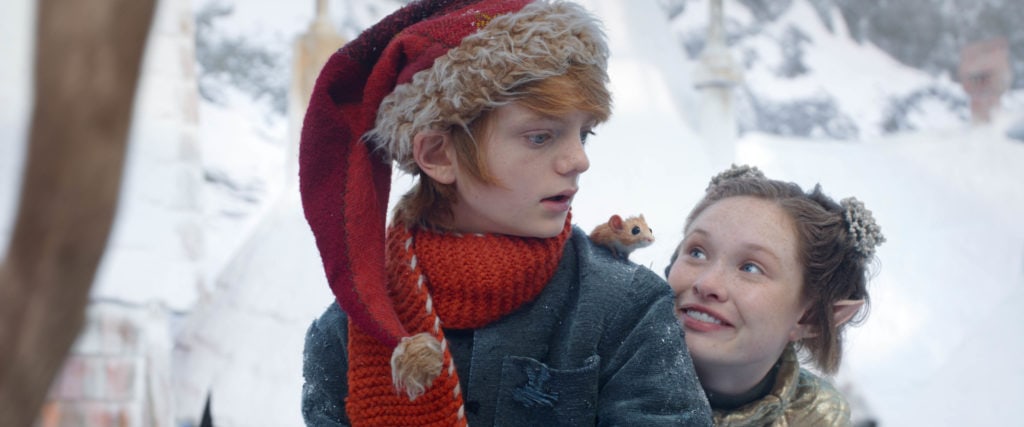 How did you manage tricky weather conditions and lighting situations?
When talking about the film in prep, we knew that wherever possible the camera had to move in large sweeping shots that flowed seamlessly, and consequently wherever possible we took a technocrane with us. There were limits like the frozen lake up a mountain in Slovakia that was only accessible by Skidoo, but virtually everywhere else we managed it with a variety of different sized cranes from 10' to 50'. One location in particular that was a challenge was Nikolas' house exterior set, which was buried deep in the woods outside Prague, surrounded by very rough terrain, streams and fallen trees. For this we were fortunate to have the invaluable Hexatron motorised all-terrain self-levelling crane base that seemed undaunted by even the most insurmountable obstacle and allowed us to move the crane around quickly and into the most awkward spots.
Partly because of the size and weight of the Alexa 65, and also partly from a stylistic standpoint, we hardly used Steadicam during the shoot. What we did do was to mount Kim's remote Arri SR3H head on to a portable scaffold rig that the grips were able to run with, such as when Nikolas is chased through the forest by Blitzen the reindeer. Kim (in his best running shoes) was able keep pace with the young actor, and the result once Blitzen was added turned out to be a dramatic sequence with a real sense of peril.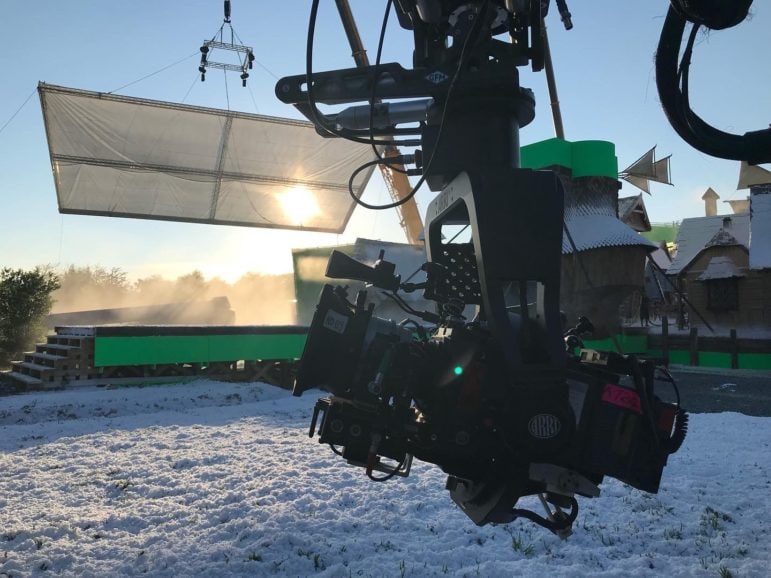 Shooting A Boy Called Christmas presented so many wonderful challenges. It was by far the most ambitious VFX shoot I had ever experienced, the results of which are beautiful and spellbinding, thanks to Gils' genius. It was also an amazing opportunity to travel to some really exciting locations, and although I have shot many times in harsh environments over the years, it was definitely the first time I needed crampons and a pickaxe to get to set!
Zac Nicholson BSC is repped by Casarotto Ramsay.