PASSION PROJECT
Despite having read The Pursuit of Love thirty years ago, Nancy Mitford's 1945 novel remained clear in cinematographer Zac Nicholson BSC's mind. "Although it was set amongst a tiny section of society and in a rarefied world, I felt it dealt with themes that were universal, such as the choices we make and the consequences that follow; love, family, friendship, loyalty – some of the fundamental things that define all of us."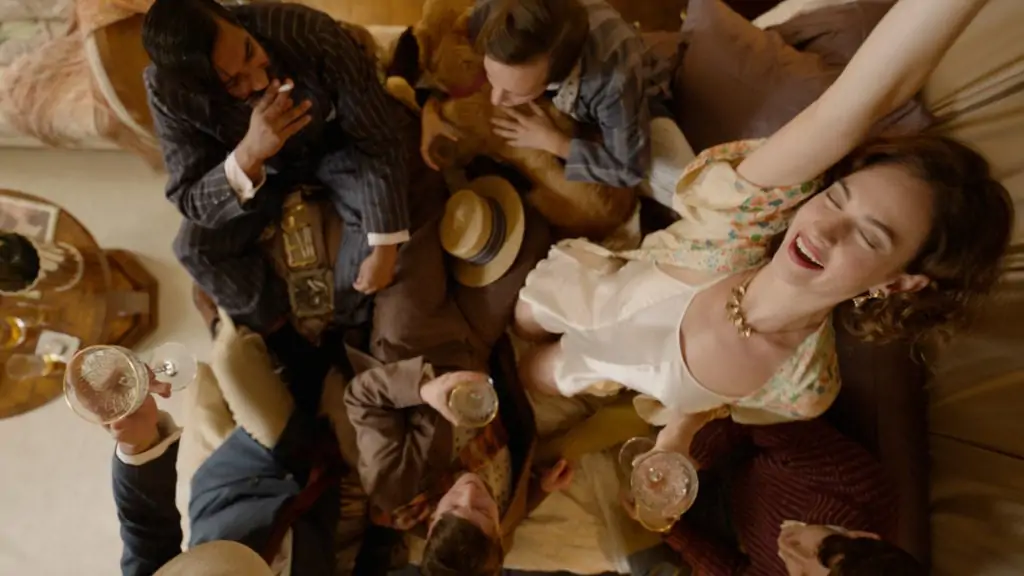 From the quality of writer-director Emily Mortimer's screenplay for the three-part BBC series following the adventures of Linda Radlett (Lily James) and her cousin Fanny Logan (Emily Beecham), it was instantly apparent to Nicholson that the adaptation would be a success and that Mortimer, who was making her directorial debut, "understood the book and knew how to make the series funny, special and relevant".
"Her writing was full of character. It was obvious that Emily was a talented and clever writer and I sensed she would also prove to be a great director," he says. "There was a sensitivity to the broader themes, but a real love of life was also evident in her approach."
Nicholson first met Mortimer in January 2020, just before COVID-19 reached the UK. Prep began in March, before the crew went into partial hiatus as the first lockdown began, continuing with reduced prep one day a week. Meanwhile in April, Nicholson shot Alan Bennett's Talking Heads, which was conceived as a lockdown project to raise money for the NHS (it raised an impressive £1 million) and to see if it was even possible to start filming again during the pandemic.
Following the completion of prep, which resumed in early June, The Pursuit of Love became one of the first dramas to go into production during lockdown, with principal photography completed by the end of October. "We had to rethink our plans for foreign locations and urban locations. Eventually we managed to go to Paris for a single hectic day of filming in October. In the meantime, we had to find all our locations within reach of the production base in Corsham, Wiltshire and without going in to cities such as Bristol and Bath," says Nicholson. "Part of the reason we were able to start shooting so early was that many of our locations were country estates that were viable from a COVID security perspective."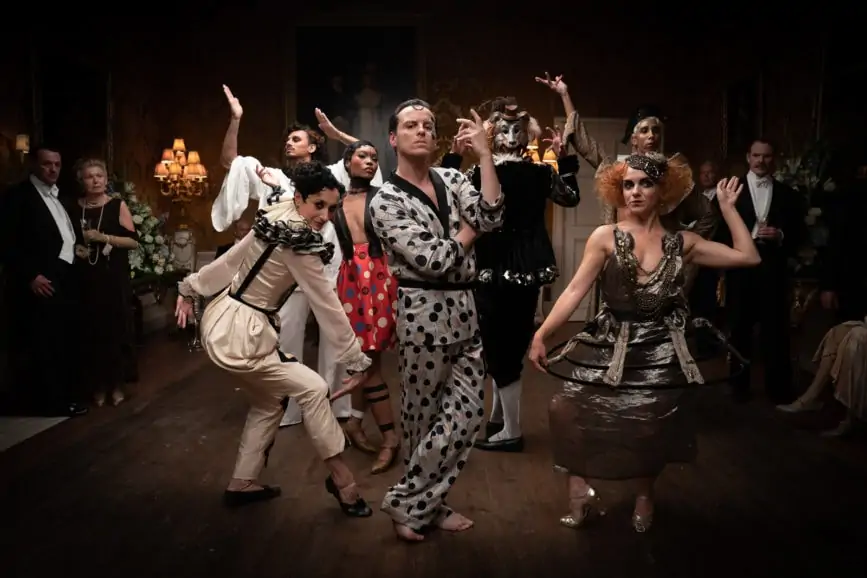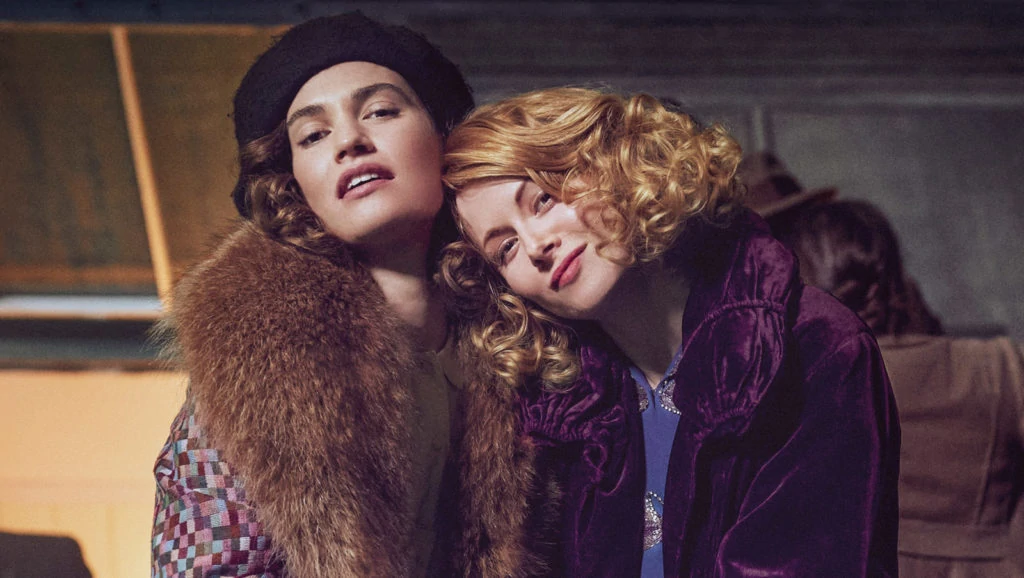 Film references included À bout de souffle (1960). "There is an innocence in the way this classic film is photographed, with its disregard for convention that seems to mark a turning point in history, and points to the way art, culture, cinema, were changing forever," says Nicholson. "The photographer and painter, Jean-Henri Lartigue was another influence for his wide ranging early twentieth century portraits of the Paris fashion scene and the spontaneous moments in the lives of his friends captured in his free and playful style."
Mortimer was also drawn to the colours, textures, playfulness, and irreverence of Sofia Coppola's Marie Antoinette, notably the dressing up sequence when a pair of modern converse shoes appear incongruously. She was also keen to use stills and archive footage as chapter headings, instead of traditional establishers or GVs.
Cristina Casali – a production designer Nicholson considers a "total genius, risk taker and creative thinker" – immediately understood the visual references discussed and produced beautiful, exquisitely dressed sets. Pink was an important colour in prep and discussed throughout production. "Occasionally, we would divert from the general palette, such as when Linda enters new worlds like that of Lord Merlin or when she is first taken to a Paris jazz club. We were also contrasting the excitement in her life with the old unchanging colours of Fanny's House and her predicament."
Nicholson used a LUT he has been evolving over time with his regular DIT Harry Bennet-Snewin. "It has a richness without being too gaudy. Colourist Simone Grattarola from Time Based Arts then did a beautiful job translating that into the final palette," he says. "I worked remotely successfully with Simone for the first time on Talking Heads. This time, Time Based Arts installed a high-end monitor and streaming service in my living room, which worked brilliantly."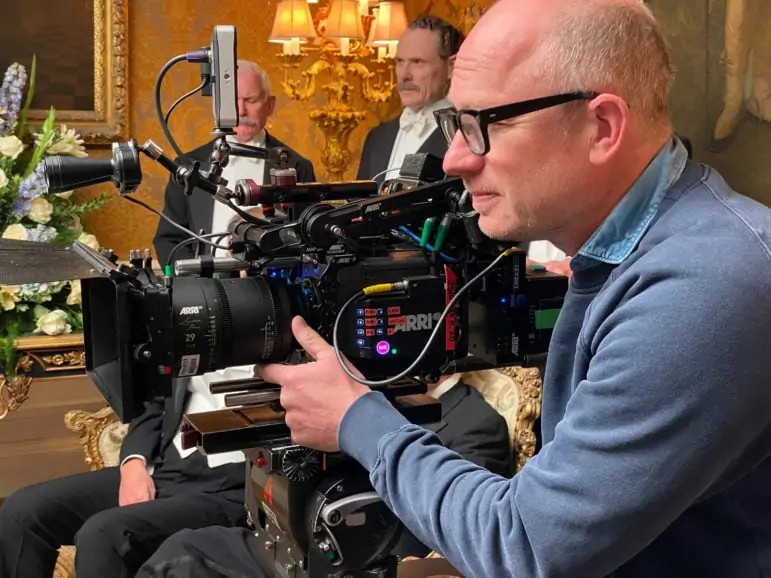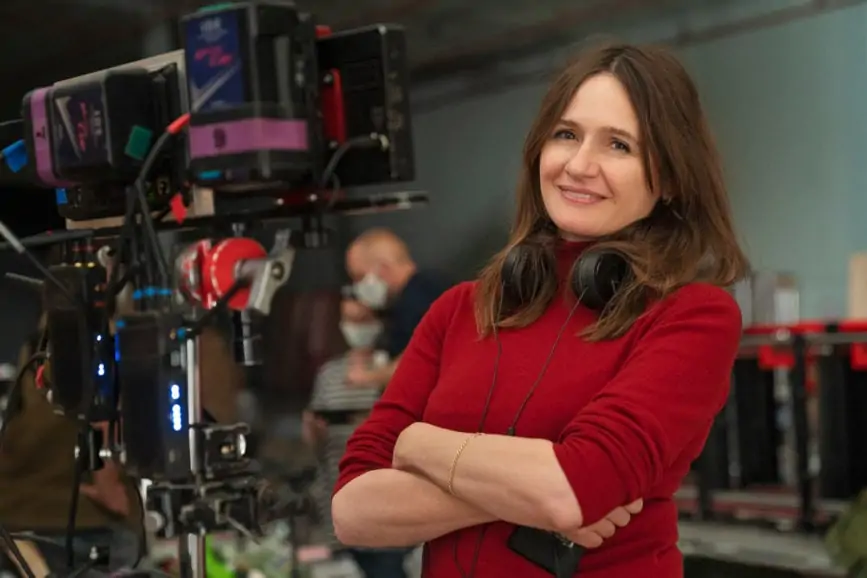 Nicholson has always enjoyed shooting with ARRI cameras, finding them to be "brilliantly engineered", and "the modern digital incarnations to be just as satisfying to work with" producing "wonderfully rich images". As there was a 4K requirement for The Pursuit of Love, he used the ARRI Alexa Mini LF and ARRI Signature Primes he adores. "It's great to have all that additional information available combined with the beautifully built lenses. I was fortunate to have a brilliant crew around me whilst filming, including talented operator John Hembrough on A camera and Steadicam."
With many of the locations being grand country houses, the filmmakers wanted to use their impressive scale through the shot composition to counterpoint the ebb and flow of the characters. Buildings also often become characters in the narrative, such as the family estate at Alconleigh, which was shot at an unusual country house in Rousham. "The interiors are not designed to intimidate like many country houses, but have a more human, welcoming scale." The linen cupboard based on the original Hons Cupboard from the Mitford family home was recreated in a stage at the Bottle Yard Studios in Bristol.
Working in large spaces required the crew to rely heavily on LED balloons from SkyLite including its 8' x 8' x 3' mattress. "Managing sun is also an issue in country houses, especially as big rooms are often south facing with huge windows," says Nicholson. "Lighting was brilliantly organised by gaffer Andy Long and best boy Paul Brewster."
Recreating the Gare du Nord station in Paris was also challenging. "Stations at the best of times are difficult to work in, but Emily had an image in her mind of Linda at her lowest ebb, sitting on her suitcase, dwarfed by the scale of the French station, as a key moment in her story."
Location manager Mark "Sparky" Ellis found the solution in the form of the original mainline station in Bath, which is now an indoor market and carpark. "The old roof and concourse gave us just enough to stage the scene, and for Outpost VFX to finish the job," says Nicholson. "Creating a believable sense of foreign locations such as the Gare du Nord or the refugee camp in the south of France on a limited budget was difficult, but with planning, persistence, and some lucky weather thrown in, hopefully we achieved what we needed to tell the much loved story."
The Pursuit of Love is available on BBC iPlayer. Zac Nicholson BSC is represented by Casarotto Ramsay & Associates.