Journey of Discovery
Robert Richardson ASC / Eat Pray Love 
 Journey of Discovery
Robert Richardson ASC / Eat Pray Love 
Bob Richardson ASC had just completed shooting Martin Scorsese's Shutter Island and Quentin Tarantino's  Inglourious Basterds back-to-back when his agent asked if he had read a book titled Eat Pray Love. Richardson said that he had read and "immensely enjoyed" the auto-biographical book written by Elizabeth Gilbert.
"It's an intensely penetrating portrait of her life," says the cinematographer who won Oscars for JFK in 1991 and The Aviator in 2004, plus nominations for Born on the Fourth of July in 1989, Snow Falling on Cedars in 1999 and Inglourious Basterds in 2009. "Liz Gilbert had a handsome husband, a comfortable home in New York City and a promising literary career ahead of her. But, when she and her husband discussed having children and raising a family, Liz decided she wanted more in her life before she became a mother. She left her husband and began a journey in a quest for a deeper meaning in her life.
"I was fascinated by her story, and by coincidence, I had told members of my crew that I wanted to shoot a movie where a woman was the central character, which rarely happens in contemporary films," he adds.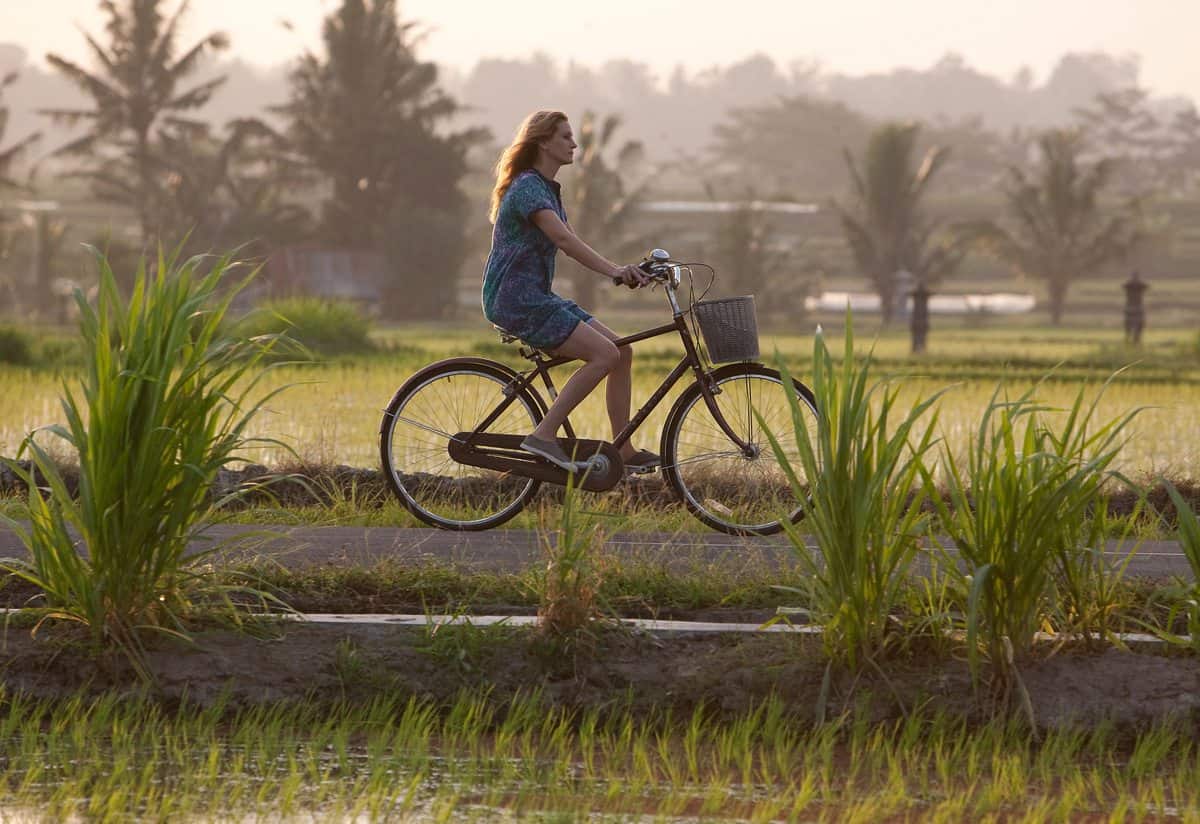 Richardson made an immediate connection with director Ryan Murphy, who also wrote the script for Eat Pray Love, while discussing how to use images to help tell the story
"Ryan felt that the 1.85:1 aspect ratio was the right aesthetic for telling this intimate story and I agreed," Richardson says. "We also agreed that 35 mm film was the right choice for both aesthetic and practical reasons. Film provided both the look and latitude needed to shoot on schedule in the environments we anticipated."
Richardson scouted locations with Murphy, Dede Gardner (producer), Bill Groom (production designer), Scott Robertson (assistant director) and Stan Wlodkowski (executive producer). They began in New York City, flew to Italy, where they found locations in Naples and Rome, went on to Delhi in India, where scenes were filmed at a palace about an hour from the city, and to Bali in Indonesia. Julia Roberts was cast in the leading role. Richardson had three to four days to film tests with her, Viola Davis and Billy Crudup, who also had significant roles. The tests were used to guide decisions about lighting, make-up and costume design in different stages of the story.
The camera and lens package, provided by Panavision, included three Millennium XL2s and one Millennium with Primo, Angenieux Optimo Cooke zooms, plus a broad range of Panavision Super-Speed  and Close Focus glasses.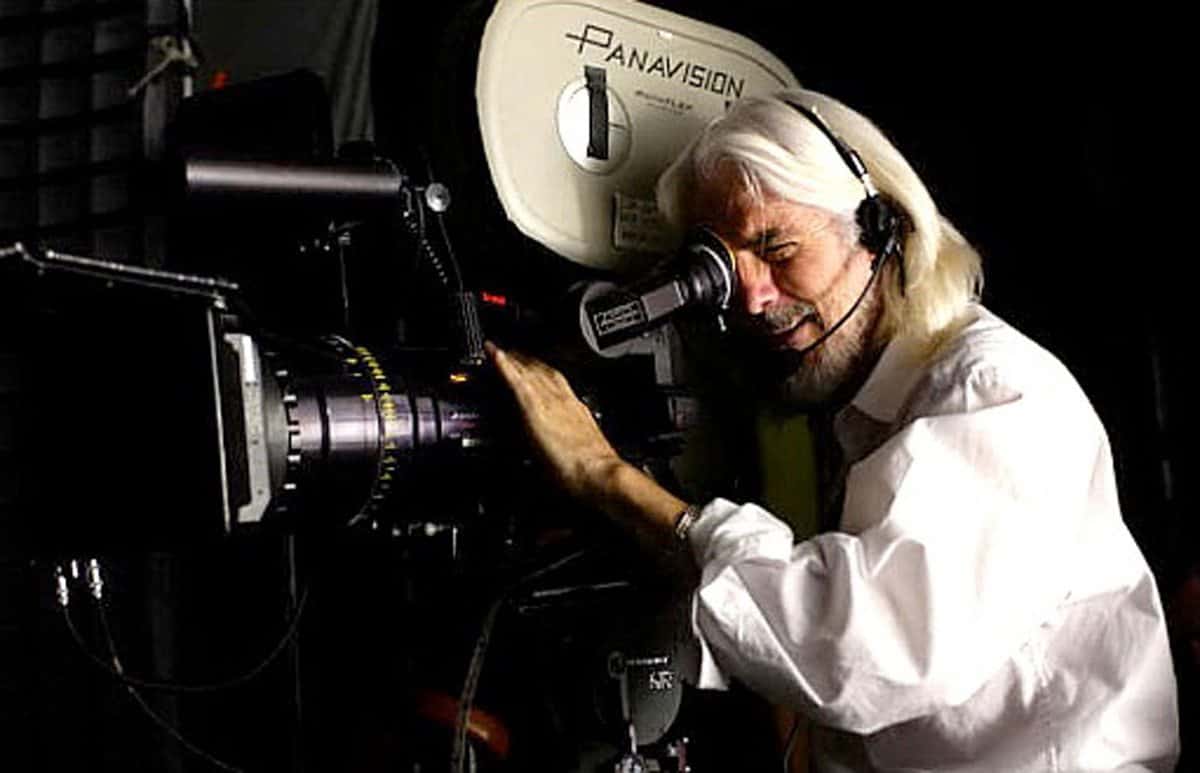 "We also agreed that 35 mm film was the right choice for both aesthetic and practical reasons."
- Robert Richardson ASC
Richardson and the second unit primarily (directed by Alfonso Gomez-Rejon, with Masanobu Takayanagi the cinematographer) covered scenes with Kodak Vision 3 5219 500T film. They also had Kodak Vision 3 5207 250D, 5212 100T and 5217 200T available when those emulsions were needed in different environments. Asking Richardson when and how he used different stocks is like asking an artist why he chooses different paints in various situations. Everyone does it differently.
"Liz's character and how we filmed her evolved with the story," he says. "In the earliest scenes, she is living a warm and comfortable life. When she and her husband discuss having children and raising a family together, Liz realizes that this isn't what she wants … at least not with the man who she has married. She makes a difficult decision to end what is a happy life on the surface.
"But, below the surface her emotions were in turmoil," he explains. "As her journey evolved, differences in how we used colours, light and shadows subtly reflect the twists and turns in her life. For example, when Liz decides to leave her husband, scenes are subtly darker with colder hues and more things happen in the shadows. Camera movement is also somewhat more agitated. When she arrives in Rome a sense of warmth replaces the cooler colors and camera movement is calmer."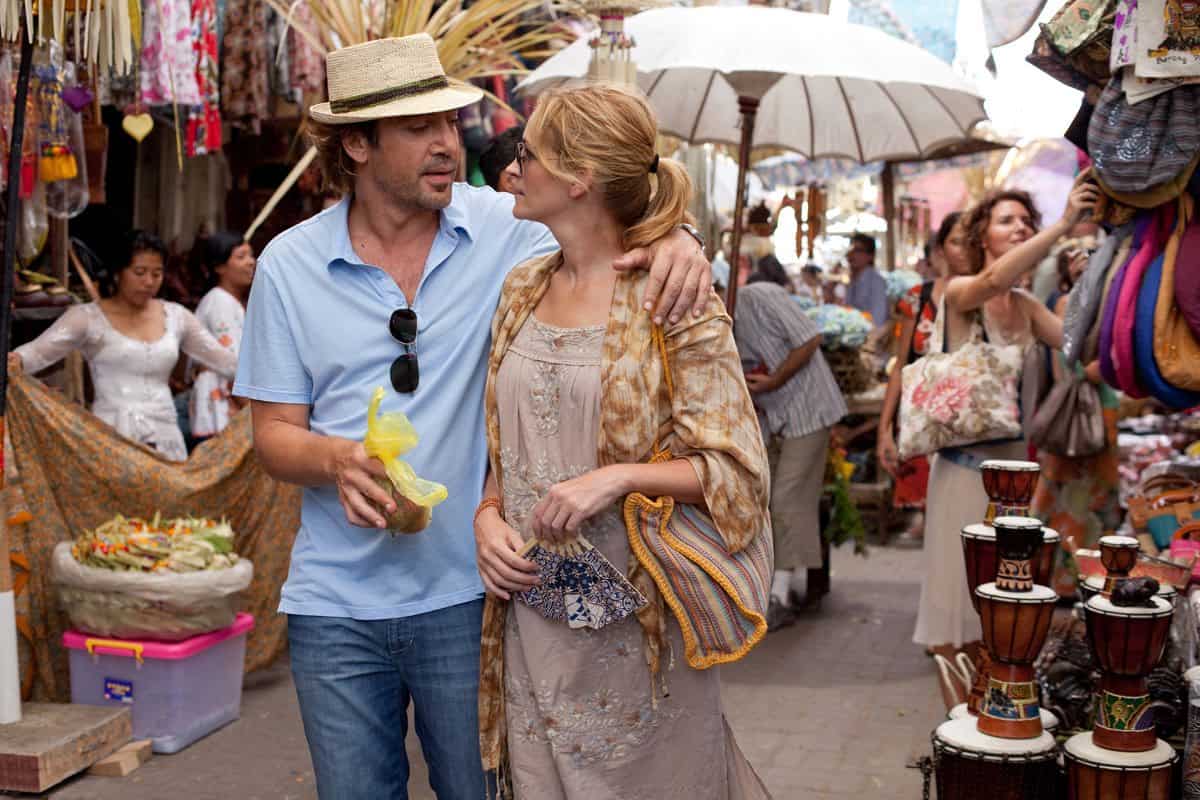 He says that those nuances in visual grammar aren't things audiences notice on a conscious level. It's something they feel. Richardson primarily covered scenes with one camera, reserving a second one for larger environments. He chose to use a dolly, crane or Steadicam depending on the motion and angles that felt right for each scene.
"Ryan wanted a restless feeling in New York," he says. "Scenes filmed in Rome generally had more master shots augmented with closer-in coverage. The feeling of restlessness resurfaced with Liz's inner questions. India was the steadiest environment with colours that seemed to pop off the screen. (Production designer) Bill Groom enhanced what was there, including adding colours to settings."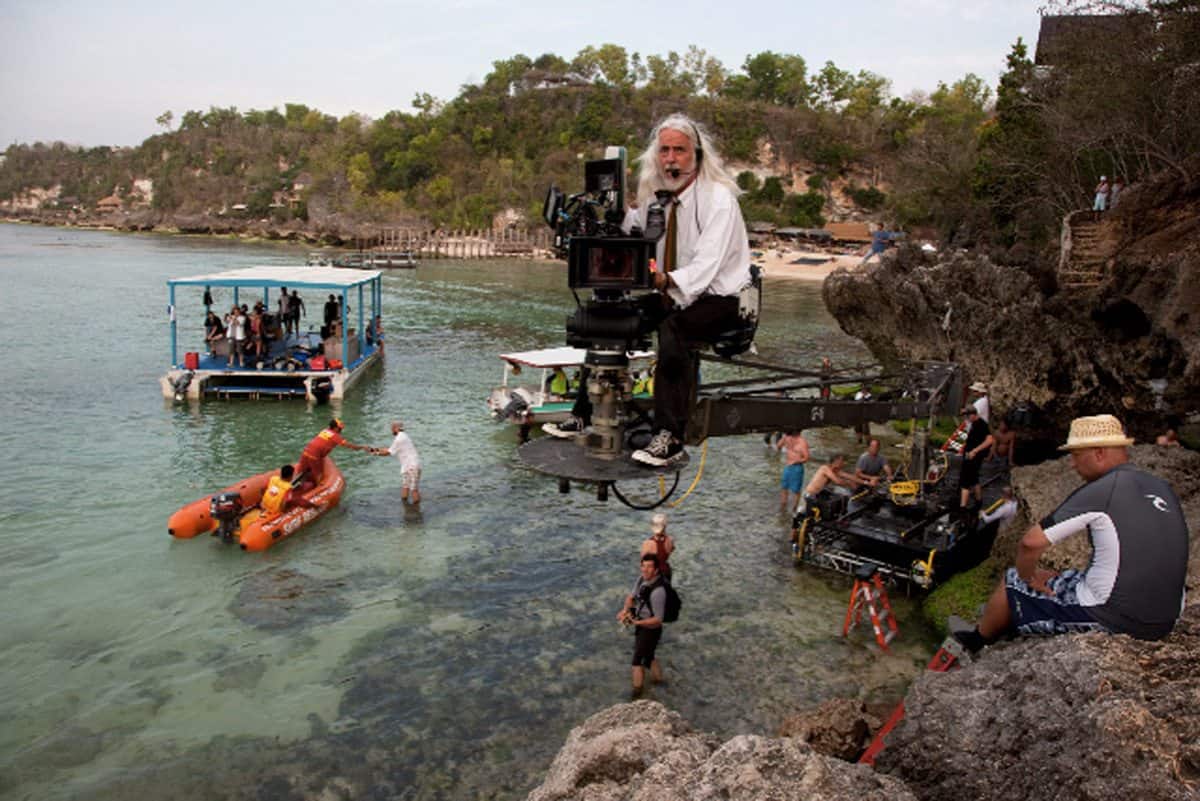 "As her journey evolved, differences in how we used colours, light and shadows subtly reflect the twists and turns in her life."
- Robert Richardson ASC 
Richardson says that each location brought its own spice to the visual recipe for the story. "My lighting was primarily interpretive, but natural," Richardson says. "I lit more on this film in exterior locations then I have in the past. Part of that was because we wanted the lighting for Julia to fit both the locations and the emotional stages of her life as she travelled and the story evolved. Sometimes her light was less than flattering than other times, it was important to let her beauty shine. Julia is a stunning woman. I am speaking about both her beauty and her mind. I had a fabulous time working with her as did everyone on the crew. She was a bright light in our daily endeavours."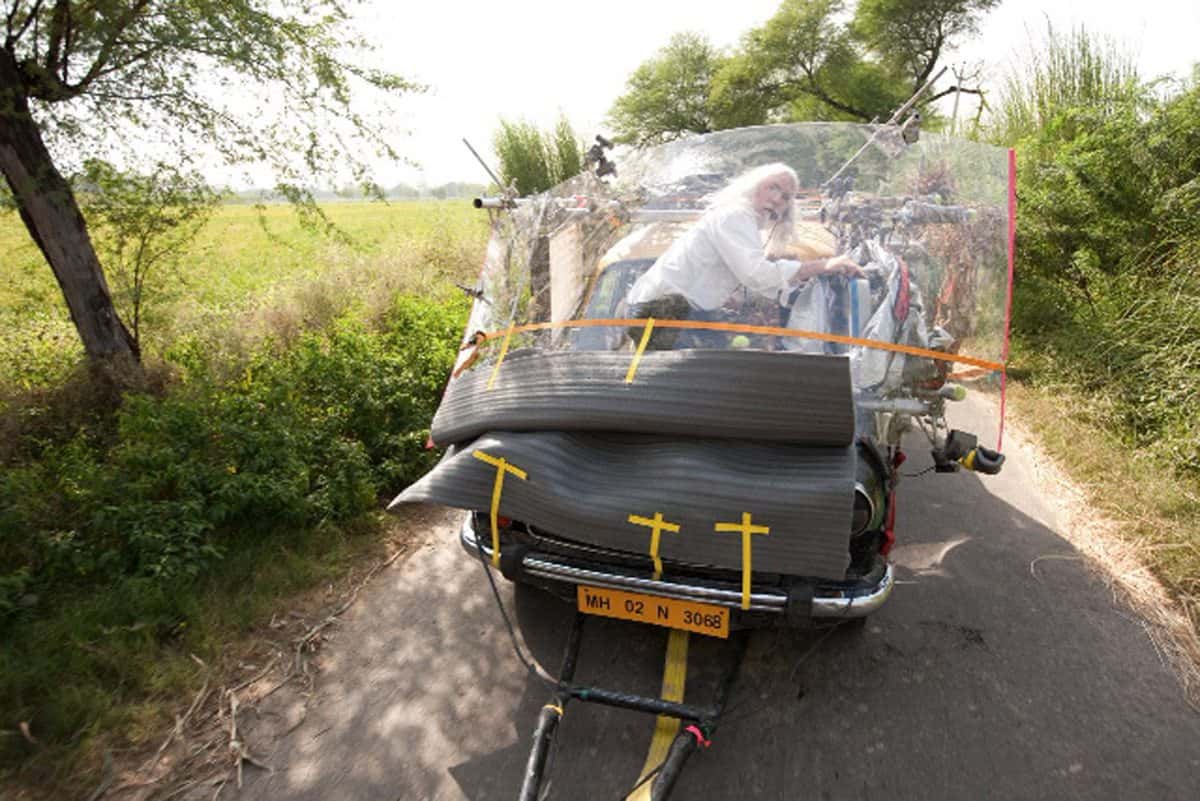 DeLuxe did the front-end lab work and Yvan Lucas at EFilm, in Los Angeles, timed both dailies and the DI. This was his third consecutive collaboration with Richardson following Inglourious Basterds and Shutter Island. The film was scanned at 4K resolution.
"It is of great advantage to have the DI colorist timing dailies," Richardson says. "To begin with, they become your partner from beginning to end in the creation of the looks that help bring the final film to life. Yvan did magic with the footage we shot. He had the look of dailies so right, there was little for me to add. We were able to time the DI very rapidly - six days total – which is rare."
Richardson is currently in England filming Hugo Cabret in 3-D with Martin Scorsese directing.