Cabin Fever
Robert Richardson ASC / The Hateful Eight
Cabin Fever
Robert Richardson ASC / The Hateful Eight
The Hateful Eight  is the taut and talkative American Western mystery movie, written and directed by Quentin Tarantino. The $44m, Weinstein Company production, stars Samuel L. Jackson, Kurt Russell, Jennifer Jason Leigh, Walton Goggins, Demián Bichir, Tim Roth, Michael Madsen and Bruce Dern.
As eight strangers who seek shelter from a blizzard in a stagecoach stopover some time after the American Civil War. With a score composed by Ennio Morricone, the absorbing action, in typical Tarantino fashion, packs in plenty of twists and turns, writes Ron Prince.
In charge of lensing the movie was Robert Richardson ASC, Tarantino's preferred cinematographer since Kill Bill: Vol.1 (2003). The duo teamed up for Kill Bill: Vol.2 (2004), Django Unchained (2009) and Inglourious Basterds (2012). However, their creative collaboration reached new heights on The Hateful Eight, as Tarantino insisted the movie was shot in super-wide Ultra Panavision 70, released in extended 70mm Roadshow print versions as well as the standard multiplex format, with a traditional, photochemically colour-timed finish on the Roadshow versions thrown in for good measure.
Historically, Ultra Panavision 70 movie releases have included Ben-Hur (1959, DP Robert Surtees ASC), Mutiny On The Bounty (1962, DP Robert Surtees), It's A Mad, Mad, Mad, Mad World (1963, DP Ernest Laszlo), The Fall Of The Roman Empire (1964, DP Robert Kasker BSC), The Greatest Story Ever Told (1964, DPs Loyal Griggs/William C Mellor) and The Battle of the Bulge (1965 DP Jack Hildyard BSC), with Khartoum (1966, DP Edward Scaife) being the last time the lenses saw the light of day.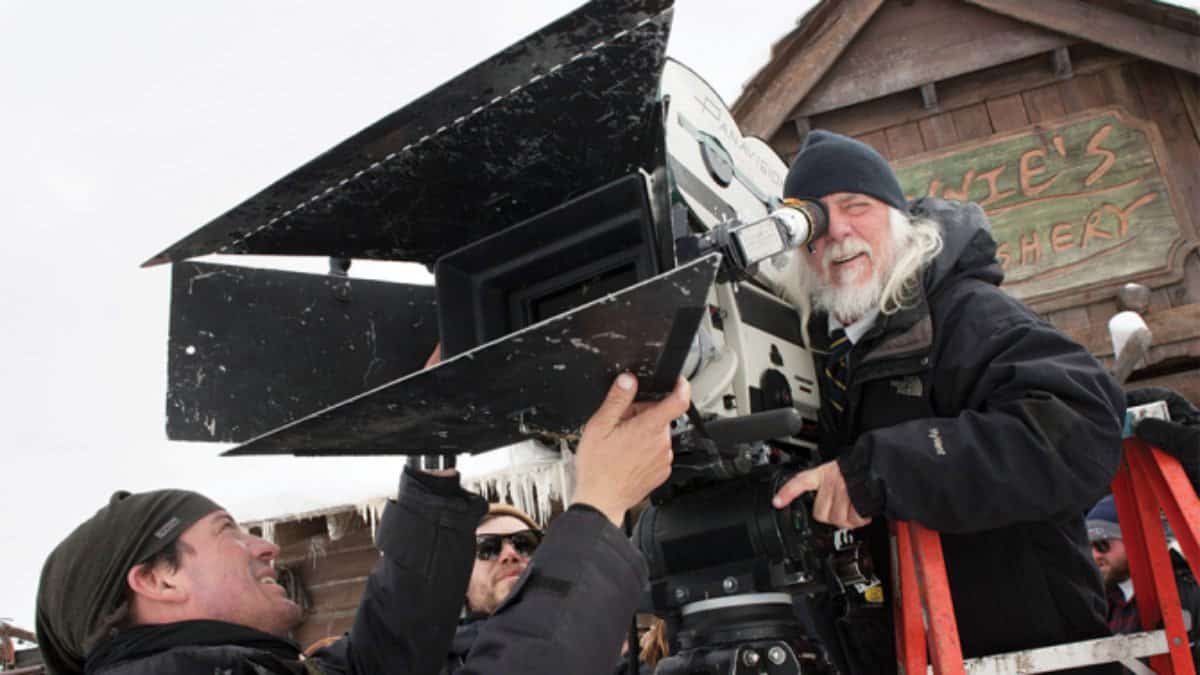 "Quentin called and asked me to join him for dinner at his house to discuss his upcoming film," recalls Richardson. "I joined him in the early evening and Quentin immediately launched into his desire not only to shoot The Hateful Eight, but also to shoot it in 65mm. There was no digital debate at all. It was to be shot in 65mm and released on 70mm. Period. He wanted to present The Hateful Eight as a "Roadshow" that would bring the audience into an experience unlike anything they would have had in many a year. Then he handed me the script, took me to his office where he said, 'Read it and when you finish we will talk.' With that he closed the door."
Richardson notes: "Everything about the script appealed to me. Quentin is a unique voice in the history of cinema and his writing skills were on full display. However, he had given me a script that did not have the ending. So I was left in suspense. He told me that when we got closer to production he would provide the final pages. With that we sat down to a steak dinner and a shot of tequila."
"It was to be shot in 65mm and released on 70mm. Period. He wanted to present The Hateful Eight  as a "Roadshow" that would bring the audience into an experience unlike anything they would have had in many a year."
- Robert Richardson ASC
In terms of creative references, Richardson says the primary film that Tarantino included in his thinking was John Carpenter's The Thing (1982, DP Dean Cundey ASC). "The similarities are essentially the setting, with a group of individuals trapped in a building during a storm," says Richardson. "Beyond that we did not speak of specific references. The Hateful Eight is its own movie. I try not to dive back into other films for inspiration. I believe each to be its own canvas and I hope to make an original investigation."
Having digested the script, and imbibed Tarantino's suggestions, Richardson says the scale, power, clarity and logistics of 65mm became the chief considerations.
"I had shot on 65mm once prior, for Shutter Island (2010, dir. Martin Scorsese), although it had proven difficult, due to the extreme cold weather affecting the performance of the cameras," Richardson remarks. "For The Hateful Eight, landscapes on their own were necessary, but we discussed primarily the interiors – the cabin, barn and stagecoach – and how we would capture the human face as a landscape? How to keep the audience engaged while trapped? And, for Quentin, the importance of the storm as a character that builds in intensity was vital."
Knowing that he'd be using the Ultra Panavision 70 camera system and associated lenses, the aspect ratio of 2.76:1 was a given. "The entire accident of finding the Ultra Panavision lenses was a blessing of good fortune. They date back to Ben Hur and are astoundingly gorgeous in my opinion," he says. "2.76:1 is the widest aspect ratio I have ever photographed a film with. The primary issue of shooting a frame so wide was that interiors were vastly more difficult to light since a large portion of the room was visible – particularly true when movement was added to a shot."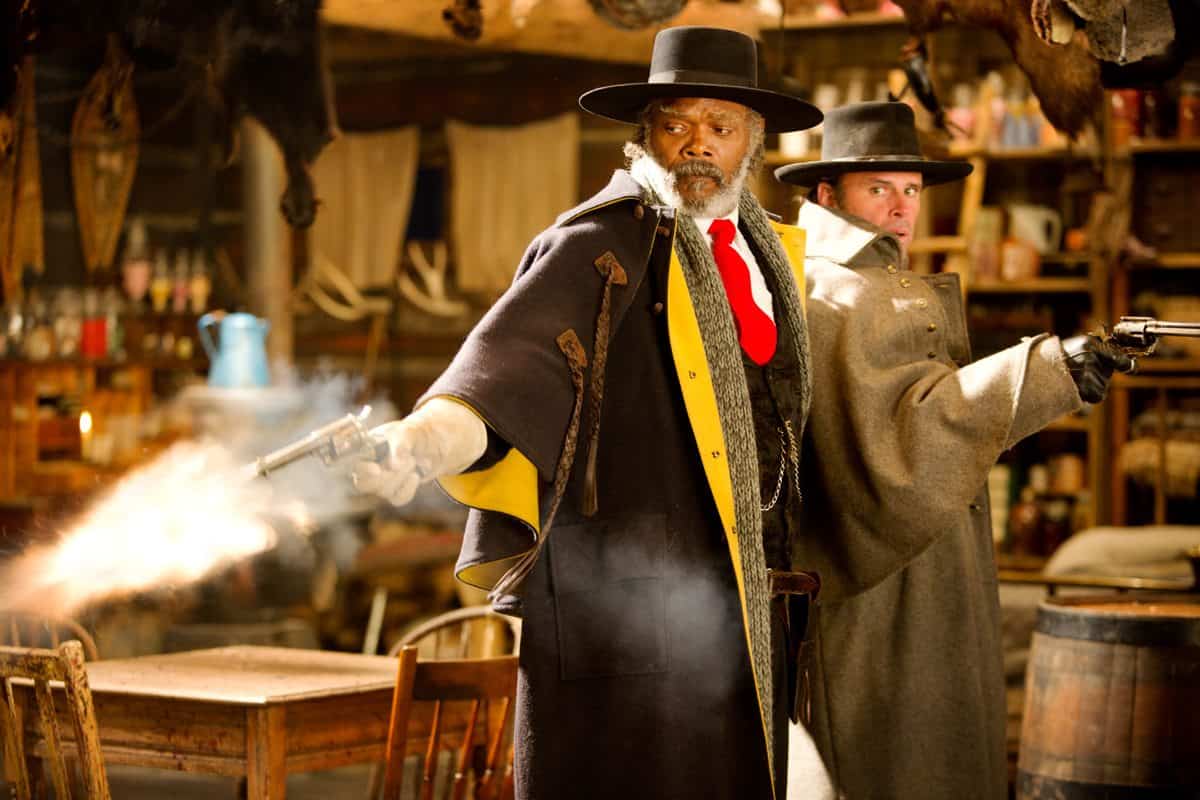 Filming began on December 8, 2014 on the 900-acre, high-mesa Schmid Ranch near Telluride, Colorado, where approximately half of the film was shot, before the production moved to Red Studios in Hollywood. Richardson had ten consecutive weeks of pre-production, and says the average shooting day was close to 14 hours, but these proved extremely rigorous during the location shoots due to the cold working conditions.
The Hateful Eight was shot using 65mm Kodak Vision3 50D 5203, 250D 5207, 200T 5213 and 500T 5219 stocks. Richardson pushed the film in most cases by half a stop, and this increased to one-stop on the odd occasion to aid focus. Fotokem did the film processing and printing of all dailies. Dailies were shown on 70mm to the director and crew each night when possible.
Getting the lenses ready for the production saw Richardson collaborate with Panavision's lens guru, Dan Sasaki. "Panavision as a company were phenomenal in their dedication to the project, and Dan Sasaki is brilliant," Richardson says. "He allowed us to take lenses that had not seen light in nearly 50 years and use them on challenging locations in Telluride. He worked very closely with Gregor Tavenner, my first assistant, in bringing these beautiful vintage lenses up to the present day. We had a fair range of lenses from 35mm to 200mm. My favourites were a 57mm and a 102mm, both prism lenses. Dan continually tuned the lenses – some to allow closer focus, some to give greater clarity to landscapes and infinity."
Although the Ultra Panavision 70 camera and lens combination is a sizeable, heavyweight lump, Richardson says in no way did it limit or govern his camera movement choices, which were achieved either on a dolly or crane. He says the bigger issues he faced were the cold weather and lighting the super wide frame.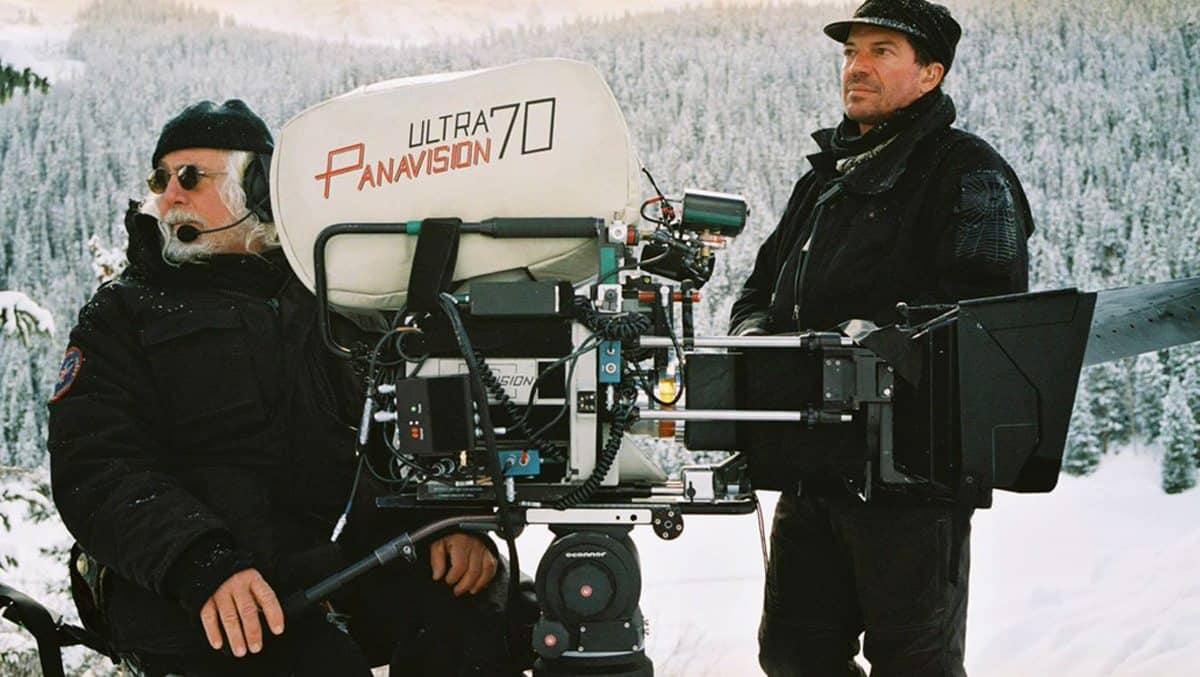 "We were using lenses that had not been in circulation for decades. So we were learning as we went along what the issues within the lenses were – whether it was sharpness, or the type of flares that became evident in certain conditions. The 65mm cameras were prepared for extreme cold by Gregor and the team of professionals at Panavision. In the end we had very few issues with the cameras and the lenses proved to be stunning. When we saw Sam Jackson, or anyone, in a close-up, the lenses aided the skin. It's remarkable. We never used diffusion. The only filters we ever did were outside and the results were stunning."
The other chief difficulties were in where to place the lighting. "Walls could not be removed. So our lighting had to work from above or, when the shots allowed, had to sit on the floor. The average lens aperture was T4. I had an incredible crew with Ian Kincaid on lighting and Herb Ault, my key grip. They were instrumental in allowing us to capture what you see on film. Our lights were quite varied. We had mini-brutes. We had LEDs. We used light bulbs as well as Par cans."
Describing how he works on-set with Tarantino, Richardson says, "There is no video village on a Quentin film. There is no video at all beyond a small monitor placed on the camera. He rarely leaves the set, even between set-ups, and is always beside the camera when directing. He is on fire as a director and tremendously devoted to his art. Working beside Quentin is a gift. I am most proud of capturing the performances by this incredible cast of actors. And perhaps I am happiest when the work I did pleased Quentin. I love this collaboration and am deeply proud of what Quentin created."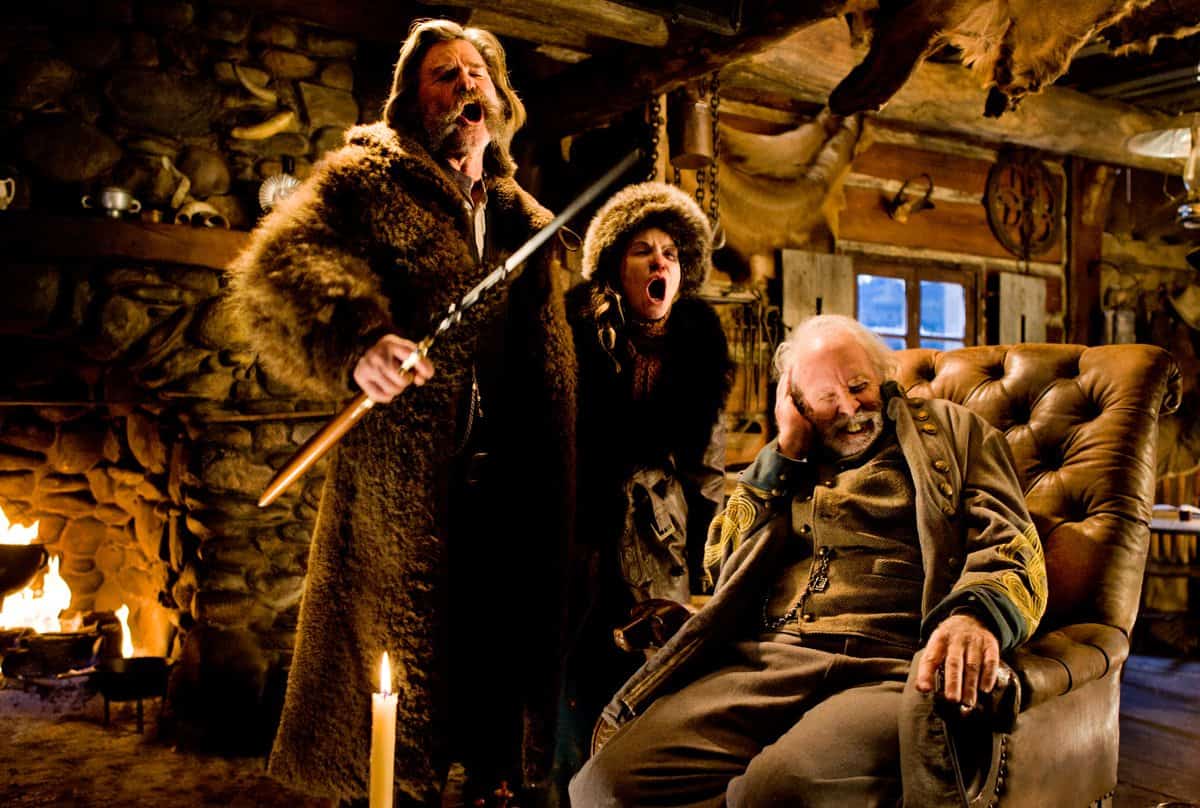 The Roadshow releases for The Hateful Eight, projected in around 100 cinemas across the US, were processed through Fotokem, with the DI for D-Cinema done via The Shed in Santa Monica with Yvan Lucas.
"The DI was not instrumental in the released 70mm Roadshow in any way," Richardson stresses. "Quentin demanded that we work in a completely old-school chemical manner. To go back in time, prior to the common use of the DI, was the greatest challenge for me. I continually worked through my daily fears of whether I was achieving a strong-enough exposure with quality."
He notes: "The DI that produced the DCP is close to an exact duplicate of the released 70mm film. That was a request from Quentin which I honoured. As Yvan had also assisted in the grading of the final film, it allowed the DI to be achieved very rapidly."