Cuckoo!
MacGregor/Vivarium
CUCKOO!
MacGregor/Vivarium
Hoping to find the perfect place to settle down, Gemma (Imogen Poots) and Tom (Jesse Eisenberg), travel to a suburban neighbourhood where all the houses look identical. But, when they try to leave the labyrinthine development, named 'Yonder', each road mysteriously takes them back to where they started. They quickly discover their groundhog day-like entrapment also comes with the gruelling task of rearing a fast-developing baby.
That's the premise behind director Lorcan Finnegan's well-received, low-budget, sci-fi horror parable, Vivarium, which had its world premiere at the 2019 Cannes Film Festival, and should have released in the US, UK and Ireland in March 2020. The Irish-Danish-Belgian co-production will now hit screens after the Covid-19 pandemic has passed.
The movie was shot by MacGregor (Miguel de Olaso), the Spanish commercial cinematographer now based in LA. His credits include the multi-award-winning shorts
BlinkyTM (2011, dir. Ruairi Robinson) and Foxes (2012, dir. Lorcan Finnegan), plus Similo (2014), Los Angeles 1991 (2015) and the 2017 documentary, The Mauritania Railway: Backbone Of The Sahara, which he directed and photographed himself. Vivarium represents his first long-form feature.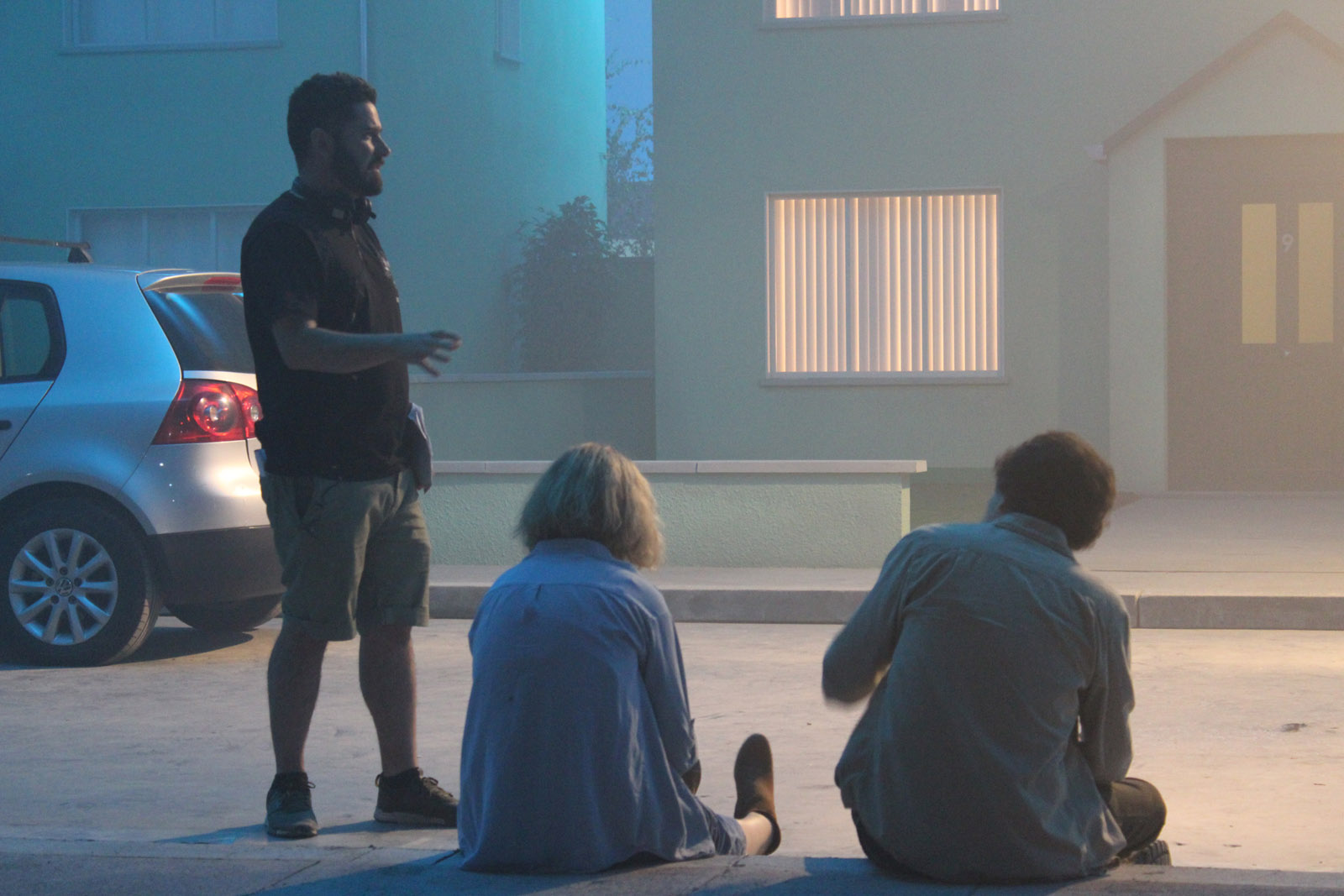 "I initially worked with Lorcan on Foxes, which did very well on the festival circuit, and on several commercials after that," MacGregor recalls. "He's an amazingly talented person. A few years ago he sent me an incredible script for a psychological, sci-fi drama, called Vivarium. Now, I am a visual person, and admit to not being the best at reading scripts, but it had me gripped me. I devoured it in one go. I told Lorcan, 'If you ever get to make this film, give me a call, I would love to shoot it for you.'"
Fast-forward to 2018, MacGregor did indeed get a call from Finnegan, and being available, was encouraged to take the very next flight from LA to Dublin. Whereupon he discovered the project in an advanced state of readiness.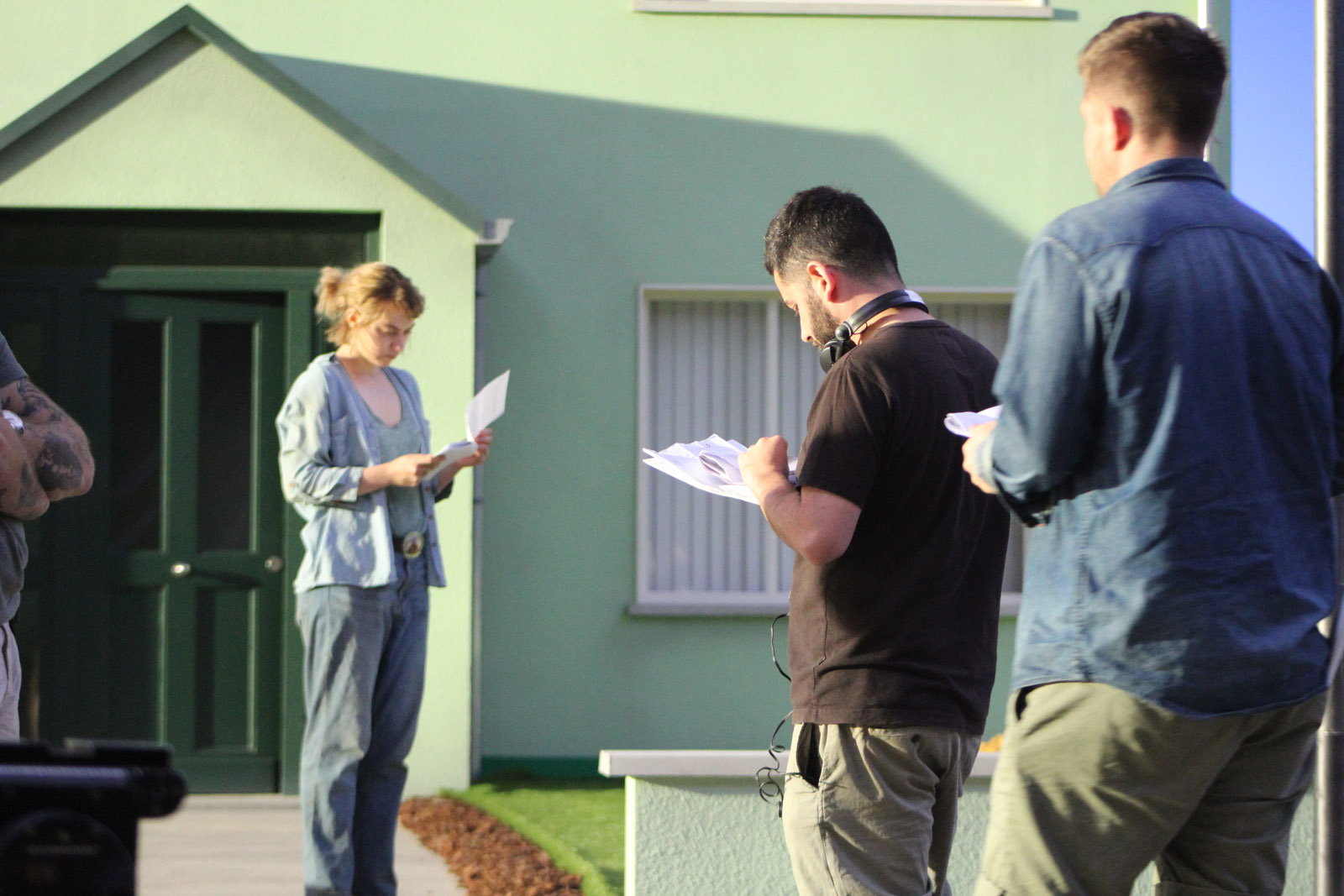 "We always had to move fast as we had to shoot several pages every day. This was not easy, as we had a skeleton crew. So I kept the lighting as minimal as possible. My gaffer, Antoine Bellame, did an amazing job in dialing-in the same RGB and colour temperature values so that things matched between the Belgian and Irish legs of the shot."
- MACGREGOR
"I came on-board very late, and found I had less than two weeks of prep time," says MacGregor. "It was a little insane. But despite the small budget, tight schedule, and the fact that it was my first feature, I was thrilled to be shooting Lorcan's story, and to work with such an incredible cast and resourceful crew.
"Re-reading the script, it was really claustrophobic in its feeling of not being to escape from your circumstances. Even though there are no bars, it's a sort of a psychological jail. Lorcan defined the look he wanted  - a manufactured world, like a show home on a new estate, with cheap furniture, artificial plants, plastic fruits and fake books. He also wanted the light to look weird, especially outside, green at night and unnatural shadows."
Along with surrealist imagery, including the paintings of René Magritte and photographs by Gregory Crewdson, inspirational visual references also included, "psychological movies which have a sort of psychedelic look to them," explains MacGregor - such as Hiroshi Teshigahara's Woman In The Dunes (1964, DP Hiroshi Segawa), Geoff Murphy's The Quiet Earth (1985, DP James Bartle) and Roy Andersson's A Pigeon Sat On A Branch Reflecting On Existence (2014, DPs István Borbás/Gergely Pálos).
Principal photography on Vivarium took place over the course of 30 shooting days during July and August 2018. All the exteriors of the 'Yonder' housing estate were actually shot on-stage inside a large warehouse near Liège, Belgium, where short façades of the terraced buildings were constructed. All of the interiors were shot on sets built at Ardmore Studios, Ireland.
Operating, and opting to frame the action in widescreen, MacGregor selected the ARRI Alexa Mini fitted with Vantage's Hawk V‑Lite Anamorphic lenses. The camera package was provided by TSF, Belgium.
"The sets were so perfect, pristine and clean, but with very little texture and a flat, monochromatic look," MacGregor says. "As it was the actors who brought the human element to the image, I went with the Hawkes to introduce their aberrations and distortion, yet retaining a certain image sharpness and faithfulness to the skin tones, that would keep a sense of reality in an otherwise unreal world. I used eighth or quarter Glimmerglass diffusion to get a soft halation around practical and specular light sources on the estate exteriors."
For the mainstay of the movie, MacGregor focussed on strong framing and image compositions, but with slow camera movements, to heighten the unnatural aesthetic. However, he switched to handheld mode, "to give the image a strange energy and the feeling that something was really wrong, when the emotional action turned dark."
Shooting the exteriors - essentially a façade of just three houses, built in the Belgian warehouse - meant headroom was ultra-tight for the lighting grid, comprising of some 20 x ARRI SkyPanel S360s, 40 x S60s and four S120s. These were controlled remotely and used to create eerie lighting for the day, evening and night scenes. The interiors in Ardmore were more conventionally lit, using softlight bounced through windows, sometimes just one highly-diminished source so the light would fall-off to darkness around the actors' faces and accentuate their degenerative descent.
"We always had to move fast as we had to shoot several pages every day," MacGregor recalls. "This was not easy, as we had a skeleton crew. So I kept the lighting as minimal as possible. My gaffer, Antoine Bellame, did an amazing job in dialing-in the same RGB and colour temperature values so that things matched between the Belgian and Irish legs of the shot."
Along with his Belgian and Irish camera crews, "who were super-friendly and killed themselves," MacGregor also applauds renowned Danish VFX supervisor, Peter Hjorth, for his work in visualising the many different wides and top shots of the massive, maze-like housing estate.
"Peter would come in after we had wrapped and overnight - using the same lighting set-ups, and with the camera moved to the right perspectives - would shoot VFX plates, that he could manipulate later in post, to extend the sets. It's remarkable what he did."
Despite the limitations of budget, time and crew-members, MacGregor concludes, "I was blown away by the actors. I forgot I was the DP, and enjoyed their performances. I can't wait for people to see the film."