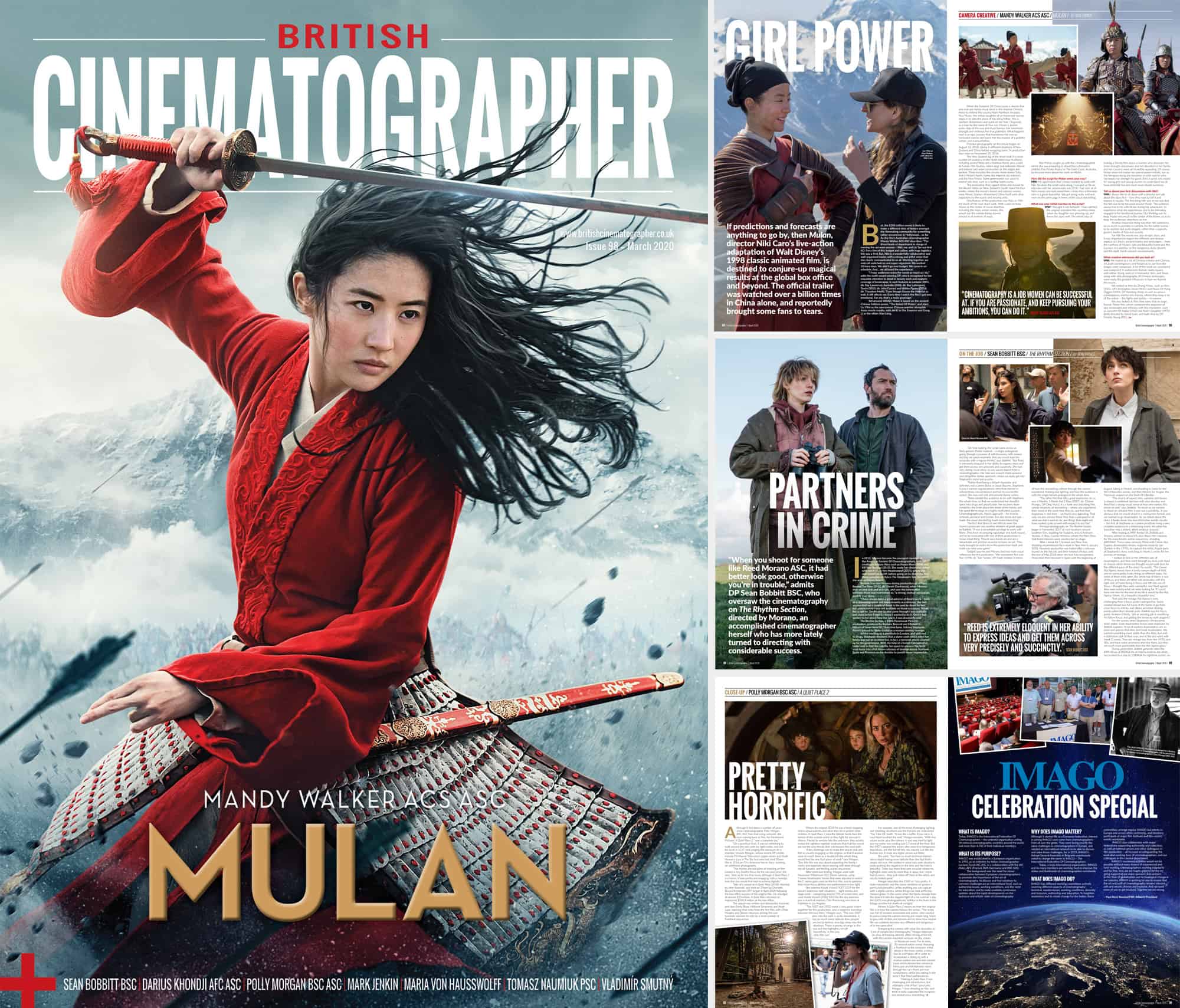 Feast your eyes on the new edition of British Cinematographer magazine – digitally* via our website, or in print**, from 16th March 2020 onwards.

On the Cover
Mandy Walker ACS ASC on Mulan

A history-making collaboration, for now at least, brings the live-action version of Disney's 1998 animation Mulan into 2020 – with Australian DP Mandy Walker leading the visuals.
She tells us about linking up with Director Niki Caro, bringing elegance to epic battle scenes that were shot in-camera, and where the development of the 'Petzval' and 'Chi' lenses proved fruitful.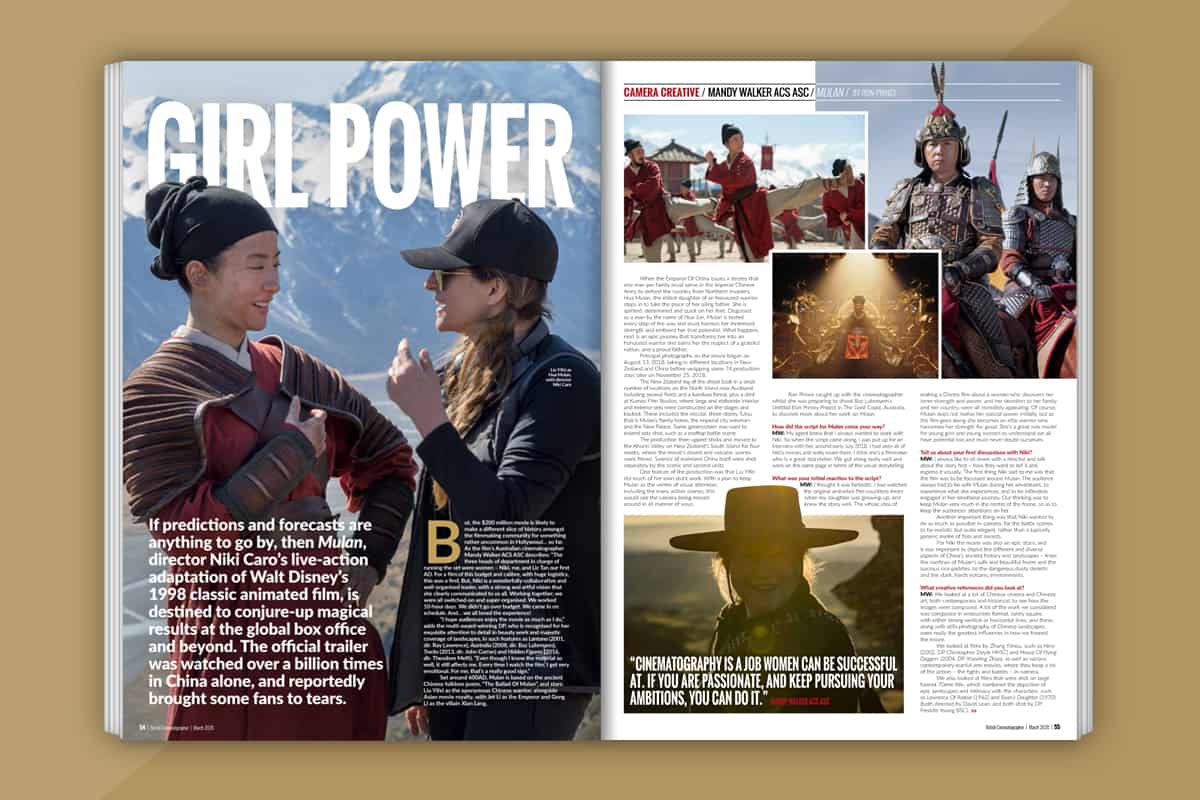 Sean Bobbitt BSC on The Rhythm Section

Working under Director Reed Morano ASC – an accomplished cinematographer herself – Sean Bobbitt BSC captured the look on thriller The Rhythm Section.
He reveals his thoughts on the great appeal to work on this project, the common language he developed with Morano, and why he would choose the Xtal Xpress 50mm lense for life.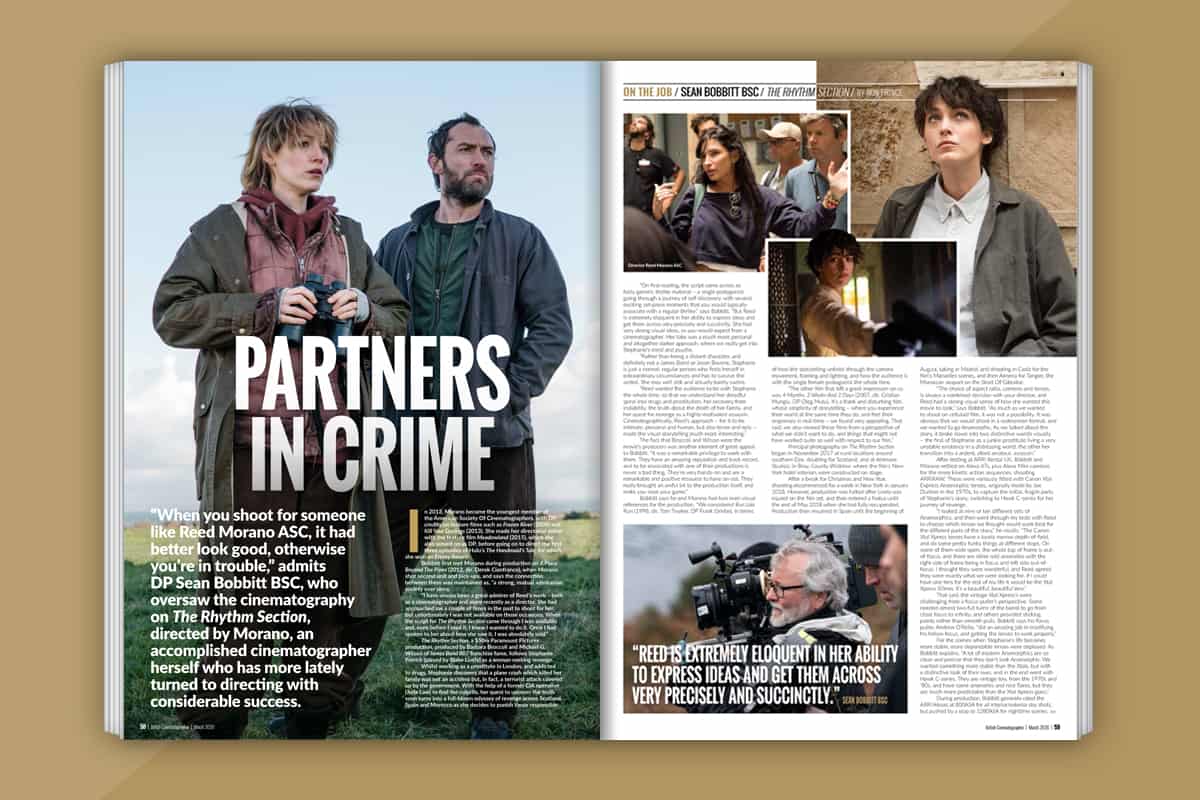 IMAGO Celebration Special

This issue we pay homage to IMAGO – the International Federation of Cinematographers – a uniting force for cinematography societies and its members worldwide.

Discover its origins and formation in 1992 from Luciano Tovoli AIC ASC, delve into the tireless work from its committees with words from its members, and find out what IMAGO means for the art of cinematography in 2020.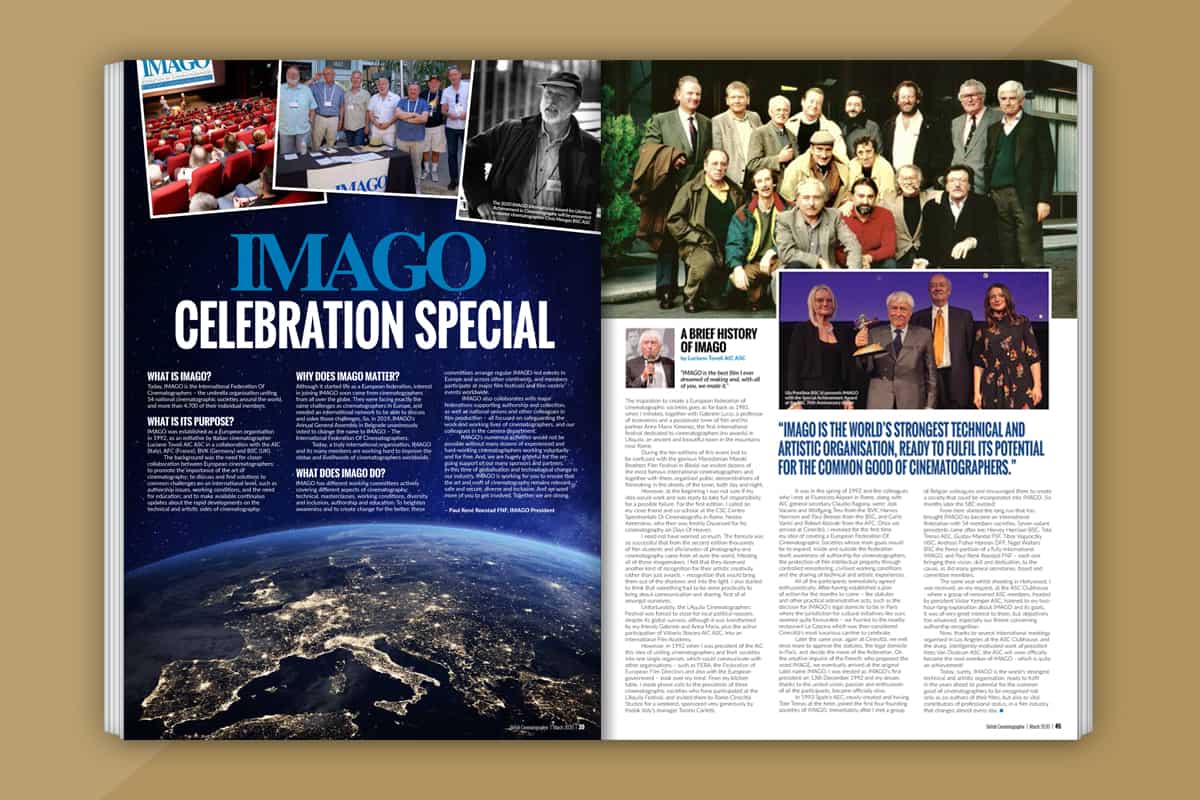 Polly Morgan BSC ASC on A Quiet Place 2 and Darius Khondji AFC ASC on Uncut Gems

In a pair of productions in-focus this issue, we speak to Polly Morgan about taking over the cinematography mantle from Charlotte Bruus Christensen DFF and visualising the intriguing sequel to hit-horror A Quiet Place, whilst we also get up-close with Darius Khondji's dazzling look for the Adam Sandler starring Uncut Gems.

Don't Miss…
More soundbites, comment and opinion from productions lit by a roster of European cinematographers: Maria Von Hauswolff, Tomasz Naumiuk PSC, Vladimír Smutný and Mark Jenkin.
Learn more about Richard Greatrex BSC, gaffer Tom Gates, DP Yana Rits, Mr Helix's Rizwan Wadan, and lighting innovator Cineo.
And that's not mentioning opinion from Steven Poster ASC, the GBCT's Tim Potter and John Keedwell, BSC president Mike Eley's column, a full show review of BSC Expo 2020, our regular comprehensive guide to which DPs are shooting who and where, and more…
A subscription is still the only way to read the complete British Cinematographer, so buy one today to fully experience Europe's No.1 cinematography magazine.

ISSUE 98: AVAILABLE ONLINE* AND IN PRINT** FROM 16TH MARCH 2020 ONWARDS.
* With an active 'Digital Only' subscription, or the digital part of an active 'Print & Digital' subscription.
** Issue 98 will only be received in printed format by those with an active 'Print' or 'Print & Digital' subscription purchased before 4th March 2020. Any new 'Print' or 'Print & Digital' subscription purchases made from 4th March 2020 onwards will NOT receive this issue in print as part of their purchase. Eligible subscribers should expect to receive their copy within 7 days of the release date if in the UK, and 14 days if overseas.