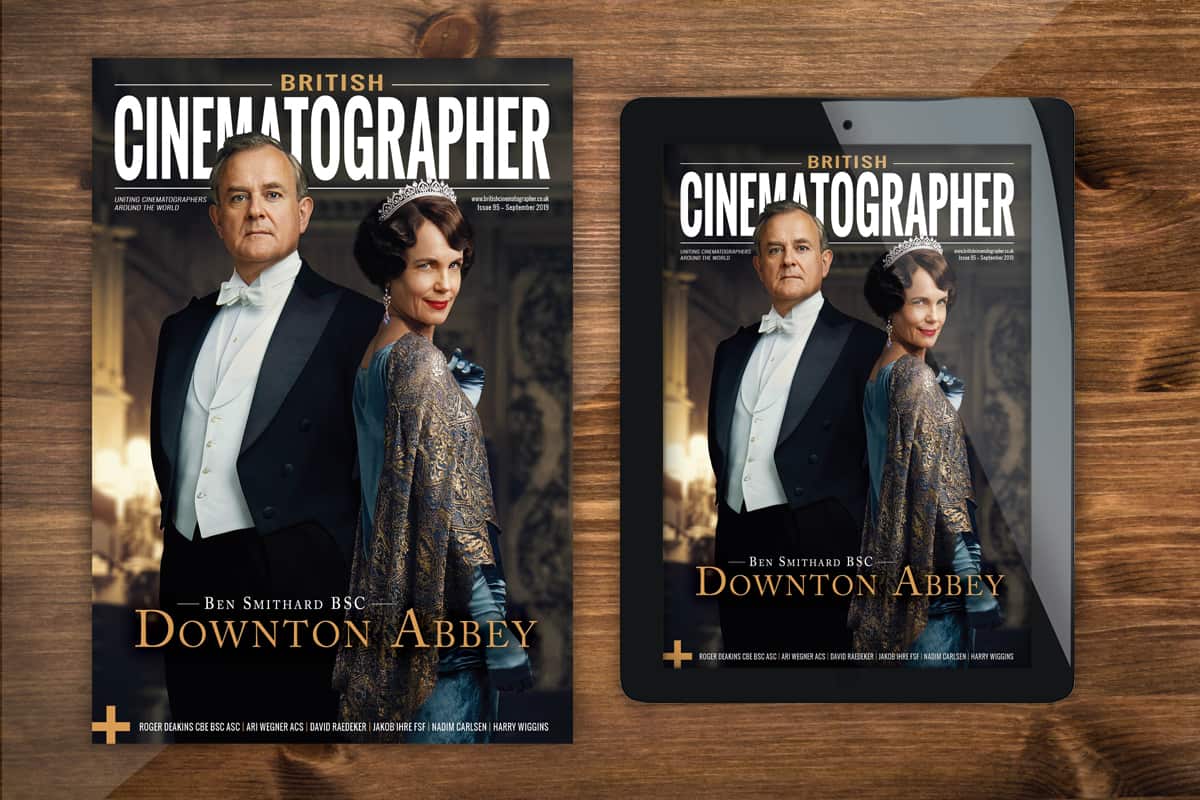 Feast your eyes on the new edition of British Cinematographer magazine – digitally* via our website, or in print**, from 13th September 2019 onwards.

On the Cover
Ben Smithard BSC on Downton Abbey and Blinded By The Light

In our latest cover feature, Ben Smithard BSC speaks to us about his 'double whammy' of shooting the grandiose Downton Abbey and the highly-acclaimed Blinded By The Light.
Smithard tells us the challenges of going big on Downton and how that affected his choices of camera and lenses; plus why on Blinded he would have preferred to shoot on film and how the 'Storm Scene' is his DP favourite.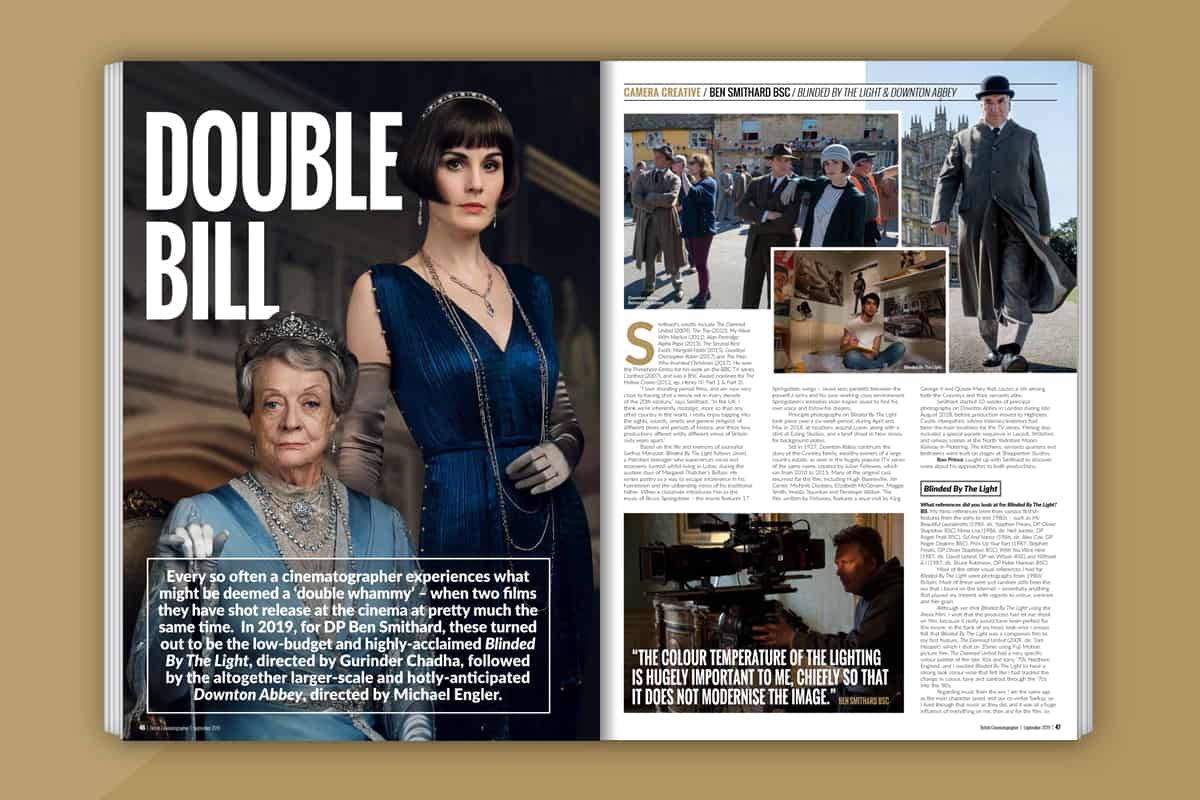 Roger Deakins CBE BSC ASC on The Goldfinch

Always popular in British Cinematographer, Oscar-winner Roger Deakins CBE BSC ASC takes the time to talk to us this edition about The Goldfinch – his follow-up to the acclaimed Blade Runner 2049.
He reveals his thoughts on employing the same LUT he has always used with digital shooting, the trickiness with controlling the light in New York, and why the story was a key factor in coming aboard.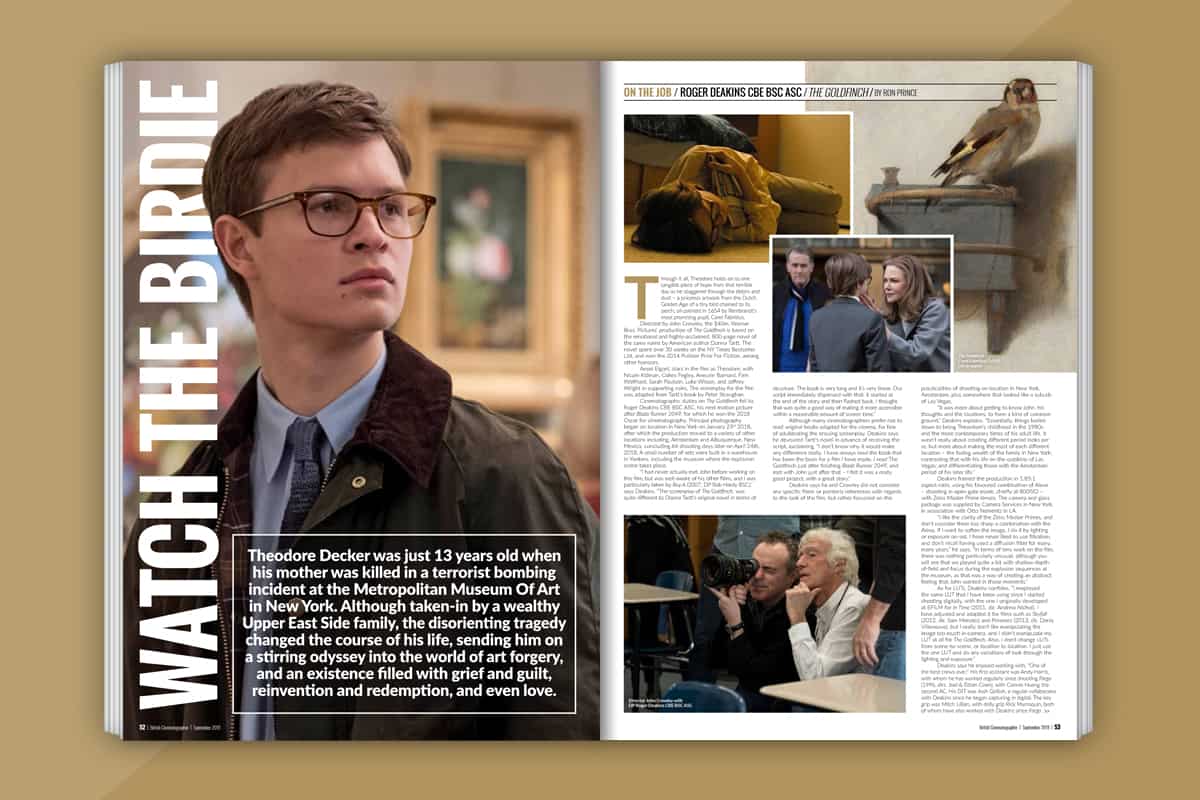 Jakob Ihre FSF on Chernobyl

Swedish DP Jakob Ihre's first foray into television was more like shooting a five-hour movie as he tackled representing the 1986 Chernobyl disaster.

Ihre's insights reveal his reasons for deploying unpredictable and unsettling lighting, and why he felt responsibility to all mankind with the series' interpretation of historical events.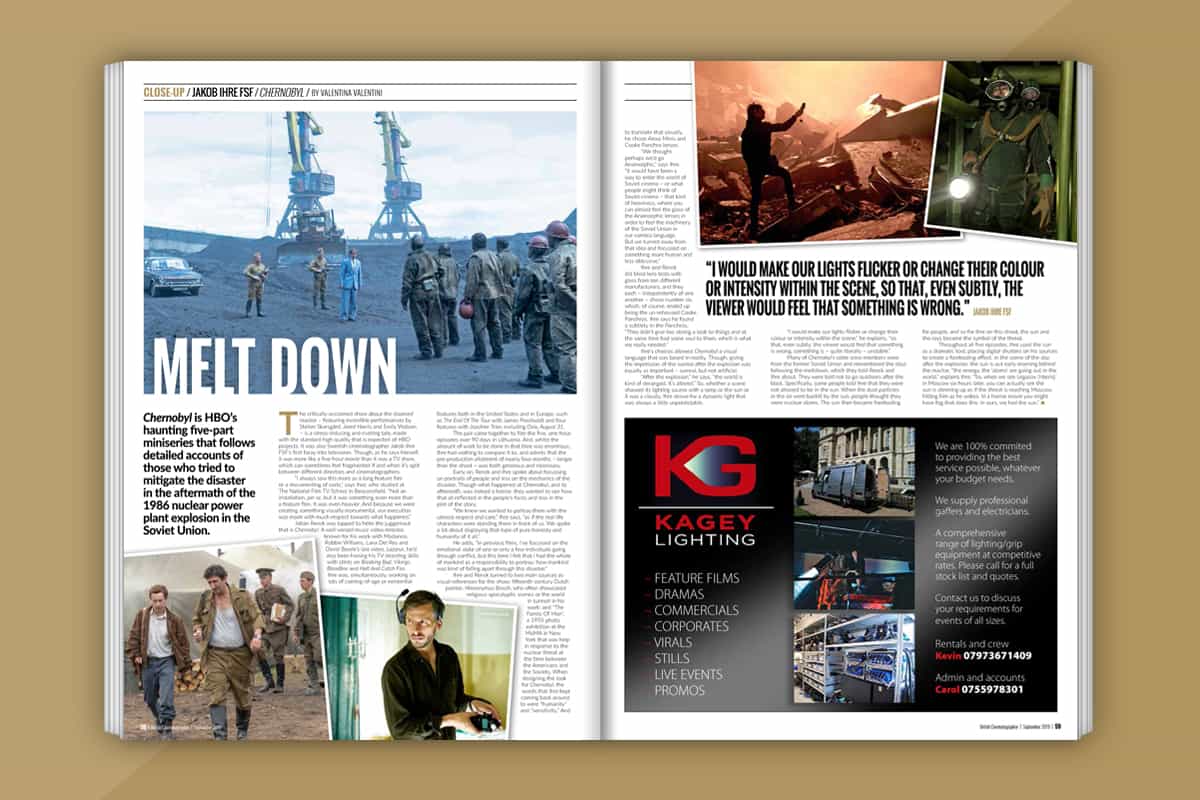 Nadim Carlsen on Border

This edition's look at 'One That Got Away' takes us into production on Border – the 'Un Certain Regard' winner at Festival de Cannes in 2018, shot by Danish cinematographer Nadim Carlsen.
Carlsen declares why he steered clear of the typical 'Nordic-Noir' look, why handheld was deployed throughout, and how the widescreen aspect ratio played into styling the landscape and nature of the story.

Don't Miss…
More soundbites, comment and opinion from productions by Ari Wegner ACS and David Raedeker.
Learn more about gaffer Harry Wiggins, DP David Bird, the colour grading talents at Molinare and Green Voltage's eco-friendly lighting.
And that's not mentioning opinion from Roy H Wagner ASC, BSC president Mike Eley's column, a look-ahead to IBC 2019, our regular comprehensive guide to which DPs are shooting who and where, and more…
A subscription is still the only way to read the complete British Cinematographer, so buy one today to fully experience Europe's No.1 cinematography magazine.

ISSUE 95: AVAILABLE ONLINE* AND IN PRINT** FROM 13TH SEPTEMBER 2019 ONWARDS.
* With an active 'Digital Only' subscription, or the digital part of an active 'Print & Digital' subscription.
** Issue 95 will only be received in printed format by those with an active 'Print' or 'Print & Digital' subscription purchased before 3rd September 2019. Any new 'Print' or 'Print & Digital' subscription purchases made from 3rd September 2019 onwards, will NOT receive this issue in print as part of their purchase. Eligible subscribers should expect to receive their copy within 7 days of the release date if in the UK, and 14 days if overseas.