The greatest escape
Hoyte van Hoytema FSF NSC ASC / Dunkirk
The greatest escape
Hoyte van Hoytema FSF NSC ASC / Dunkirk
One could be forgiven for assuming that Dunkirk is a traditional war movie. But think again. Its director, Christopher Nolan, has expressly stated that it is, first and foremost, a suspenseful, survival experience.
The movie follows the events of Operation Dynamo, between 26 May and 4 June 1940, as large numbers of British, French, Belgian and Canadian troops were cut-off and surrounded by the German army, following defeat in the Battle of France.
When the Nazi army paused to consolidate its forces, the Allies had enough time to muster a flotilla of over 800 boats – from naval destroyers and merchant marine vessels, to fishing boats, pleasure steamers and lifeboats – providing a lifeline that saw the evacuation of more than 338,000 allied troops from the beaches and Dunkirk harbour.
Although British Prime Minister Winston Churchill called the retreat from France "a colossal military disaster", he hailed the dramatic rescue as a "miracle of deliverance" in his stirring "We shall fight on the beaches" speech on 4 June, and the episode is widely seen as one of the defining moments of WWII.
Written, co-produced and directed by Nolan, the Warner Bros. Pictures production stars Fionn Whitehead, Tom Glynn-Carney, Jack Lowden, Harry Styles, Aneurin Barnard, James D'Arcy, Kenneth Branagh, Cillian Murphy, Mark Rylance, and Tom Hardy. Containing little dialogue, the story is told from three perspectives – the land, the sea and the air.
Filming on IMAX 65mm (15-perf) and 65mm (5-perf) large format film stock, by cinematographer Hoyte van Hoytema FSF NSC ASC, began on 23 May 2016 in Dunkirk, involving around six thousand extras. During the following 75 shooting days, production proceeded to IJsselmeer inland lake in the Netherlands, Swanage and Weymouth on the Dorset coast to film aerial combat scenes, and the Point Vicente Interpretive Center and Lighthouse in Rancho Palos Verdes, LA. Water tanks at Warner Bros.' Stage 16 and Universal Pictures' Falls Lake were used to film the exteriors and interiors of sinking ships, which took place with around fifty crew and stuntmen in attendance.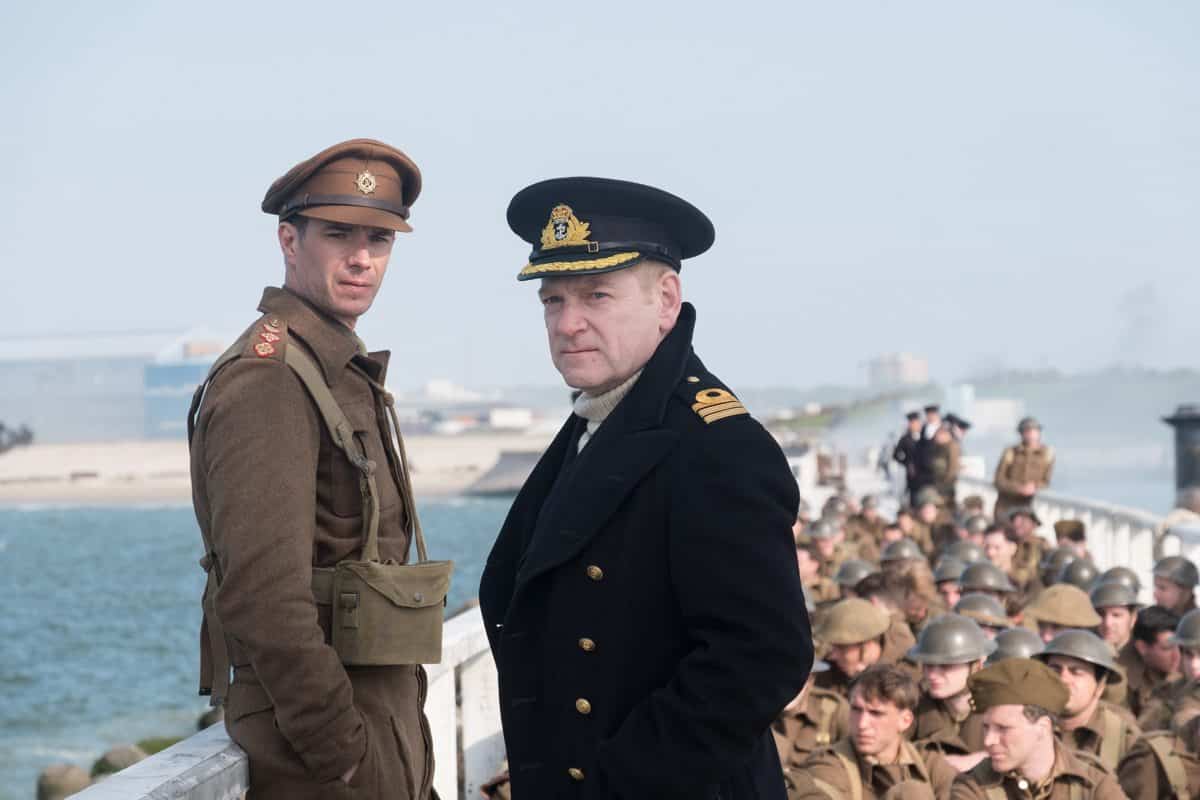 Six warships were reconditioned for the movie's various open-sea scenes, and twelve boats used during production had once taken part in the actual Dunkirk evacuation. Three Supermarine Spitfires, plus a Hispano Buchon, masquerading as a Messerschmitt E109, were used to film airborne dogfights. IMAX cameras were variously hard-mounted to the fighters, whilst specially-engineered snorkel lenses were also used to capture the action in the front and back of the pilot's cockpit.
Van Hoytema previously shot Interstellar for Nolan, using a combination of IMAX and 35mm celluloid. However, with the emphasis on capturing detail and reality, Dunkirk consumed more IMAX footage than any of Nolan's previous films ­­– an estimated 75 per cent – with the rest shot on 65mm.
Having successfully hand-held the IMAX camera for a few sections of Interstellar, the cinematographer faced the daunting prospect of wielding the 54lb lump for a massive number shots of Dunkirk – not only on the beach, but also in cramped, sometimes fully-submerged, ship interiors.
Added to this, was the mantra to shoot in natural, available light, plus the need to shoot as much of the footage as possible in-camera, thereby avoiding the need to scan the film for CGI and the potential for loss in image quality. Indeed, this saw the use of constructed props of soldiers and military vehicles to create the illusion of a large army on the beaches.
Ron Prince caught up with Van Hoytema as he was busy supervising the movie's various film and digital deliverables in L.A.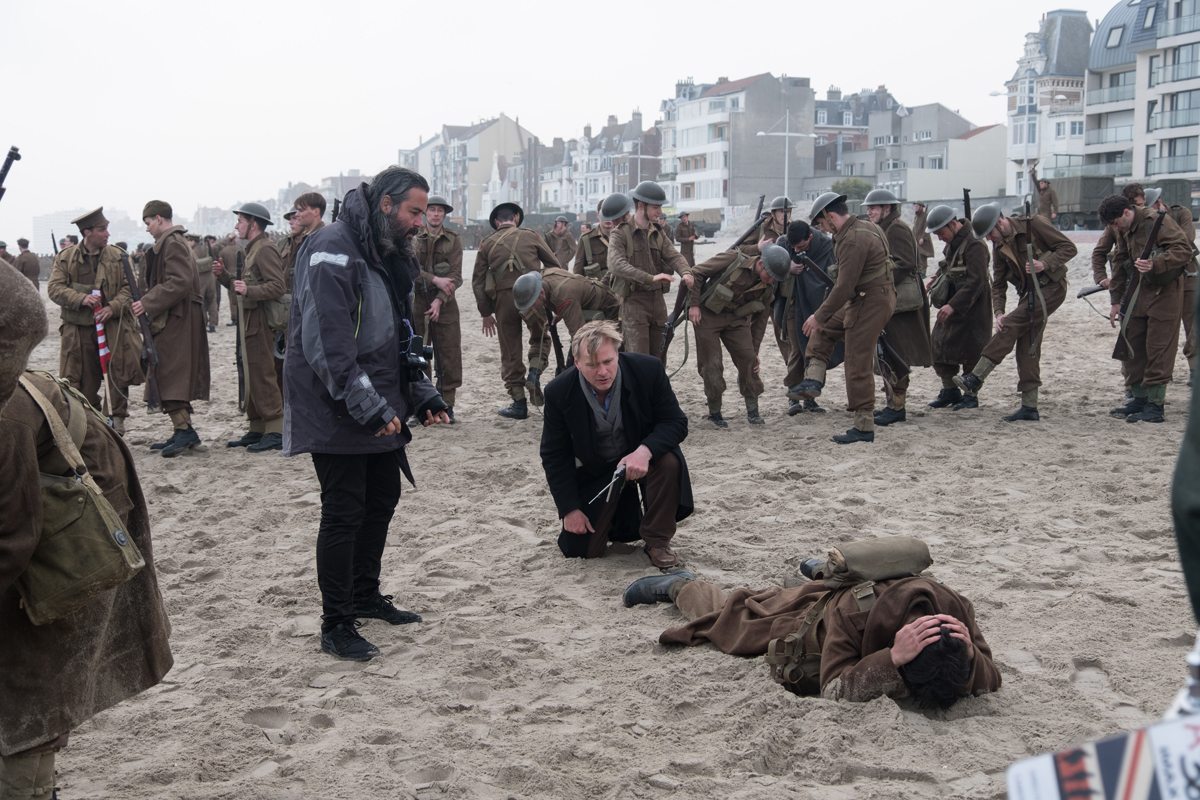 What was your first impression when you read the screenplay?
HvH: Although I had worked on Interstellar with Chris, I knew absolutely nothing about Dunkirk until after I had subsequently finished 007 Spectre in July 2015. Even then I knew very little, as Chris keeps his projects very much under wraps. So I really did not know what to expect. It was one of his tightest, shortest scripts, and the least reliant on dialogue. But it was really exciting and original – very visual and visceral. What impacted me was that the film did not concern itself with the bloody aspects of combat, which you might typically expect. The aim instead was to fuse the spectacle of the immense scale of the evacuation, with emotion: to portray the intensity of this terrible experience and the human desire to survive. All at a relentless pace.
Did you know it would be shot on large format film from the beginning?
HvH: Chris is a champion of film, so Dunkirk was always going to be a film project. I am strong an advocate of film too. My only digital film is Her (2013), the rest have all been on film. To be honest, I am very much with Chris that there is not yet any medium that reaches the depth and quality of film. So if you want to tell a story in a visual way – as a dramatic, close-up, immersive experience of what is in front of you on-set – film is still the No.1 choice. The sheer quality and reality of the IMAX frame is ridiculous. We shot so much IMAX footage on Interstellar that it would not have been logical to base Dunkirk around anything else.
Why did you mix IMAX 65mm and large format 65mm film?
HvH: Whilst we wanted to tell the story with as much clarity as possible, IMAX cameras are noisy. When you want to record sound and dialogue, you have to work on a different format. So we shot IMAX whenever we could – around three-quarters of the movie – and used the next best format, 65mm, for dialogue. It was purely a practical decision. Obviously, this required at lot of special tinkering and engineering to put the IMAX cameras on ships and aeroplanes, but we had already done quite a bit of that during Interstellar, and we both really enjoy these types of challenges.
Read the full interview - ONLY available in the July 2017 Issue (82) of British Cinematographer magazine.
Find out Hoyte Van Hoytema's views on his choices of cameras, lenses and film stocks, the film's visual references, and his reaction to shooting the movie mostly handheld.
Log-in with your digital subscription to see it now.