Bigger Data, Smaller Lights

CineGear Expo 2017 / Mark London Williams
Bigger Data, Smaller Lights

CineGear Expo 2017 / Mark London Williams
All pictures courtesy of George Leon of Filmcast Live.
As one colleague noted, Cine Gear is en route to becoming a "mini-NAB" – an ever-expanding trade show of equipment, and its possibilities, for the capture, transmission and manipulation of images. And it's no longer even strictly "cine" either.
As with NAB, the calendar defining Cine Gear seems to expand a bit each year. There's the actual show, of course, with its vast, mismanaged entry queues, but does the Cine Gear season really begin with, say, the JL Fisher open house, a couple weeks earlier? Or at the beginning of show week, with the various receptions, open houses, and product launches? One post-show bookend would seem to be the Matthews Studio Equipment garage sale which comes Sunday after the exhibition closes – an afternoon of people milling about with plates of tacos, eyeing the vendors selling C-clamps and lighting fixtures at bargain rates, while awaiting tours of MSE's expansive Burbank facility. A band belted-out R&B and rock numbers, and one of the songs during a set-break was the original Booker T & The MG's Green Onions, used so well in the climax of American Graffiti, as all the characters headed toward a dawn reckoning.
Cine Gear Expo – as with NAB – is inching towards a reckoning of its own, in terms of what it's really about, as the means and methods of production keep changing. There are still plenty of apple boxes to be found, but the show once again underscored the almost-complete overthrow of traditional lighting by LEDs, accompanied by the on-going shift from film stock to digits to when, "filming", editing, or posting something.
Clamps and cloth persevere, of course, as do diffusers and mixing consoles, but the show also gave us some clear intimations about the slow-but-steady push for 8K cinematography, at least on the feature film/tentpole level.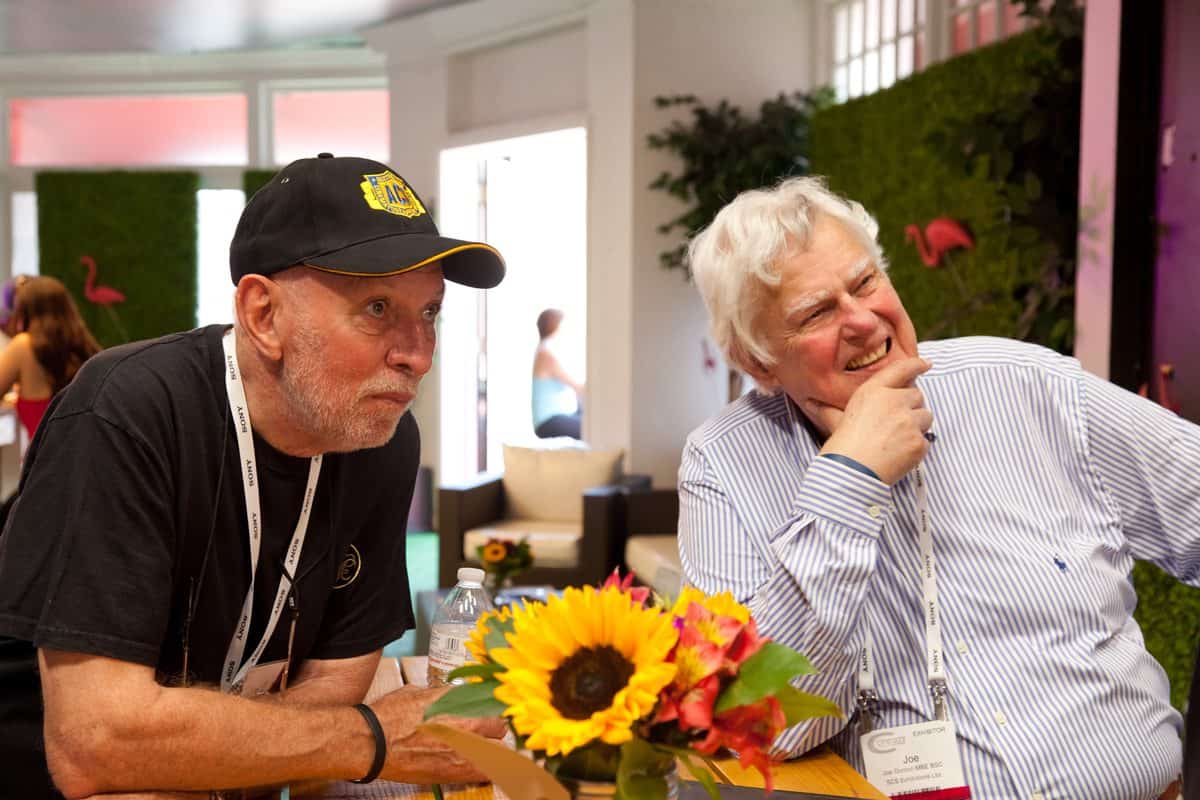 With that, then, let's take a tour of what some of our favourite vendors were up to at this year's show:
Angenieux
Their lenses seemed to be everywhere at the show, beyond their booth. Scott Shelley, cinematographer for the Cine Gear-featured documentary recreation Le Ride, sang their praises while telling us of their use hooked up to Sony F55s, as he sat on the back of a motorcycle, following the route that teams from Down Under took during the 1928 Tour de France. They were also used on this summer's Grain, a sci-fi opus from Europe that may be the last film to be shot on Kodak's B&W film stock, complemented by cinematographer Giles Nuttgens BSC's use of the company's 56-152mm Optimo Anamorphic zoom lens.
ARRI
The company could probably just answer "Alexa," when asked what they're up to, and likely, that would be enough, what with Emmanuel "Chivo" Lubezki AMC ASC's Oscar-winning use of the Alexa 65 camera on The Revenant, and cinematographer Bradford Young ASC's current deployment of Alexas on the new Han Solo film, shooting in London. But they were also touting their "Prime DNA," a "bespoke" 65mm format lens, which can be mixed-and-matched among its (initial) eight focal lengths for custom looks. Though speaking of DNA, they also have their Vintage 765s, a series of lenses from the late '80s now ready to go on their newest boxes.
Blackmagic Design
Continues its particular magic with the URSA Mini Pro and its somewhat magical price point, given its Super 35mm 4.6k image sensor, and other features. And as they did at NAB, they continue to emphasise the collaborative nature of their colour grading and editing tool, DaVinci Resolve, which is downloadable at an even more agreeable price point: Free.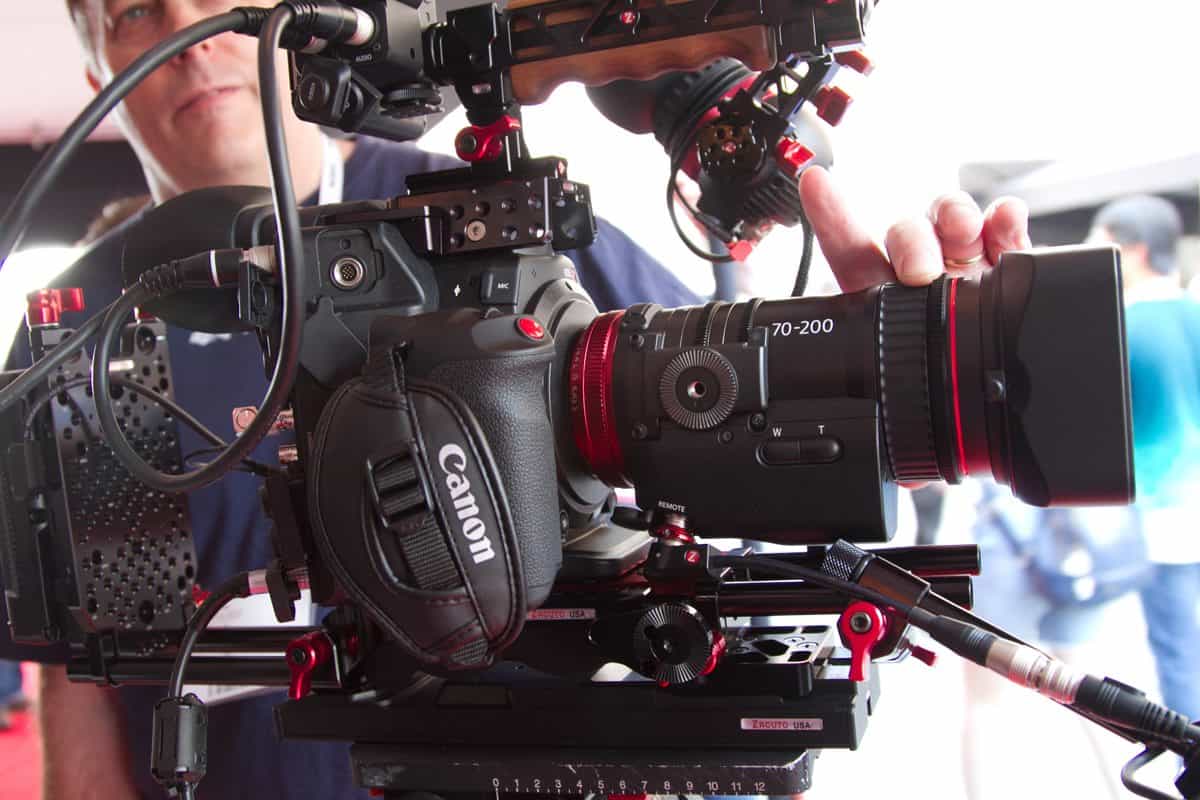 BBS Lighting
With the explosion in smaller studios designed for webcasting and streaming, BBS has found an expanding category – going beyond a "niche" at this point – where their Pipeline phosphor LED kits "work very well," as CEO Peter Plessner noted. They were emphasising their new Pipeline 1'-Bank, for limited spaces, low ceilings, and close-in shooting. They also have new power supplies for their redoubtable Force V lamps, with new chip technology for better cooling, all while retaining their traditional housing.
Canon
No sooner did ICG's Local 600 wrap up its morning panel on the "LED future" with lighting sources – at which renowned cinematographer Steven Poster ASC, along with other men and women wielding new lighting strategies on stage and on location, sang the praises of the Canon's EOS700's on a recent shoot – then we found ourselves at the Canon booth. There were not only C700s there, but the even newer EOS C200s, currently garnering similar praise on their release. The 4K-capable camera model is replete with touchscreen viewfinder, side grips, memory card recording options, and RAW internal data recording. Slated for late summer release, expect it to be discussed in future panels.
Chapman-Leonard
"If you ask us to build it, we will come." Well, those weren't Dan Issa's exact words, but the rental coordinator for the storied gear house did say, "whatever you need, we do." And what they'd done, particular at this Cine Gear, was devise a 5' dynamic slider that works with their Miniscope 7 Crane, with adjustable centre of gravity, and tilt. The slider was still a prototype, however, so the world may remain a bit off-tilt until its release.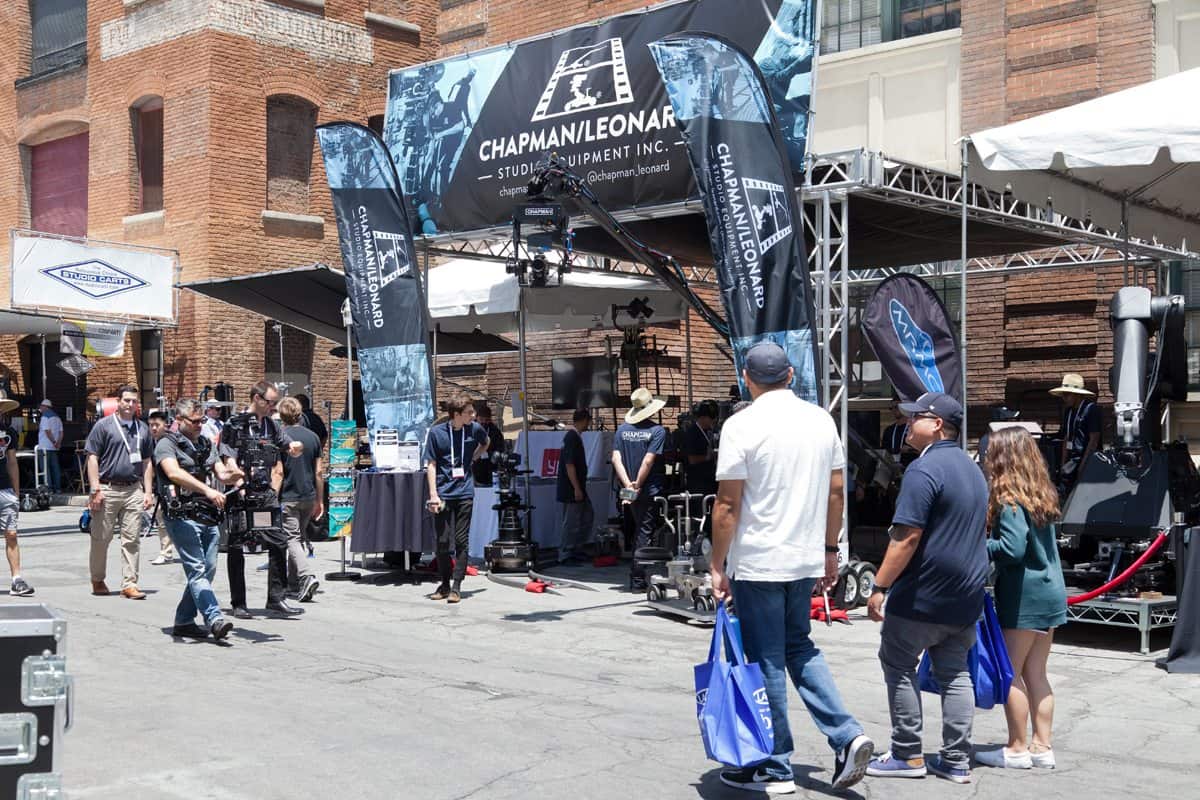 Chimera: the lighting company has partnered with LED lighting manufacturer Zylight to make an Active Diffusion panel, with instantly adjustable opacity from 0-100%, all through remote-control handsets. The 4x4 diffusers were the recipients of rather sharply focused buzz at the show, and both price and product should be available by July.
CineMoves: the Simi Valley-based company has made some corporate moves of its own, opening a "CineMoves Europe" at Pinewood Studios, across from the James Bond 007 stage, which has to count as a smooth bit of motion. Featured at the show was a newer entry to their crane line, the SuperTechno 22, with greater ability to fit into snug spaces, while bearing a maximum nose load of nearly 200lbs. And their renowned Oculus gimbal head keeps showing up in expanded venues at the various Pinewoods in the US (Atlanta and Florida) and Down Under in Australia as well.
Cooke: the lens-maker sat on its current hot hand, unveiled at NAB, where they revealed two new lens ranges and a second zoom for its Anamorphic line. And as the digits continue to flow in the world of "image capture," Cooke's S7/i Full Frame Plus prime lens range is designed for full sensor area and era, including just north of 46mm for the RED Weapon 8K – all of which should start shipping early in summer. But as Cooke owner and chairman Les Zellan told us, the company is still enjoying its uptown problems: "We still can't make enough S4s," he told us, and those particular Prime Lenses "are twenty years old." All of which augurs well for S7s, during the Cine Gears of the 2030s.
Grip Factory: it was Mitchell plates, rather than Euro-adapters for Grip Factory's GF-Slider System, when on display stateside. GF's Derek Magee told us they were highlighting the ensemble, which comes in seven lengths, with a design that lets you swap-out rails, while picking camera and dolly mounts. Or you could use the other bit of hardware they were spotlighting, namely their cranked risers allowing easy camera positioning via a hand crank. The equipment has already found its way to recent high profile films like Hacksaw Ridge and Alien.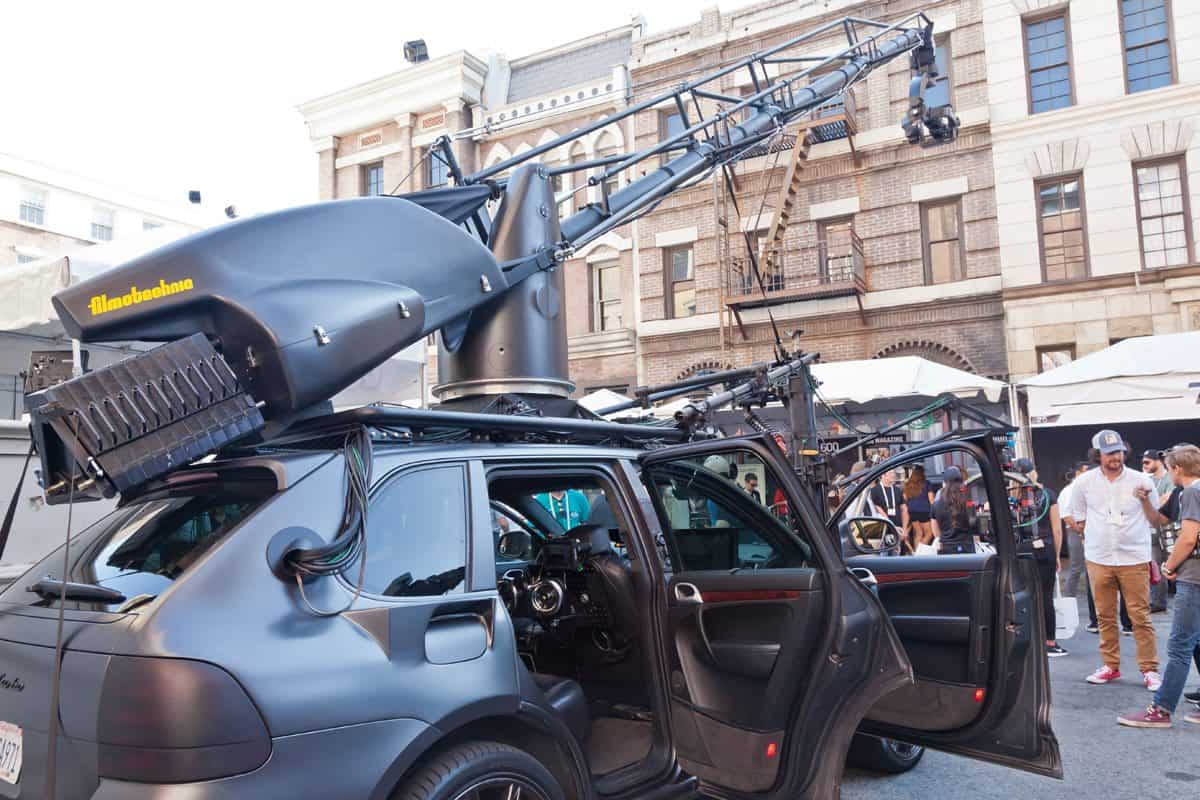 K5600
Apres Cine Gear, le deluge! At least, according to K5600's Marc Galerne, who told us there will be a slew of new product launches in the autumn, around IBC time. In the meantime, they were holding with their hot line of cool lighting fixtures, especially the parabolic/umbrella-shaped Kurve reflectors, designed for their Joker lights, which, in all seriousness, spread more light, more easily, over larger areas.
LCA
When your initials stand for "Lights, Camera, Action," it's not surprising that your own booth, or in this case, one in conjunction with Litegear, itself becomes like a "mini-Cine Gear." Brands on display included Cineo LEDs, K5600 lights, Chimera equipment, Litegear's Litetiles and more, available from the UK lighting supply house.
LEE Filters
Proving not all Hollywood awards are given out only during Oscar or Emmy season, the venerable filter company (50 years old and counting) won this year's Technical Lifetime Achievement award at the show. After expanding to facilities in the Americas in the early '90s, the company is now expanding on its range of 300-plus colours and diffusion filters by pressing the envelope in newer ND filters, with their highly-regarded ProGlass IRND series, which the company reported that cinematographers are loving.
Litepanels
The lighting company was highlighting major upgrades to its LED offerings in the Astra family – a line of lights almost named after Nick and Nora Charles' plucky pooch! Their dogged persistence in upgrades, in this case, include next-generation Astra 3X and 6X LED lights, with a 50% increase in output, while managing a decrease in power consumption. And their Sola 4+ LED Fresnel offers a blazing 120% increase in brightness as well, meaning, with a few more upgrades, they may soon be able to rival the sunlight pouring over Cine Gear's Paramount boulevards.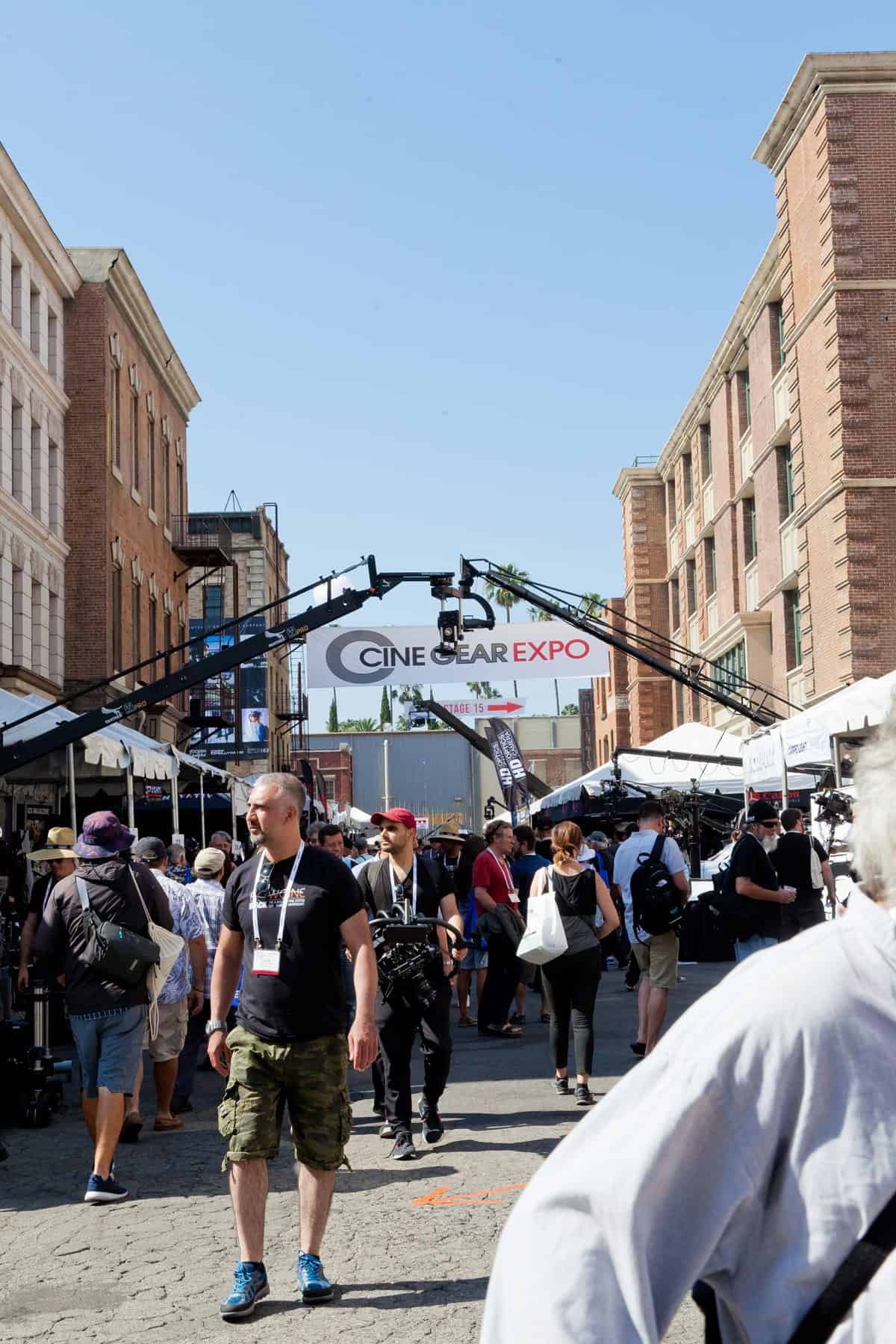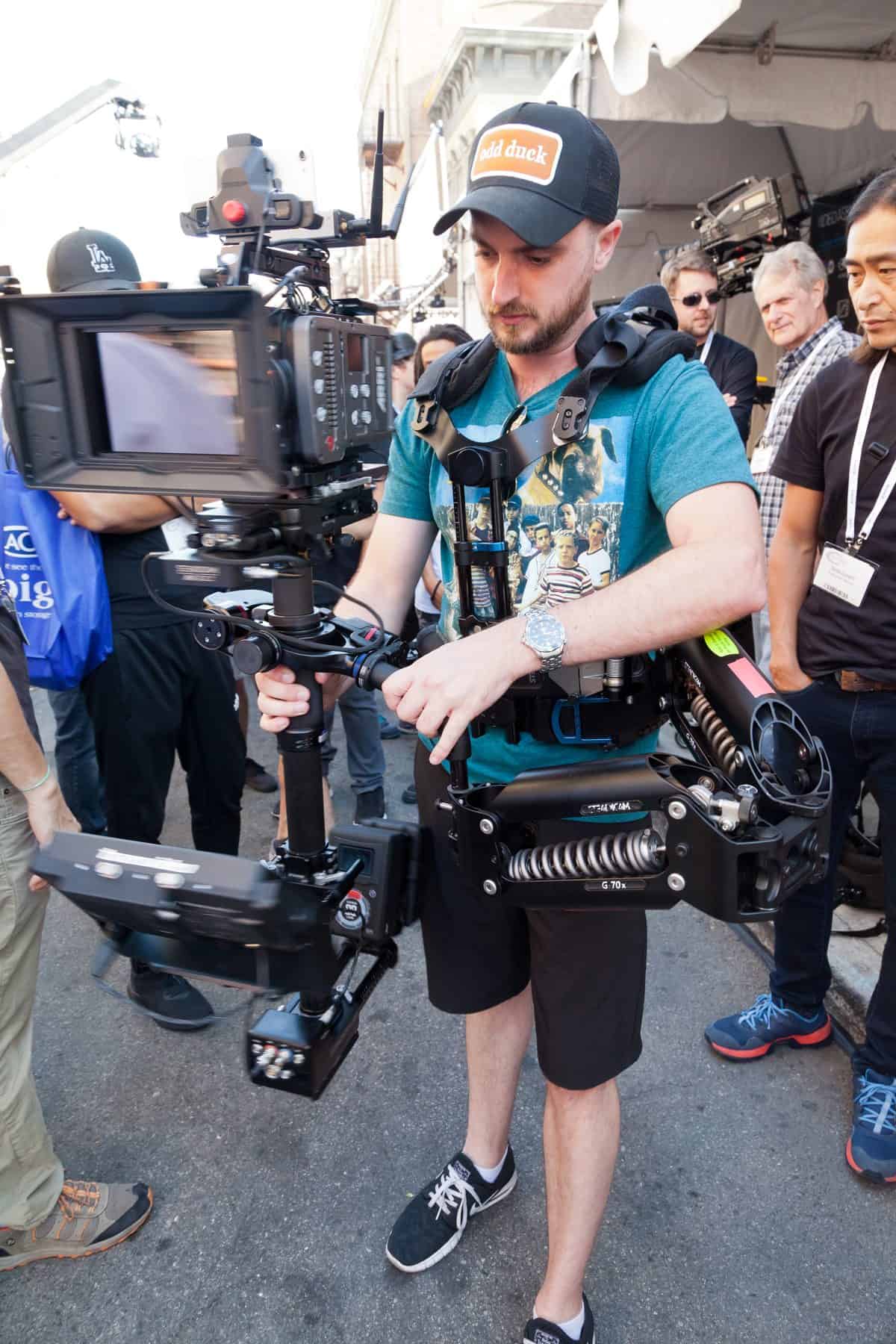 Matthews
Aside from getting ready to host their weekend capping "Garage Sale," the Matthews folks were particularly emphasising not only last year's low-slung, portable "Dutti Dolly," but their newer "MyWay Grip" kit at the show. Designed to reduce the number of milk crates dragged to location, the interchangeable rigging system uses a newly-patented connection method to attach to numerous "industry standard" clamps, plates, etc., allowing for quicker re-rigging on-the-fly. Which means less time spent rummaging through boxes.
MBS
The pan-global equipment rental company once again provided its corner lounge behind a NY street facade, where many of the show's vendors, movers, and movie-makers, could come in out of the sun for a drink and some networking. Kind of like the model they were emphasising this year with their MBSi, or "MBS Initiative." They want their facilities, like their LA-based campus, to become a gathering place, sparking creative solutions for industry personnel, with face-to-face conversation in the original sense of "network." There will be demo rooms, camera tests, DPs, gaffers and more, and if the conversation in their Cine Gear lounge is any indication, solutions and connections should be abundant.
Mole-Richardson
The venerable Hollywood company was showing off its Mole LED lights, including a new line of variable-colour Fresnels featuring Baby, Junior and Studio Junior models. Each are Bluetooth-capable, with +/- green corrections. And additional "corrections" are available via firmware updates over USB.
OConnor
The company was spotlighting its 2560 fluid head, with constantly adjustable drag, for the proverbial "smooth moves" (or pans!), whether you're shooting Sony, Canon, ARRI, Panasonic, RED or any other of the digital cinema cameras that the head easily – and fluidly – supports.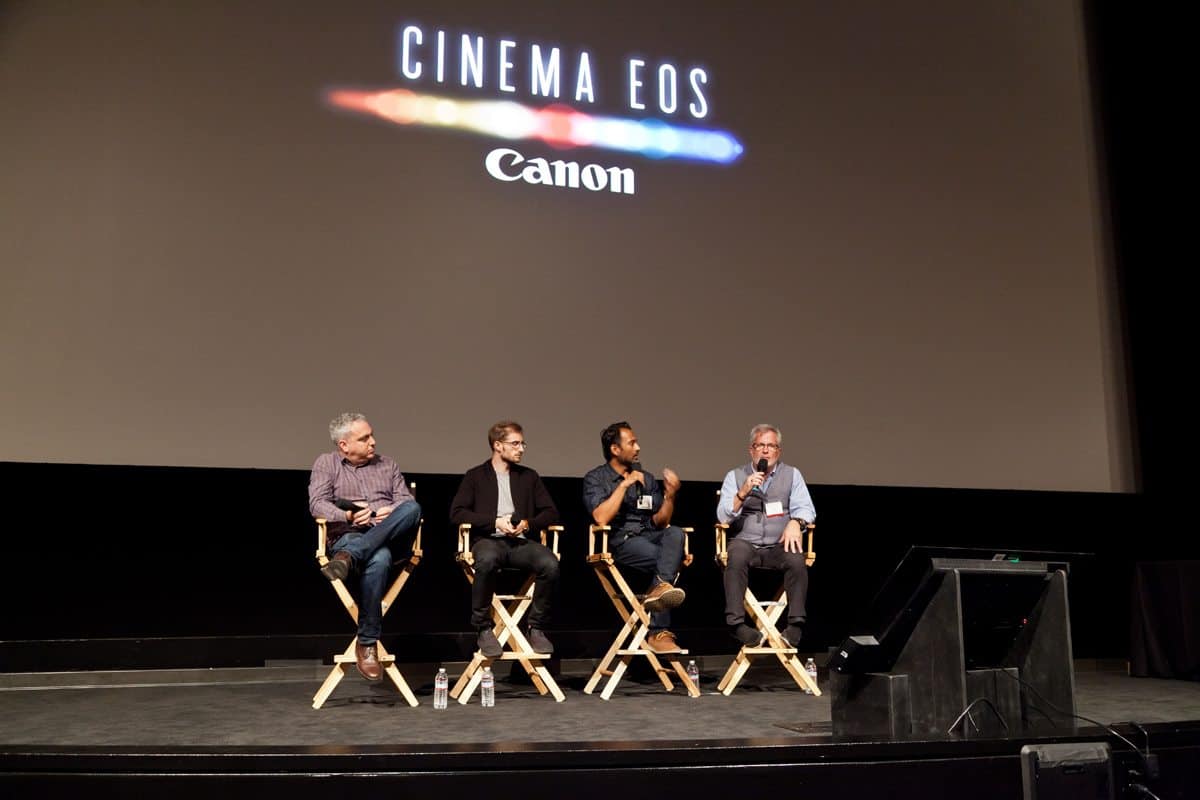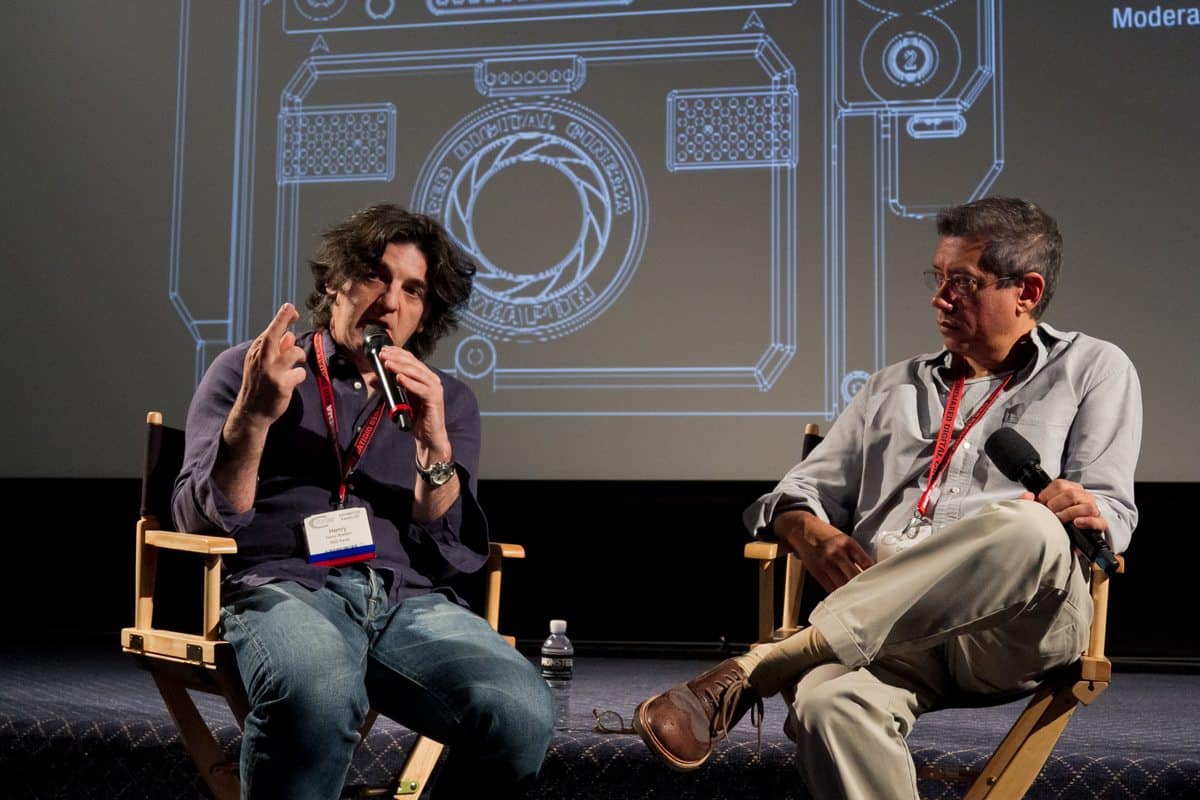 Panasonic
Embodying current camera themes of large sensors with smaller price-points, Panasonic previewed their new AU-EVA1 camera with a Super 35mm-sized sensor, an indie-film friendly price point, and a low body weight (under three lbs), making it eligible for drone rides and easy gimbal movement. "I don't think there could have been a better launch," Panasonic's Nigel Wilkes told us. "This new arrival will sit between the GH5 and the fabulous VariCam LT." As for those VariCams? They're "gaining ground quickly now, and more and more DPs want to try out our famous film-like images. Netflix is including VariCam in more of their productions, and this is driving demand," he added. As for the already in-demand EVA1? More news is coming later this summer.
Panavision/Light Iron
One of the run-ups to Cine Gear is an evening where Panavision and Light Iron show off the year's new digital wares, usually with a presentation by noted company evangeliser Michael Cioni. This year brought a line of Primo Artiste lenses, which are not only wirelessly controlled, but have, as Cioni noted, "texture," coming from "all the elements in a lens that are not digital." Or as he put it another way: "Lenses that don't flare look like glass." So the trick then is to try and achieve a "vintage," or "filmic" look with what Cioni also called "the emerging large format market" – that 8K we've been talking about. For Panavision, that would specifically mean their Millennium DXL camera, an App for which is free on the iTunes store. The irony being that as visual information and processing keeps expanding, "phoning it in" has never been easier.
P+S Technik
Everything old being new again is one of the motifs when it comes to glass and housings, and lenses brought forward to the digital age. P+S Technik announced the reworking of Kowa Anamorphic lenses from the 1970s, part of an on-going rollout begun at NAB and, of course, part of the company's work in rehousing numerous other lenses like Cooke Panchros, Schneiders, Leica and Canon glass, and much more. Since the new Kowa's also come with a couple of new focal lengths (wide-angle and telephoto 135mm) they are fittingly – pun? - being called "Evolution" lenses.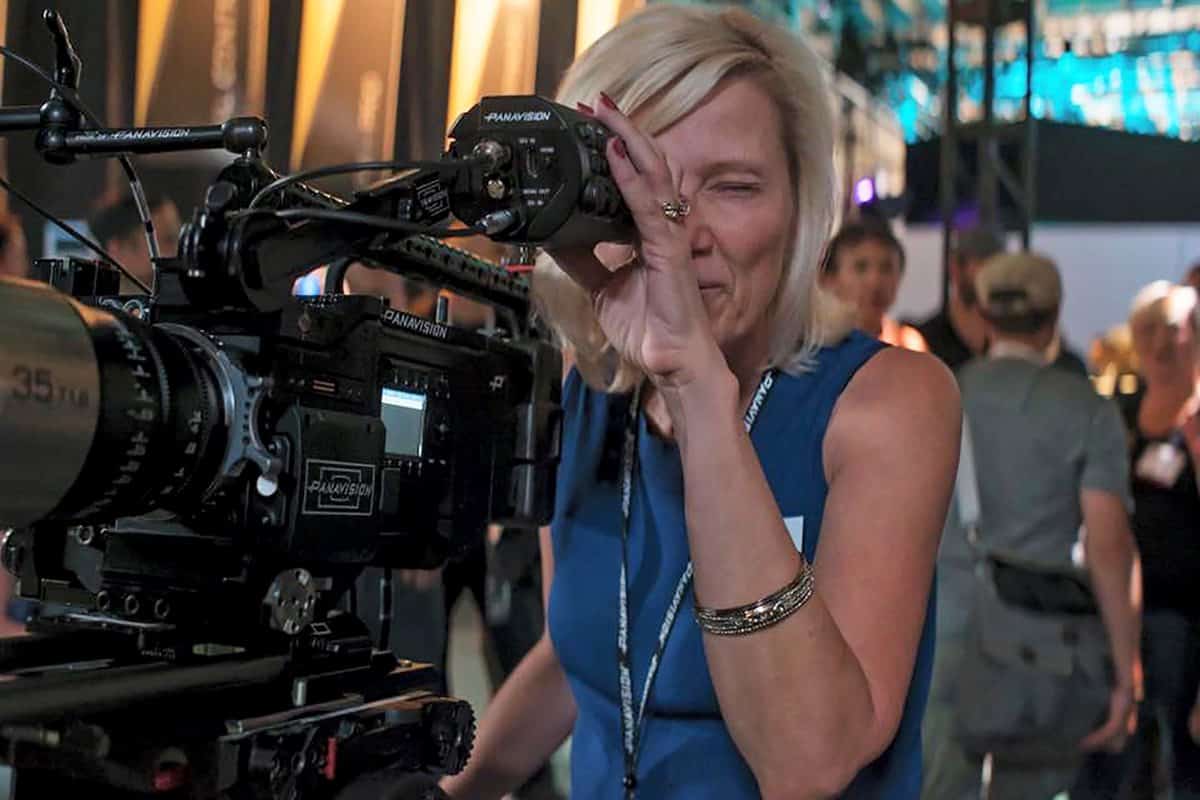 The Rag Place
Irrepressible company president Pat Caputo was holding forth at Rag Place's usual corner slot, along the faux-New York streets of Paramount's backlot. New at the show was a Velcro component light box – easily attachable squares that can break down into a suitcase, while scaling up to large on-set sizes as needed. But it wasn't just their own corner lot repping their output. As Caputo noted, their cloth was in "over a dozen booths," diffusing and softening light on New York, and other, streets – both real and imagined.
RED
As hosts of one of the week's run-up events to the show itself, RED looked back to Hollywood history on its own studio lot, which previously gave birth to Metro Pictures a hundred years back, and housed Desilu Productions at the beginning of the TV age. Now, with their 8K Weapon camera fresh from its acclaimed use on the latest Guardians Of The Galaxy installment, they point to the future. And in terms of managing all that "futurosity," on their Cine Gear stage they were demonstrating workflow solutions allowing massive 8K files to be compressed to ProRes and other smaller, more manageable sizes, compatible with Avid, Final Cut and other editing platforms, so that post-production could even commence on one's laptop. Even when Desilu was producing Star Trek, could they have imagined that?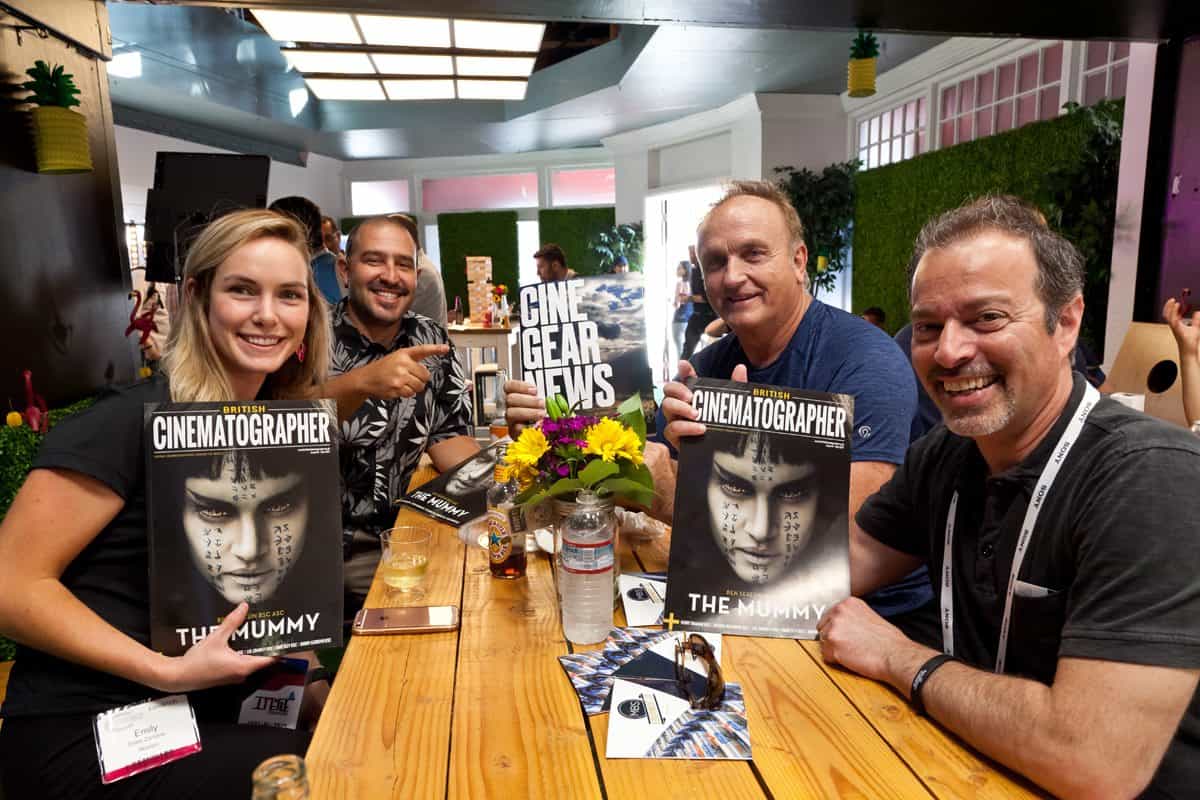 Rosco
The lighting and filter company was doing "good works" at the show, donating a percentage of sales of their e-colour+ filters to the "Safety For Sarah" foundation, with a first donation of $5,000 made at Cine Gear, in partnership with IATSE Local 600. This in remembrance of camera assistant Sarah Jones, a member of that local killed unnecessarily on the set of Midnight Rider. Beyond their lighting gear, Rosco considers on-set safety part of its mandate, as they're also the company behind the Roscoflamex brand of flame retardants, along with safer-to-breathe on-set fog and smoke effects. Stickers to enhance Safety For Sarah awareness will go out on every e-colour+ roll, along with expanded outreach in social media, etc., to hopefully prevent the need for any similar foundation ever needing to be started.
Tiffen
For the filter company, the year has been about the launch of their NATural ND filters (the "Nat" in caps for one of the company's founders). The ND, however, stands for "Neutral Density," which means they can reduce the amount of light allowed – particularly useful for bright locations where over-exposure is a risk – yet without changing the colour of the scene. Coming in differing sizes from 4x4 through 6x6, the laminated filters live between two pieces of glass, meaning the filter itself is protected from scratching or damage. After creating considerable buzz at the show, the filter itself will be ready for shipping in July.