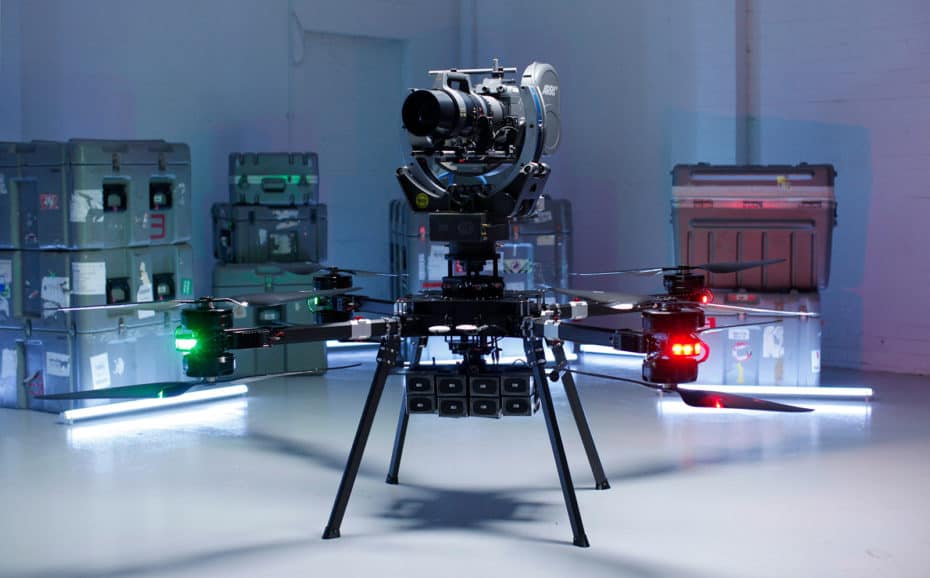 With cutting-edge design and safety features at the forefront, Flying Pictures set out develop a drone which removed the restrictions inherent with traditional drone technology, an aircraft capable of flying the heaviest camera and lens packages available, enabling filmmakers to achieve their creative vision without compromise.
CAA assessed, approved and ready to deploy, the Ultra is the culmination of almost a decade of experience in designing, building and flying multiple types of drones in some of the most complex and challenging situations and environments on the planet. Designed and constructed in-house at Flying Pictures, the Ultra can lift a maximum payload capacity of up to 60kg/132lb.
The Ultra is capable of and approved to fly the industry standard Libra L7 remote head.  Example packages would be the Libra L7 with the Flying Pictures, designed three-camera Alexa Mini Multi-Array, Zeiss CP3 lenses and full RTMotion lens control system weighing in at 50kg/110lb, or the Arri 435 film camera fitted with 400ft magazine and the Cooke 35-140mm anamorphic zoom on the Libra L7 remote head weighing in at 55kg/121lb.
The Ultra boasts a max take-off mass of 110kg / 243lbs, and a top speed of 56kts+/105kmh making it well suited to dynamic high-speed action sequences. It is capable of mounting all payload combinations, either underslung or top-mounted, offering limitless creativity. The Ultra can even put the sublime stability and performance of the Shotover M1 to work.
Flying Pictures' engineers have also designed the Ultra to be safe, featuring the latest in drone technology and safety features. The Ultra is UK CAA assessed and approved to fly in congested areas, up to 110kg MTOM.
Key safety features of the aircraft include full motor/ESC/propeller redundancy; full power/battery redundancy; dual redundant flight controllers; and a Triple Ballistic Parachute Recovery System.