English Affair
Florian Hoffmeister / The Deep Blue Sea
English Affair
Florian Hoffmeister / The Deep Blue Sea
Regardless of who wrote them, some plays are doomed never to be staged again after their first production. Others are blessed with regular revivals. Terence Rattigan's The Deep Blue Sea falls into the second category. Since the first performance in 1952 it has been produced several times in the theatre and been adapted for both film and television. The writer's centenary, in 2011, was marked with new stage productions, and a film version by Terence Davies.
Working with the veteran director on this was cinematographer Florian Hoffmeister, whose grounding in older-style camera techniques proved useful for the shoot. The Deep Blue Sea is Hoffmeister's first film with Davies, who, other than his 2008 documentary Of Time And The City, had not directed a feature since 2000's The House Of Mirth.
Hoffmeister was excited to have the opportunity to work with Davies and felt a working relationship beginning to form during the initial interview with the director: "The key for me in working with Terence is that I find him someone who is tremendously guided by his emotional response to images and story. There's something very intimate and close about the way he makes films."
The Deep Blue Sea has many similarities with Davies' past films; the preoccupation with the Second World War, and its aftermath; and the intricacies and failings of human relationships, all presented in an enclosed way, almost claustrophobic.
The film focuses on Hester Collyer (played by Rachel Weisz), the wife of a High Court judge (Simon Russell Beale), whose tempestuous affair with unstable former RAF pilot Freddie Page (Tom Hiddleston) has driven her to a suicide attempt. Davies plays with time, cutting backwards and forwards from this event; the one constant is the rented room where Hester lived with Freddie and tried to take her own life.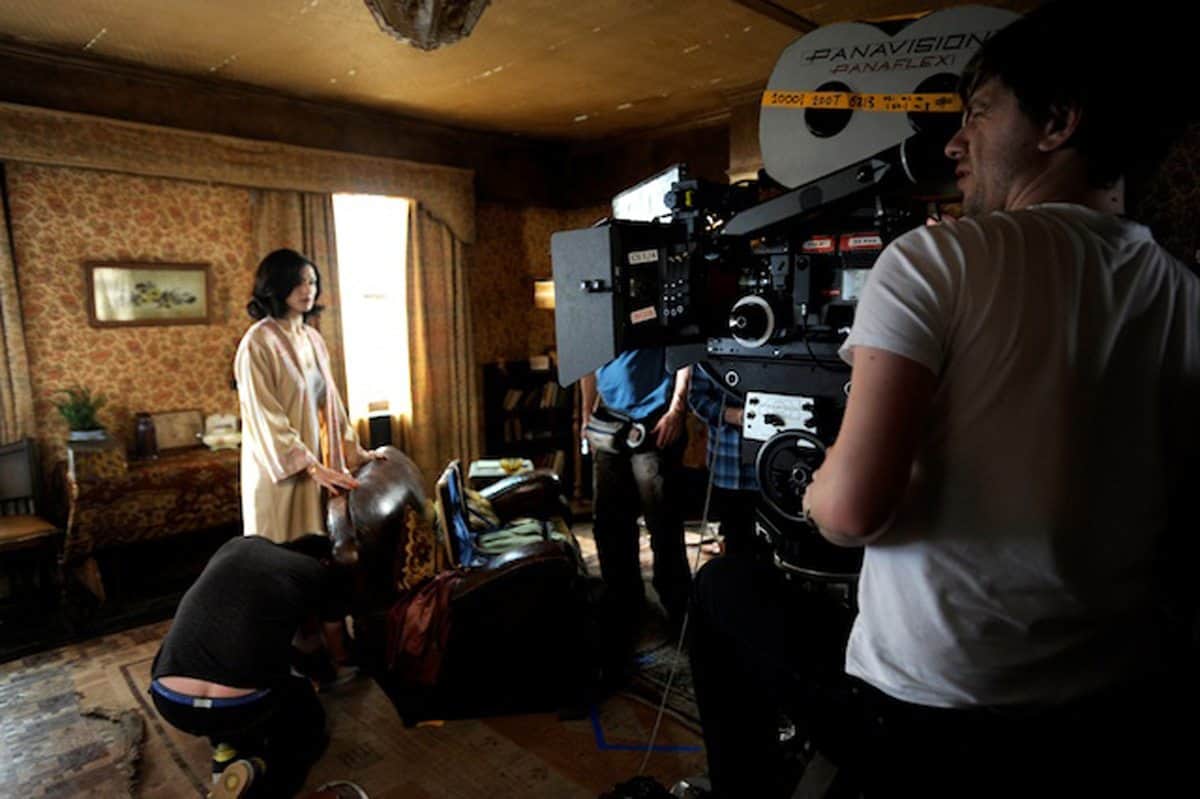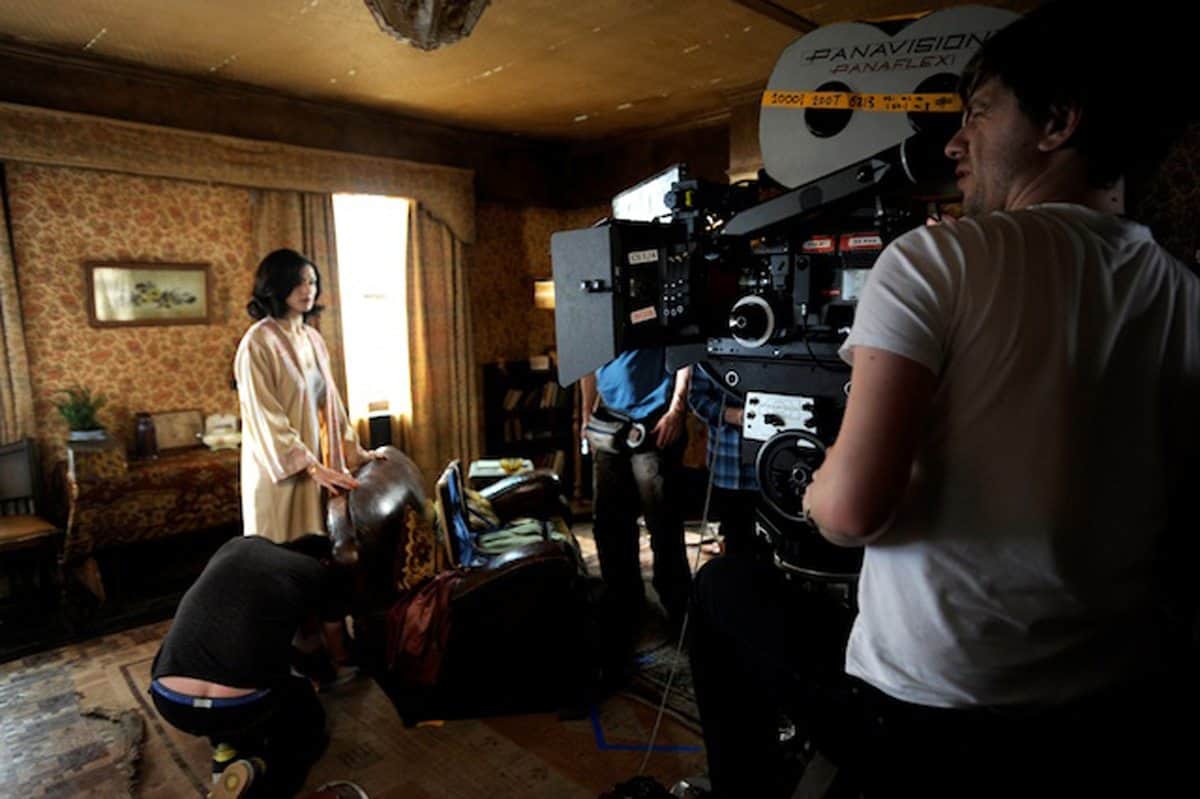 While other settings and locations are used, this room is the core of The Deep Blue Sea as much as Hester's anguish. Hoffmeister explains this approach dictated to a great extent how he shot the film: "The script was always very specific. It is written in a way that you can see each shot and there will be descriptions of tracking shots and in which direction the camera should go. When you agree on a particular concept, whether intellectual or emotional, there are not many options anyway but I didn't feel this as a restriction."
Davies turned 66 last year and the now 42-year old Hoffmeister acknowledges there was a generation gap in their cinema influences but says this was soon resolved. "All his inspiration comes from films shot long before I was born," Hoffmeister says. "There was a bit of worlds colliding and my first intuition as to how to shoot this was being drawn to kitchen sink realism, because a lot of the stuff I love today stems from that movement. I explored that but two weeks before we started shooting Terence was stressing what he had been saying during prep, that he wanted it 'super-natural'."
Hoffmeister realised what Davies was asking for during BFI screenings to celebrate the director's birthday last year. "Terence had said he wanted a look that was dark and minimal but still beautiful, which is how he remembered those times," he says. "I saw the screening of Max Orphuls' Letter From An Unknown Woman (1948) and understood what he was talking about."
A clear influence of Orphuls on Davies is the use of soft focus, which Hoffmeister worked on from the start for The Deep Blue Sea: "Terence is not interested in harshness. He wanted soft resolution, so we did all kinds of experiments with netted lenses and soft filters on the camera."
Hoffmeister shot on 3-perf 35mm Kodak stock using a Panaflex Platinum and primarily Panavision Ultra Speed lenses. Tests were done on the Red camera but Hoffmeister comments that film better-suited the approach he and Davies were taking.
"Terence had said he wanted a look that was dark and minimal but still beautiful, which is how he remembered those times."
- Florian Hoffmeister
As Hester prepares to kill herself at the start of the film, she closes the curtains in the room, shutting out the daylight. From that point the action takes place at night or in gloomy lighting. Hoffmeister observes that he pushed as much as he could with low light, to the point where even his long-standing focus puller Rupert Hornstein had doubts. During an exchange between Hester and her landlady, Mrs Elton, Rachel Weisz was standing in complete darkness while Ann Mitchell, playing Mrs E, had ¾ light. "Rupert asked me 'Are you sure?' but there was still enough illumination to see Rachel's face," Hoffmeister recalls.
To control the contrast on some shots without manipulating the lamps, Hoffmeister used the ARRI Varicon, a matte box-mounted device he has recently re-discovered. This brings a controlled colour to a frame by reducing contrast and giving a slight tint to shadows. It played a part in creating the look of the room, which was built on a sound stage at 3 Mills Studios.
At the end of the film light begins to come back into Hester's life. When she and Freddie sit in the room and agree to part, Rachel Weisz's face is illuminated to give the impression Hester is glowing from inside. "There was no light on her face," Hoffmeister explains, "so I worked with bounces - 50mm Panavision Primo lenses on a stop of 1.0 - so everything was channelled towards the face."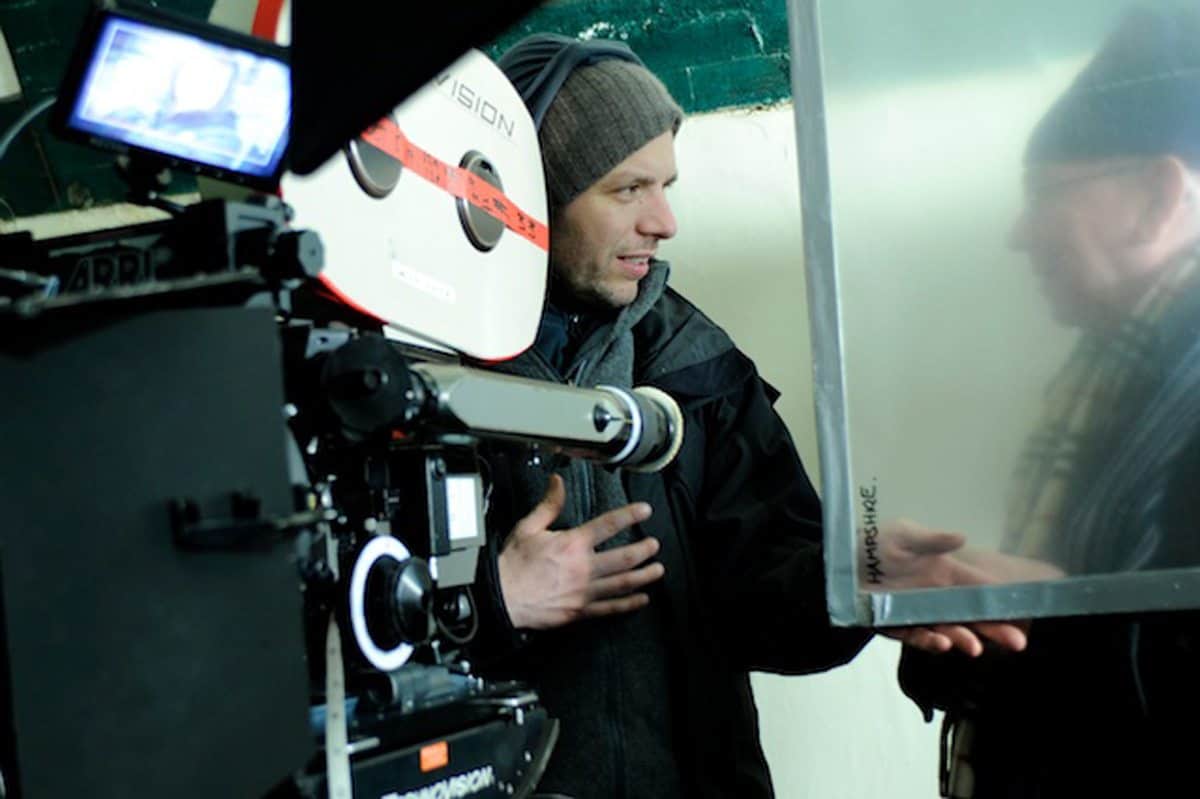 Just as the story begins with Hester drawing the curtains, it ends with her pulling them open to let bright, optimistic sunlight into the room. "Lighting that was a bit of a Catch-22," comments Hoffmeister, "because we wanted the light coming in but we also wanted the flames in the gas fire to be visible because it shows that this time she is not trying to kill herself with gas."
Among the locations used was the now disused Aldwych Underground station, where Hoffmeister and Davies staged a direct reference to another story of illicit love, Brief Encounter. As Hester moves towards the platform edge, a train rushes past, represented only by light flashing across her face. This was achieved by what Hoffmeister describes as the "old school" technique of lights and mirrors.
The Deep Blue Sea clearly had a powerful effect on Florian Hoffmeister, giving him the same emotional state of mind he had when shooting his first film: "It was a big reminder of film in its purist form and I'm glad I got to revisit that."