Outdoor Skills
Tom Stem ASC, AFC / The Hunger Games
Outdoor Skills
Tom Stem ASC, AFC / The Hunger Games
Tom Stern ASC AFC was in the final days of shooting J. Edgar, with his frequent collaborator Clint Eastwood, when his agent told him that Gary Ross wanted to speak about a film he was going to direct called The Hunger Games.
"I had never worked with Gary, but I admired his films," Stern says.
The Hunger Games is an adaption of a fiction book with the same name. The story takes place in the distant future. The United States, Mexico and Canada are one country called Panem that is ruled by an autocratic government. Panem is divided into 12 districts.
Every year, a boy and a girl between the ages of 12 and 18 in each district are chosen by a lottery to compete in a life and death competition called "The Hunger Games". There is only one survivor. The annual games were initiated as a punishment for a rebellion by people who lived in a 13th district that was destroyed. The competition is broadcast live on television.
Ross co-authored the script with Susan Collins who wrote the book. Stern brought an eclectic background to the project. During the beginning of his career, he was a lighting technician and gaffer on commercials and around 30 documentary and feature film crews led by Albert Maysles, Conrad Hall ASC, Haskell Wexler ASC, Owen Roizman ASC, Jack Green ASC and other talented cinematographers. That was his film school.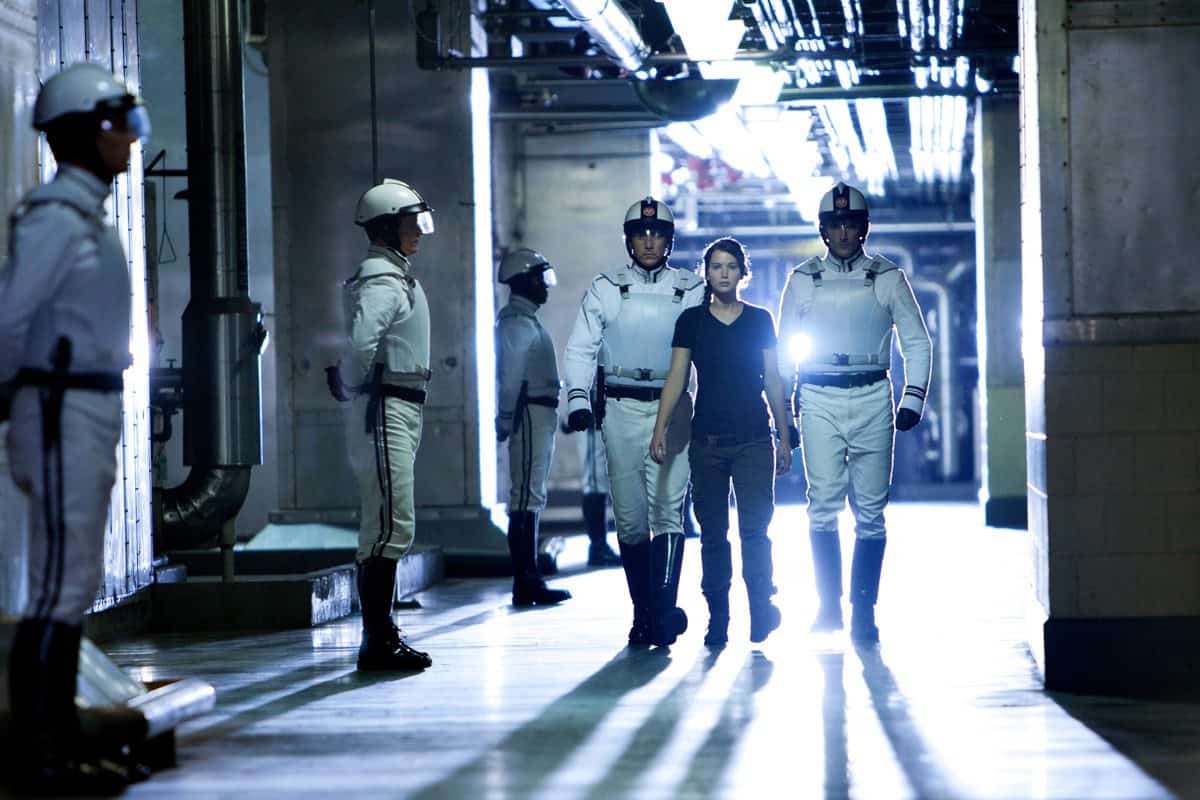 Stern has earned 23 cinematography credits on narrative films since 2003. A short list includes Mystic River, Flags Of Our Fathers, Changeling, Gran Torino and Invictus.
Collins wrote the book in first person from the perspective of 16-year old Katniss Everdeen. The teenager lives in the capital of Panem, whose ruler has absolute power. The story begins during preparations for the 74th Annual Hunger Games. Katniss volunteers to replace her younger sister who was chosen in the lottery. Peeta Mellark, a baker's son who once gave Katniss bread to feed her starving family, is the other person chosen from the 12th district.
Before the game begins all participants are interviewed during a live television broadcast. Peeta talks about his love for Katniss. His interview inspires a new rule that is announced mid-way through the competition. Two people from the same district can survive as a team.
"Gary created a lot of pre-visualisation renderings which gave me insights into how he envisioned the story unfolding," Stern says. "I was told that it was going to be a digital production, but as we moved forward the producers asked if we wanted to shoot it on film."
That question came in the wake of Stern pointing out that the many pursuit scenes filmed in the forest required fluid camera movement from areas lit with bright sunshine into shadows and darkness. Ross and Stern embraced the opportunity to shoot on film.
The Hunger Games was produced at practical locations in North Carolina and on sets built in an empty building that used to be a cigarette factory.
"The story begins in the native village where Katniss and her family live," Stern says. "The audience gets to know her as a human being. The Hunger Games take place in a different arena every year. This year it's the forest. We spent months scouting for the right locations."
"Gary created a lot of pre-visualisation renderings which gave me insights into how he envisioned the story unfolding."
- Tom Stern ASC, AFC
Stern and Ross decided to produce The Hunger Games in Super 35 format in 2.4:1 aspect ratio. The camera package included two lightweight Arricam LT bodies with a range of Zeiss Super Speed and Angenieux Optimo zoom lenses provided by Arriflex CSC in New York.
"Gary had a specific vision that called for images that look and feel organic," Stern says. There were storyboards for some scenes and shot lists for key sequences, but it was a constantly evolving process. Ross frequently gave Stern revised lists in the morning for scenes they were going to shoot that day. There were CGI shots with a 140-foot long greenscreen.
Many people on the crew that Stern assembled had worked with him on other projects. They included gaffer Ross Dunkerley, key grip Guy Micheletti, camera operator Duane Manwiller and second unit cinematographer Robert Baumgartner. Action scenes were generally covered with A and B cameras, and sometimes the second unit crew would join them.
"When we were shooting on sets, we had to emulate a realistic look for the environment where the scene was happening," he says. "It was kind of contrasty light that felt a little oppressive, which was the right look for people who were living in a totalitarian nation.
"It came down to trusting our instincts. Sometimes the background light came from slightly odd angles. I lit people in the foreground more normally," he says.
Stern estimates that more than 60 percent of the film were exterior scenes. "The light was always changing in the forest and the weather was unpredictable," he explains. "Gary compared it to riding a wild horse. There were no Steadicam or handheld shots. We used long focal length lenses to show the audience the unfolding drama through the eyes of characters. Sometimes we hung a camera on bungee cords. When we used a dolly, there was usually some sort of elastic support between the dolly and the camera."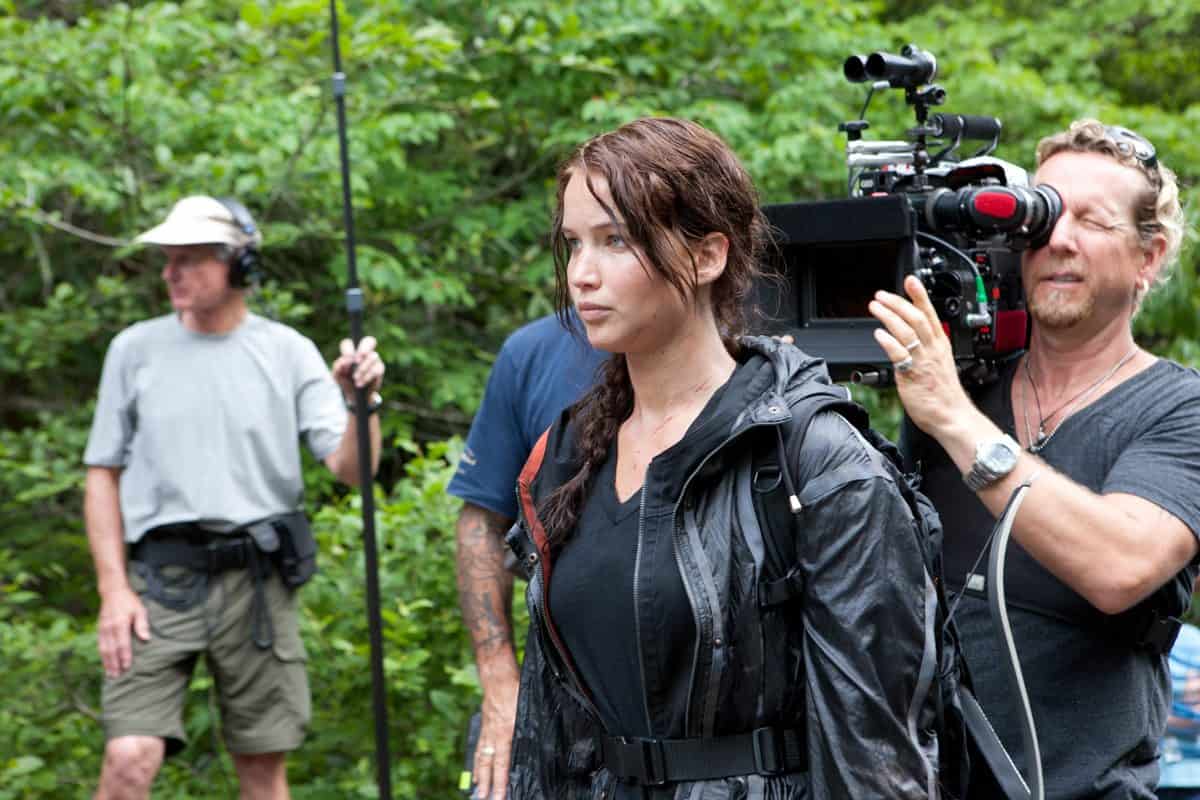 They scheduled scenes with the youngest kids early in the day, to be consistent with mentoring sessions scheduled with teachers, as the film was shot during the school year.
"It's a pretty physical film, so everyone needed to know the kids weren't going to get hurt, and that we were there to help them," Stern says. "We tried to make them feel were in kind of a cocoon of safety. I happen to like young people a lot, so we had a good time."
Most forest scenes were recorded on the new Fuji 500T Vivid 5847 and Fuji 250D Vivid 5846 colour negative films. Stern had an array of other Fuji and Kodak films on his palette. The negative was processed at Technicolor in Los Angeles. Mark Sajan timed and provided dailies in DVD format. Stern timed the DI at 2K resolution with Technicolor colorist Michael Hatzer. Lionsgate is scheduling The Hunger Games for release in late March 2012.