Celestial Battle
Adam Suschitzky BSC / Dominion
Celestial Battle
Adam Suschitzky BSC / Dominion
The future of humanity hangs in the balance as the ultimate celestial battle descends to Earth in Syfy Channel's new series Dominion.
Based on characters from the hit theatrical film Legion (2010), Dominion is an epic supernatural action drama, set 25 years into the future after a war between an army of angels and mankind has transformed the world. The production shot in South Africa, and cinematographer Adam Suschitzky BSC was charged with lighting the pilot.
How did you get involved in Dominion?
I was in Newcastle shooting a drama with Brenda Blethyn and the Dominion script came through. The wonderful thing about being a cinematographer is that one minute you're telling a naturalistic story set on the stunning coast of Northumberland, and the next you're reading a script set in post-apocalyptic Las Vegas, where angels fly and swordfight.
I loved the script Vaun Wilmott had written, and saw huge visual and emotional potential straight away. I had a long conference call with Vaun, Scott Stewart, the director, and producer Jean Higgins, and we all clicked. Scott told me he'd loved the look I created on the BBC's sci-fi show Outcast, where I'd employed old Anamorphics on a digital camera. He wanted a similar approach with Dominion.
What were your early creative discussions?
We spoke about the classical themes that flowed through the script. We discussed how painterly we could make the show and referenced Caravaggio. Later Scott drew on 19th century Dutch painter Alma Tadema for the delicate colour palette. We bounced ideas about how we might visually define the various stratas of society through the use of contrasting practicals; candles and flame torches for the affluent, and striplights for the lower class.
How did you arrive at the choice of cameras and lenses?
Scott is one of the most hard-working and visually-organised directors I've worked with. The whole development of the look with him was so well-thought-out in advance. Indeed, we started sending each other images, photographs, paintings, movie references long before I flew to South Africa. The same applied to the camera and lenses. Scott and I both wanted to shoot Dominion on the ARRI Alexa, as we felt strongly it would deliver the nuance of tonality we were reaching for. 
As for the lenses, Dominion, with its sci-fi fantasy quality, is a mix of almost comic book and iconic heroes and heroines, and intimate emotional scenes. This, combined with the scale of the action sequences, in our minds meant Dominion would merit optics that could evoke the epic movies of the past – when lenses were not perfect edge-to-edge and had a propensity to flair.
In our minds it had to be Anamorphic, even though we knew we had to frame for a 16:9 crop for SyFy's deliverable. I suggested Panavision C-series Anamorphics – I'd always loved these beautiful lenses for their perfect balance of gentle resolution, but not too soft, their wonderful anamorphic flair, perfect depth-of-field and pleasing colour. We had a set booked for a month, but then suddenly they were not available, such is demand for the few remaining sets.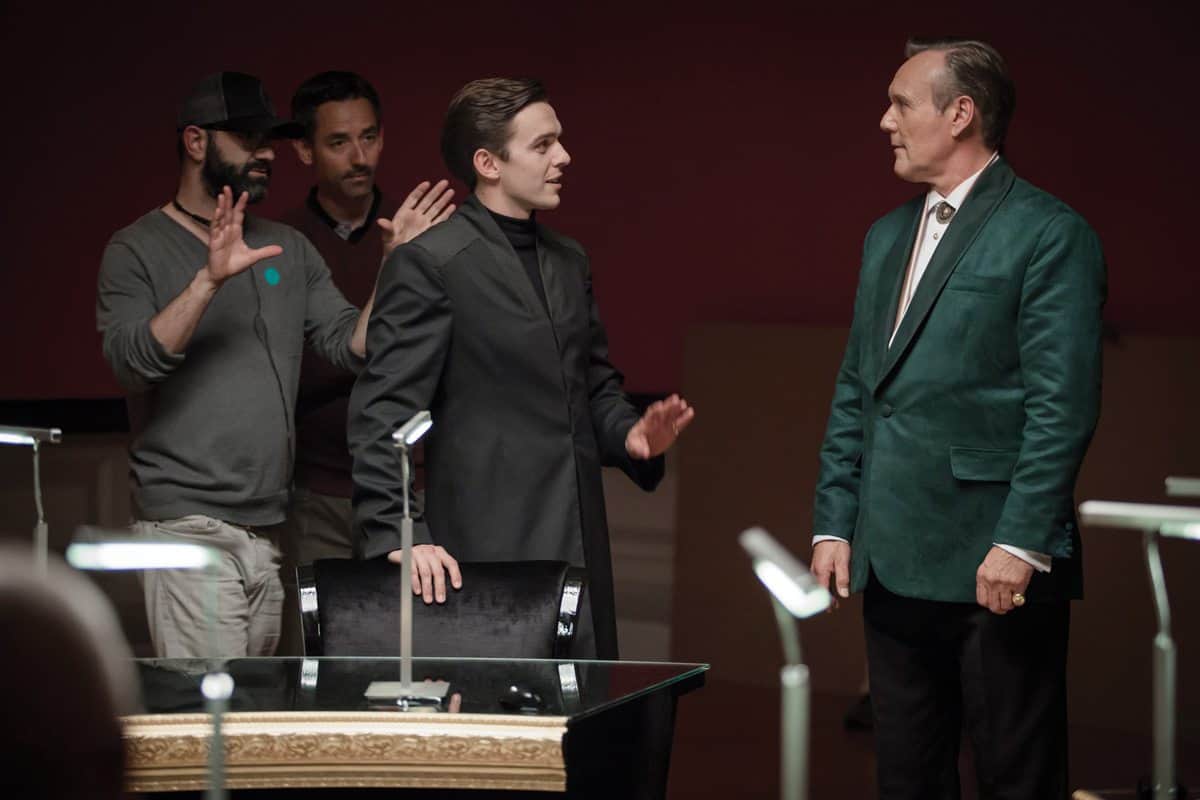 I tried to get the new Vantage '74 Anamorphics, but the few sets that had been released were all tied up, so we looked at Hawk C-series, V-series, Kowa Anamorphic, and Cooke Xtal Xpress. I also gathered together some lovely older generation sphericals too, just in case anyone should turn against the Anamorphic format. I have Vince at Take 2 to thank for flying in some pretty amazing glass for us.
By the end of the tests we did in South Africa, as beautiful as some of the sphericals were, we decided on the Xtal Express lenses. They had the painterly quality we'd been talking about, similar to the Panavision Cs, and gentleness to skin that made one forget the camera format entirely. They had just the right kind of Anamorphic flair and fall-off that modern manufacturers have all-but eliminated.
Tell us about your lighting set-up?
The lighting package was predominantly tungsten, with a daylight list only coming out to us on the few days where we were to shoot day scenes. I favoured Chinese lanterns, Spring balls, Octodome and a simple softlight fixture I'd not used before called a Bay Light – all of which I used to create soft light. I had frames of grid cloth made up in varying thicknesses to soften the light still further. Scott and I both dislike the routine use of backlight and embraced an approach, which was more source-based. It always feels the most natural when a scene looks as if it is lit by practicals or candles at night, or by the windows in the day.
The camera and lighting package all came from Panalux Cape Town. I took a set of Xtals comprising of just eight focal lengths and no zooms, as we had a great deal of low light work and night exteriors to shoot, and I knew we'd struggle to get to the required T5.6 for the Anamorphic zooms. We recorded Pro-Res 4:4:4 in Log-C. The dailies were graded on-set by me and the DIT each day using the Lillypad system from Light Iron LA.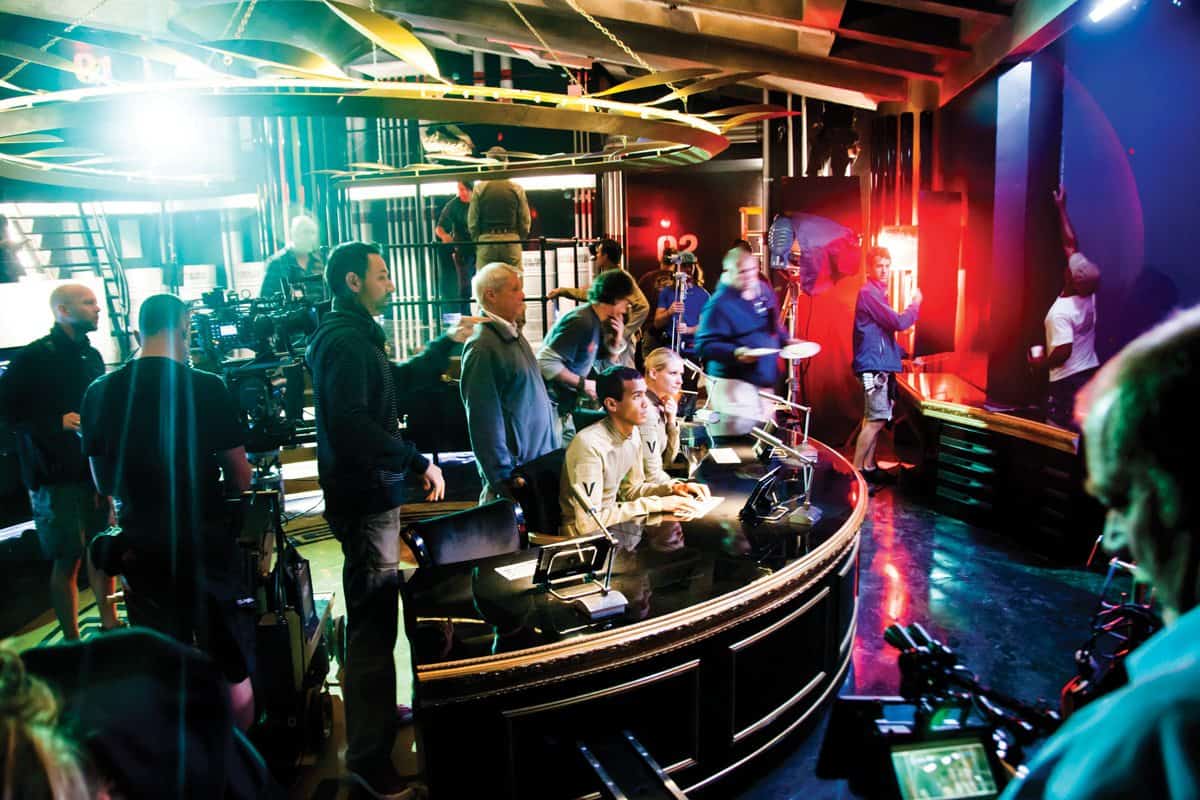 "I loved the script Vaun Wilmott had written, and saw huge visual and emotional potential straight away."
- Adam Suschitzky BSC
Who were your crew?
My crew were all South African. Two camera operators were Peter Belcher on A-camera, and Soral Pretorius on B-camera/Steadicam. Focus was with Damien Walsh on A-camera, and Zane Harrison on B-camera/Steadicam. Margie Muggleston was our second AC. Key grip was Rodderick Dean Smith, and gaffering was shared between Nick Rankin and Justin Paterson.
What were the main challenges during this production?
I really enjoy the voyage of discovery when embarking on a brand new show. Creating the right style for both camera and lighting is always the challenge on any production, but especially one that is fantasy-based. Fortunately the script was already terrifically well-conceived, with very clear characters and a well-structured plot that had good rhythm. With strong partnerships in the production design by Carlos Barbosa, and the simply amazing costumes of Magali Guidasci, the look was beautifully grounded from the off. The main challenge was the sheer number of sets and locations to prep and shoot in a relatively short space of time – just 21 days. We were rarely in the same place for more than one or two days. This meant being very thorough on recces and keeping the lighting as simple as possible. The production team were hugely supportive, under the experienced eye of our producer Jean Higgins, and at all times gave us the tools needed to get the job done, in the required style and on time.