No Strings
Don Burgess ASC  / Muppets Most Wanted
No Strings
Don Burgess ASC  / Muppets Most Wanted
Take a movie, which is challenging in itself to make, and add two-foot furry puppets with humans attached underneath them and put them next to Ricky Gervais, Tina Fey, and Ty Burell, and you've got quite the task at hand.
Don Burgess ASC took on the challenge four years ago with The Muppets, and he's back at it again with director James Bobin on Muppets Most Wanted. "We certainly learned a lot on the first one," says the Los Angeles-native cinematographer. "This time around, we knew better what we needed once we got into pre-production, but it never gets any easier."
Even though Muppets Most Wanted is jam-packed with the same loveable characters created by Jim Henson almost 40 years ago, the story is wholly different from the first movie. While on a grand world tour, The Muppets find themselves wrapped into a European jewel-heist caper headed by a Kermit The Frog look-alike, and the new script dictated many new challenges.
"We had to come up with new techniques to solve a problem or simply execute the script," says Burgess, "And going out into London more, the helicopter and the train sequences, that made things more difficult. But we wanted to make it bigger and better and really step up our game."
The fun – and challenging – part about filming The Muppets is that puppets get to join the real world. The goal, therefore, is to make them look (and the audience feel) like they belong.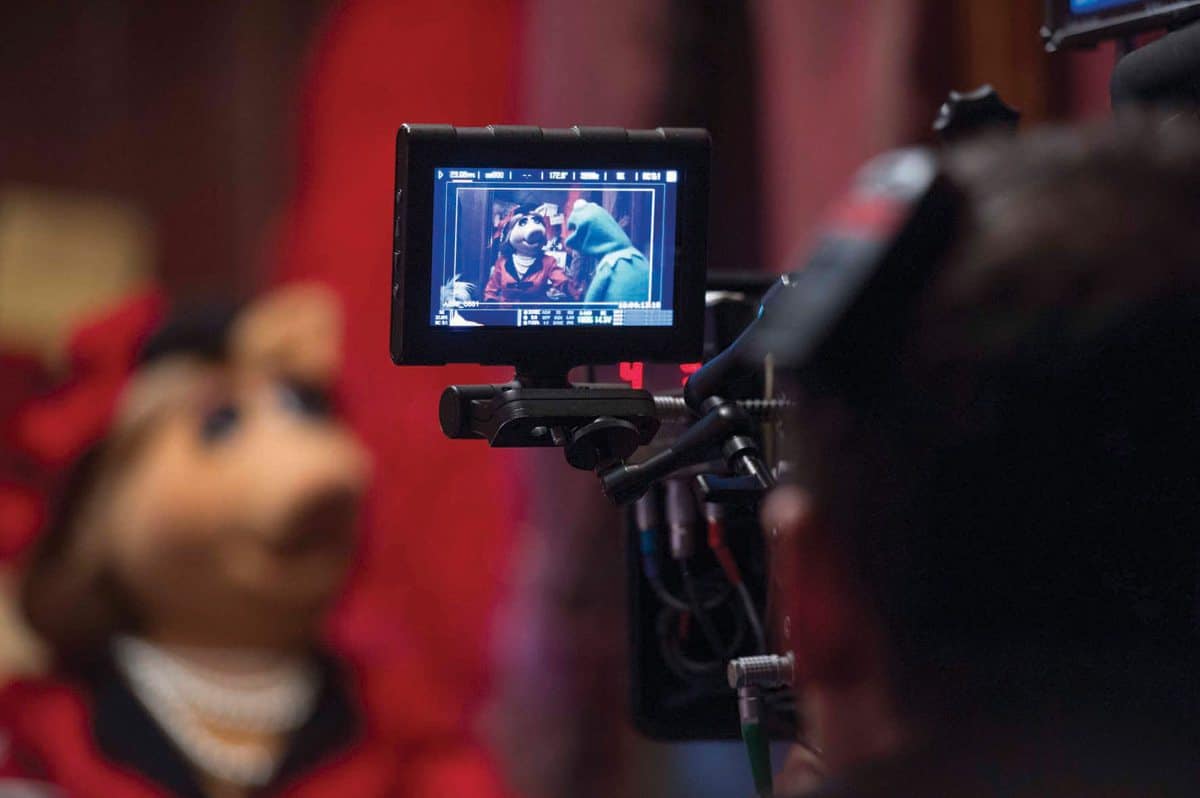 "We're taking this insane idea that Jim Henson originally brought to us of taking these characters and making them feel like they're your buddy," grins Burgess. "It's amazing actually, how well it works."
The lighting, the photography and the design were all geared toward making the audience believe they belonged in that world, and the most difficult part about doing that was working around the height and spatial relationship.
"We were restricted to a certain size with the characters as we had to create the illusion that Kermit – who is probably two-feet tall and with a puppeteer working underneath him – can interact and stay in frame with [Gervais or Fey]."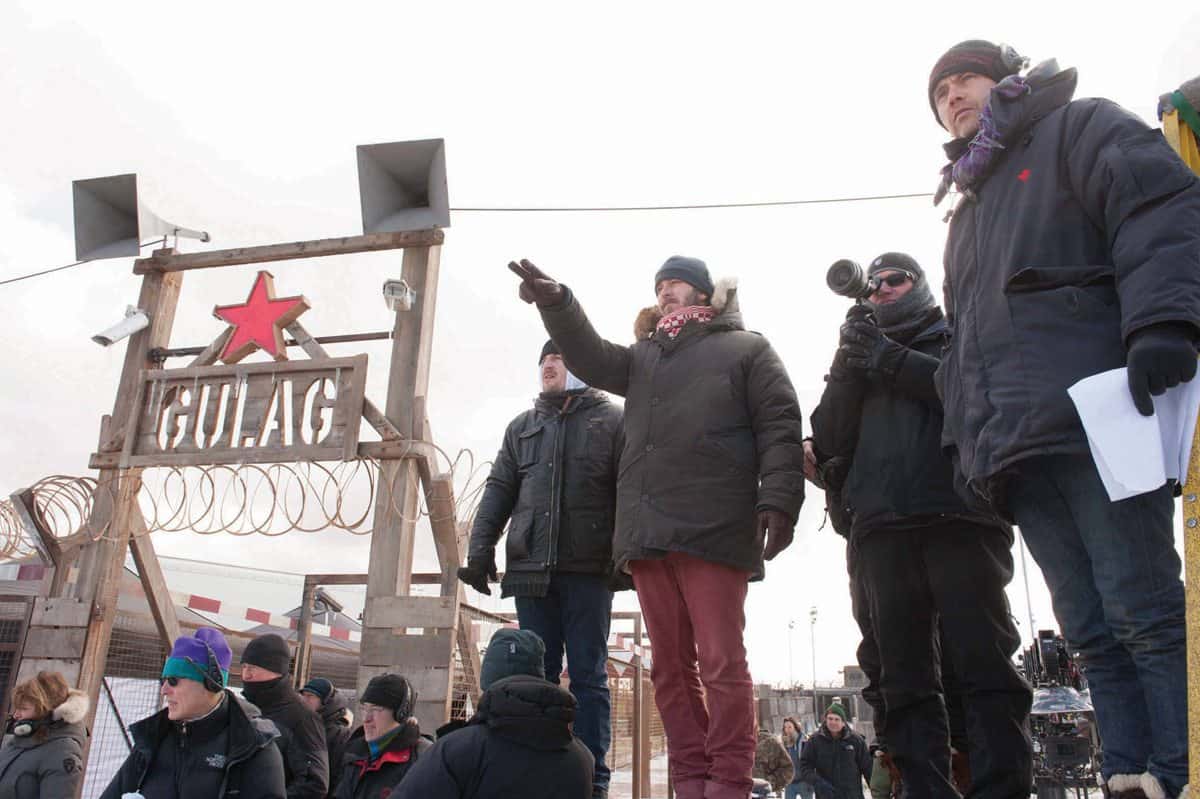 At Pinewood Studios –Burgess' first time shooting there, which he describes as first-rate as shooting in Hollywood – London-born production designer Eve Stewart and her team built a stage floor – the Muppet Floor – that was elevated about three feet higher than the actual stage floor for the puppeteers to stand up under and operate Kermit and Miss Piggy and all the other Muppets, so they would be in frame with the human characters. In the story, The Muppets perform in Dublin, Berlin, Madrid and, of course, London. Stewart would rebuild each different theatre on one stage to represent each city.
"Once we got out into shooting in London for real," explains Burgess, "which we did a lot, we didn't have the luxury of the puppeteer standing up. To achieve the same effect out in the real world, we put them on sleds that we built with skateboard wheels essentially, put the sleds on dolly tracks and we'd have to move the whole act around. We'd track them and the camera along the street or in a restaurant, but it's a lot tougher than just filming humans."
As we'd assume, this was the most technically difficult part of making Muppets Most Wanted. Sometimes they'd have to create two separate dolly tracks – one for the Muppets, and one for the camera – with the result needed lots of synchronization and a lot of different elements tracking at the same time. But Burgess made sure to use his Canon 7D DSLR in rehearsals so that the puppeteers and actors could watch what was happening on a monitor in order to get the hard blocking done most efficiently.
"We're taking this insane idea that Jim Henson originally brought to us of taking these characters and making them feel like they're your buddy."
- Don Burgess ASC
Burgess – who has lensed some of our generation's most beloved movies, like Forrest Gump, Cast Away and Spider Man – first picked up a RED Epic in 2011 for the following year's release of Flight, Robert Zemeckis' first live-action feature since Cast Away 11 years earlier.
"I've become really comfortable with the Epic," he says, "especially after the first Muppets, so if anyone I work with wants to go digital, that's what I pick. Film was out of the question with needing the live feed of the action for the monitors on which the puppeteers watched themselves with their Muppet characters."
Burgess wanted to keep the audience close to the characters and engaged in the story, so they tended to work with wider lenses, keeping it around the 24, 28, 32mm and sometimes up to the 40mm for the close-ups. They shot with two Epics provided by Take 2, London (lighting came from Panalux, London) and the only camera team member Burgess brought with him from the states was his son, Michael Burgess, who shot all the second unit footage on this and on The Muppets.
"It was good to have Michal there with me, because walking into an entirely new crew is sometimes hard," he says. "But Peter Cavaciuti, operator and steadicam, my first assistant John Jordan, key grip Garry Hymns, gaffer Perry Evans, and my whole London crew, made it really easy for me though."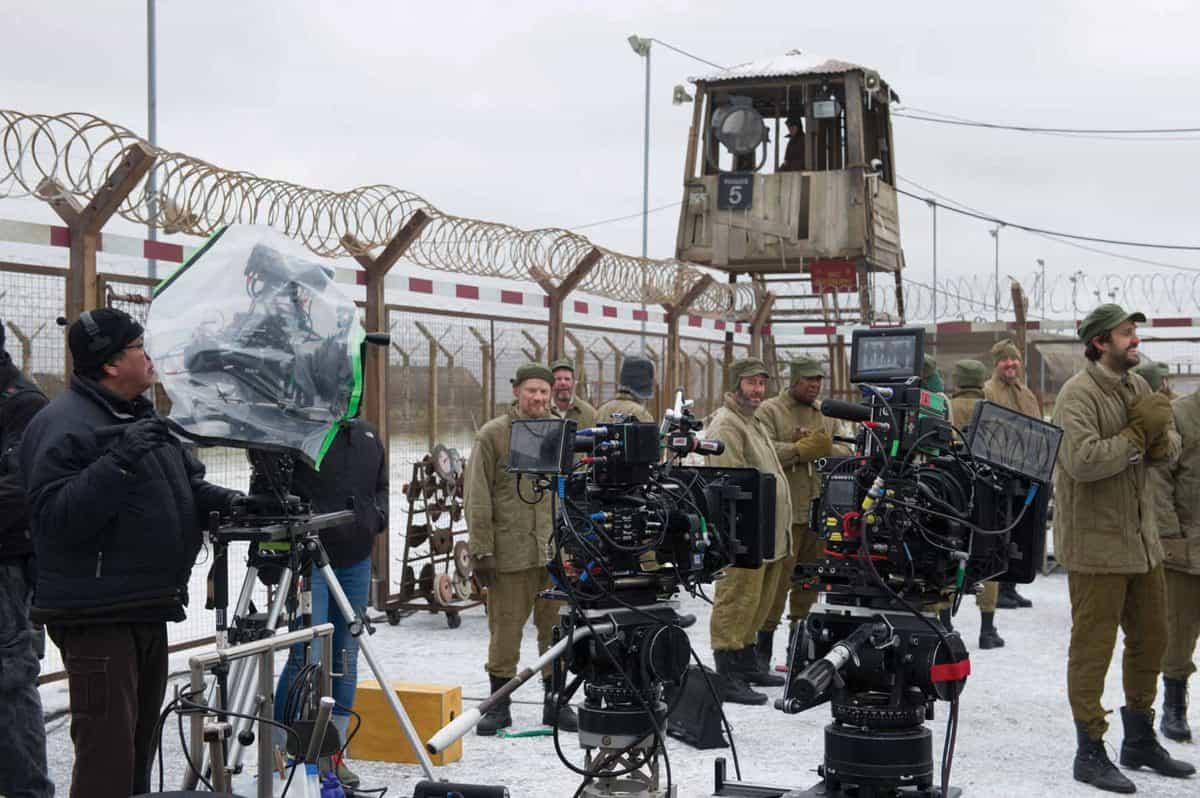 Since any and all Muppet shows are live action, Muppets Most Wanted contains few visual effects, besides a small number of background plates and set extensions to help with creating the surroundings. The Puppets, all built by Puppet Heap in New Jersey, were operated by both American and local UK puppeteers for the run of the production. At times, the crew boasted 500 local puppeteers in a day.
Says Burgess of possibly getting pigeonholed with puppets: "I'm always looking toward the story to pull me in. If you end up doing a lot in one genre you'll start to look elsewhere to vary your work. I remember after Eight Below (2006), I got offered every dog script that came out of Hollywood. But I like keeping myself varied and staying open-minded to the script that I'm reading at hand."