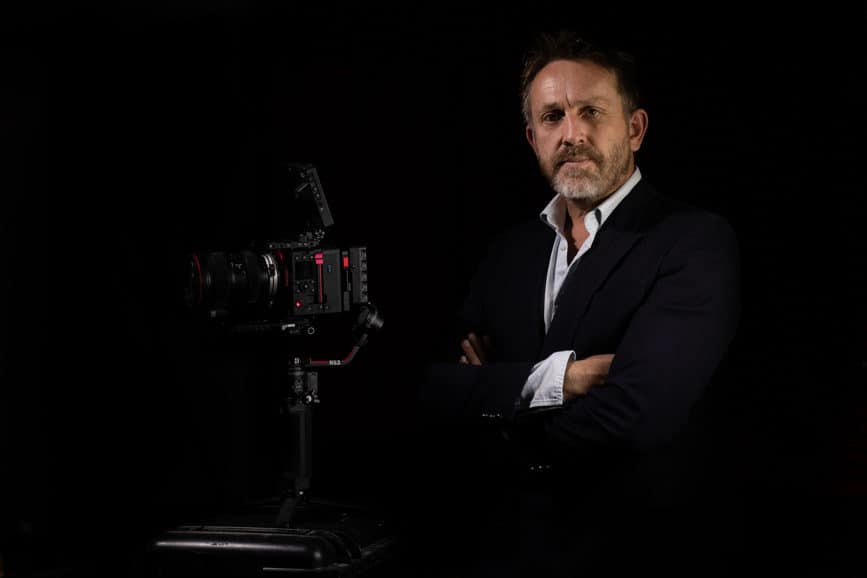 We've all had moments stretched out on the couch with nothing to do, plenty of time to spare, and one last option to pass the time: channel-surfing. As you click through ads and reruns, there's always one type of programming that keeps you on the channel a little longer.
Cheetahs zipping across the Serengeti. Penguins huddled together against the frozen Antarctic. Tribal elders teaching adolescents how to properly track and fell a wild boar deep in the Amazon.
Nature and wildlife documentaries take us up close and personal to the tremendous power of the living world. And behind every one of these moments is a camera aimed at capturing it in perfect frame. And behind this camera, just might be Toby Strong.
Connecting Nature with an Audience
Strong is a 20-year veteran of cinematography, specialising in the wildlife and documentary genres. His career outdoors started in leading expedition tours; however, larger ambitions directed him to a new path.
"Expeditions let me share my love for travel and nature. Ultimately, I found that I can reach many more people through filmmaking. There, you can show the beauty of the world and highlight the stories that need telling," he says.
The stories that Strong has told over the years have spanned across continents, creatures, and cultures. With his camera, he captured the generations-long craft of preserving salmon that Alaskan fisherman learned from their fathers. He rode alongside the women of the Tubu Tribe as they navigated the Sahara for days in search of a well. He patiently followed a pygmy three-toed sloth in Panama as it sought to reach its mate, in perhaps the first time the world has ever seen a sloth swim.
Strong's eye-opening work has been featured across the BBC, National Geographic, and the landmark series Planet Earth and Human Planet, for which he earned an Emmy award in cinematography.
Strong and DJI: early gimbal competitors
Like any visionary cinematographer, Strong has always made a point to adopt and advance new technologies for the filmmaking world. In fact, it was in his pursuit of innovation that he found himself in lockstep with DJI.
"For the opening sequence of Planet Earth 2, I filmed with a three-axis gimbal that I had just created with an engineer. It took a lot of time and money, and I was amazed by the resulting footage. But when I came back from the project, I heard a lot of excitement about a company making something called a Ronin gimbal. After I got my hands on it, I knew that my device was simply inferior to what DJI had made. I've bought every Ronin ever since."
From the original DJI Ronin, Strong's interest in DJI products only grew, bringing them to more productions. DJI took notice, and since the launch of Ronin 2 in 2017, invited Strong to collaborate through early product testing and feedback. And it turns out that the two were an ideal working pair.
Always innovating and improving
The release of DJI RS 2 and RSC 2 embodied a myriad of wish list items by filmmaking professionals, in large part due to collaborations with people like Toby Strong. By incorporating his real-world feedback – bouncing around in the car with an unlocked axis arm, getting dust stuck on a mount, or trying to keep water out of a USB port – DJI was able to get back to the drawing board with valuable insights. "And every note I gave, I saw reflected in the finished model. And I was just so impressed that DJI listened to us end-users in the field."
Particularly with RS 2, DJI wanted to provide not just an advanced handheld stabiliser but a complete platform, where every feature and function allows for total onboard versatility. Among these, Strong has his favorites. The trigger, buttons, and touchscreen are within easy reach for full handheld control. RavenEye's built-in construction and in-app performance allow him to hand share a tablet from over 100 metres away to get a crystal-clear live view of his shot. "It's everything I wanted. Really, for me, it's an amalgamation of Ronin-S and Ronin 2. It's absolutely brilliant."
And for his part, Strong hasn't stopped with his own creative ideas. Part of what makes him a force in the industry is that he is as much of an inventor as a cinematographer. For DJI RS 2, Toby has developed a remote-controlled buggy to serve as an all-terrain vehicle. He has incorporated a gaming controller, which the Ronin app supports to control RS 2, and a tablet to receive HD video transmission from the camera. All these pieces come together as an integrated remote rig. "The buggy can get into all sorts of locations and situations that no other camera can get close to, like animals in their natural habitat. This is all working together now, and I've found myself in a really good place with my filmmaking."
And it turns out that this good place is in capturing nature in ways audiences have never seen.
Reliability is everything
"I was in Namibia with three cheetahs. To be sitting in a vehicle with the monitor and remote controller, seeing rock-steady shots as a cheetah runs alongside the camera, turn its head and move – it blew our minds that this suddenly was in our world."
Thanks to the DJI Ronin series, a cheetah on the hunt can now be filmed with the kind of intimacy and detail that filmmakers could only imagine. But to get to that moment takes a level of reliability that demands nothing short of excellence.
While most film sets involve controlled variables like soundstages and equipment, the only kit a wildlife and nature photographer can rely upon is whatever is on their back. It has to withstand the tumbles off airport luggage conveyors, a constantly rocking ship, and the backs of flatbed trucks. It needs to be strong enough to support professional cameras, but small and light enough to fit in a backpack. And above all, it has to not fail.
"Over the last year and a half, my Ronin has been from -40 °C in ice caves to 40 °C on the savannah, and even over 5,000m altitude on the Nepal-Tibet border. In these places, professional filmmakers don't have backups."
Luckily for Strong, DJI RS 2 and its predecessors have delivered complete reliability, no matter where he takes it. "Once we get to the ends of the earth and we have to produce the sequence, every piece of kit has to work. It can't fail. And with DJI, it never faltered. I know the product won't let me down. And that for me is as important as anything."
The future of filmmaking for everyone
Toby Strong is fortunate to realise his ambitious vision with DJI. The Ronin ecosystem has now expanded so it can be mounted across several platforms to capture almost any scenario. Toby knows that he can continue pushing his own imagination with the equipment to deliver on it. And with the accessible value of RS 2, he can see that any budding filmmaker on any budget can create masterful shots with just a few tools.
"With DJI RS 2, we can take something so small, so adaptable, and so reliable anywhere in the world to produce shots that have never been seen before. It also makes it so everyone can afford to be a filmmaker. So in reality, the only limitation is your own talent. And I find that really exciting."