Bodacious!
Shelly Johnson ASC / Bill & Ted Face The Music
Bodacious!
Shelly Johnson ASC / Bill & Ted Face The Music
American cinematographer Shelly Johnson ASC is not one to look a gift horse - or indeed a 'wild stallyn' - in the mouth. In fact, he says he was extremely flattered when he was nominated by DP Jerzy Zielinski PSC to take the reins on the highly-anticipated Bill & The Face The Music, directed by Dean Parisot, after Zielinski unexpectedly had to return to his native Poland just two weeks prior to principal photography.
"I first met Jerzy in Warsaw, in March 2019, when we both participated in a week-long ASC/PSC Lighting Workshop," explains Johnson. "Working separately, both of us shot the same scene for the same writer/director to show students how the artistic choices and cultural sensibilities from different cinematographer's can influence the emotional impact of a scene. It was a marvellous event, Jerzy and I got on wonderfully, and the high esteem we each felt was clear.
"So I felt greatly honoured when I got a call a few months later from Dean - who told me I had been recommend by Jerzy - inviting me to shoot Bill & The Face The Music. Jerzy and Dean have been a DP/director duo for 30 years, and it felt incredible to have Jerzy's vote of confidence in me. As the shoot was looming, I began work with Dean the following morning."
The $25m Bill & Ted Face The Music is the third instalment in the Bill & Ted film series, and the sequel to Bill & Ted's Bogus Journey (1991, DP Oliver Wood). It was written by Chris Matheson and Ed Solomon, with Alex Winter and Keanu Reeves reprising their roles as the respective title characters, along with William Sadler as The Grim Reaper. Samara Weaving plays Theodora, with Brigette Lundy-Paine as Wilhelmina, Bill and Ted's respective daughters.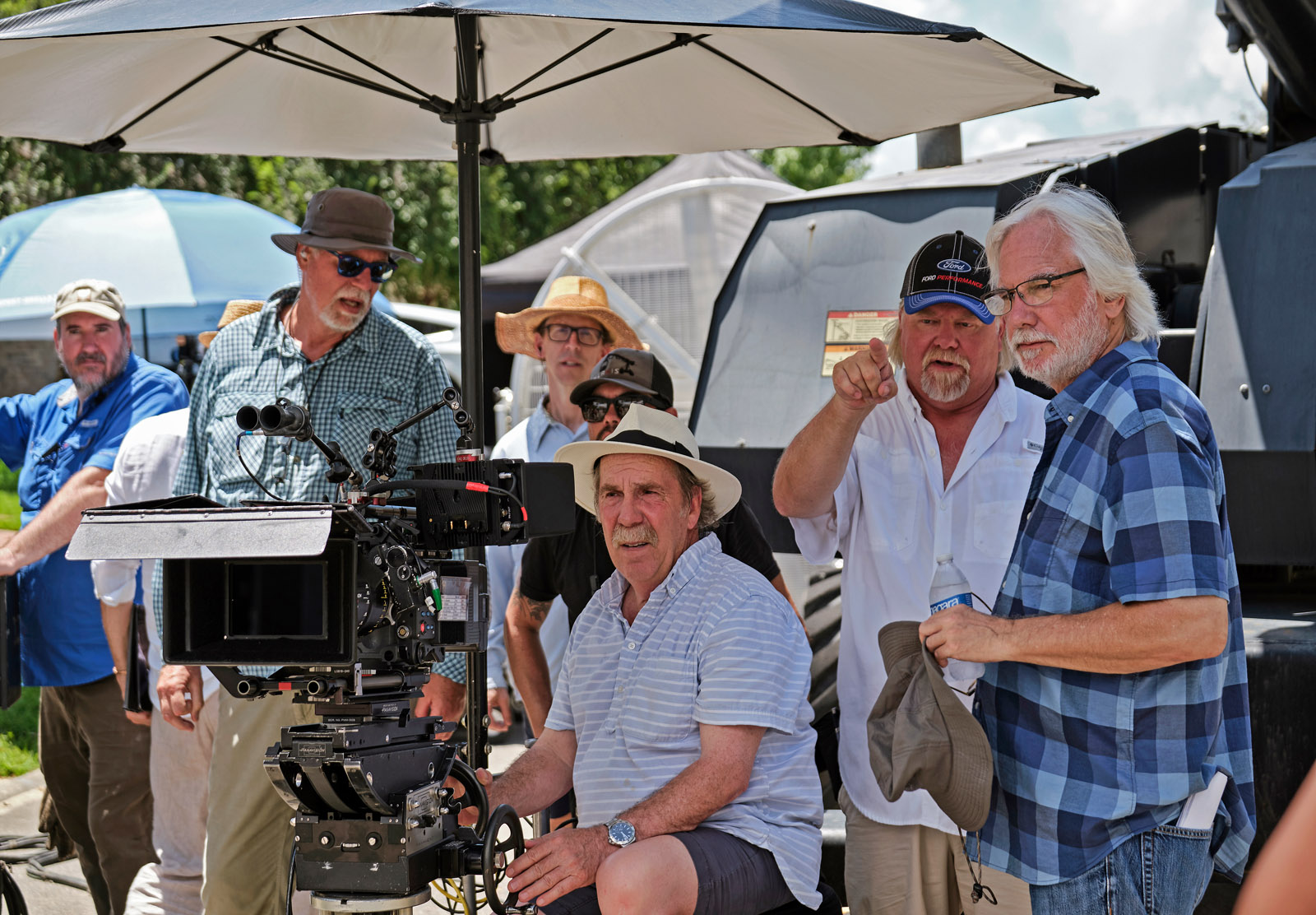 In the film, a visitor from the future warns the now middle-aged Bill and Ted that they have 78 minutes to write a song that will save all life on Earth and the entire universe from obliteration. In parallel, time-travelling stories, the dads and their daughters work with old friends and famous musicians - including Jimi Hendrix, Mozart and Louis Armstrong - to try to complete the task.
"I know Dean's work, and Galaxy Quest (DP Jerzy Zielinski PSC) is one of my favourite comedies," says Johnson. "He is a delightful person, very funny and very positive. He knows his way around a film project and directs comedy almost like a drama - he develops sincere characters in a comedic world, rather than going for the joke per se. He is also an extremely clear communicator, and this, along with the notes and sketches that Jerzy kindly left in his office, helped me to quickly piece together what was needed."
Production took place over seven weeks during July and August 2019, at locations around New Orleans and on multiple sets built at The Ranch Studios. These included The Grim Reaper's fiery catacombs in Hell, plus interiors/exteriors of The Future, based on the work of architect Santiago Calatrava - both involving green/bluescreen VFX shoots. Historic buildings in downtown New Orleans were used for scenes involving Jimi Hendrix and Mozart.
"I watched both original Bill & Ted movies, and although they were low-budget, they have a wonderful innocence about them, especially the depiction of the clean, heartfelt and simple comedy," says Johnson. "It was clear that when you get Bill and Ted in same frame they almost become one character because of the way they bounce off each other, through their reactions and facial expressions - so their two-shot was the most meaningful."
Johnson says he agreed with Zielinski's choice of widescreen spherical production, using Alexa Mini cameras and Panavision Primo lenses. He also deployed a LUT he has self-developed for the Alexa, that maximises its sensor response in terms of under/over-exposure, thereby setting-up the image for streamlined colour grading.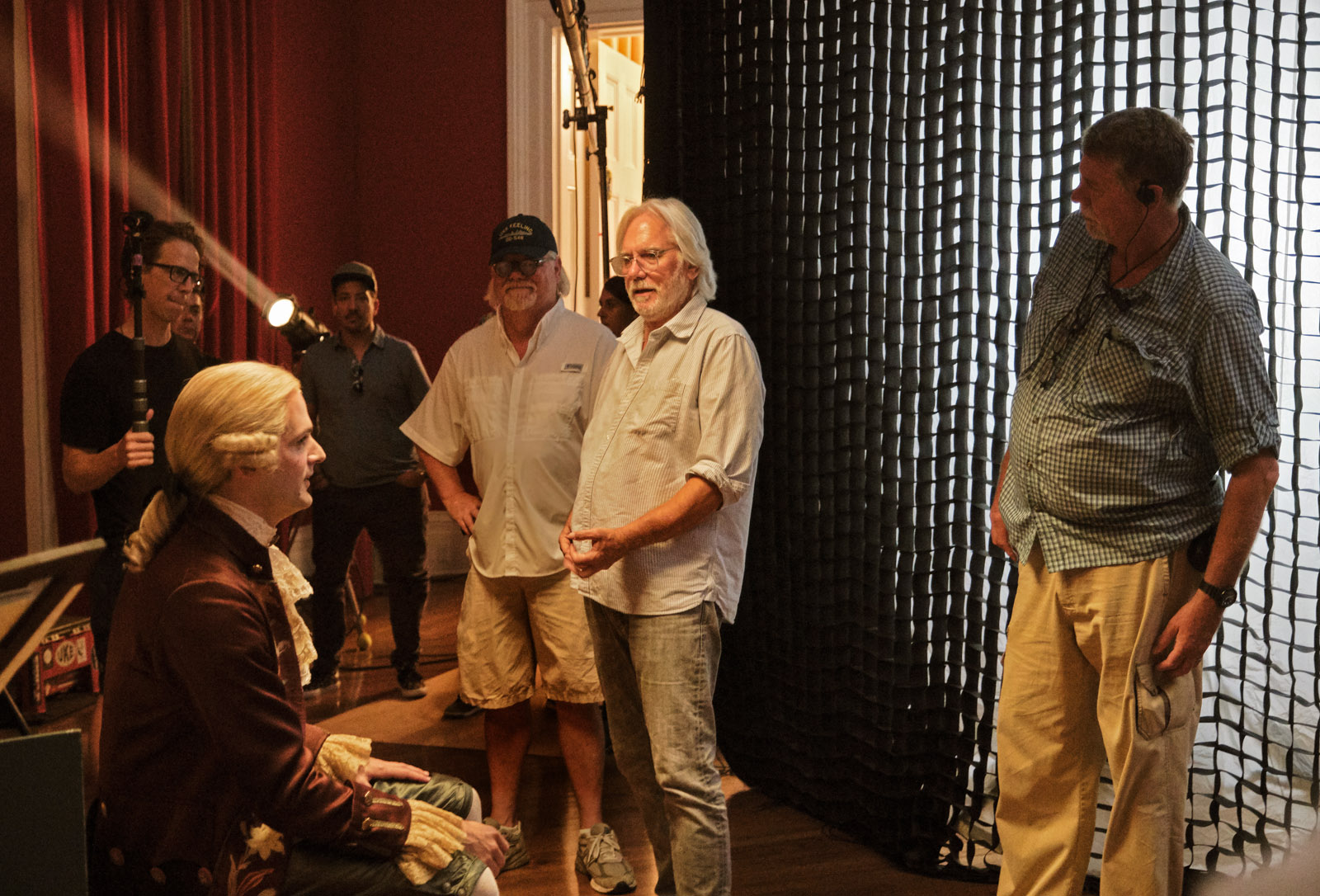 "For me, it was exciting to become engaged with the many different photographic scenarios and time periods as the story unfolds," Johnson enthuses. "I decided early-on that I wanted these to look and feel very different from one another, and to bake-in a cinematic aesthetic through different moods, colour and lighting characteristics.
"The 1922 Louis Armstong sequences exhibit an incandescent golden look inspired by The Godfather (1972, Gordon Willis, ASC). The candlelit scenes with Mozart take their cues from Amadeus (1984, DP Miroslav Ondříček), immersed in the city of Vienna in the late 1700s. The Future is bright and blown out. For Hell, we had a lot of fun lighting the set with a devilish greenish-orange fire effect, amongst the black rock and rivulets of volcanic lava."
Johnson applied the same thinking to the way the camera would be motivated. "Each period had its own character of movement - classic dolly or Technocrane manoeuvres for Mozart, whereas the backstage scenes with Jimi Hendrix, were all Steadicam moves through the tight passages and dressing rooms of the concert hall."
For efficiency's sake, some of the stage sets were run simultaneously, with lighting prepped and separate camera packages ready-to-roll, as the actors changed costume as appropriate between scenes.
"For lighting, we used a lot of LEDs, such as ARRI SkyPanels, which I like as they are programmable and allow you to change between colour scenarios quickly. The support we got from MBS was outstanding. They prioritised our visuals first, then sorted our budget with the producers."
Johnson worked partially on the DI grade remotely from his home, via Streambox and an iPad Pro, in collaboration with DI colourist Skip Kimball at EFILM in LA. He was impressed in the way the company managed colour consistency across the different grading and viewing platforms.
Whilst Johnson says working on Bill & Ted Face The Music proved a joy, he adds, "I thank Jerzy for the gift of this project. I thought lot about him and his long partnership with Dean during production. I have lot of respect for their enduring relationship, and hope they will be reunited on their next project soon."