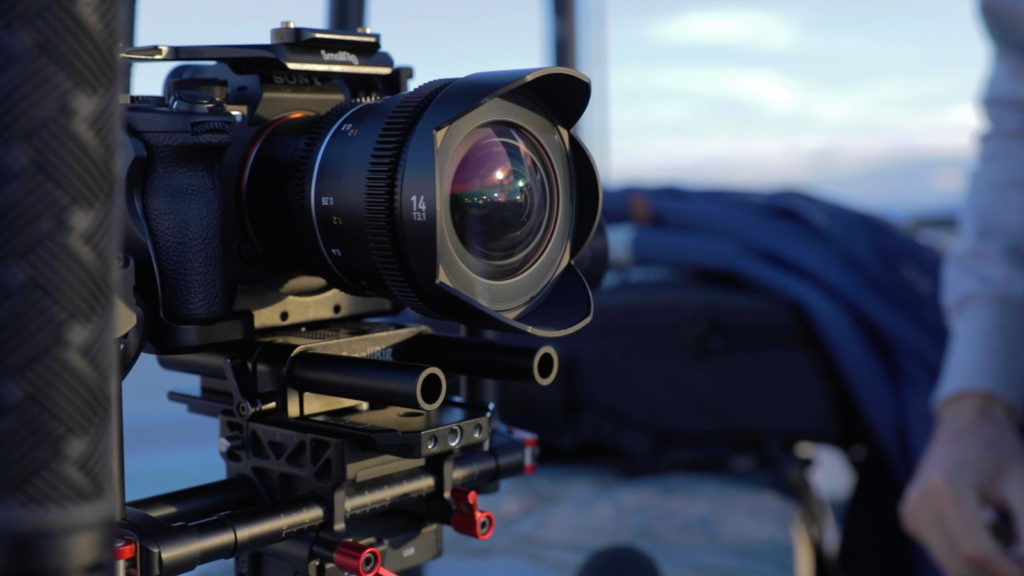 Optics brand Samyang Optics announces the addition of a wide 14mm focal length to its recently introduced VDSLR MK2 cine-lens series. Launched in August 2020, this new series is a compact and versatile cine lens range, enhanced with new features. The MK2 line-up now comprises 5 of the most-used focal lengths: 14mm (T3.1), 24mm (T1.5), 35mm (T1.5), 50mm (T1.5) and 85mm (T1.5). Fast T-stop values, renowned image quality and enhanced user-friendly features are available in 7 different camera mounts, with full frame coverage.
The compact size of Samyang's VDSLR lenses makes them perfect for hand-held and gimbal shooting. The new VDSLR 14mm T3.1 MK2 is only 9.6cm long and weighs just 650.2g (the 50mm T1.5 MK2 announced in August is even smaller at 7.47cm long and 525.8g in weight). In contrast to their compact size, the VDSLR MK2 lenses cover full-frame sensors (36x24mm) and are ready for the high-quality video making environment.
The VDSLR MK2 range now includes 5 focal lengths: 14mm, 24mm, 35mm, 50mm and 85mm. These are the essential focal lengths for any creative or commercial projects. All 5 lenses are available and fully compatible with 7 camera mounts: Canon EF, Sony E, Canon RF, Nikon F, Canon M, Fuji X and MFT. They are suitable for both DSLR and mirrorless systems and ready to support all types of filmmakers around the globe. Of special note is that the full set of 5 VDSLR MK2 lenses now fully support the latest Canon RF mount and are equipped with rear filter holders.
Samyang created the 14mm using 4 types of special lens elements. An Aspherical element is used to reduce spherical and optical aberration, producing clear and vibrant images. Furthermore, there are 3 High-Refractive, 1 Hybrid Aspherical and 2 Extra-low Dispersion elements in the compact body, which work together to deliver high-quality images.
Even though VDSLR MK2 series are compact in size, they are fully-featured with de-clicked aperture rings and focus gear rings. The long focus throw of over 130° enables cinematographers to focus precisely on their subjects, creating a more professional feel to video footage than with autofocus photo lenses.
For independent filmmakers, a versatile lens saves time and budget. The Samyang VDSLR MK2 series has fast, T1.5 apertures across the 24mm, 35mm, 50mm and 85mm focal lengths, the 14mm is still fast at T3.1. This supports filmmakers, allowing them to concentrate more on the scene and creativity, without having to concern themselves about image quality, even in low-light situations. Also, the shallow depth of field available effectively blurs out the background and highlights the subject, adding depth to the story.
New features include weather sealing, aperture blades for bokeh and starburst effects, and updated design with side scales.
The complete Samyang VDSLR MK2 series with 5 focal lengths (14mm to 85mm) will be available globally from February 2021.