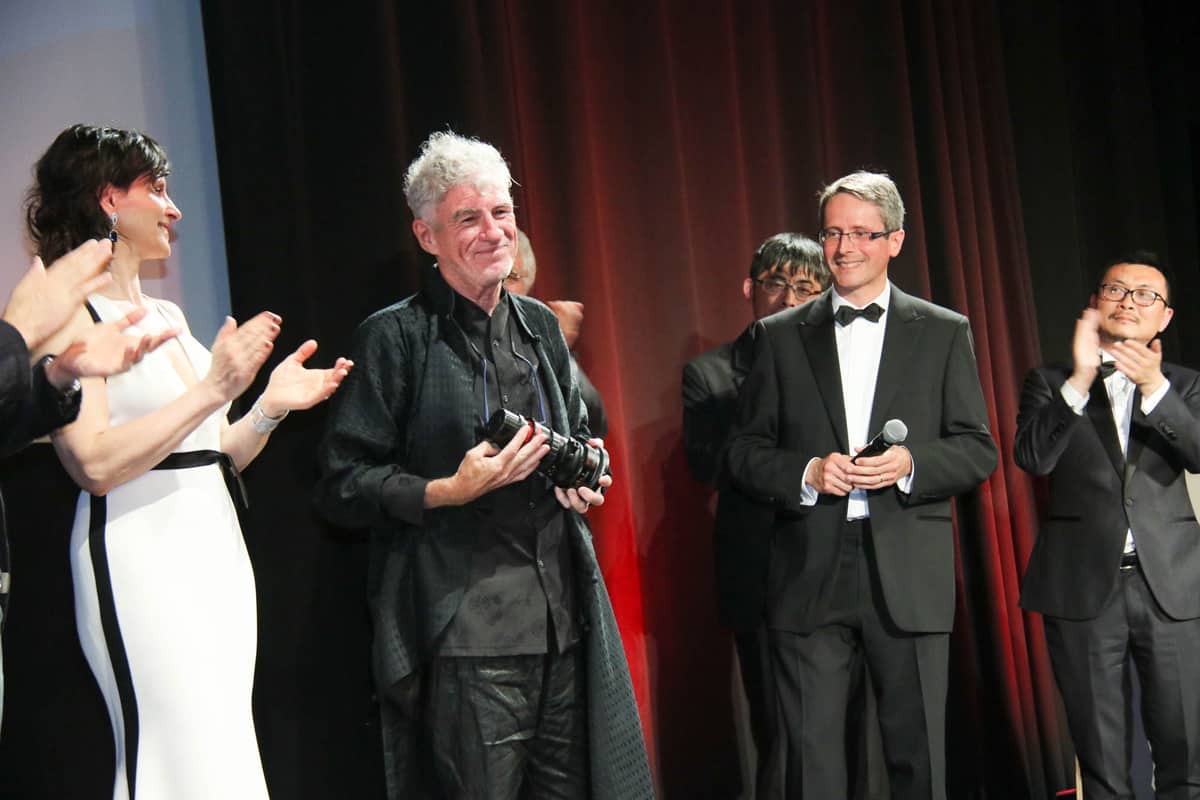 On May 26th, at the very heart of the 70th Cannes Film Festival, Christopher Doyle, surrounded by Juliette Binoche, Jenny Suen, Olivier Assayas and Frédéric Auburtin was awarded the "Pierre Angénieux ExcelLens in Cinematography" tribute.
Hosted by Pierre Zeni and opened by Thierry Fremaux, Director of Cannes Film Festival, the ceremony took place at the Buñuel Theatre in the Palais des Festivals.
In presence of Ed Lachman, cinematographer; Raphaël Keller, Director for innovation, video and technical industries at the CNC; Richard Andry vice-president of AFC (Association of French Cinematographers); Yang Dan senior vice president of Weying (online ticketing platform on Wechat) and San Mu President of Movie View (Chinese movie magazine and PR company) supports of the tribute; and Pierre Andurand, president of Thales Angénieux and Suzel Pietri (Orbis Media) who created "Pierre Angénieux ExcelLens in Cinematography" – Christopher Doyle said:
"Most awards are some kind of symbol : a horse for example or a little golden man. This award means so much more than just an honour for my work .
This award has been created by craftsmen and women with precision and care. It's the bridge between their craft and my endeavour for art that I will be using every day on every film to come with pride and respect.
With this award, Angenieux has passed on to me their excellence, now it's my responsibility to be excellent in return."
The trophy is an Angénieux zoom lens, Optimo 15-40 specially engraved to his name.
Christopher Doyle also received a chinese calligraphy wrote by Yang Dan (senior vice president of Weying), an extract of the Confucian Analects which affirms that "a man of quality should be like the wind". This sentence is also a reference to Doyle's chinese name : Du Ke Feng ("like the wind").
Every year the "Pierre Angénieux ExcelLens in Cinematography" award ceremony pays tribute to a director of photography whose work has marked the history of world cinema. After Philippe Rousselot (2013), Vilmos Zsigmond (2014), Roger A. Deakins (2015) and Peter Suschitzky (2016), distinguished cinematographer Christopher Doyle is the 5th awarded.