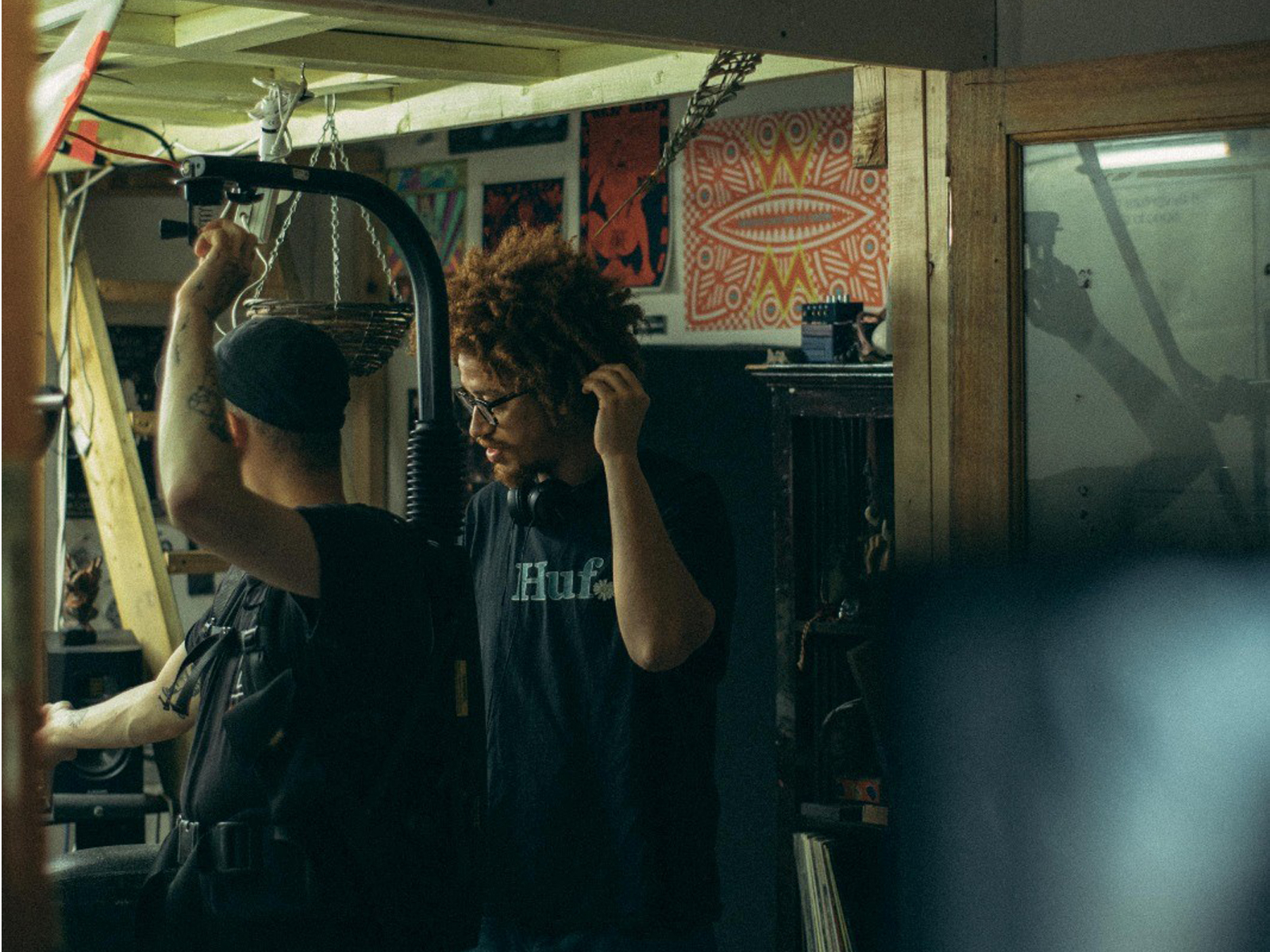 The National Film and Television School has announced Killing Boris Johnson, a powerful and deeply personal student-made film, has been selected for the prestigious La Cinef at Cannes Film Festival 2023.
The film, written and directed by recent NFTS graduate Musa Alderson-Clarke in collaboration with a team of fellow NFTS graduates including Solomon Golding, alumnus of the School's Producing MA, is the only UK student film to be included in the festival's selection.
La Cinef is devoted to discovering new talent and selects only 15-20 short films each year from film schools all over the world, with the best three awarded prizes from the competition's jury. Killing Boris Johnson will have its world premiere at Cannes Cinefondation on Thursday 25th May and is thef only UK short screening from a total of over 2,000 submissions.
Killing Boris Johnson was conceived at the height of the pandemic and follows the inner turmoil of grieving Kaz (Shadrach Agozino), whose life has been turned upside down by the actions of Boris Johnson's government whilst tough Covid restrictions were in place. In the wake of the notorious 'Partygate' scandal, Kaz decides then Prime Minister Boris Johnson should be held accountable, coming up with a plan to kill him. The 24-minute film is a visceral and thought-provoking exploration of grief, anger and accountability.
Writer/Director of Killing Boris Johnson Musa Alderson-Clarke graduated from the NFTS Directing Fiction MA in February 2023: "I wanted Killing Boris Johnson to immortalise the feeling that myself and so many others experienced during the pandemic. This film's main goal was to bring to life the dangers of ineptitude in governance and how the lies of Boris Johnson manifested in the lives of everyday people. I am honoured to have Killing Boris Johnson selected for La Cinef, it is a film made to be seen and for it to be recognised by Cannes will no doubt mean it will have a further reach."
NFTS Director Jon Wardle commented: "The selection of Killing Boris Johnson at La Cinef is testament to the incredible talent and dedication of our recent graduates. We are immensely proud of Musa and the entire team behind this powerful and thought-provoking film. This selection is recognition of the quality of their incredible work and testament to the NFTS's commitment to supporting emerging talent and allowing space to voice their unique stories."
The Genesis of Killing Boris Johnson | By Writer & Director Musa Alderson-Clarke 
"At the time of writing Killing Boris Johnson, coverage on Partygate was just beginning to die down a little. I was still feeling outraged that the man enforcing laws about us not being able to see our loved ones at Christmas was going to parties. The hypocrisy enraged me. I wanted to capture that feeling, and that's where the idea for Killing Boris Johnson came from – my anger at this government.
Going through my own personal loss and coming to terms with the pain, I wanted to draw a direct relationship between poor governance and the pain those of us impacted by it experience. To prevent Boris Johnson leaving office and just being remembered as a comical, bumbling Prime Minister, I wanted to immortalise the feeling that myself and so many others experienced. Connect emotion to this moment in time. 
As a working-class man of colour in this society, I feel disenfranchised and angry not just at Boris Johnson, but our society as a whole. I'm grateful that I am a creator with an outlet for all these feelings. I hope this film provides that for others who too feel disenfranchised. Stories allow us to learn about society as a whole, learn from our mistakes and remind us of times gone by; I hope Killing Boris Johnson does that, and we never forget how terrible Boris Johnson was as Prime Minister.
This is my small way of contributing to giving a voice to the voiceless, yet there are countless out there doing work consistently to fight for those who are being walked over by government policy."
–
Killing Boris Johnson Production Crew:  
Director/Writer: Musa Alderson-Clarke| Producer: Solomon Golding| Editor: Yu-Pu Pon | Cinematographer: Jack Hamilton | Sound Designer/Dubbing Mixer/Composer: Jean-Marc Eck | Production Designer: Kwok Hei Yung | Production Manager: Emily Morgan | Assistant Director: Ciara Gallagher | Focus Puller: Ash Leontyne | 2nd AC: Alistair Searles | Loader: Etai Shomri | Production Sound Mixer: Carla Geronimi | 1st Assistant Sound: Lawrence Gartshore | Lead Compositor: Danny Peoples | Colourist/Online Editor: Aiden Tobin | Runner/Drivers: Sam Zohdi, Hayder Rothschild Hoozeer, Helena Hunt | Camera Loader: Etai Shomri | Hair and Make Up Artists: Imi McPherson, Jasmyn Mistry | Supervising Stunt Co-ordinator: Dan Johnson | Stunt Co-ordinator: Joe Golby | Storyboard Artist: Bode Alade | Action Vehicle Owner: Gary Clarke | Stills Photographer: Jia Lang  
Cast / Voices:   
Kaz: Shadrach Agozino | Maia: Jesse Akele Luke: Peaky Saku | Mum: Cathy Owen | Teacher: Rebecca Raybone | Oliver: Robert Dukes