Cliffhanger
Mike Eley BSC / My Cousin Rachel

Cliffhanger
Mike Eley BSC / My Cousin Rachel
Ambiguity, suspense, ecstasy and torment typify the work of popular English author Daphne du Maurier, whose oeuvre included the novels Rebecca and Jamaica Inn and the short stories The Birds and Don't Look Now – all successfully adapted for the big screen.
And these strong emotions surfaced once more in her 1951 novel My Cousin Rachel. Set in Cornwall, it tells the story of a young Englishman, Philip, who falls madly in love with Rachel, the widow of his greatly-admired guardian, despite his lingering suspicion that she planned her husband's death in Italy to inherit his wealth. After Philip surrenders to her, and deeds all his estates to her, he again begins to suspect Rachel so strongly, that he fears for his own life, with tragic consequences.
The original story was quickly adapted for the screen in 1952, in a production of the same name (DP Joseph LaShelle) starring Richard Burton and Olivia de Havilland, and a four-part BBC television adaptation (DP John Baker), starring Christopher Guard and Geraldine Chaplin, was broadcast in 1983.
Now, the story has been given a stylish new treatment by director Roger Michell and cinematographer Mike Eley BSC, in a feature starring Rachel Weisz and Sam Claflin. Principal photography took place over nine-weeks, between April and June 2016, at West Horsley Place, a 50-room, Grade1-listed property dating back to the 15th century, as well as rural locations nearby. This was followed by a week on the clifftops of the Flete Estate in Mothecombe, Devon, doubling for Cornwall and another in Florence.
Eley, whose cinematographic career took a dramatic upswing with Touching The Void (2003), has also lit Jane Eyre (2006) and Nanny McPhee And The Big Bang (2010) for director Susanna White, and the Clio Barnard helmed The Selfish Giant (2013). He previously collaborated with Michell on The Lost Honour Of Christopher Jefferies (2014) and Birthday (2015), and became aware of the impending production of My Cousin Rachel at an early stage.
"Cinematographers can come on to a production quite late during the pre-production stages and have to play catch-up," says Eley. "But Roger mentioned My Cousin Rachel to me during production on Birthday, so we had the luxury of discussing and planning together how we might shoot this new production about a year in advance."
He continues, "My Cousin Rachel is set in the mid 19th century, when the only sources of light were the sun, the moon, oil lamps and fire, and we felt this would provide an appropriate, atmospheric canvas to depict the story. The key idea was that we are unsure as to who Rachel might be. Roger's specific brief from the start was that she is an enigma, a mirage, to be seen through veils and to be beyond grasp. We discussed presenting her as a luminous vision, as Philip would have seen her coming into his life. These were all great starting points as to how the visual treatment would cascade out to form the aesthetic for the rest of the story."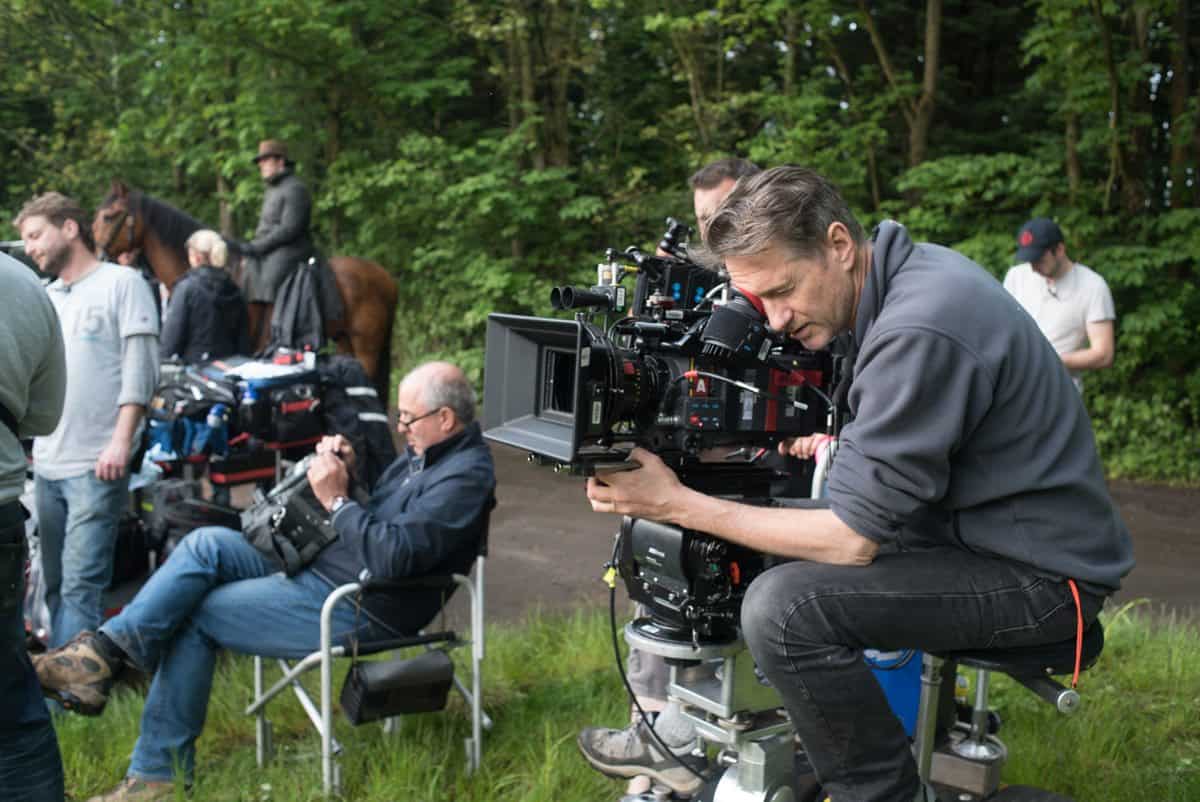 Although Eley was familiar with du Maurier's novels, he eschewed the opportunity to view either of the earlier productions. "I generally don't want to be infected by visual imagery from previous adaptations before I shoot," he says. "I much prefer to work just from the script as the bible throughout the shoot and to fulfil the director's aesthetic desire."
If there were any pictorial references that inspired Eley's thinking for the production, he notes Robert Altman's McCabe & Mrs Miller (1971, DP Vilmos Zsigmond ASC), Jane Campion's The Piano (1993, DP Stuart Dryburgh) and Jack Clayton's 1961 B&W classic The Innocents (DP Freddie Francis).
"The use of the word 'Gothic' was not openly encouraged between myself, Roger and the production designer Alice Normington. We wanted to be 'contemporary' – but there was undoubtedly something to be drawn from the wealth of dark, brooding 19th century interiors in films. The Innocents certainly has an atmosphere of ambiguity and weirdness. What is unseen is as powerful as what is. I was drawn to McCabe & Mrs Miller because of its typical, Altman, freewheeling style and its heady, opium-fuelled use of candles. There are some lovely shots of Julie Christie glimpsed through a flickering flame. The Piano is striking for its beauty and rather unconventional take on Victorian moors."
Eley also references paintings of American portraitist John Singer Sargent for his evocation of high society luxury and elegance, particularly ladies with alabaster skin set against darkened backdrops, and the classic chiaroscuro effect of candlelit interiors in the works of Joseph Wright of Derby. "These really chimed with Roger when I showed them to him," Eley notes.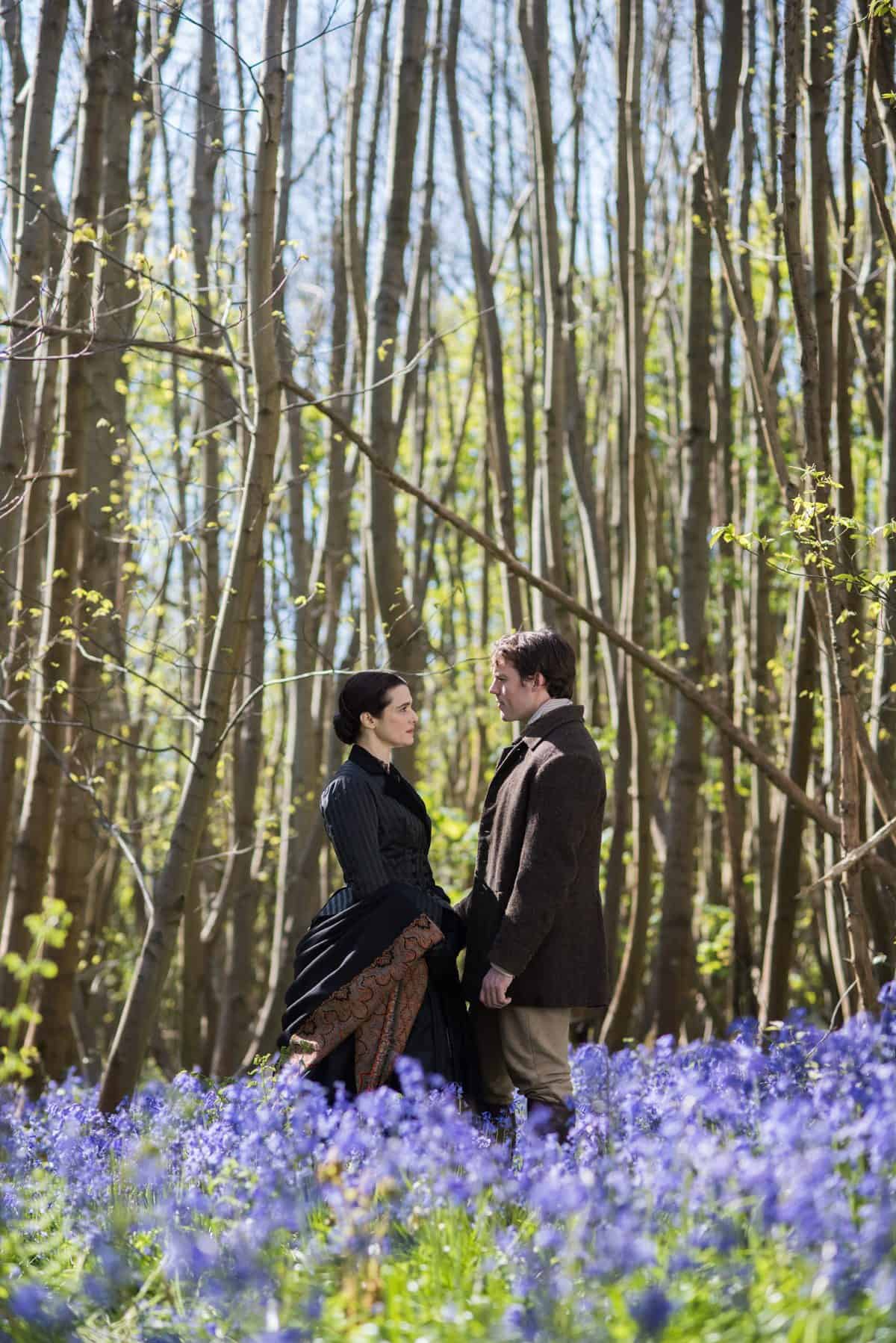 "As lovely as the locations and costumes were, we did not want to be enslaved by the traditions of classic costume drama. Rather, we wanted it to feel alive, as if we were capturing events as they happened. So another early preference was to shoot a lot of the production handheld, or with Steadicam, rather than on dolly with tracks."
- Mike Eley BSC
Whilst the lighting and costumes informed the period look of the production, Eley says he and Michell focussed on the contemporary feel of the production. Eley explains, "As lovely as the locations and costumes were, we did not want to be enslaved by the traditions of classic costume drama. Rather, we wanted it to feel alive, as if we were capturing events as they happened. So another early preference was to shoot a lot of the production handheld, or with Steadicam, rather than on dolly with tracks."
During the protracted pre-production period, Eley tested a range of camera and lens configurations in fire and candle-lit conditions, before settling on the Alexa XT, fitted with an old set of TLS-remounted Cooke Speed Panchro lenses, both provided by ARRI Rental.
"The Alexa XT is of a size that it lets you easily go handheld," he says. "I also like the filmic texture of the images it delivers, even at higher ASAs when you are shooting in low light or at night. The Speed Panchros have a lovely, gentle drop-off with warmth and roundedness that suited our look. Also, capturing night scenes at 1600ASA meant I would not have to shoot wide open, thereby putting the focus pullers in a vulnerable position. They have a hard enough job as it is."
Having determined his camera package, Eley spent time with colourist Adam Glasman prior to the shoot to create two camera LUTs – one for day exteriors, the other for night interiors. "I like to keep this aspect of the shoot very simple, " remarks Eley. "The LUTs helped to give us an aesthetic above and beyond the basic Rec709 look."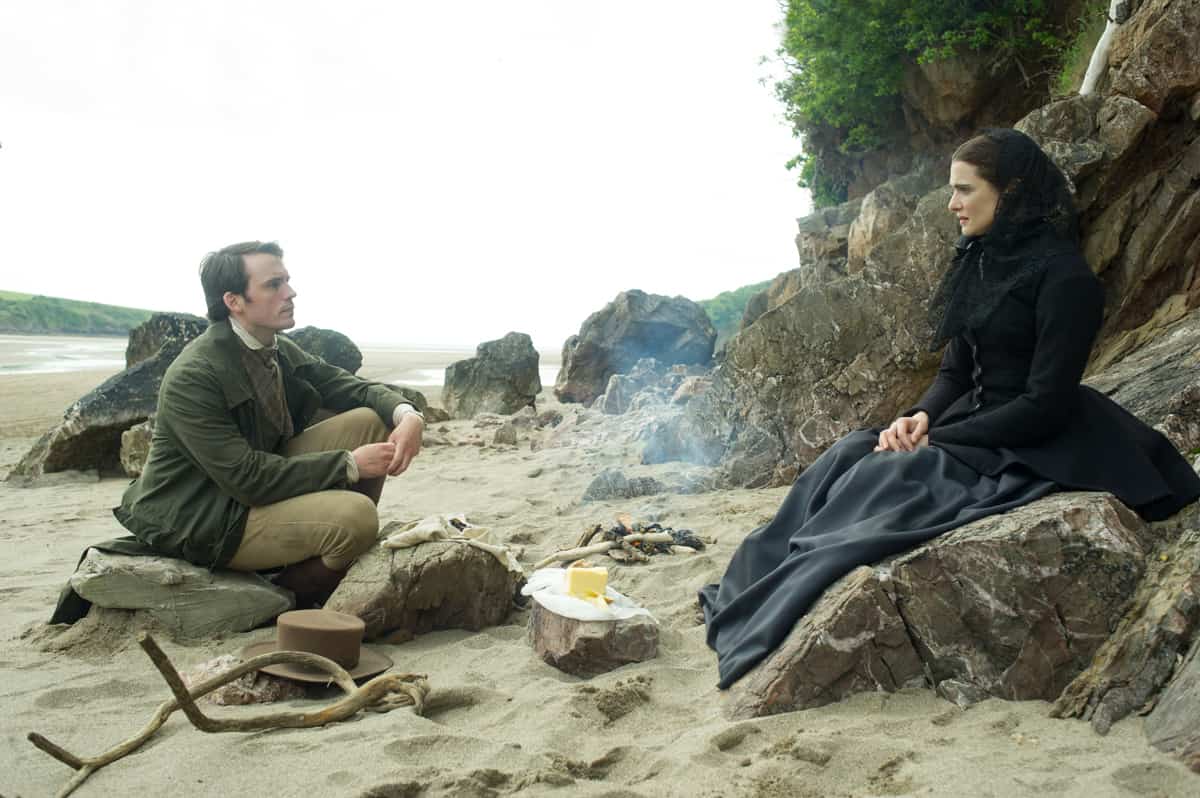 Regarding aspect ratio, Eley shot in open gate mode on the Alexa XT, but framed in widescreen 2.39:1 aspect ratio.
"Aspect ratio is always an interesting discussion, especially when you have a great location like West Horsley," he explains. "Unlike the production of Jane Eyre, where I would often have to piece together a scene from perhaps two or three different locations, we were blessed with one house that would stand for all our shots. The temptation though was to go more square, to capture the height. But as this story was in large part a two-hander – between Rachel and Phillp – Roger and I felt the wider aspect ratio would enable more dramatic and emotionally unsettling compositions of the actors within the interiors, using negative space, short-framing (when a character looks/talks outwards on the wrong side of the frame), and depth, to have one actor in close-up and the other in the deep background. Used selectively, I knew these visual properties would give a disconcerting feel to certain moments, such as when Philip begins to question his sanity."
Shooting spherical, open gate also offered a technical advantage for the VFX team on the production. Although the house interiors were well-suited for the production, outward-looking exteriors were compromised by modern structures and a dual carriageway. This meant a fair degree of blue and greenscreen photography to enable set enhancement work, to perfect an authentic final look. "The VFX team were appreciative of being able to adjust the full-frame image in post, as well as fewer lens distortions and aberrations than would have been the case had we framed in Anamorphic."
Eley operated A-camera during the production, with Simon Baker operating B-camera and Steadicam during party and dinner table scenes. The first ACs were Ian Coffey and Oliver Driscoll.
Eley selected his long-time gaffer, Paul Murphy, to assist with the lighting, whose brief was to keep the interior illumination simple and real. Due to the compromised exteriors, and the preference to shoot in normal hours, Murphy tented off many windows, and used smaller LED units, including Kino Flo Celebs, plus China balls, to simulate the effect of day interior lighting. For night interiors, oil lamps and firelight were supplemented with a specially-built gig on a stand, featuring multiple candles and a reflective, concave metal backing, which had the effect of delivering a natural, warm, keylight source with realistic flicker.
"I have to say, Paul had quite a tough job lighting the exteriors, interiors and the many bluescreens that were required. But he did a great job, as per normal," Eley says.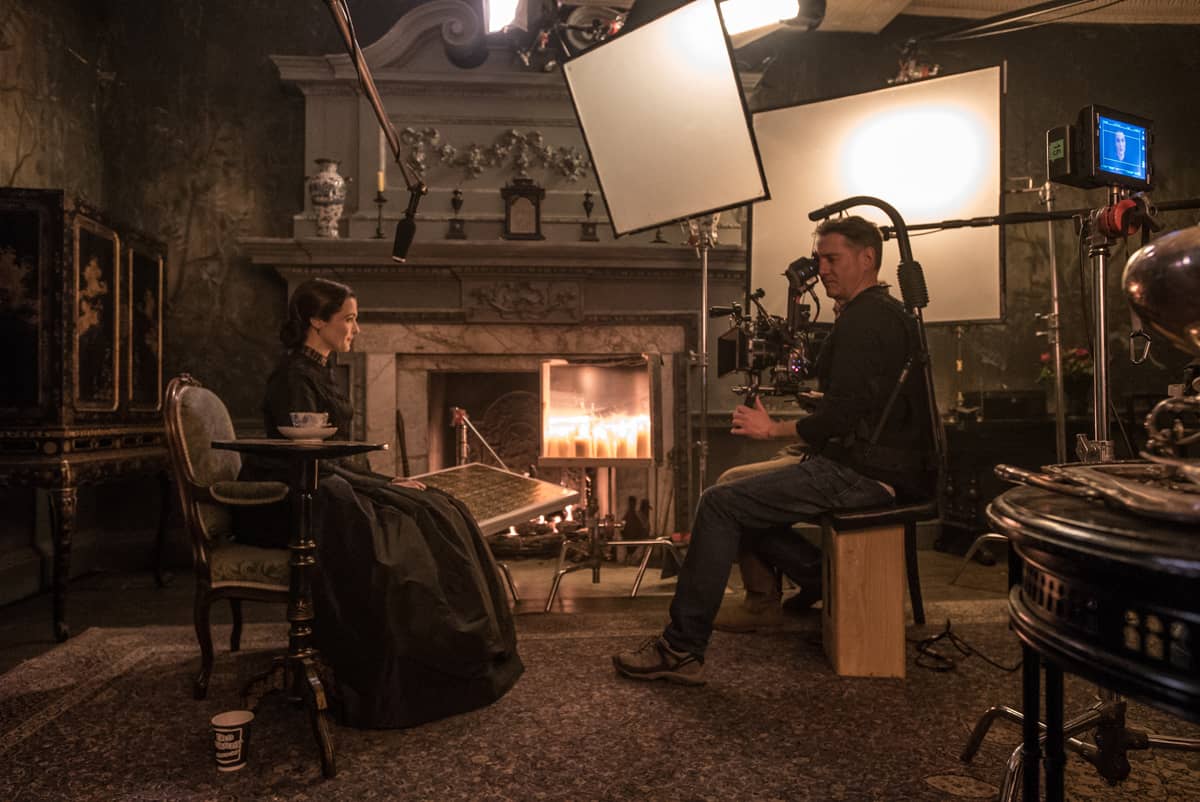 Eley completed the DI with Glasman at Goldcrest in Soho, over the course of two weeks, although some extra time was required to integrate the incoming VFX shots.
"Adam is one of the best colourists I've worked with, and his appreciation of what you want to achieve is remarkable," Eley declares. "With his help, I took the opportunity to variously heighten the enigmatic nature of Rachel's visual portrayal. Adam said that this production has the fewest cuts he'd seen in a movie for quite a while, and how it was quite refreshing to see shots living a little longer on-screen."
Eley is currently grading Susanna White's Woman Walks Ahead, the story of portrait painter Catherine Weldon, who travelled to Dakota in the 1890s to paint a portrait of Sitting Bull, and became embroiled in the Lakota peoples' struggle over land rights.