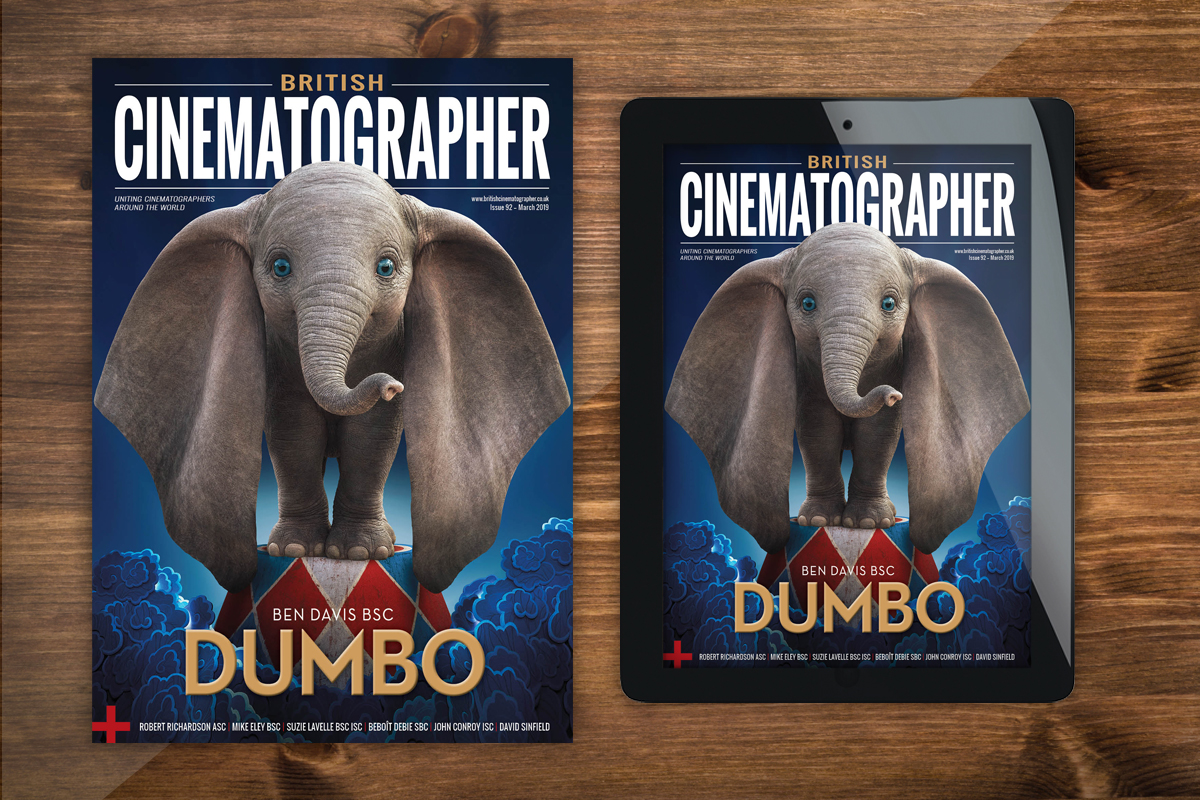 Feast your eyes on the new edition of British Cinematographer magazine – digitally* via our website, or in print**, from 18th March 2019 onwards.

On the Cover
Ben Davis BSC on Dumbo

In our latest cover feature, Ben Davis BSC speaks to us about teaming up with director Tim Burton for the first time to bring the live-action version of Dumbo to life.
Davis tells us about the challenges of representing a giant CGI elephant, the great collaborations which brought the images to life, and why the gamble of waiting on the production to get the green-light paid off.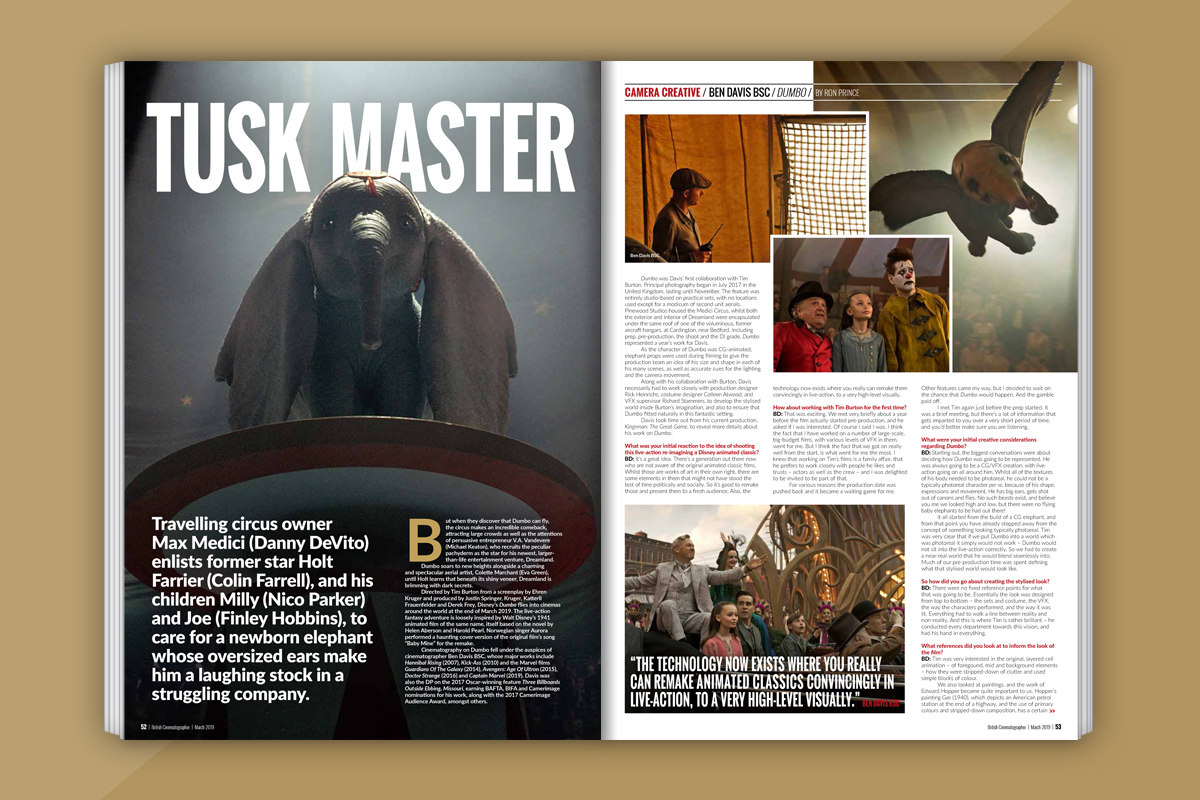 Robert Richardson ASC on A Private War

A man who was recently honoured with the ASC Lifetime Achievement Award, Robert Richardson ASC took on the story of American journalist Marie Colvin in A Private War.
He reveals why Marie's story drew him to the feature, how shooting in tunnels in Jordan was technically grueling, and his experience in linking up with documentary filmmaker Matthew Heineman on his first feature.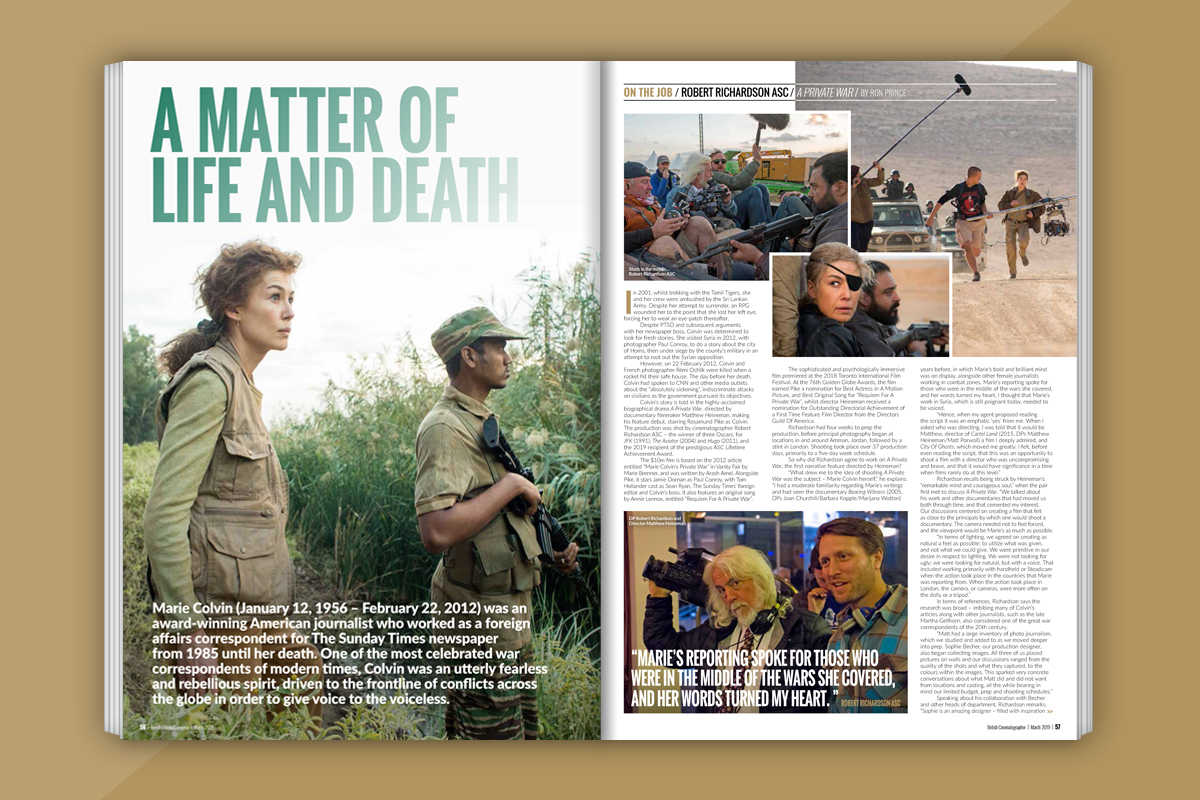 John Conroy ISC on The Happy Prince

Written by and starring Rupert Everett, The Happy Prince was lit by Irish cinematographer John Conroy ISC.

Conroy tells British Cinematographer why ARRI Master Anamorphic primes proved a great lens choice, why the softer the source is better on faces, and why Everett didn't want the results to look too 'nelly'.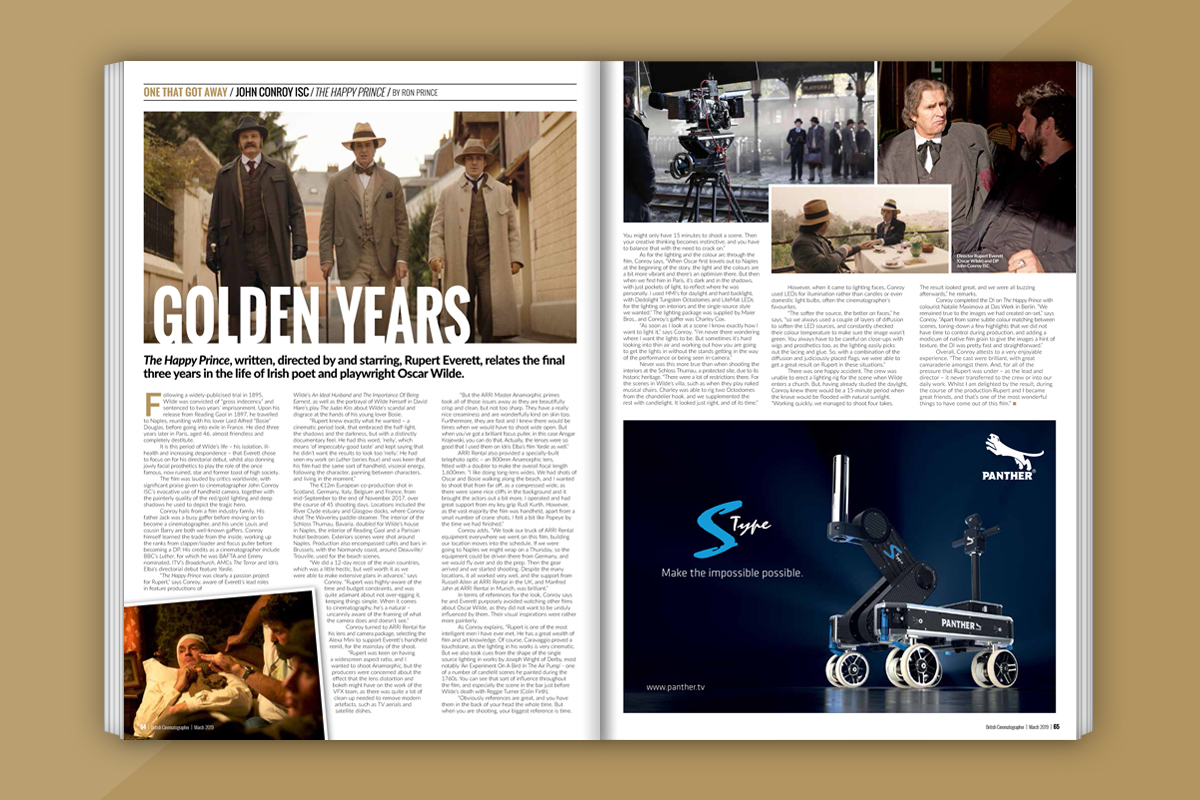 2019 BSC Expo Review

5600 people over two days attended the latest BSC Expo at Battersea Evolution which took place in early February.
Our team of roving reporters provide a comprehensive round-up of all the sights, announcements and soundbites from another successful show and seminars.

Don't Miss…
Plenty more soundbites, comment and opinion from productions by Suzie Lavelle BSC, Beboît Debie SBC and BSC President Mike Eley, and a look at the BBC Dynasties series.
Learn more about the BSC Emerging Cinematographer of the Year joint-winners Dan Atherton and Aaron Rogers, innovator Otto Nemenz, LED fixture-maker Outsight/Creamsource and gaffer David Sinfield.
And that's not mentioning opinion from Stephen Lighthill ASC, our regular comprehensive guide to which DPs are shooting who and where, BSC president Mike Eley's column, and more…
A subscription is still the only way to read the complete British Cinematographer, so buy one today to fully experience Europe's No.1 cinematography magazine.

ISSUE 92: AVAILABLE ONLINE* AND IN PRINT** FROM 18TH MARCH 2019 ONWARDS.
* With an active 'Digital Only' subscription, or the digital part of an active 'Print & Digital' subscription.
** Issue 92 will only be received in printed format by those with an active 'Print' or 'Print & Digital' subscription purchased before 8th March 2019. Any new 'Print' or 'Print & Digital' subscription purchases made from 9th March 2019 onwards, will NOT receive this issue in print as part of their purchase.