Aerial Adventures

Innovator / Helicopter Film Services
Aerial Adventures

Innovator / Helicopter Film Services
Header image: Jeremy Braben using Shotover F1 with Alexa Mini for Operation Red Sea (2018)
BY: Michael Burns
Jeremy Braben has a plea for producers and directors: "stop thinking that drones can do everything". The aerial cinematographer, and CEO of Helicopter Film Services (HFS), says requests such as having a drone-mounted camera fly through a doorway and down a hallway have to be gently declined.
"It's very hard, but there are quite a few times when people ask for something and we have to say no, it can't be done," he says. "It's all about education. I don't expect anyone to know what half these tools do, and it's our job as specialists to tell people what they can do and how they can do it best."
Braben has been making dramatic aerial shots happen for over 25 years, and 2019 is already pointing towards being a very busy year. With a background in news and current affairs, then in music videos, he was already a very experienced camera operator on the ground when someone suggested that he combine his passion for flying with his existing skills and love of photography. Helicopter Film Services thus began in 1993.
"It's the hardest thing in the world for someone to start out as a specialist, I'd been a camera operator for 15 years, but I hadn't done any aerial filming," he recalls. Nevertheless, opportunity knocked in the form of '90s Jean Claude van Damme film Double Team (1997, DP Peter Pau).
"I was rung up by a fairly desperate producer who had the helicopter, and a Tyler Mount, but didn't have anyone to operate it," recalls Braben. "Very quickly after that it was Titanic (1997, DP Russell Carpenter) shooting in Mexico. That was a case of being in the right place at the right time."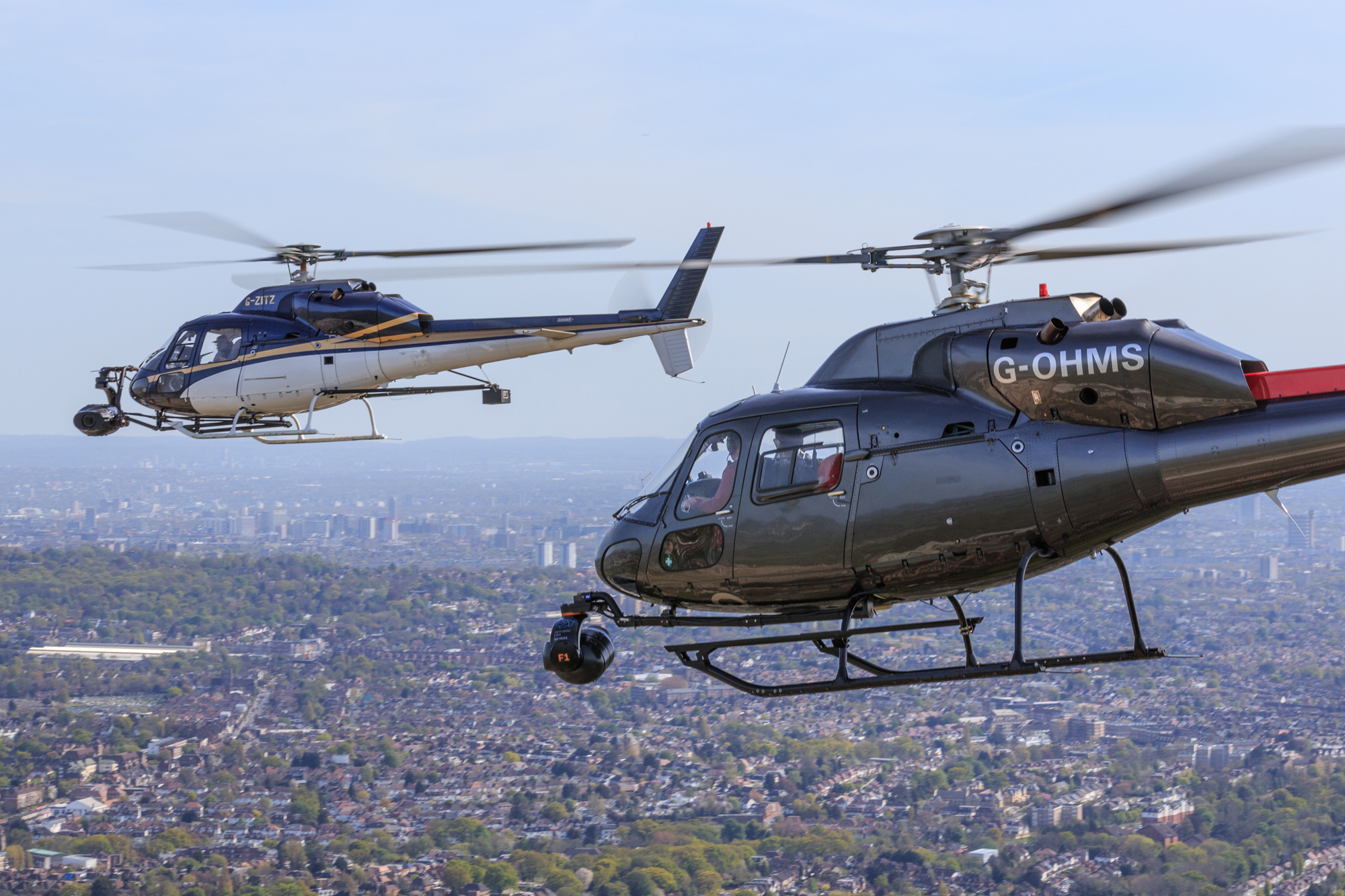 The rest is (film) history, with Braben serving as aerial DP on many notable productions such as Gladiator (2000, DP John Mathieson BSC), The Big Lebowski (1998, DP Roger Deakins CBE BSC ASC), Band Of Brothers (2001, DPs Remi Adefarasin BSC/Joel Ransom), all five of the Bourne franchise movies, as well as Marvel productions filmed in the UK and Europe.
HFS now operates out of a custom-designed 8,000sq/ft hangar near London, with a frankly staggering amount of production credits to its name. It has grown to offer helicopters, jets, drones and specialist high-speed camera tracking vehicles for work in feature film, broadcast TV, commercials and branded content production.
Braben himself is notable in aerial filming circles for being the first to fly the Panavision Genesis (used on The Golden Compass, 2007, DP Henry Braham BSC) and to integrate the ARRI 435 camera and 1,000ft magazines into a gyro-stabilised system. He was also the first to fly the Red One digital camera, and the first to integrate and fly the ARRI Alexa 65.
Braben says the mainstay of the HFS business to this day is feature films. "It's possibly as high as 90%, maybe even higher if you include the likes of Netflix and Amazon," he explains. "Around 60% is still helicopter work, with drones filling in most of the rest of it. Drones are a big part of our business and we're finding that helicopters and drones are often on the same productions."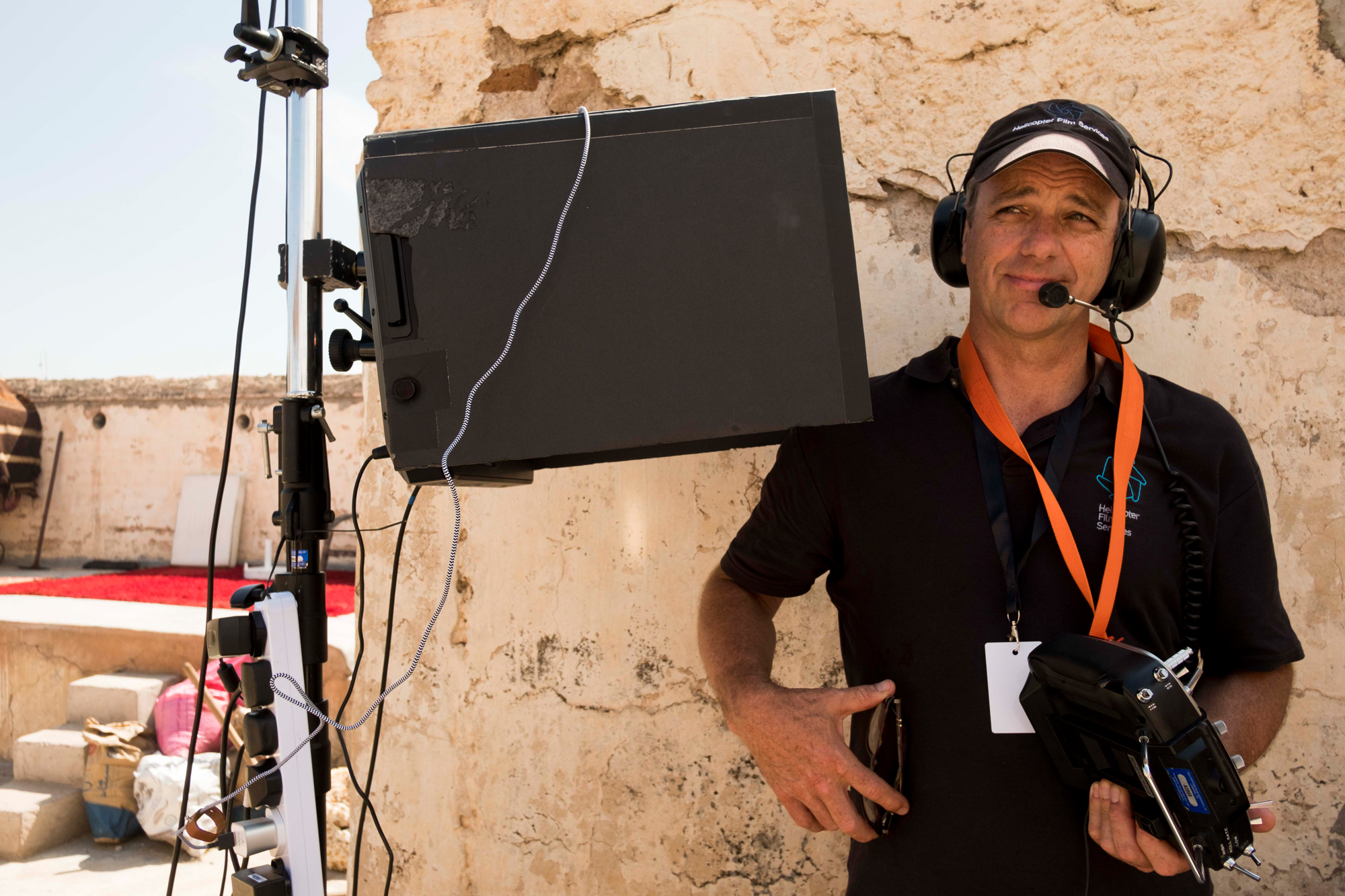 Braben says drone and helicopters should be considered as complementary. "They are tools for different parts of our job. They're not mutually exclusive - a drone can't do everything, and a helicopter can't do everything.
"Apart from the usual things like distance or height, helicopters can be better at staying in the air longer, flying further and faster, with bigger payloads, heavier cameras, and bigger lenses," he adds.
Braben says what was once a fairly closed global market is now much more competitive due to new technology, but at the time of the interview HFS was working on "three big projects across the globe", so experience counts for something.
"Yes, the equipment is available across the world, but perhaps the expertise or the talent isn't," he agrees. "And to be safe, they want to take everything from us, and work with the people and equipment that they know. So, we are still doing a lot of globetrotting."
Braben says part of the expertise is knowing how to use the equipment but, of course, an aerial cinematographer still needs to know how to compose shots.
"You're still looking at the light, you're still taking all of those cinematography skills that you learned on the ground and you're applying them in the air," he remarks. "But two other things come into play: understanding the vehicle that you're in - whether that's a helicopter or a plane and now, drones, understanding what they can do, and can't do; and finding a good team of pilot and the camera operator who work together. Each understands what is being asked of the other, and they communicate - there's a shorthand. That's crucial."
"We are flying over a forest, and pick up some pylons. The pylons go down in scale to telegraph poles, smaller and smaller, eventually following this one wire, down the pole to a car which has crashed into the pole, and we continue the shot right the way through to a driver who is slumped over the steering wheel. That was one shot and I remember we did it in two takes."
- Jeremy Braben on filming the opening scene of The Last Sign (2005)
That is evident in one of Braben's favourite shots, a seven-minute sequence that opened The Last Sign (2005, DP Jean-Claude Larrieu). "We are flying over a forest, and pick up some pylons," Braben explains. "The pylons go down in scale to telegraph poles, smaller and smaller, eventually following this one wire, down the pole to a car which has crashed into the pole, and we continue the shot right the way through to a driver who is slumped over the steering wheel. That was one shot and I remember we did it in two takes. The pilot was really working hard to fly accurately and smoothly. It got interesting towards the end as I had to hold focus and everything else as we went into the tight shot of the driver."
Exciting projects are still the order of the day. "Aladdin (2019, DP Alan Stewart) was one that took up a lot of time, and a lot of our assets, both helicopter and drone," says Braben. "From what I've seen they've used a lot of it, which is always rewarding to see when you've spent months on a project. A lot of our footage is buried behind visual effects, so may not be readily identifiable. But they're key!"
HFS does do a lot of visual effects work. "They play a big part in our world," he says. "Generally, we're shooting background plates, but side-by-side we also shoot the LIDAR data. We can acquire footage and cloud-point data for VFX so that they can merge the two when they do their modelling. We did photogrammetry from drones and helicopters on Captain America: Civil War (2016, DP Trent Opaloch). That started a trend, so we're doing quite a lot of repeat business with visual effects houses for some of that work. We've also designed a multi-camera array, around a request to do so."
This is the Typhon 6 Array, which Braben helped develop to capture particularly wide fields-of-vision when filming VFX plates that can be stitched together in post production. Another recent innovation is the Titan, an ultra-heavy lifting drone combining a large, capable airframe paired with the ARRI SRH-3 stabilised head to fly large format digital or 35mm film packages. Such innovations are co-designed with long-time collaborator, Oliver Ward, and are the product of close collaboration with manufacturers.
"We identify a need and try to address that need," says Braben, a statement that could also serve as a reason for why HFS is still as globally successful in such a competitive market. "I think it's the quality and understanding of what people want," he adds. "Just the ability to deliver consistently."