Spellbound
Dion Beebe ACS ASC / Mary Poppins Returns
Spellbound
Dion Beebe ACS ASC / Mary Poppins Returns
She's back! Set in 1930s London, three decades after the events of the original film, Walt Disney Pictures' $130m musical fantasy sequel, Mary Poppins Returns, sees the former nanny of Jane and Michael Banks reappear in Cherry Tree Lane, using her magical powers to restore order after a calamity threatens the Banks family and their home.
Based on adventures in the book series of the same name by PL Travers, this colourful follow-up to 1964's legendary Mary Poppins (dir. Robert Stevenson, DP Edward Colman ASC) stars Emily Blunt as the eponymous nanny, with Lin-Manuel Miranda, Ben Whishaw, Emily Mortimer, Julie Walters, Dick Van Dyke, Angela Lansbury, Colin Firth and Meryl Streep in supporting roles.
The music and score for the film were composed by Marc Shaiman, with song lyrics co-written by Scott Wittman and Shaiman. Foot-tapping tunes include "(Underneath The) Lovely London Sky", "Stuff And Nonsense" and "Trip A Little Light Fantastic".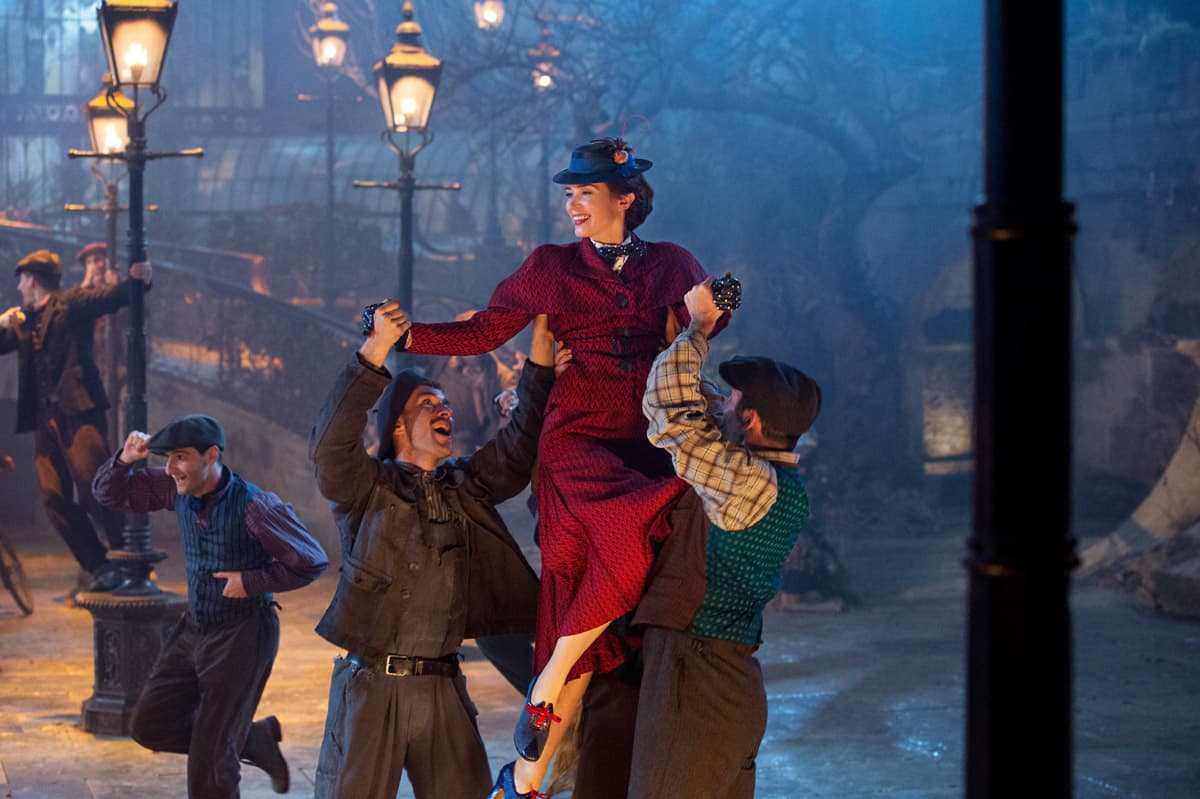 The production marks the fifth collaboration between director Rob Marshall and Australian cinematographer Dion Beebe ACS ASC. Their previous joint credits include the highly-successful musical/dance dramas Chicago, winner of the 2002 Academy Award for Best Picture, Nine (2009) and Into The Woods (2014), as well as the acclaimed romantic epic, Memoirs Of A Geisha (2005).
Principal photography on Mary Poppins Returns, using ARRI Alexas, commenced in February 2017, concluding 90 shooting days later in early June. Production took place chiefly at Shepperton Studios, where the Cherry Tree Lane house interiors and street exteriors, plus the adjacent park and surrounding neighbourhood sets were built on the studios' many stages, including the voluminous H-Stage. The carousel, which features in the movie's grand finale, was shot in the gardens at Pinewood Studios, and Blunt's sub-aqua performance for the song "Stuff & Nonsense" was shot on the studios' U-stage.
Production also encompassed a bevy of practical locations in central London – such as the front of Buckingham Palace and the nearby Victoria Monument; St Paul's Cathedral and Threadneedle Street in the City Of London; as well as the Temple district of the capital, where scenes for "Trip A Little Light Fantastic" were shot.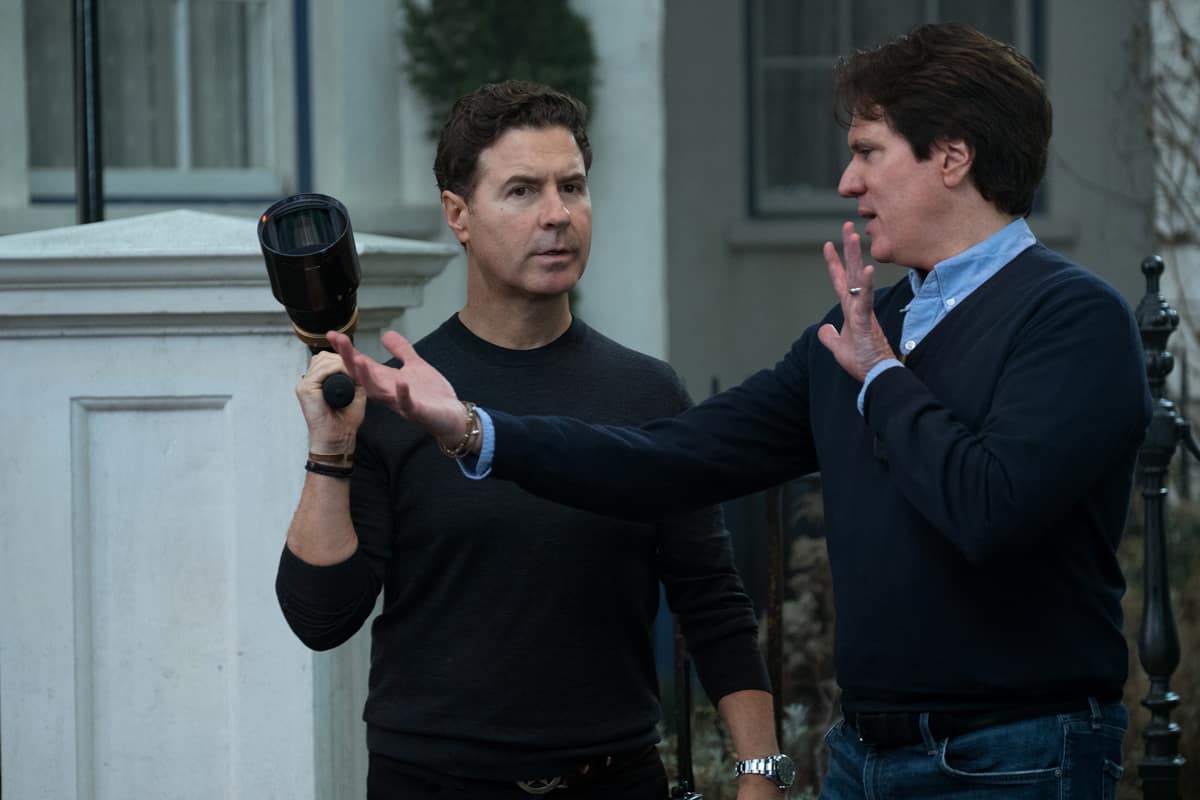 Along with his collaboration with Marshall, Beebe necessarily worked closely with production designer John Myer, costume designer Sandy Powell and VFX supervisor Matt Johnson to create the multitude of looks, colour palettes and visual effects for the film's many musical numbers – some straight live-action, with others combining CG or hand-drawn animation – and to ensure the fantastical journey remained cohesive and fun throughout.
"The size, the scale and the legacy were big challenges," admits Beebe. "Rob and I were entering into hallowed ground on this production, where we had to be respectful to the original film, yet embark on a new journey and make a stand-alone film for a new generation." So, no pressure then!
Ron Prince caught up with Beebe over Skype to discover more about his work on the production.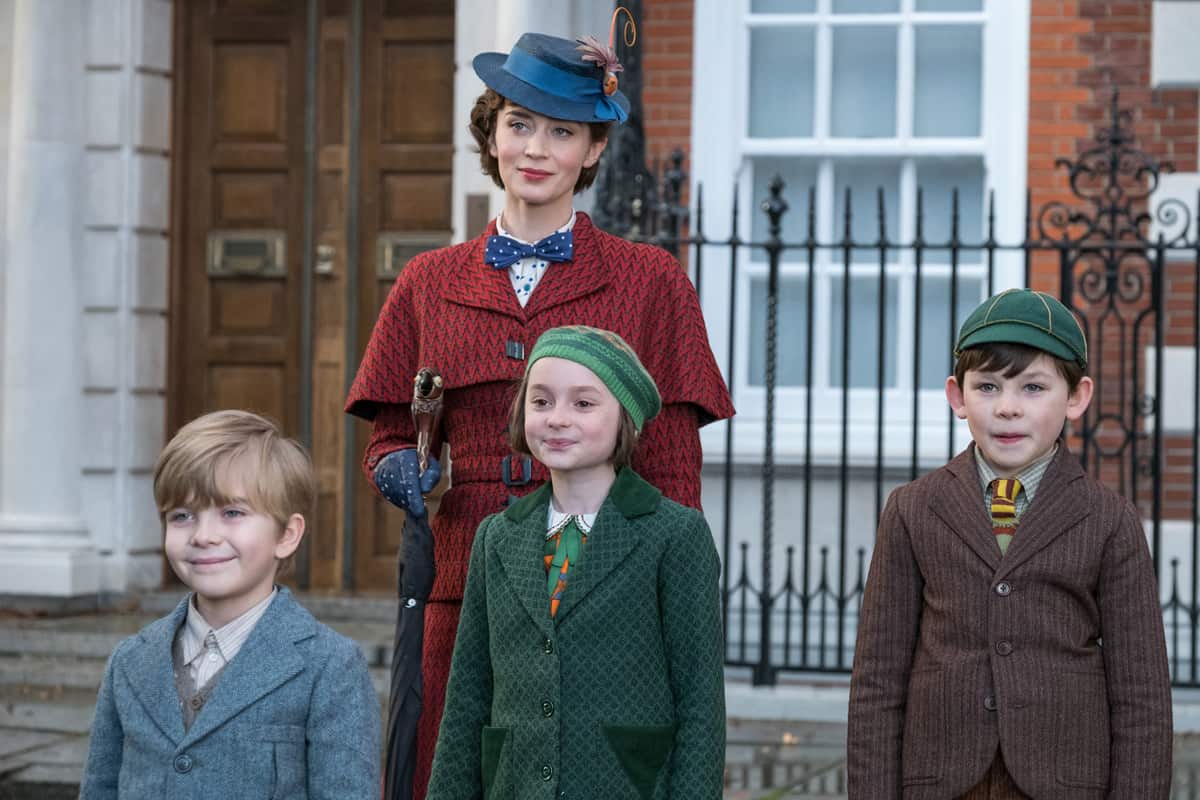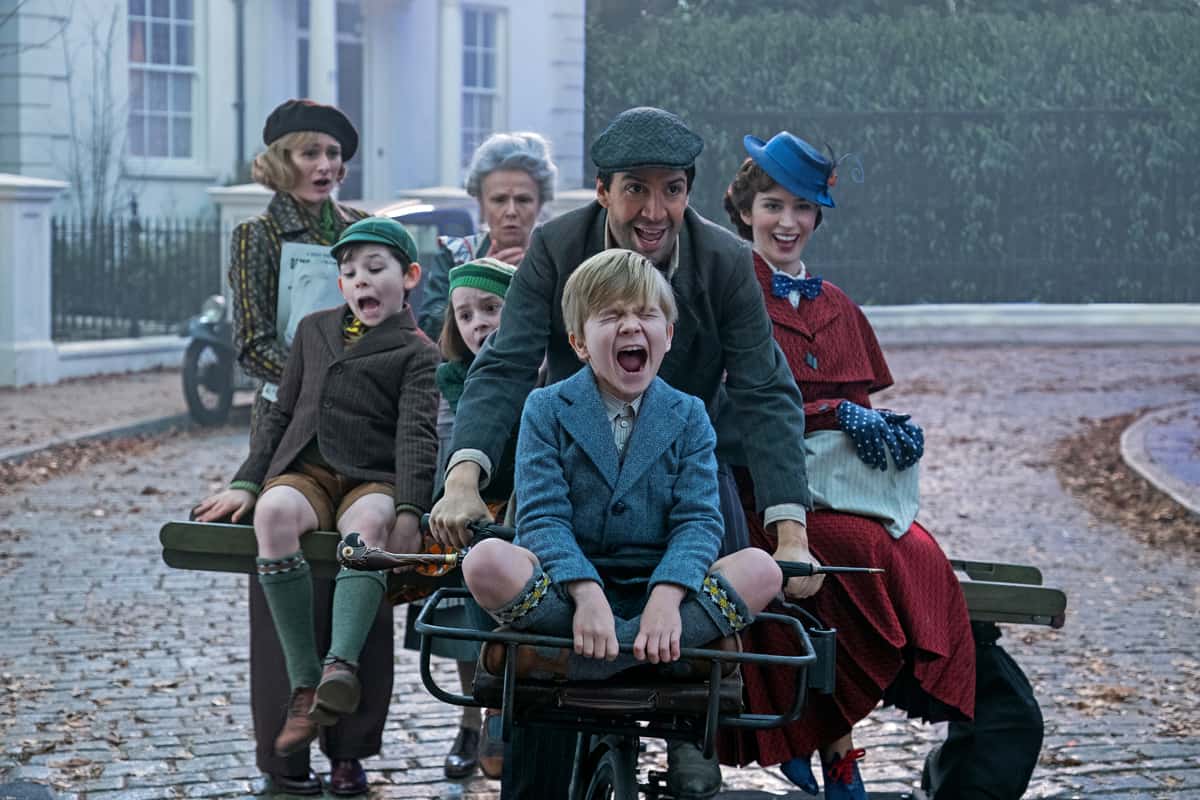 So when did Rob first spill the beans to you about Mary Poppins Returns?
DB: Rob and I go way back to Chicago, and have developed a close working relationship during the other movies we have shot together since then. He tends to tell me about the projects he's considering well in advance. So we started discussing Mary Poppins Returns quite a long while before the production began.
What was your initial reaction to the idea of making a sequel to an all-time classic?
DB: We were about to enter the world of an iconic movie, character and story, and it was somewhat daunting to think of the task ahead in making a sequel. But Rob has an incredible understanding and mindfulness of the musical genre, and the original film was such an important movie for him personally. If anyone was going to take on a sequel, I truly could not think of anyone better than Rob.
What were your initial references and creative considerations regarding Mary Poppins Returns?
DB: First-off, we talked about the movie in reference to PL Travers' original 'Mary Poppins' books. I knew she had written several books about the character, but was not aware of there being eight books in total. So we really started by working from those – such as 'Mary Poppins Opens The Door' (1943). The story for the sequel is loosely based around the additional adventures in those books that had not been included in the original film.
Also, from the start, we had to consider the idea that Mary Poppins Returns was set 30 years after the original story. Depression era London really appealed to Rob as the setting, as did telling the story of the next generation of Banks' children.
We wanted to remain true to Mary Poppins as a character who takes us on fantastical journeys. So bleak 1930s London provided a great platform to jump into the different fantasy worlds she takes the children, the adults and our audience into.
Obviously, the greater challenge was how much to pay homage to the original film, and how much to make this new movie our own. How best to create a new film with its own language and place, that was also capable of wrapping a new generation into the story?
Did you look at any filmic references, other than the original Mary Poppins movie, to inform the look of the film?
DB: Rob was always referencing different Hollywood musicals to explore ideas as to how we might stage the action for the musical numbers, but we really didn't go to other films to define what we wanted to achieve in terms of the look. Our main filmic reference was the original Mary Poppins movie. However, we felt strongly that – as it was then nearly 55 years since the original was made, and as much as that film is in people's hearts from childhood – the new production needed to have its own dynamic style to encourage a whole new audience.
That said there are a number of nods to the original in elements of the production design and costume. There were even some props from the original movie, and Admiral Boom, the neighbour who fires the cannon, is in the story too.
Why did you choose to shoot digitally, rather than on film?
DB: The original movie was shot on 35mm film in Technicolor and released in theatres 1.85:1 aspect ratio. However we felt that the sequel needed to be widescreen 2.40:1 and that shooting on film would not have suited Rob's style and approach. Shooting digitally would give us the opportunity to evolve the range of different looks on-set and also through the DI more easily.
What camera and lenses did you select and why?
DB: In regards to format, I looked into ARRI Alexa 65, specifically for our big fantasy sequences as a point of departure from 'reality'. Unfortunately, budget restricted us.
After extensive testing, we decided to shoot Mary Poppins Returns predominantly on the ARRI Alexa SXT, combined with Panavision G-series Anamorphics, plus a small selection of Panavision Anamorphic zooms. We also carried an Alexa Mini for Steadicam requirements. The camera and lens package was supplied by Panavision in London.
I have always liked the characteristics of Panavision Anamorphics. Because they are vintage glass they're not super sharp, they have a nice, soft roll-off, and suggest a period feel. In trying to find our visual style, we wanted to keep one foot in the original by extracting a sense of nostalgia, and these lenses really helped with that.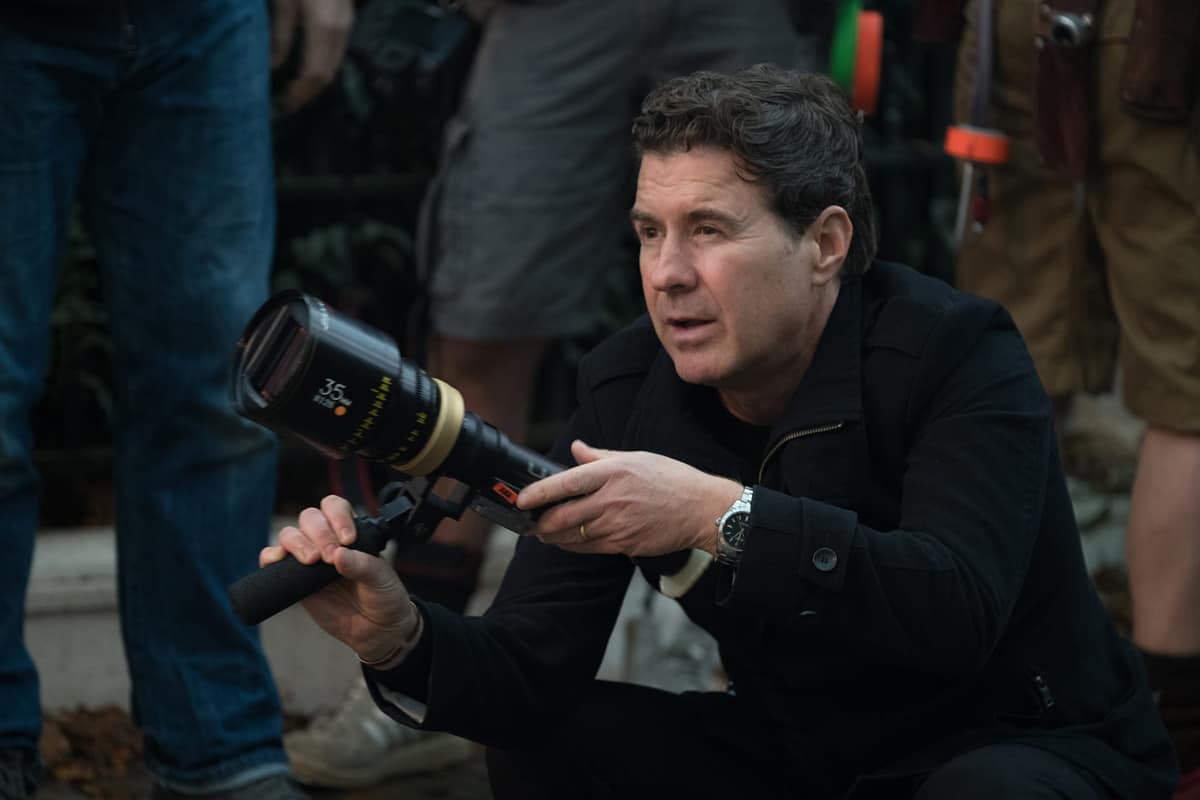 "When you make a movie like this, one that comes from a Hollywood tradition, everything is lit and there's no such thing as a natural environment. It was incredibly fun to work with my gaffer, David Smith, on a project that allowed us to illuminate a wide variety of different worlds."
- Dion Beebe ACS ASC
Who were your crew?
DB: I was very fortunate to have a great team behind me. My A-camera/Steadicam operator was Peter Robertson, with David Cozens on focus. The B-camera was operated by Damien Beebe with Julian Bucknall on focus. John Gamble was on C-camera supported by Alan Hall on focus. My gaffer was David Smith, Kevin Fraser was our key grip and Peter Welch was the DIT. With such a technically-challenging project you are so reliant on the skills and abilities of your crew. From plotting underwater sequences, climbing Big Ben, to wandering through a hand-drawn animated landscape, there was never a moment I had to look over my shoulder for support – they were always there.
We typically shot with three cameras – A, B and C – throughout the production, which is always challenging. One of the reasons for this was that we were working with three fairly young children, and there are strict allowances for their time on-set. Shooting with three cameras helped us to maximise our opportunities to capture coverage of their performances.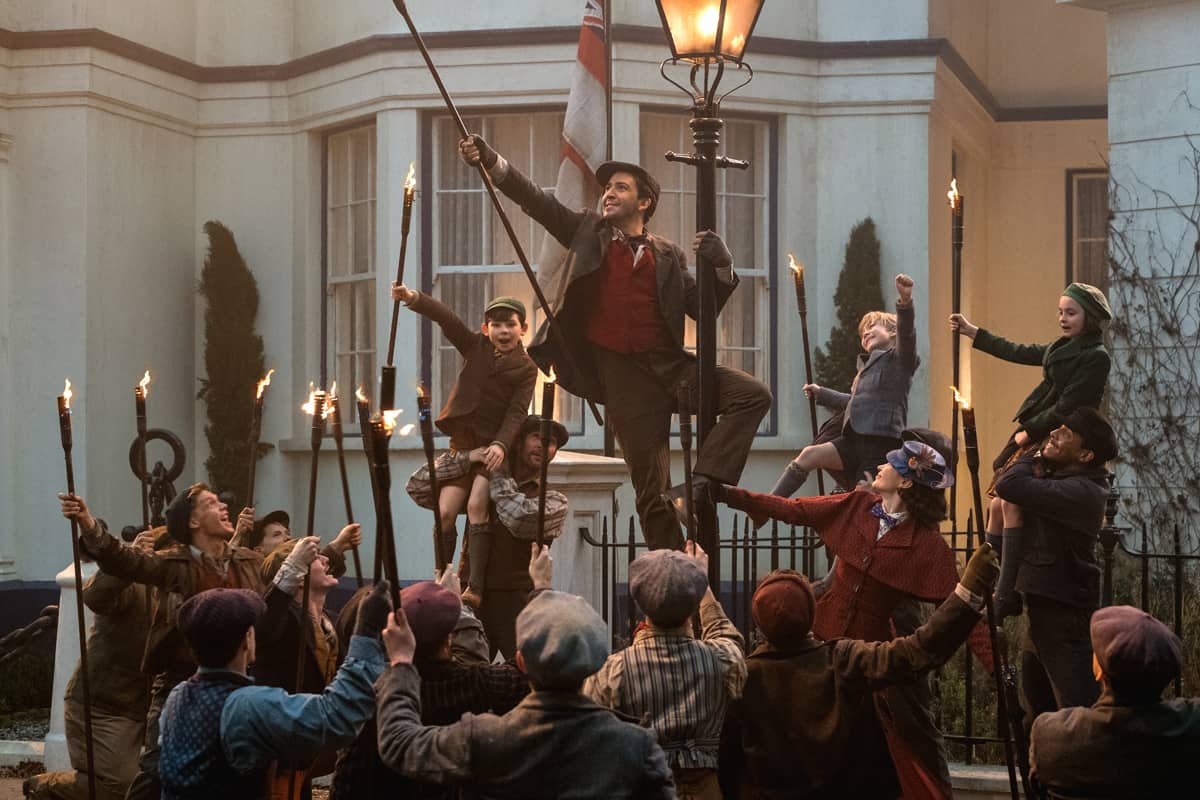 What work did you do to achieve the different looks of the production in-camera?
DB: A key part of the pre-production process involved creating Look-Up Tables (LUTs) for the various musical numbers, as well as different looks of the exterior/interior, day/night live action scenes, in combination with the actual stage lighting set-ups. I was able to bring my colourist, Michael Hatzer, over to London from Technicolor LA, during the testing period, and I worked with him, our DIT Peter Welch, plus the team from Technicolor London, to develop, test and refine (LUTs) for the film. The value in constructing these LUTs is the ability to maintain continuity through sequences that move between location and stage constantly, and to feed these looks down the post pipeline.
We developed five base LUTs for the production. For example, the film opens with the song "(Underneath The) Lovely London Sky", but it's in fact dreary, the city is slightly downtrodden, suffering from post-'30s slump and the family are fearful of their house being repossessed. The corresponding LUT we used for those scenes was created to evoke this depressed, pre-dawn landscape, with cool tones and overcast skies.
From there, the action moves into the house with the arrival of Mary Poppins. Here it was important that the visuals felt warm and loving. That was reflected in a choice of warm amber and yellow tones in the interior set design and lighting, supported by the LUT. The other LUTs we developed similarly reflected the world of fun, fantasy and joy that we leap into across the different scenes and musical numbers.
Although I had a series of LUTs, I also did some live grading and adjusted the looks on-set as we went along. The pipeline, that was managed by Technicolor, was set up so those looks would translate from the set into the dailies and the post-production deliverables. This was especially important, because Rob is very aware of any colour inconsistencies and likes to have colour timing up to speed with editorial. This way he can best showcase the film during post.
How did you determine the camera movement?
DB: We had a list of songs that each had their own particular environments – big theatrical numbers in the back streets of London with 50 dancers, plus fantasy sequences incorporating CG or hand animation. We looked at them individually, as well as a whole, and brought about the movement as it applied to each.
For Mary's first song, "Stuff & Nonsense", she and the children take a journey through a fantastic underwater landscape and float in a bathtub on the open ocean with dolphins cresting above their heads. Guided by a previz, we shot the performers singing and swimming underwater, using a telescoping arm with a rotating Gizmo head, so as to be able to lose the sense of horizon and give the feel of a free-floating environment. We shot over-cranked, which meant Emily singing and performing at high-speed, in order that the motion could be slowed down to deliver a realistic sub-aqua effect. It was very challenging for Emily, but she proved a real star. We shot the live-action against bluescreen, so that CG elements could be added later in VFX.
For "Trip A Little Light Fantastic", our most theatrical and technically complex number, which travels through the London backstreets and ends in a grand dance finale, the camera needed to be very disciplined as the choreography was so precise. I attended the rehearsals with Rob, got to know the choreography, and shot the dance routines from multiple angles with a small video camera. This gave Rob and myself real knowledge and understanding to plan the camera movements. We worked out some dramatic sweeps around the dancers, which we shot using a StabilEye rigged from one corner of the stage to the other. At other times we used Technocranes and telescoping arms to introduce movement, as well as dolly/track and Steadicam, whilst being conscious of the need to see the dancer's feet.
The hand-animated worlds of "Royal Doulton Bowl" and "A Cover Is Not The Book" had their own set of rules, and were probably my favourite experiences during the production. The animated elements themselves were flat 2D. We shot the live action against greenscreen and had to sculpt the lighting and create linear camera movements with the animation mind. It was especially fun following the action as the actors clambered over different green-painted structures and travelled in a green carriage with motion. Sandy Powell did an amazing job in making the costumes look flat, as if they had been hand-drawn too.
"I feel blessed to have teamed-up with Rob (Marshall) all those years ago. He exposed me to the wonder of movie musicals, and it has proven one of the most joyful and rewarding ways to make a film."
- Dion Beebe ACS ASC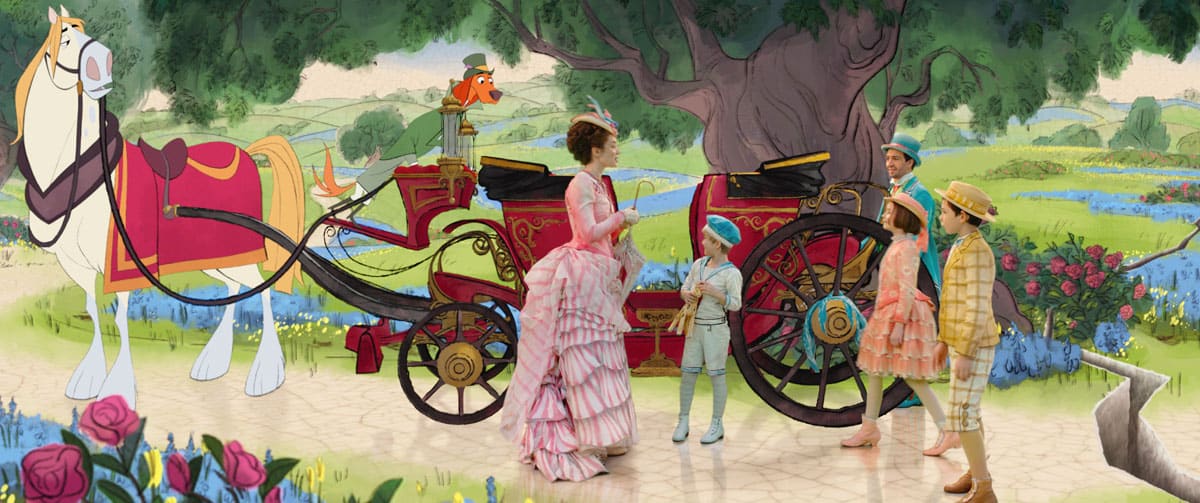 What can you tell us about your lighting strategy?
DB: When you make a movie like this, one that comes from a Hollywood tradition, everything is lit and there's no such thing as a natural environment. It was incredibly fun to work with my gaffer, David Smith, on a project that allowed us to illuminate a wide variety of different worlds. Lighting-wise, we really had a mixed bag of tricks, supplied by Pinewood MBS.
I had a range of traditional HMIs for day/night exteriors, such as the front of Buckingham Palace, and to light the greenscreens. We used Vari-lites for the theatrical lighting of "Trip A Little Light Fantastic". For the huge sets at Shepperton, we used as many as 200 Sky Panel LEDs as space lights for illumination, along with a range of Tungsten fixtures. For "Stuff & Nonsense" we had a selection of moving lights, playing off mirrors and reflective surfaces that were also in motion, to give a range of caustic refractions and reflections.
What were your working hours?
DB: We typically worked French hours – ten-hours straight every day, with a working lunch – five-days a week. This was partly to help with the strict code of practice for the children. But we also did more traditional 12-hour days with a lunch break. I prefer the working rhythm of the ten-hour day, as opposed to the stop/start of the longer day. As sets were being continually built, we had to stay ahead of the curve. So Dave and myself were at Shepperton every weekend prepping and pre-lighting for the week ahead.
How do you keep fit and focussed during such a long production?
DB: There's no doubt that long productions are a physical challenge, and Day 91 is just as crucial as Day 1. It is a marathon, so you have to pace yourself, no question about that. But the company you keep is also key. You have to work in an enjoyable, welcoming environment, with people you like and who want to be there too. I really appreciated the energy, enthusiasm and spirit of my crew. But, when you work in the world of Mary Poppins – with the music, dancing and the children – it's enjoyable by default. If you can't have fun doing that, then you are in the wrong job.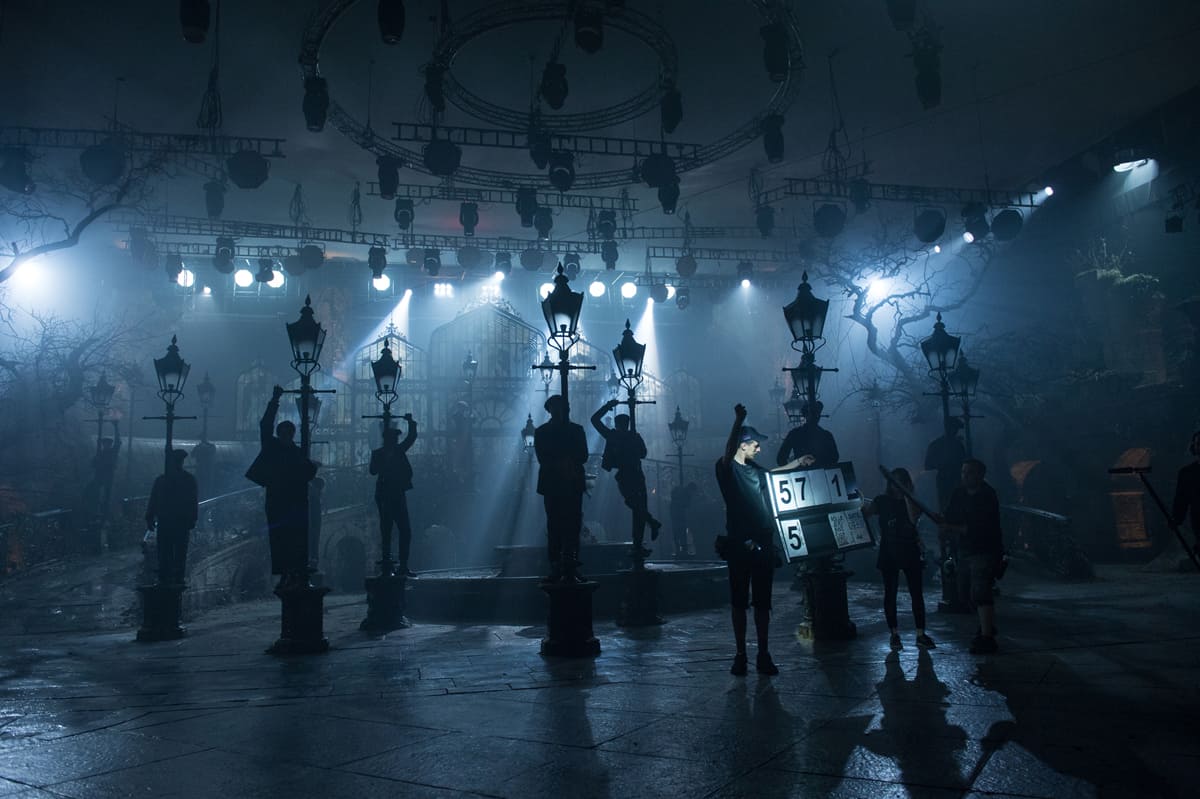 Give us some details about the DI?
DB: The final DI was done by Mike Hatzer at Technicolor PostWorks New York.
He had helped to establish the initial LUTs in London during testing, attended on-set for the first week of shooting, and kept a regular eye on progress during production. So he started the DI with a very good knowledge of what we wanted to achieve. Essentially, because the movie's various looks and colour palettes had translated faithfully into post-production, the DI was about maintaining that fidelity – about being respectful to, and preserving, the colour and textural choices that John and Sandy had made in their respective set and costume designs.
Any final thoughts about having shot Mary Poppins Returns?                             
DB: I feel very fortunate to have been a part of this movie, and to have worked with so many talented people – cast and crew. I certainly felt a sense of responsibility in shooting this story and hope we have maintained the spirit of the original, but, at the same time left the audience having experienced a new, magical journey. I also feel blessed to have teamed-up with Rob all those years ago. He exposed me to the wonder of movie musicals, and it has proven one of the most joyful and rewarding ways to make a film.