Connecting with tech at NAB

Across The Pond / Mark London Williams
Connecting with tech at NAB

Across The Pond / Mark London Williams
As NAB 2018 wraps up, the show, with its multiple layers, programming tracks, and exhibit halls, seems like the "elephant" in the tale of the blind men and the pachyderm: Feeling its various parts - trunk, switchy tail, tree-stump like legs - each was able to describe the animal as something entirely different.
So it is with NAB, which was originally the "National Association of Broadcasters" convention, back when "broadcast" meant a terrestrial antenna sending out an analog signal. But once "broadcast" started to mean "stream," and given that streaming now takes in, well, just about everything, the NAB itself - moving beyond Las Vegas' sprawling convention facilities to numerous reception-filled restaurants and venues up and down the Strip, for days on end - is now a show about "everything." Everything digital, at least.
All versions of the elephant, in other words, are true. Which is leading to some incipient worries that a newer version - the "white elephant" - may be rearing its head.
So we start with the off-the-record observations: There are quickly becoming "too many shows" - NABs in other cities 'round the globe, a new Cine Gear announced for Atlanta, et al. How to pick and choose? Well, one recurring (and mostly volunteered - a lot of this stuff came up unbidden in our chats) motif was that NAB, unlike, say Cine Gear, IBC, or any other show you could name, hasn't changed any of what it offers vendors - either terms, fees, bang-for-buck, etc. There were frequent complaints that attendance seemed to be down, too, though whether last year's figure of just over 100,000 remains a high-water mark, remains to be seen.
And given that fees, etc., were unchanged, the other observation, spoken aloud by one vendor at another vendor's evening reception - was that NAB, with its seeming increase in elbow-room, has become more of a networking event. No one it, seemed, was buying anything.
But it's hard to know if our sample was entirely representative - we only got to a couple sides of the elephant ourselves.
But on the record, those were very lively sides, indeed. Though we spent most of our time perusing new gear, and talking directly to those who use it on set, or in the field, we managed to catch a little of NAB's multi-tiered panel track, too, which takes in everything from FCC regulations to the kind of things you see at ComicCon, though perhaps with a more below the line angle - like the Jessica Jones - the Art of Darkness panel. In this case, creator Melissa Rosenberg, DP Manuel Billeter, and his colorist Tony D'Amore were holding forth on how they created the show's look - at once in line with other gritty Marvel fare on Netflix, and yet distinct to the restive inner/outer landscapes of the lead character.
They talked about the slew of visual references they used - from the noir neo-classicism of Chinatown to the "New York school" photography of Saul Leiter, the latter even more representative of the show's angsty East Coast look.
But aside from more technical aspects like D'Amore talking about "nailing exposures" in flashlight-lit scenes as he mastered on HDR (only to take the SDR version from that, later), or Billeter praising Rosco SoftDrops to diffuse exterior lights in a Steadicam scene involving the 360-degree capture of a slowly dancing Carrie-Anne Moss, whose Hogarth character had just received devastating medical news, Billeter also talked about working with second-season directors, who were all women (which may seem remarkable, except that no one would notice if they were all men):
"It was a great experience," he noted, not only because they were all good directors, but because he has no time to prep upcoming episodes extensively, since he's always shooting the current one. Each of these directors went to find him on set, coming "early to establish a relationship."
That struck Billeter as both welcome and unusual, but was it a particularly "female" way of working? Would it matter?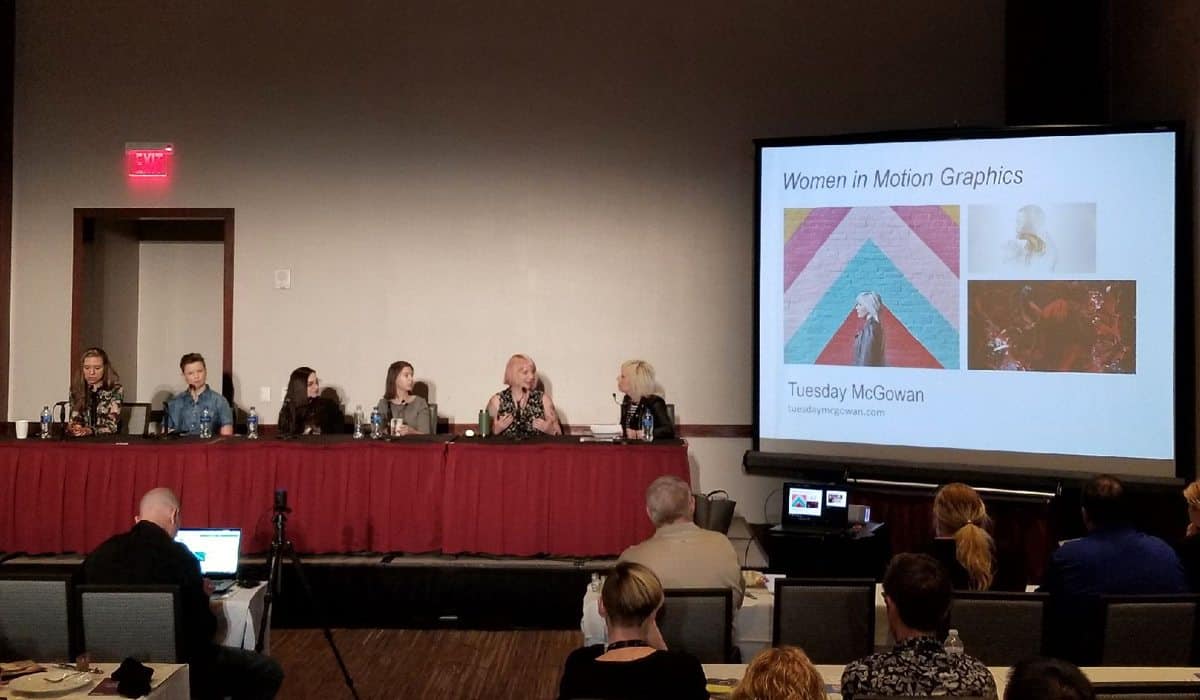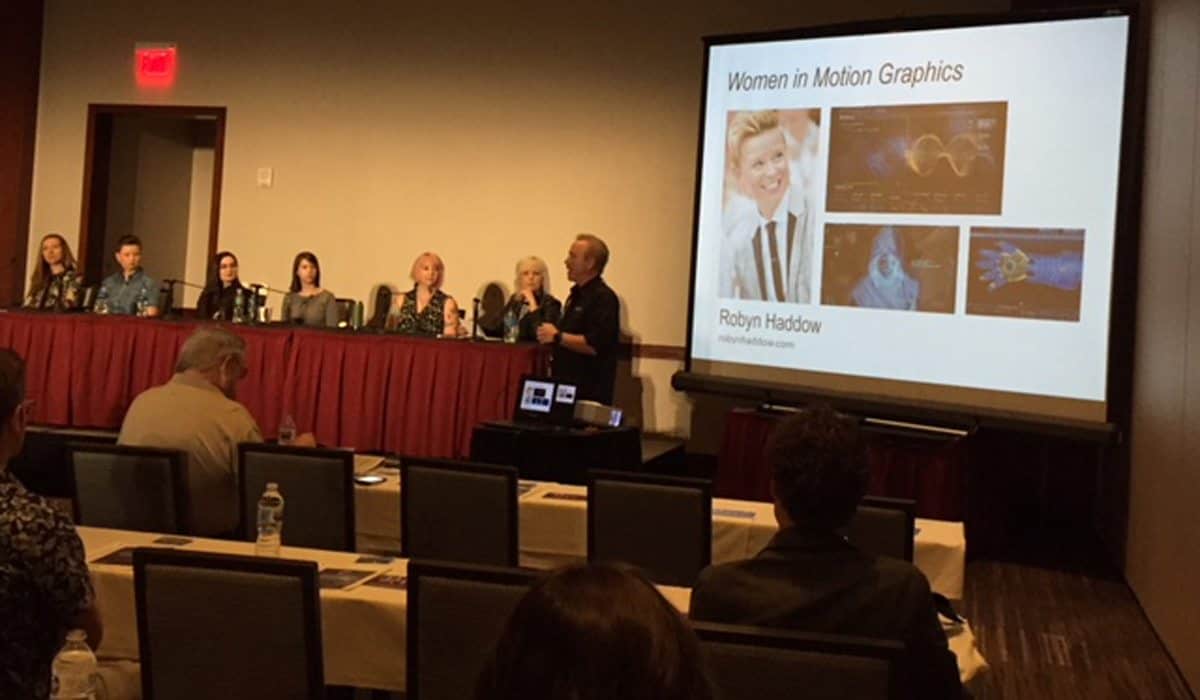 That was a question that came up at the annual luncheon panel sponsored by Maxon, the company known for its "Cinema 4D" software, for 3D modeling and rendering. There is usually a roundtable discussion to go with the sandwiches and bonhomie, and this year's topic was "Women in Motion Graphics," moderated by LA-based designer Tuesday McGowan. She noted, to her panelists, that nearly 80% of showbiz jobs - above and below the line - were filled by men, with 20% going to women.
This was something addressed toward the end of our NAB stay, as well, when we took in a breakfast panel (much of NAB can be chartered by the breakfasts, luncheons, and receptions you go to, like Burt Lancaster crossing backyard pools in The Swimmer) hosted by Women In Media. They noted the same overall employment statistic, compiled with stats through 2016. But their panel on "How to Get Hired - an Insider's View," was truly gender-neutral, in the sense it was more about comportment and job-seeking strategies, whether in production, VFX, broadcasting, or shooting film and TV.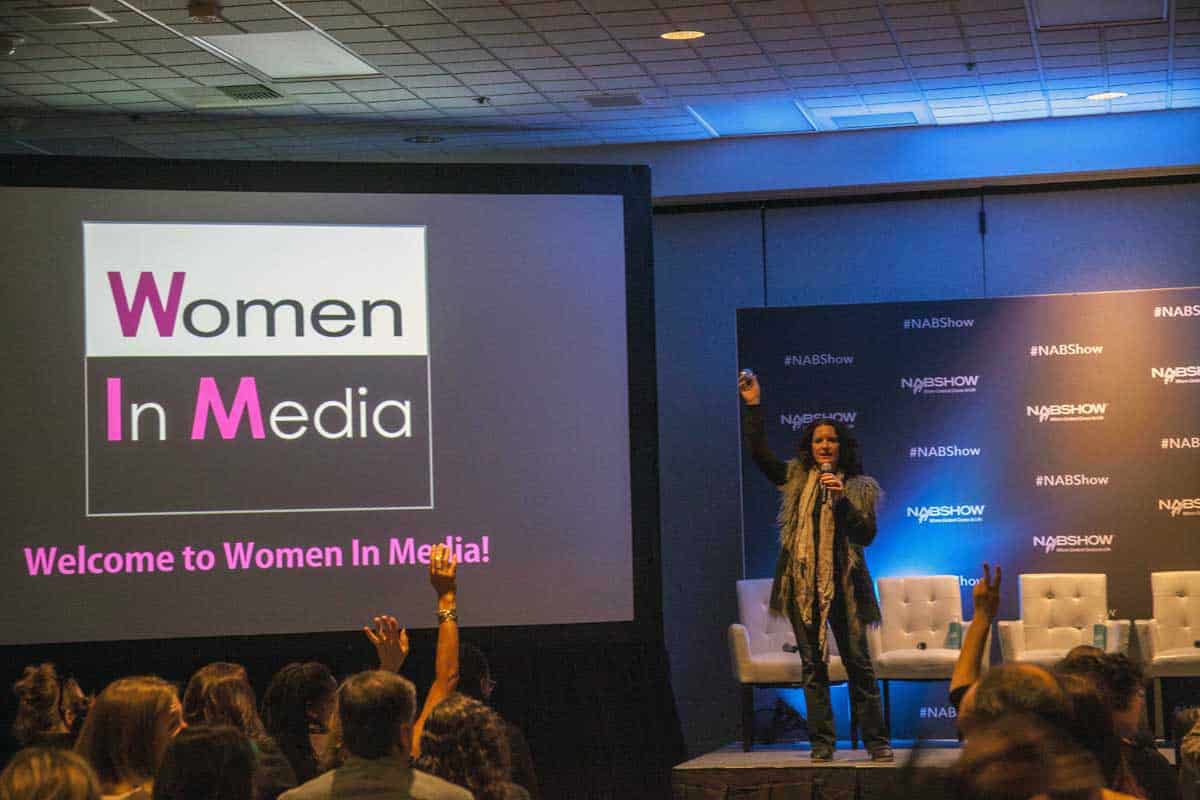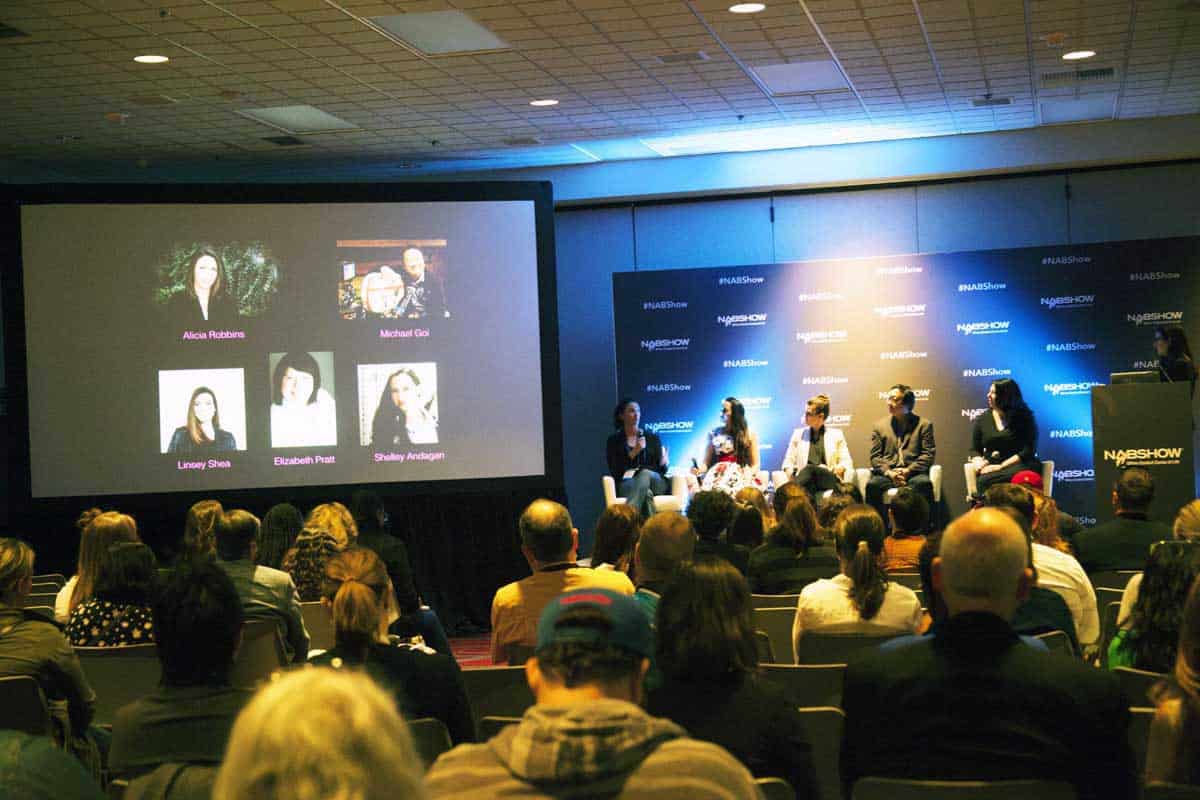 "(Michael) Goi recounted meeting Polly Morgan. She'd flown over from her native England a few years back to attend a workshop he'd given, and stayed in touch, eventually asking for a letter of rec to get into AFI. Which she did, emerging from its cinematography program to work doing additional camera for American Horror Story, and has been off to the races since."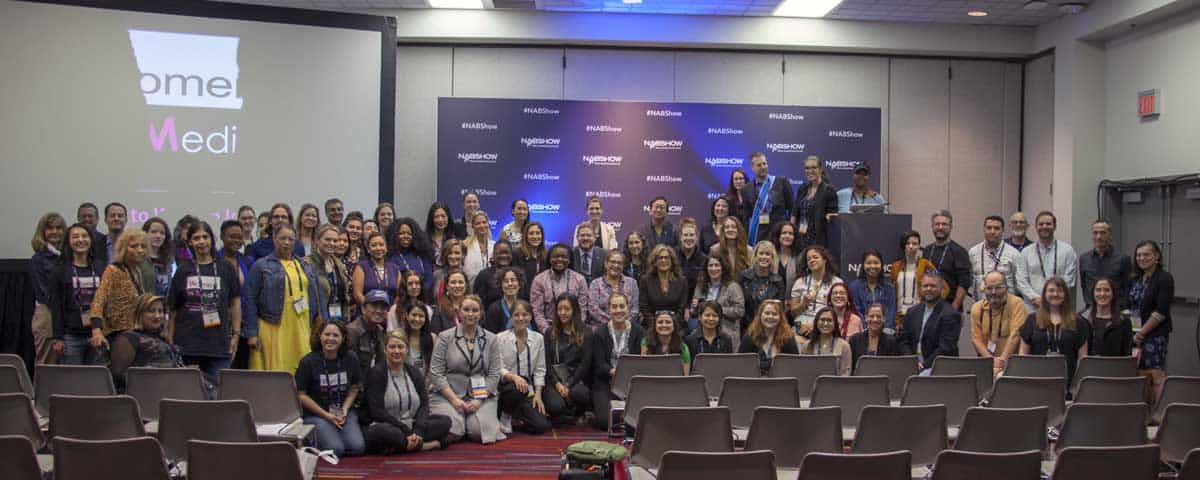 That last job niche was represented by Michael Goi, the DP who oversaw so many recent seasons of American Horror Story. Aside from advising younger folks to get off their phones when working on set - generational differences were perhaps more pronounced than gender ones - everyone noted that basics like staying in touch with people, and being willing to learn on the job, were qualities that helped not only get feet in doors, but could potentially fling the door wide open.
Goi recounted meeting Polly Morgan, currently in pre-production for the film Pale Blue Dot, and recent DP on the Legion series. She'd flown over from her native England a few years back to attend a workshop he'd given, and stayed in touch, eventually asking for a letter of rec to get into AFI. Which she did, emerging from its cinematography program to work doing additional camera for American Horror Story, and has been off to the races since.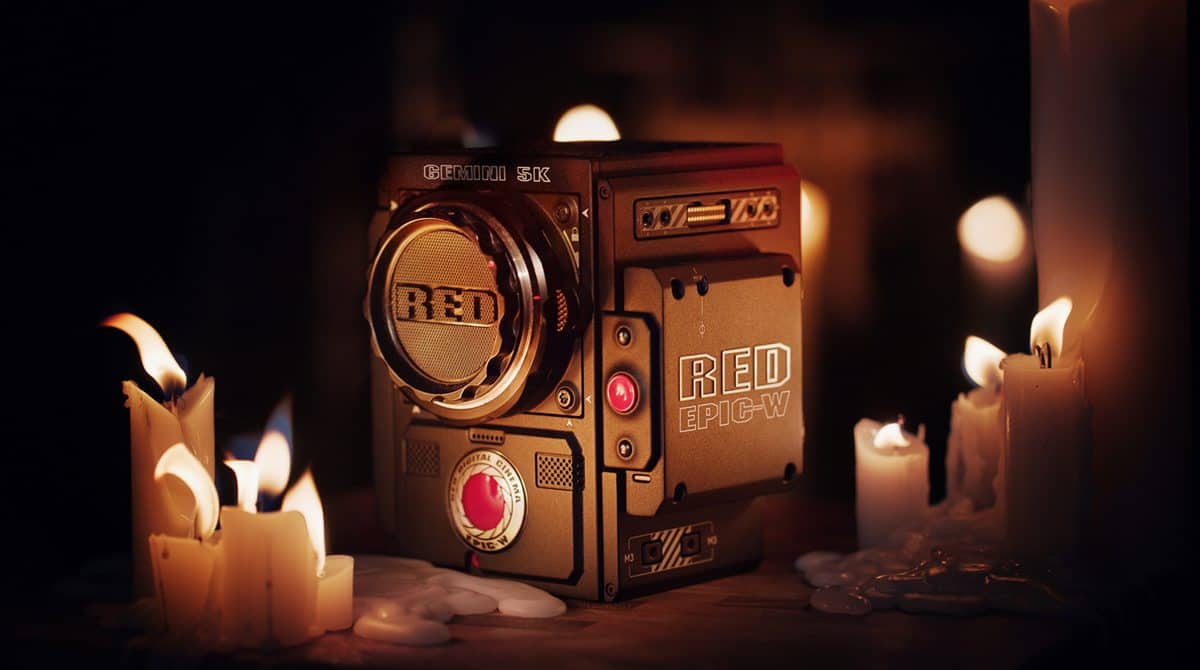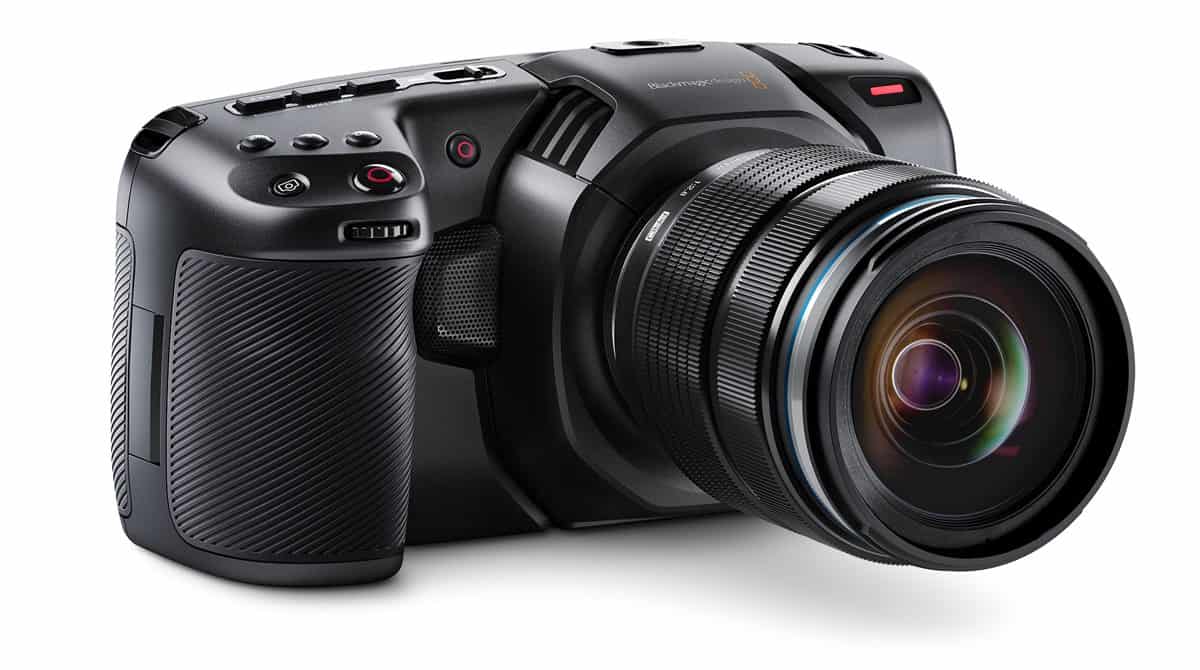 We raced around a bit ourselves, testing the new RED Gemini sensor in their meeting rooms above the convention floor (their leaving the floor last year, was treated by one of the aforementioned disgruntled vendors as a possible sign of things to come), which "sees more than your eye can see," as they tell it, and can give any director the kind of lowlight Barry Lyndon-esque possibilities that Kubrick had to borrow NASA cameras for.
Other intriguing cameras including Blackmagic's coming Pocket Cinema Camera 4K - shipping in the fall - which boasts not only a USB-C port as an additional option for outputting info, but its own low-light capabilities with a native ISO of up to 25,600, along with the company's usual low price point, as well.
And Canon is also joining the full-frame fandango with its EOS C700 FF, with an active image area of 38.1 x 20.1mm, supporting readout at full size, along with Super 35mm, Super 16mm and anamorphic modes. Owners of the current EOS 700s don't even have to swap out entirely - they can have have their Super 35mm sensor upgraded to the "FF" version, for a fee.
Angénieux debuted a new long-range zoom lens, the Optimo Ultra 2X, which seemed to bring in steady foot traffic throughout, while the Tiffen company became officially venerable, celebrating its 80th birthday at the show (or strictly speaking, in a garden restaurant down the strip, during one of the show's evenings).
Among their many new and recent products at the booth, along with their Lowel light kits, their neutral "NATural" ND filters - named for the company's founder - was the Steadicam Air, a gas-lift monopod with an adjustable foot pedal making for quick camera set-ups and vertical moves. Especially when being demo'd on a sales floor that would sometimes get pretty crowded after all.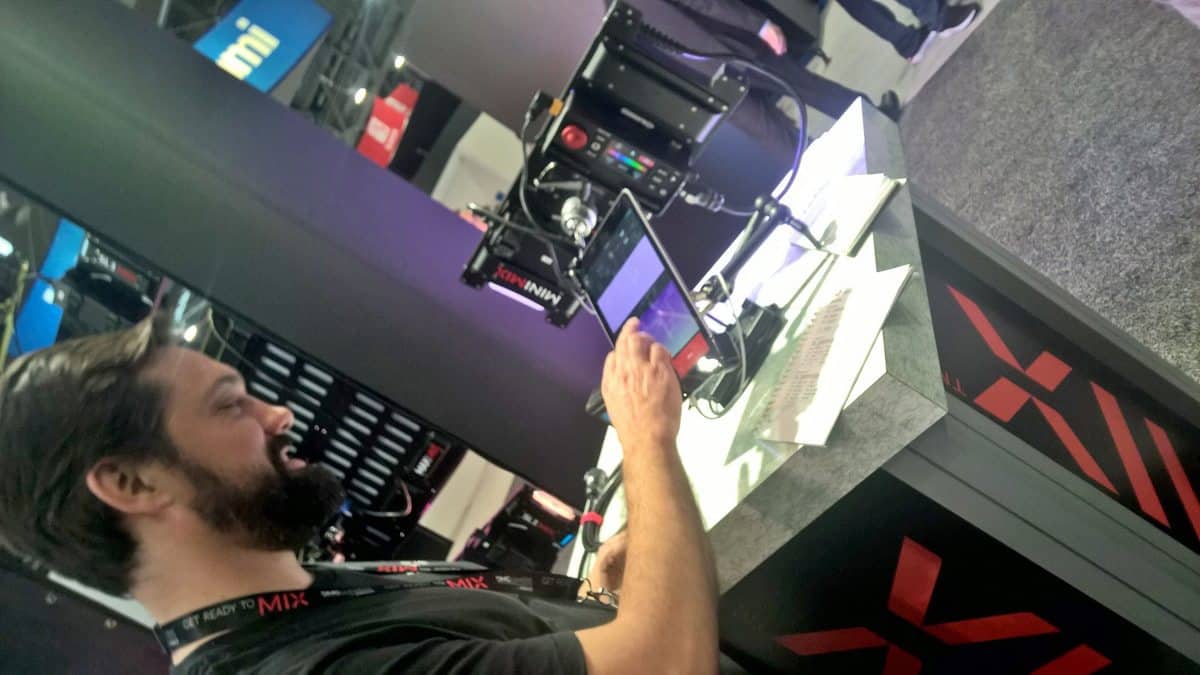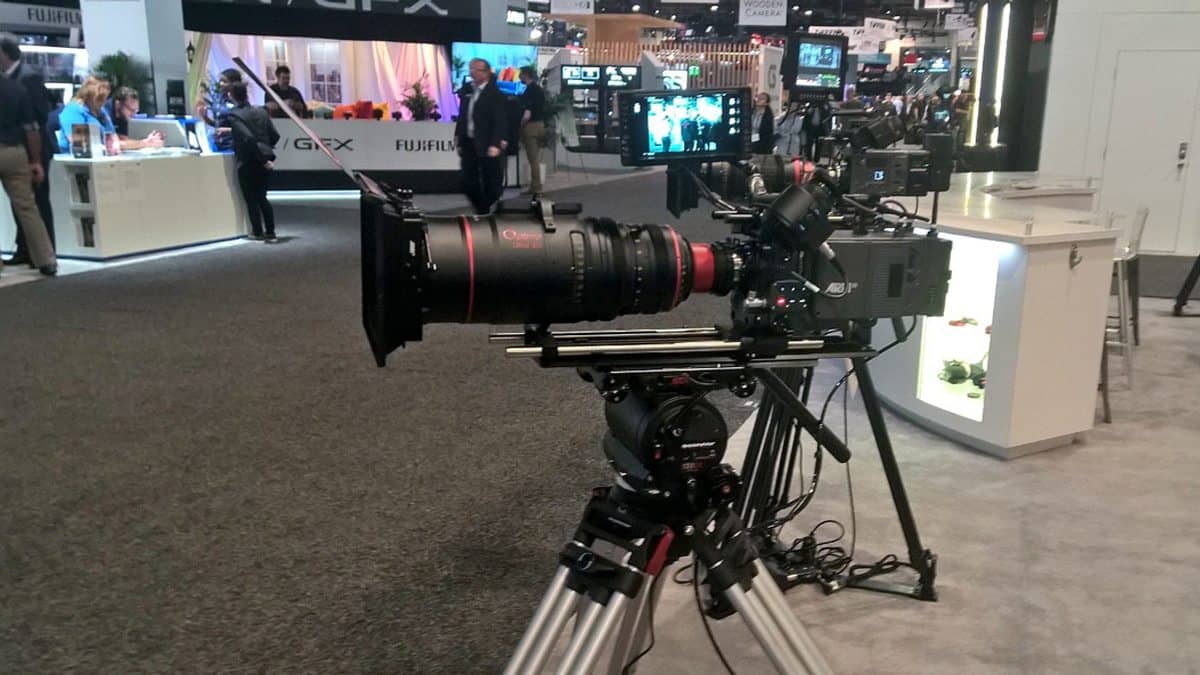 A few booths away from, just past Matthews and JL Fisher, and around the corner from Arri, was Cooke Optics. Chairman Les Zellan thought their customer based might kill them if they announced any new product, given that "we still have a twenty-year backlog on S4's!"
But even if Prime Lens sales are still trying to catch up from '90s-era demand, the company did announce new sizes in its S7 and Panchro lines, including a 135mm for the latter. Most were demo'd at NAB, and will be available by the end of the year.
Rosco Labs was also nearby, and when not being mentioned in the Jessica Jones panel, were showing off new products made possible by their acquisition of LED specialists DMG Lumiere last fall. Now they've announced MIX, an LED lighting fixture with a "gel mode" that allows you to replicate, in the words of DMG co-founder Nicolas Georg, a "true Rosco gel." The myMIX app that comes with serves as "a digital swatchbook - you can save it, put it back in the controller," or even send a folder of the mix through messaging or email.
As with most new products at NAB, this isn't quite available yet - orders are being taken, and shipping will commence in July.
Before which, we will touch on some of these same themes again in the run-up to Cine Gear, next column out. We'll also circle back to a couple of DP interviews that got crowded out with all this NAB coverage, much like the challenge of finding a hotel room during the event.
You can message us, too - you don't even need to send us a lighting mix: [email protected]