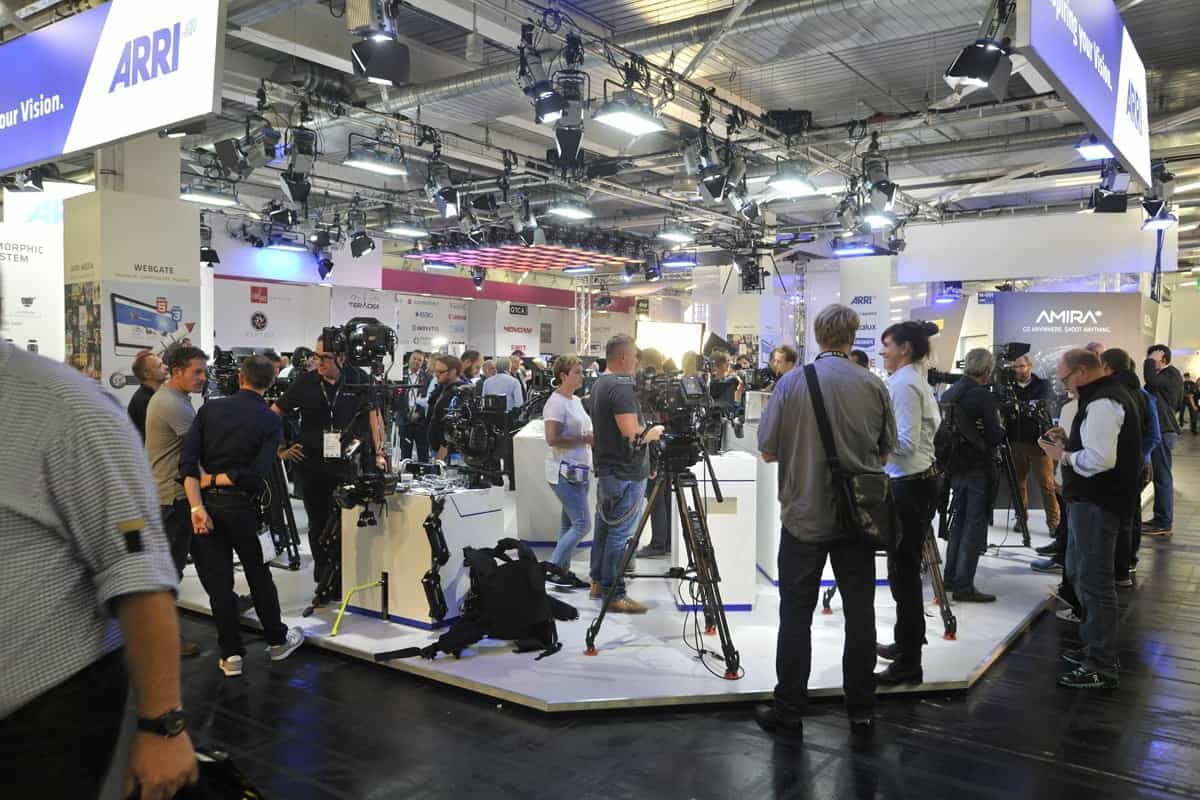 Great technology will be shown at cinec from 22nd to 24th September in Munich, while cineCongress will present a variety of possibilities parallel to the trade fair with talks and workshops.
The MOC in Munich will transform into a film studio in September. Outside of the halls, cranes in different sizes will welcome the visitors. Inside, 172 leading companies from 22 different countries will show their newest inventions and solutions for recording and postproduction.
The support industry will also showcase at its best: From camera equipment, lighting solutions, storage, editing systems, postproduction, dollies, cranes, and drones to the proper software for digital devices and VR-solutions.
For more than 20 years, cinec is one of the most important events in this field.
Besides well-known companies like ARRI, Cooke or J.L. Fisher, there are also new exhibitors of different fields. Bickers Action from UK with grip solutions, Carpetlight from Hamburg with LED-Lights and the Swedish Heden Group with optics. Furthermore Atomos, Sigma, Aputure and Stype Norway are new, too.
Outstanding technical achievements will again be awarded with the cinecAward on 23rd September at 7:30pm in the Kuppelsaal of the Bavarian State Chancellery. This year the Jury received 36 submissions.
Nevertheless, it's not only about technology. Talks and workshops will complete the program. The cineCongress will be coordinated by the Fernseh- und Kinotechnische Gesellschaft (FKTG e.V.) in cooperation with German Society of Cinematographers (BVK).
The presentations will be held in four blocks, covering acquisition, new technologies, file formats and work flows. For detailed information please have a look on the cinec-website.
On Monday, the cineCongress will transform into the day of virtual worlds. Today's technologies like smartphones, head-mounted displays or 360 degree projections enable a new immersion into virtual worlds. These worlds are called virtual reality VR, augmented reality AR, mixed reality MR or in general extended reality xR. They allow unknown representations in industry, entertainment, gaming or e-learning. Constructions can be presented in a vivid and concrete way, assembling of complex group of components become more easier, in gaming new worlds far beyond reality can be shown, and in movies acting can be experienced in a complete 360 degree environments without predefined point of view.
For all of these examples the Bavarian government has decided to support new activities for virtual worlds. The day of the virtual worlds at the cinec on 24th of September shall be a kickoff-event for further activities to promote and support new developments for virtual worlds.
Information, contact and press tickets: www.cinec.de