COMBUSTION
Brendan Galvin ISC /Unhinged
COMBUSTION
Brendan Galvin ISC /Unhinged
Unhinged is a psychological thriller that takes a phenomenon many people have experienced - road rage - to an unpredictable and terrifying new level. The film imagines what might happen after an altercation in a traffic jam between two obdurate drivers (Russell Crowe and Caren Pistorius), both of whom are already having a bad day. What ensues is an explosive cat-and-mouse rampage, involving strong language, casualties and collisions aplenty.
The $33-million film is the first movie to be developed, produced and released by Solstice Studios, a new theatrical distributor, founded in October 2018 in partnership with Ingenious Media. It was directed by Derrick Borte, from a screenplay by Carl Ellsworth, and shot by Irish DP Brendan Galvin ISC.
After five-weeks of prep and pre-production, principal photography on the movie took place over 29 shooting days during July and August 2019, at freeway and suburban locations around New Orleans. Production also took place in a makeshift studio at an old department store, where some driving stunts and sets for the movie's dramatic denouement were captured. Additional stunt action was shot over a four-day period in January 2020.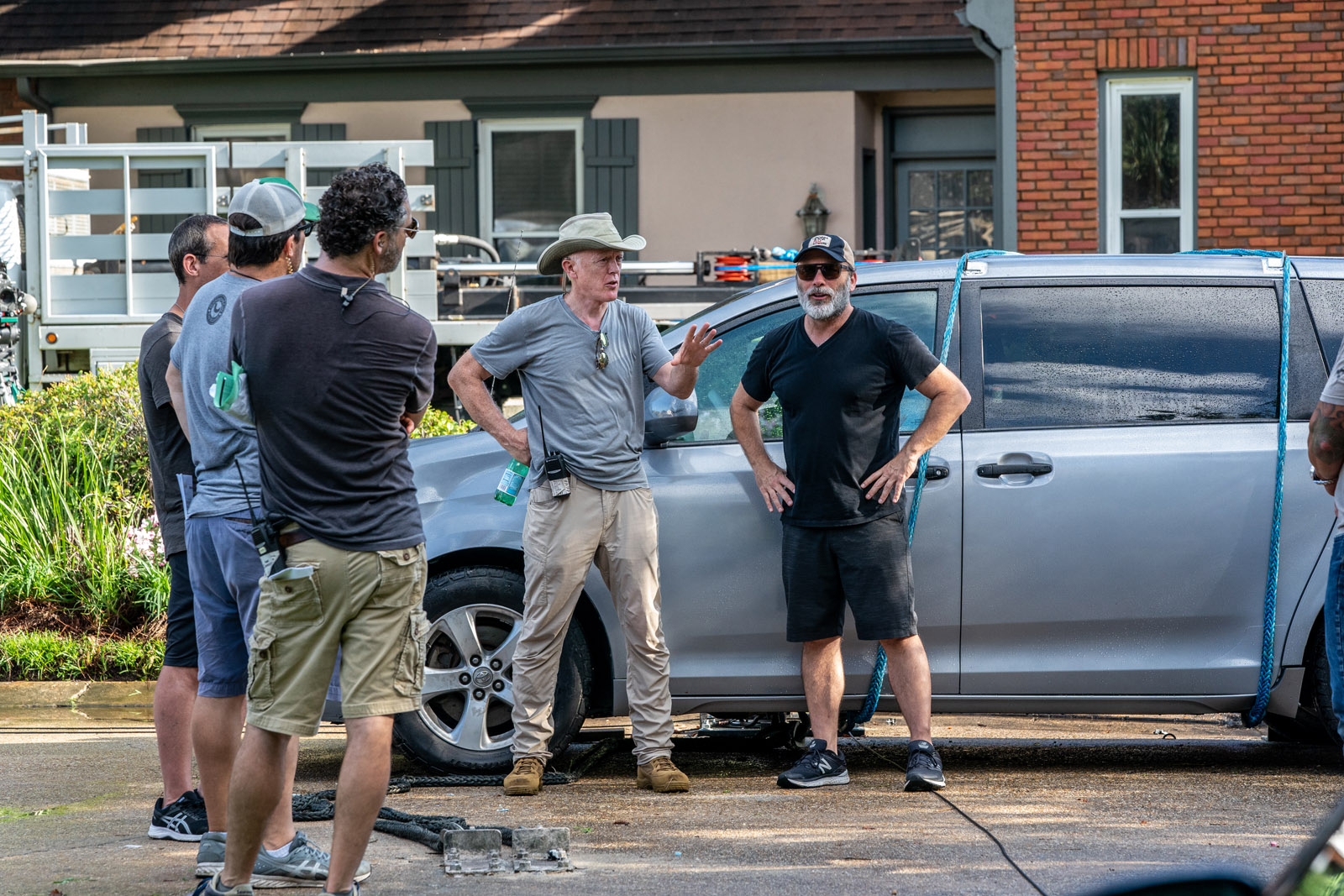 Framing the production for a cinematic experience in widescreen 2.40:1, Galvin selected a trio of Sony Venice cameras, shooting at 4K, which a mixture of handheld mounts, pursuit arm work and dolly. One of the cameras was permanently rigged in Rialto mode, ready for tight or awkward positioning inside the cars, although an extended baseplate also allowed it to work as if it were a regular Venice. The cameras were rated normally, but Galvin took advantage of the 2500ISO option when lighting conditions become overly-subdued.
His spherical lens selection included a mix of vintage Leica R and Leitz Summilux-C glass - chosen for their naturalistic look, ease of flare control, pleasing circular bokeh and fall-off in combination with the Venice sensor - along with Fujinon Cabrio 19-90mm and 25-300mm zooms for crash camera type shots.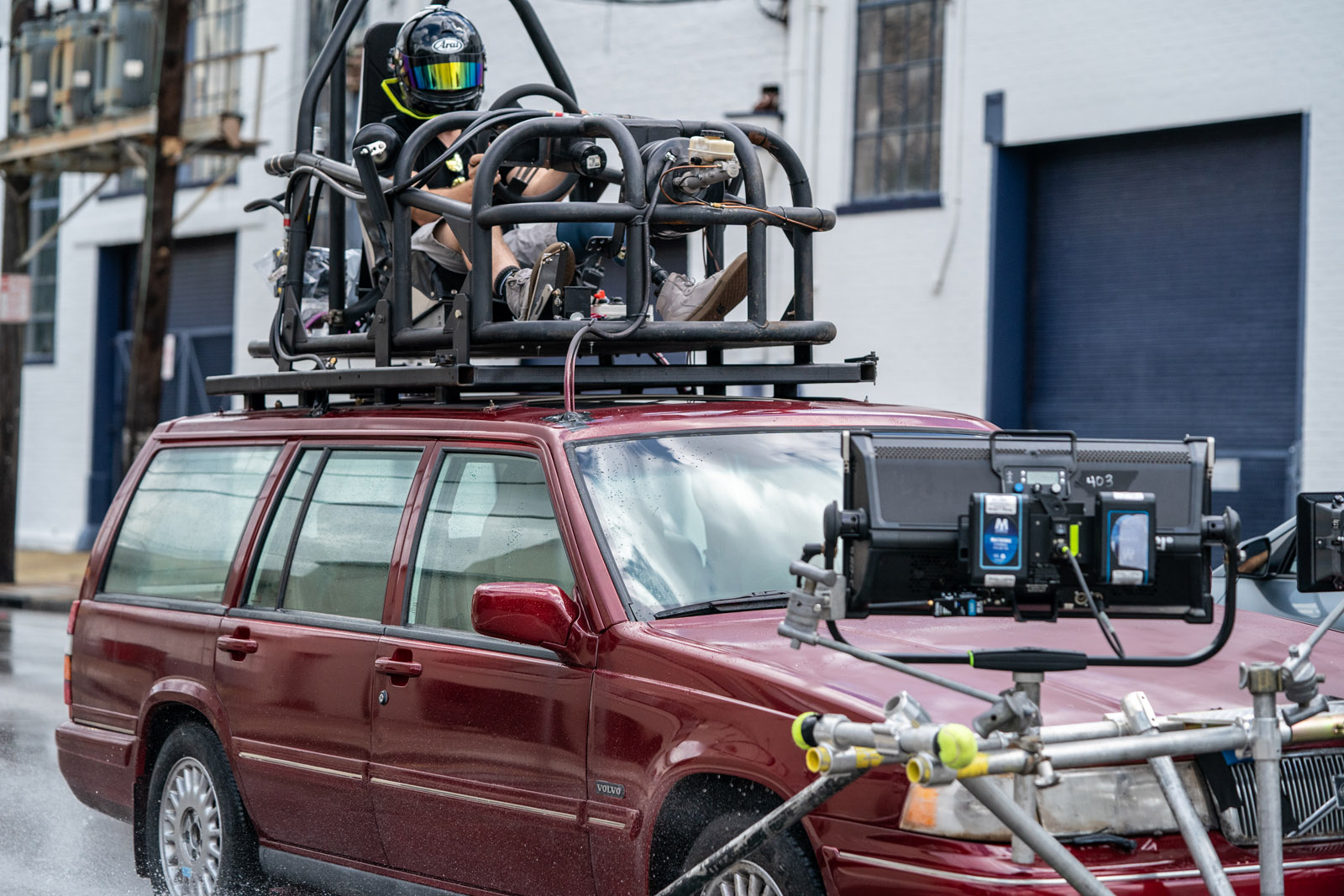 Sony RXO cameras were also employed for additional quick exterior cutaways. In-car dialogue scenes and car chases involved shooting with pursuit and P.O.D. vehicles.
"I really liked the script. It was a page-turner. A thrill-ride. One of those that you can't put down until the end," recalls Galvin, whose feature credits include Mirror Mirror (2012), Self/less (2015) and Rambo: Last Blood (2019), plus multiple episodes of Westworld (2016) and Good Behaviour (2017).
"I thought Unhinged was very relatable in the way that there's a lot of anger and rage in the world these days, and some people find it hard, impossible even, to have a disagreement that remains civil and productive. Sometimes it takes a strong movie to mirror what's going on."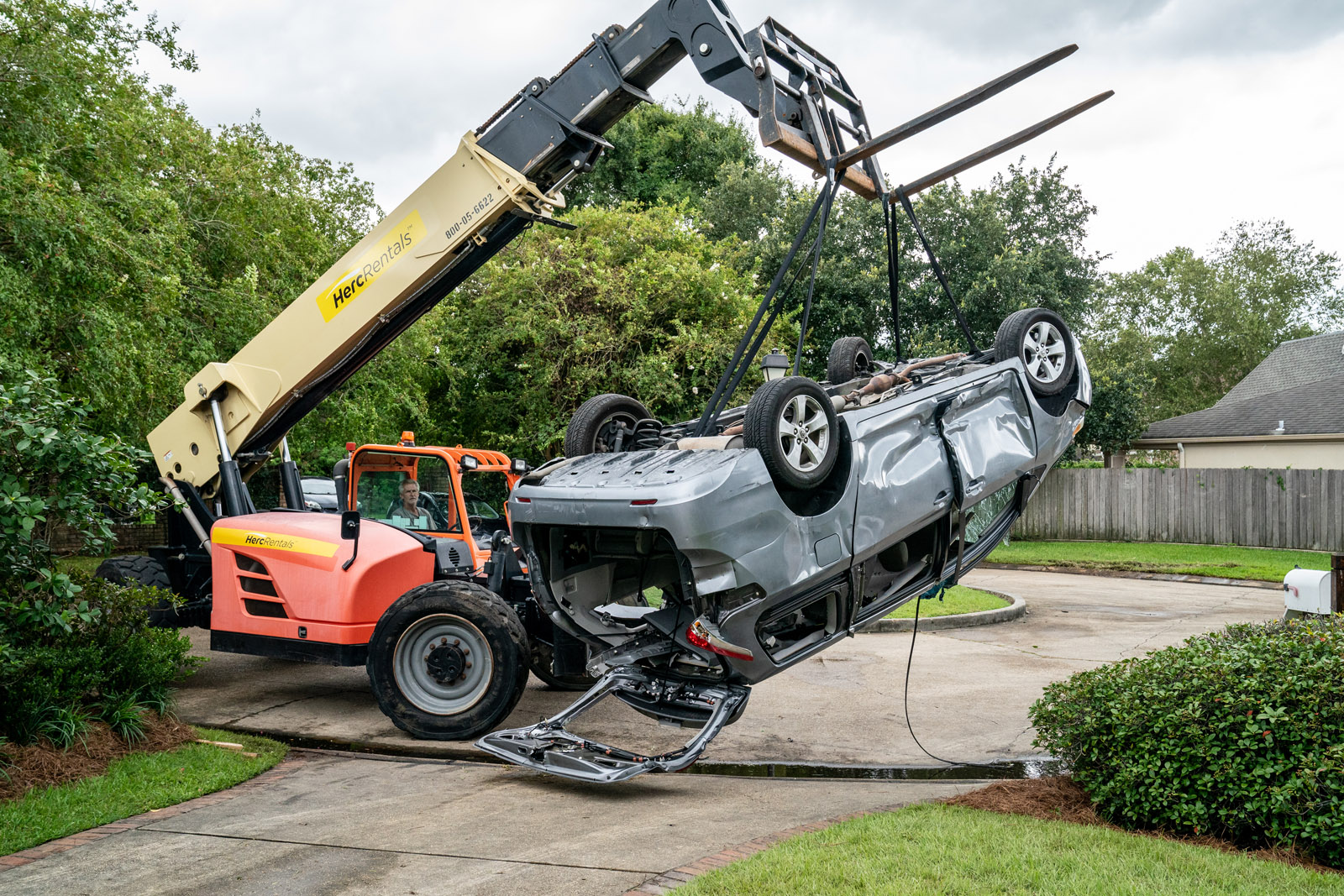 "Part of my philosophy is to be very well prepared, to have a plan and a back-up plan, and to use every little thing that can help. However, a point comes where you have to embrace the real, actual situation in front of you. If you try to fight the conditions, you will always lose."
- Brendan Galvin ISC
Galvin had not worked with, nor met, Borte prior to this production, but says he was deeply affected by the director's previous movie, the tough and grisly crime thriller American Dreamer (2018, DP Eric Hurt).
"It's a very dark story, with some incredible twists and turns that made me scream at the screen," he says. "It showed me that Derrick knows what he wants; can tell a story with great confidence; is not afraid to take chances; and understood the boundaries of working in and around cars."
Along with American Dreamer, Galvin says that Duel (1971, dir. Steven Spielberg, DP Jack A Marta ASC) was also a key reference, along with We Own The Night (2007, dir. James Grey, DP Joaquín Baca-Asay), which proved useful in terms of ideas for camera placement, coverage and choice of locations.
However, Galvin stresses that, aesthetic references aside, the logistics of the cinematography were equally important considerations.
"On any film I want to know what our resources will be? How many shooting days do we have, and what is the schedule? What has the line producer allowed for camera, grip and electric? Can we shoot with multiple cameras? Can we afford a Russian Arm or a crane? Who are the stunt people? If there's not enough budget for certain crew or equipment, then it changes your thinking and ideas.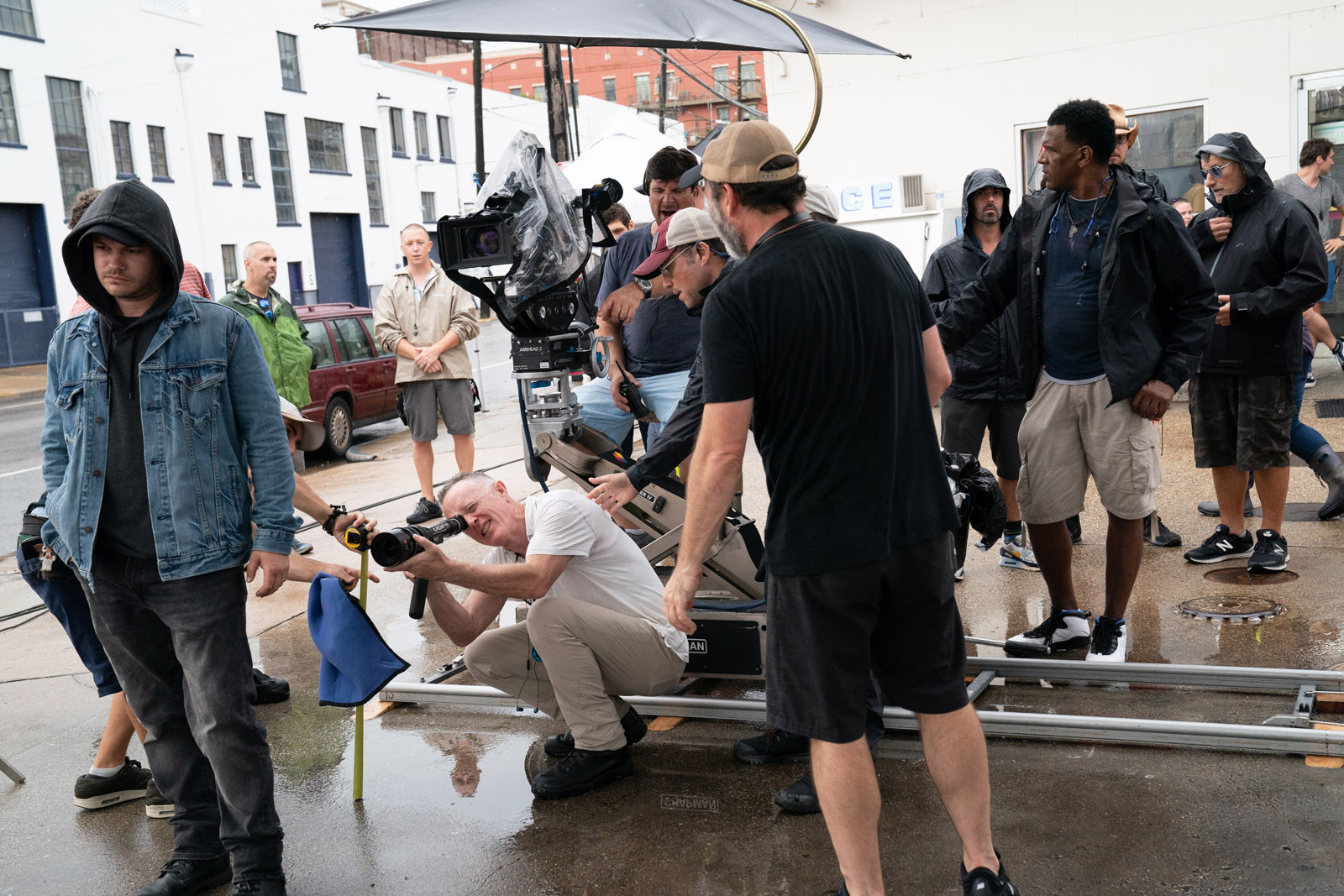 "Part of my philosophy is to be very well prepared, to have a plan and a back-up plan, and to use every little thing that can help. However, a point comes where you have to embrace the real, actual situation in front of you. If you try to fight the conditions, you will always lose."
Galvin says he enjoys filming in New Orleans, and Unhinged represented his third movie production there, following Escape Plan (2013) and Self/less.
"A big fly in the ointment was that we were shooting a film where the action takes place over one script day, and we were there in hurricane season in ridiculous temperatures," he says. "Irish weather looks calm and quite simple compared to the unpredictable and torrential conditions we faced out there.
"When it rained the roads were sometimes 2ft deep in water. At one point we were on an evacuation notice from the studio because of a hurricane that was heading our way, but luckily it veered off at the last moment. Nonetheless, in the event of any lightning you have to shut down for an hour after the last lighting bolt has gone by, because if a strike gets attracted to a jenny, and they do, the consequences could be massive. So we used lighting instruments that either worked on batteries, or could be plugged into mains/house power.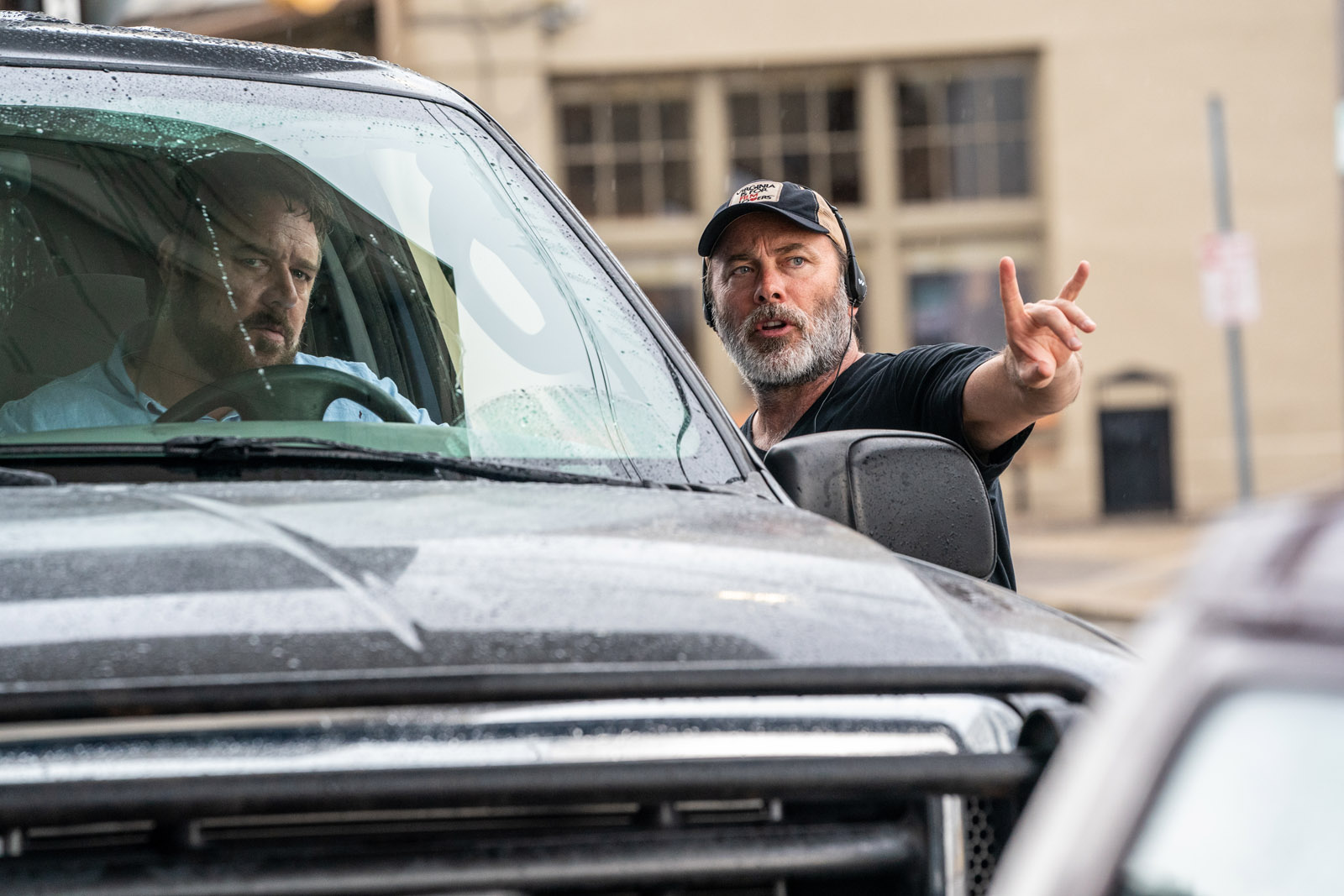 "Also, most of the film was either in and around cars, and that's not easy when the humidity was 90 to 95% and temperature anywhere between 85 to 110F (29 to 43C). We could not shoot dialogue with the AC on in the cars, and I knew silent AC never really works.
"Russell liked the fact that it was hot - it was a sort of fuel that his character liked to burn on. But, for the other actors, trying to stop them from sweating in shot was quite an ordeal. Beside this, they had to act, and remember lines, when your head felt like it was in a microwave. Caren ended up sitting on ice packs, and even had some down her back, at times."
To help continuity and keep cast and crew cool, Galvin suggested regular wet-downs. "That was not so easy sometimes, as the sun evaporated the water, but the rain drops we put on to the cars and the street helped to sell the idea that the weather was going to be changeable. Some people can get anal about continuity, and if you had to wait until everything was perfect you'd get one shot a day if your were lucky. Knowing what you can get away with is a big part of our job."
Having knowledge of the New Orleans locale, Galvin was aware of locations that would help mitigate matters, including a chunk of double-decker freeway where production could take place under shelter, out of sun and rain.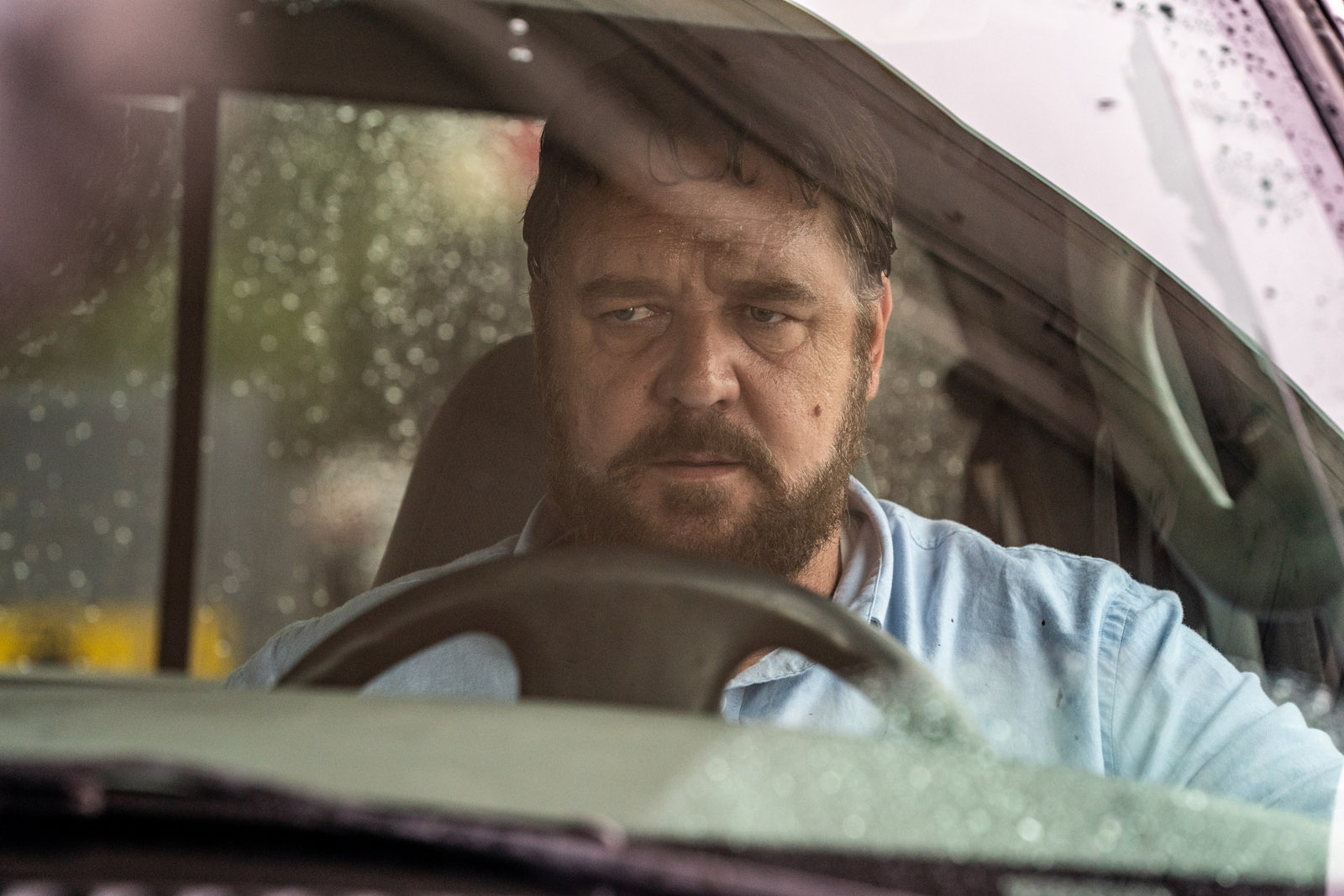 "These kinds of things influenced the look on the movie hugely," he notes. "Having a structure over a bit of freeway meant we had vertical posts to give sense of movement as well as something to reflect in the windows."
Unlike many cinematographers, Galvin does not shoot with pre-determined LUTs, preferring to develop the look - in this case a naturalistic, cooler, contemporary aesthetic - himself when viewing dailies after wrapping each day.
"I always have a DIT on-set, and like them to be actively involved throughout the production in helping me manage the exposure - protecting the highlights and shadows - via the waveform monitor. I get them to save a still, and the commensurate waveform, from every shot, and I then apply my look to these later in the day, which can then applied on the dailies by the dailies colourist. The first few days of production might involve us all working together very closely to get used to the look - making the image warner/cooler, lighter/darker, as appropriate - but this soon becomes an efficient way to work, and ensures the look I intend is the look that people working down the line will become used to."
Galvin attended the 4K HDR DI for Unhinged remotely from his home in Dublin, with grading performed by colourist Ian Vertovec at LightIron in Los Angeles. This involved harnessing Moxion, an advanced dailies platform, to transfer reels that Galvin could review on an iPad Pro.
"Nothing can beat sitting in a theatre, grading with a projector and your colourist. I like to see the image as close as possible in size to the screen people will actually see the film in cinemas," Galvin says. "Beyond the theatre and an HDR monitor, the iPad Pro is probably the most consistent off-the-shelf solution you can use to assess colour and luminance. The Moxion system proved a good way to collaborate, as you can annotate or put markers and drawings directly over the footage and provide precise feedback to the post-production crew. Although this way of working was not my ideal choice, it worked well."
Galvin concludes, "Unhinged is a challenging movie, and it proved a challenge to make. But I like the idea of working on films that are a stretch for everybody concerned.
"It is scary and intense to watch, but it's thought-provoking too, a reflection of the anger and rage that exists in our world. If it starts conversations about how nice it would be if people were more relaxed, not just in their vehicles, but more generally too, then that's an additional bonus."