Web of Intrigue
Anthony Dod Mantle DFF BSC ASC / Our Kind Of Traitor
Web of Intrigue
Anthony Dod Mantle DFF BSC ASC / Our Kind Of Traitor
Tapping into our perennial passion for spooks and secret agents, British spy thriller Our Kind Of Traitor  is adapted from John le Carré's 2010 novel of the same name, described by critics as the author's most thrilling thriller in years.
Whilst on holiday in Marrakech an ordinary British couple, Perry (Ewan McGregor) and Gail (Naomie Harris), befriend a flamboyant and charismatic Russian oligarch, Dima (Stellan Skarsgård). Unbeknown to them he is a kingpin money launderer for the Russian mafia who wants to defect to the West after the murder of an associate. When Dima asks for their help to deliver classified information to the British Secret Service, Perry and Gail become embroiled in a dangerous world of international espionage and dirty politics. The pair are propelled on a perilous journey through Paris and Bern, a safe house in the French Alps, to the murky corners of the City of London and into an alliance with the British Government via a ruthless and determined MI6 agent (Damian Lewis).
The Film4/StudioCanal/Potboiler Productions movie was directed by Susanna White, written by Hossein Amini, with cinematography conducted by Anthony Dod Mantle DFF BSC ASC, who also operated A-camera throughout the production. Principal photography began on 26 March 2014 and continued for ten weeks, with a whirlwind schedule taking in locations in London and its suburbs, Finland, which doubled for Russia, Bern, Paris, the French Alps and Marrakech. Le Carré's sons, Simon and Stephen Cornwell, were producers alongside veteran Gail Egan. From time to time, even great scribe himself paid visits to the set.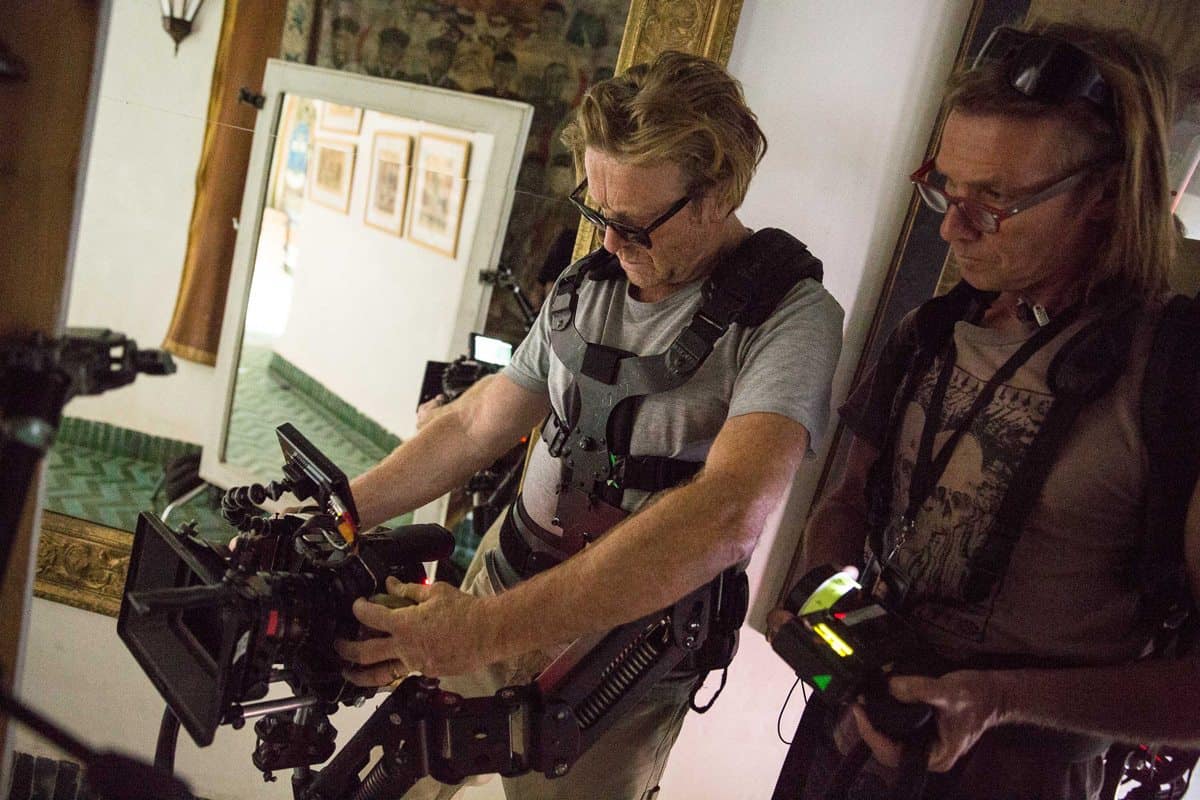 Ron Prince caught up with Dod Mantle over Skype, whilst the Oscar-winning cinematographer was scouting locations with director Danny Boyle in Glasgow and Edinburgh. Amongst brief digressions – into premiership football, the untimely passings of Keith Emerson, Zaha Hadid and Ronnie Corbett, the harrowing brutality in Angelina Jolie's forthcoming Khmer Rouge movie, and the merits of chocolate, crisps and fizzy drinks during long recce days – the picture of his work on Our Kind Of Traitor emerged.
How did Our Kind Of Traitor come across your path?
ADM: I was shooting In The Heart Of The Sea with Ron Howard at Warner Bros. Leavesden Studios, and Gail Egan gave me a call. I've worked with her on a number of movies going back a few years, such as Brothers Of The Head (2005) and The Last King Of Scotland (2006). She mentioned Susanna White, who I didn't know, and asked if I would meet up to chat about a script they had based on a John le Carré novel. It seemed interesting, so we met up in a pub in Notting Hill to discuss it further.
What were your initial discussions?
ADM: As they spoke about the script, I quickly realised it was another great le Carré story, but much more contemporary – with oligarchs, bent politicians and bad, blood-money flooding into London. Susanna talked about the aspect of travel in the movie, and how she wanted to show the potential family aspects of a Russian gangster as well as a bored British university lecturer. It was an interesting prospect to have a woman director, and it seemed to be a fairly simple, straightforward and comfortable shoot that I could work on in the spring months of 2014, directly after I finished on In The Heart Of The Sea.
What research did you do and what creative references did you look at?
ADM: During the six-week pre-production period, we scouted the various locations that Sarah Greenwood, the production designer, had found, and I showed Susanna a lot of Tarkovski stills. We talked about these and the idea of creating memorable images, how we could contrast nature, the forests and mountains, against the wealth and opulent panache of the gangsters' material world – and their effects on the characters. We also discussed how we might use lenses to soften the image and pull away from digital artifacts. I wanted to get away from the typical smokey London settings of previous le Carré productions, to bring out the essence of each location, and to impart a sense of the unforeseeable as the two unsuspecting civilians travel around in this  dangerous, high-stakes espionage game.
Take us into your practical reasoning for the cinematography?
ADM: Although there was some studio work at Ealing, the majority of the production involved a lot of travelling, and shooting on exterior and interior locations. To a large degree the spaces were going to govern the movement of the camera. So I saw the shoot as a sort of road movie. We were also going to be shooting at historic venues such as the RAC Club in Pall Mall and the Einstein Museum in Bern, and even on Eurostar, where you can't have gaffer tape on the walls and have to be very careful with lamps and cameras. We had a very low budget and a smallish crew too. So I had to devise a flexible methodology according to all of that.
I necessarily scaled down the tools and cameras, so that we could be quick and spontaneous when needed. What I initially though was going to be fairly simple and straightforward shoot, turned out to be full-on for everyone – the cast, crew, producers, director – from the start and right through the entire 45 days of production. It was very physical, very fast: a battle. There was also a lot invested in it, not just by the production and Pathé, but also from le Carré's sons, who were looking after the legacy, and also the author himself.
"We had very able local crews coming and going throughout the shoot as we made our way through Finland, Paris, the South Of France and Morocco. They proved very agile and fast with the complexity of the situations."
- Anthony Dod Mantle DFF BSC ASC
Did you meet le Carré during production?
ADM: Yes. He even has a scene in the film. It was amazing to be able to walk and talk with the legendary man during the production. He is a powerful writer and very intelligent – part of my British literature education at high school. I really enjoyed many of his early works of the 1960's, '70s and '80s.
Tell us about your equipment choices?
ADM: If I had really wanted to shoot on film, I would have found a way to do it, but Our Kind Of Traitor was always going to be digital. I knew we would be moving fast, on a tight schedule, so the immediacy of digital – being able to review material on-set and to know we were OK to move on – was hugely important.
I went with a Canon C500 and ARRI Alexa XT as the main cameras, and also took the Indiecams – that I used on Trance, Rush and In The Heart Of The Sea – for small, awkward spaces, such as in the Land Rover in the mountains. We had a nicely mixed toolbox of not too heavy-weight technical equipment, with a lightweight LED lighting package. I went with Leica Summicron-C and vintage Canon K35mm prime lenses, plus various lens babies.
I love to operate and succeeded in shooting a lot of the movie with my own body rig – a three-quarter Steadicam-style rig with a vest and an arm – using the C500 fitted with the Leica primes. I gives me a look that I really love, somewhere between handheld and Steadicam. This arrangement of cameras and support enabled us to be fast and spontaneous. In terms of camera movement it allowed me to be mobile – to dance, move and flow around the actors with a bit of freedom and space, and achieve good eyelines. The second camera allowed us to capture other details and elements of the performances, and give the editor additional material for cutting. We had some linear camera moves, on the dolly and cranes, and even some helicopter work, but the large body of the film is in flux, lending and appropriate level of energy and intrigue to the imagery.
What was your main challenge during production?
ADM: The tight schedule. Travelling and shooting, often on the same day, sometimes in unforeseeable and uncontrollable situations, proved quite a test. We always knew exactly which location we had to be at and when, and how many hours we'd be there. But we were not always certain about what lay in store for us. But we were dealt a hand of cards, and I like this way of working, with a certain degree of unplanned spontaneity.
For example, shooting on the Eurostar, we had to get it right on that single journey to Paris. Anyone who has taken that train knows how fast the scenery changes in the background, so it was tough in terms of continuity. On another occasion we had to helicopter the gear out of the snow and off the mountain in the South of France by 5am, immediately after wrapping a night shoot on the mountain, travel to the heat of Marrakech and do a recce in La Mamounia Palace – all in the same day.
Tell us about your colour palette in the movie?
ADM: As it's a modern, contemporary thriller, I tried to hone into the most essential and appropriate organic elements of each country, location and environment. I wanted it to feel as if we are there too. There's a brutal scene with blood on snow in the freezing Russian tundra at the start of the film. The cyan and black of strange and spooky interiors give way to more linear, classically told mise-en-scène scenes in the dry architecture of English banks and the offices of decision-makers. There are vulgar yellows and opulent golds in the interiors if the oligarchs' houses in London and Paris, which contrast with the greens of the forest and nature. You can feel the size and scale of Alpine mountains.
Who were you crew?
ADM: We had very able local crews coming and going throughout the shoot as we made our way through Finland, Paris, the South Of France and Morocco, and they proved very agile and fast with the complexity of the situations.
The skeleton key crew who came with us all the way were some of my closest collaborators. Michael Wood, B-camera operator, who I have worked with on Rush and In The Heart Of The Sea. Telfer Barnes, my first AC, and gaffer Thomas Nievelt, have been with me on many movies, including Slumdog Millionaire, Last King Of Scotland, The Eagle and Dredd. My grip Bernd Mayer worked on Antichrist and Rush, and Dan Carling, the DIT, has managed digital assets and workflow for me on Trance, Rush and In The Heart Of The Sea.
What can you tell us about the DI?
ADM: I did the DI with Adam Glasman at Goldcrest's then brand-new place in Lexington Street, in Soho. I love the DI and am very fond of Adam. I am hoping he will grade Angelina's film for me, and get me a ticket to Tottenham vs Liverpool. We worked hard to bring the different camera formats and locations together. It was nice to realign with Susanna again and I think it was refreshing for her to sit with me after a long edit. She was open to enhancing the colours in the grade and was not afraid of the dark.
How do you feel about the finished result?
ADM: It was quite a battle to make it work. It's a tribute to the actors that whilst the final shots in the movie look very calm, there was generally a fair degree of pandemonium at the edge of the frame – with costume, sound recordists, camera crew, director, producers crowding around in tight locations. I wondered if the final production would have a documentary feel, but the finished result does not look like that at all. It's turned out quite stylised. Despite being a road movie, there's a natural cohesion between the different atmospheres in different scenes, and I am pretty pleased about the way it looks.