High Octane
Anthony Dod Mantle DFF BSC ASC / Rush
High Octane
Anthony Dod Mantle DFF BSC ASC / Rush
Rush is the upcoming, (estimated) $50m, British-American biographical action drama, directed by Ron Howard and written by Peter Morgan, about the 1976 Formula One season, and the near-fatal rivalry between drivers James Hunt and Niki Lauda.
After a catastrophic crash at the German Grand Prix at the Nürburgring that could have killed him, the movie sees Lauda (Daniel Brühl) return to face his rival James Hunt (Chris Hemsworth) in their pursuit of the World Championship at Fuji in Japan. Rush is a Working Title/Revolution Films production, distributed by StudioCanal in the UK, and Universal Pictures in the USA.
Although the production took in a small number of racing circuits, much of the action was confined to shooting on short tarmac strips at Dunsfold and Blackbush Aerodrome in the UK. Ron Prince caught up with cinematographer Anthony Dod Mantle DFF BSC ASC to discover how he set about re-creating the merciless rivalry between the two legendary drivers.
How did you come to get involved with the production of Rush?
Not many people would put Hollywood-royal Ron Howard together with Anthony Dod Mantle from European art-house cinema. But you never know, that's the fascinating thing about this business. The only link I've ever had with Ron prior to Rush (and he swears it has nothing to do with me getting the job) was working with his daughter Bryce on Lars Von Trier's Manderlay. I'm very fond of Bryce and, together with the camera crew, we really looked after her on that shoot. I think she later recalled people being nice to her on that film, and hopefully one of those people was me. So if anything, it was good karma. Otherwise, I'm not sure how the connection came about. It might have been through Working Title or Andrew Eaton the producer.
What appealed to you about Rush?
I am always story-driven. Sometimes a script will awaken something I had buried at the back of my mind, something I had not considered before, or be something that I want to spend the next year of my life immersed in, away from the family. I also consider the people around the project, and my belief I them. I was on a beach in Nice, sunburned, with a very, very red nose, and I started reading Peter Morgan's script for Rush. It was extraordinary, and I could not put it down. I'm a great fan of Peter. He writes about things that interest me, and I love the patterns in his work. We first worked together on The Last King Of Scotland, and I have followed him ever since. Peter's story for Rush was enthralling to me – a strong drama about two men, James Hunt and Niki Lauda, two pillars who don't belong in the same space. It echoed The Last King Of Scotland, and Frost/Nixon, which Ron (Howard) directed and Peter wrote, where for some strange, empathetic reason, characters-at-odds stay uncannily attracted.
Anyway, I quickly got on Skype with Ron and Andrew and we bonded very quickly – despite my unfortunate suntan. I could feel Ron's genuine modesty, humility, energy and interest. That's what ultimately grabbed me.
Also, as a kid I was briefly involved in F1 motor racing, and collected a few autographs. I remember being at race, having an iced-lolly, and seeing one of the drivers maim themselves on the track as girls in hot pants paraded by. I remember thinking it was weird, gladiatorial, bloodsport, visually exciting, surrounded by glamour and panache. Obviously, it was inaccessible to me then with my spectacles and freckled-face.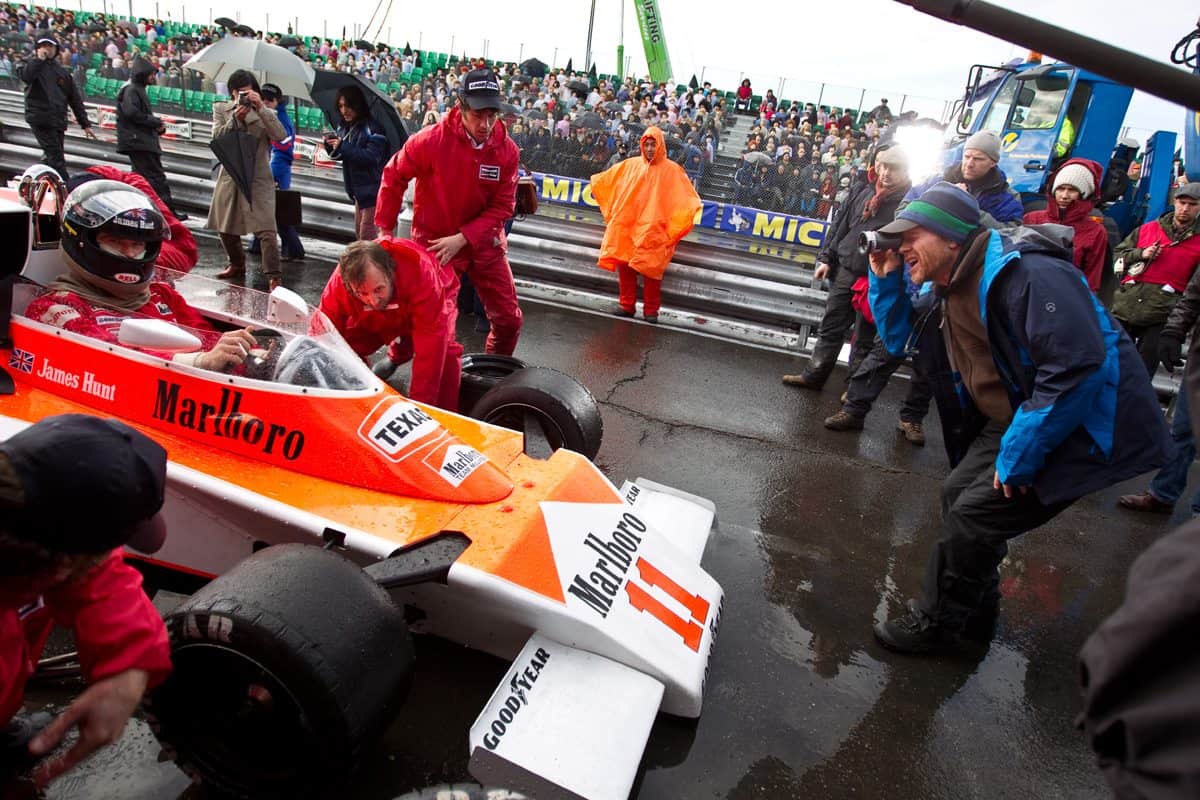 What research did you do? What creative references did you look at?
As a rule I try to watch as few films as possible as references. I'd rather talk and listen to people, read books, look at photographs and create my own visual language. That said, we did look at Frankenheimer's Grand Prix (1966) – an extraordinary film, from an incredible, enigmatic director – Le Mans (1971) too, and I already knew Asif Kapadia's very moving documentary Senna (2010).
Tell us about your initial discussions about the movie?
Whilst it's a great story, the complication was that Rush moves at 170mph on wheels, and I had to consider how I might go about shooting that. It was an incredibly interesting visual pallet we had to try recreate, and we had to work out very early on how we could make Rush work on our modest budget. The script took us to racing circuits like the Nürburgring, Monaco, Brands Hatch, Monza, and Fuji for the climax of the film. But it quickly became obvious that we could not travel around the world and simply recreate scenes in front of the camera. Some of the racing circuits have changed or don't exist, and neither do most the cars. Plus, we wanted to give the film some real, F1 production value.
So how did you approach the look of the film?
About four months before we started prep, a small group of us – Ron, Andrew, myself, Todd Hallowell (2nd unit director/executive producer) and VFX producer Jody Johnson from DNeg – went hammer and tongues looking at all the archive footage we could find from that period in time. Luckily, the archives up to 1976 are feely-available, and we found all sorts of footage ­– from many of the races, some harrowing 8mm material of Lauda's crash shot by a young boy, as well as horrifying, apocalyptic images of the drivers risking their lives in the rain and fog in Fuji. Early on, I confessed to myself, and articulated to the others, that I was not interested in making a filthy, ugly, clichéd, golf-ball grained, desaturated 1970's drama. I also didn't think did we could redeem much of the original footage, and felt that replacing actors and cars into original material by VFX would look convincing nor stand the test of time.
However, some of the original 8mm, 16mm and 35mm footage we found from trackside and on-board cameras was absolutely beautiful – strong distinctive cyans, yellows, burnt Technicolor reds, and deep blacks – and there was an interesting grammar to the camera movement – observational, hunting. So we took these sources as our inspiration, shot various tests using different digital cameras, and spent time with Adam Glasman in the DI suite at Company 3 in London, to so see how far we could push and pull the looks, bring them to life and most importantly marry the original footage from 35 years ago with new footage shot using 21st century cameras. I wanted to avoid any bumps in the look in the final movie, so as not to loose the audience. This collaboration and testing helped us arrive at the final palette and textures we wanted, painterly looks, and it was good to get this signed off before production began.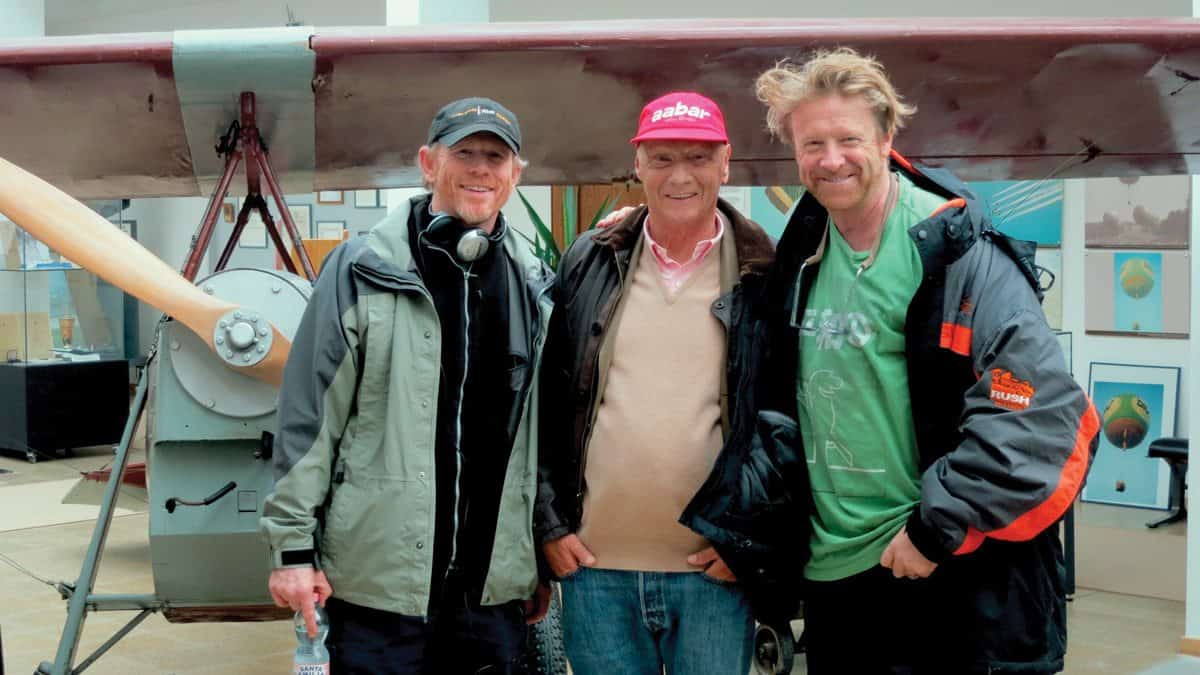 Tell us your reasoning behind your choice of cameras?
F1 is a demonic, attractive sport and you owe it a high production value. Along with the overall look, I wanted to personify the racing cars as beasts – incredible instruments of power and danger. I wanted to capture the visceral nature of FI racing back then, and to show the audience what it was like for the drivers to experience such raw power and speed. For Grand Prix, Frankenheimer had these massive camera lumps mounted on cars, but for health and safety reasons you just can't do that these days. I knew that we would be shooting in England from January to June, often in horrendous weather conditions. We were going to have to match new footage to original material of the spooky Nürburgring or exotic Brazil, and to push and pull the footage in post to extraordinary lengths, to reduce the palette to a place where you believe it's the past and you also believe it's the present.
So I needed a set of cameras that would give enough latitude in the image to cope with the enormously varying skies and climates we were going to encounter. I also needed to place some of them safely in tight corners. Most of the live action was shot on ARRI Alexa Plus and Studio cameras, capturing RAW to Codex, with the cameras supplied by ARRI Media in London. We also shot using Phantom, Canon C300 and DSRLs, plus the IndieCams I had used on Trance, and  RED, across a range of different resolutions – 2K, 3K, 5K. To capture the on-car action I used a range of digital mini-cams – such as the HelmetCam, which comprised of an IndieCam fitted with a C-mount lens – most of which I modified in various ways.
What about your choice of lenses?
You always have to make very careful choices about the glass you use on any production. For Rush, I shot spherical, 2.35:1 scope. I hunted around the UK, Europe and USA, and pulled together a hoard of lenses dating back many, many years – Baltars, Cooke S2s, Angenieux's and Canon lenses – some of them atrociously bad but in wonderful ways. I then matched them for similar aberrations, considered IR issues, and married up the different lenses sets with the different cameras and chip-sizes I was going to use.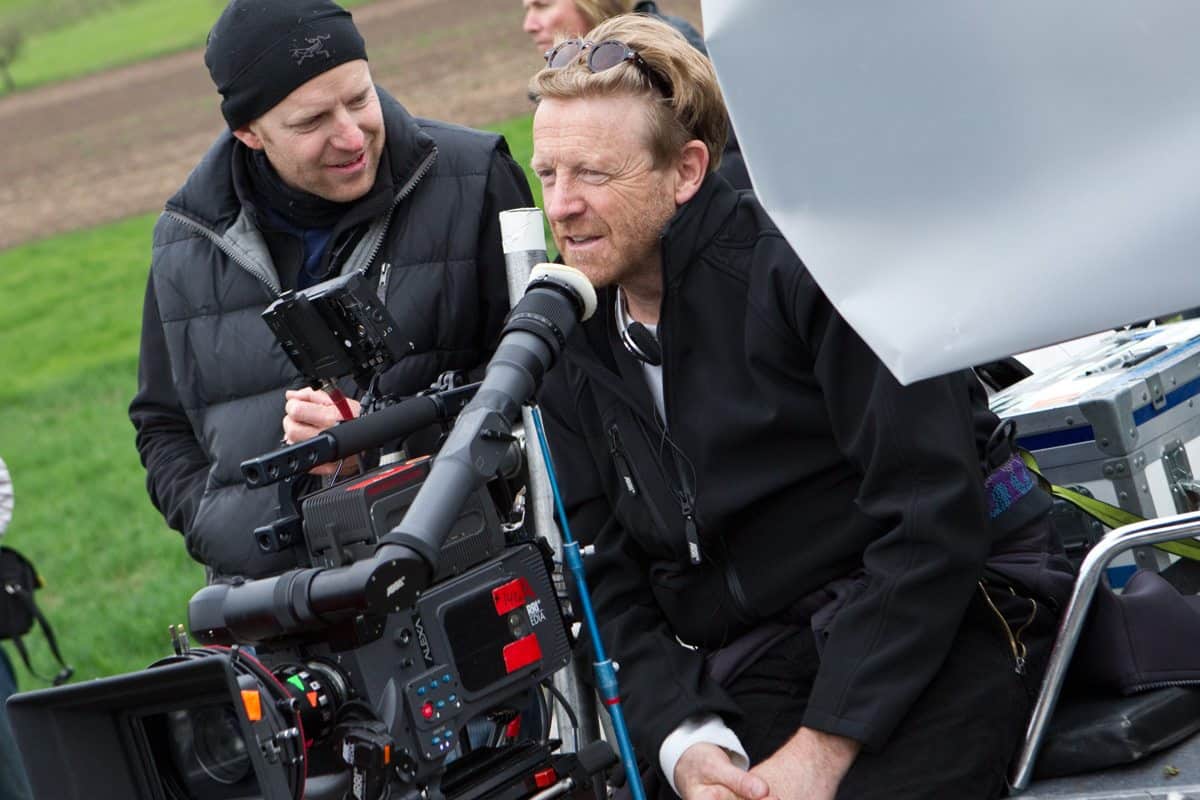 "F1 is a demonic, attractive sport and you owe it a high production value."
- Anthony Dod Mantle DFF BSC ASC
Who were your crew? Do you have any thoughts to share about them?
I think Rush is ultimately a great piece of British independent cinema, and Andrew Eaton was a massive support to me throughout. While we were getting arty and emotional, Lee Grummett, the first A/D (who I would love to have on In The Heart Of The Sea, but Ridley Scott has stolen him), was extremely practical and level-headed in keeping track of the different scenes and cameras we were going to use. Alastair Rae is an hilarious person and a great Steadicam operator, who composes better than he knows. My gaffer, Thomas Neivelt, who I have worked with for years, was absolutely indispensible, and Jacob Bonfils was my eyes in prep as we assembled the cameras and lenses. On the technical side, I have to mention Lester Dunton, together with Rupert Lloyd Parry and his gang, and the work they did in creating special sliders for the on-board mini-cams. These could withstand the G-forces as the cars raced and helped me design camera moves that would capture the thrill of the action from some incredible perspectives. CinePostProduction, provided us with a mobile grading truck, and I have great respect for their dailies graders in keeping to the integrity of what we wanted to achieve under pressure on-set every day.
Which sequences are particularly fond, or proud of, from a cinematographic POV?
Cinematography is all about storytelling. So whilst there's sex and lots of drop-dead-gorgeous girls in hot pants, I think recreating the Lauda crash is a great achievement for all departments. The result is so close the real accident. I am also very pleased with the language of things like the HelmetCam, as that brings the audience right inside the eyeballs of the drivers, their peripheral vision, as they travel at speed. The on-board material is very disturbing too for the audience as you feel the cars as living and breathing, demonic instruments.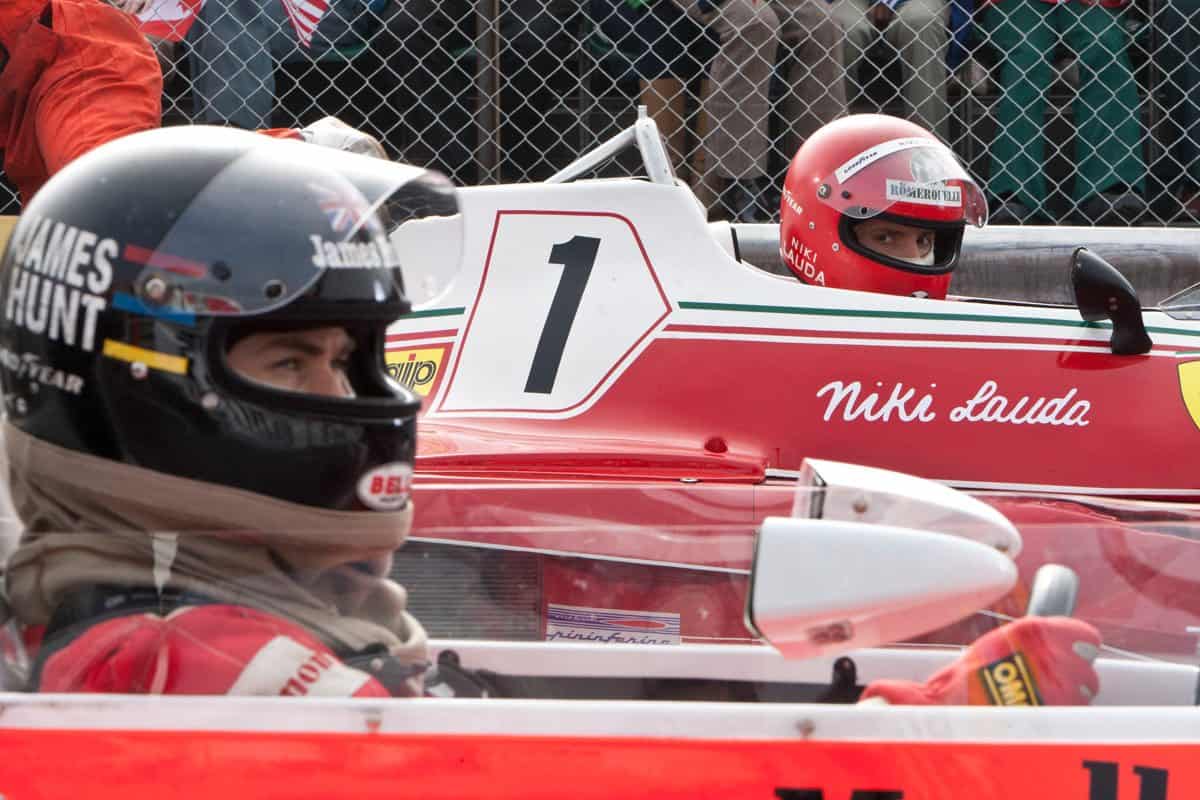 What were your main concerns during the shoot?
The personal concern for any cinematographer is the bond you have with the director. Ron comes from the Hollywood tradition, whilst my background is in quirky, European independent cinema. However, even though we came from very different schools and cultures, and we're very different visually, we're both motivated by drama, real human beings and their relationships. So we met at a certain place on Rush. I found his pragmatism and open-mindedness a great support. We're also quite close in age, and we both have red hair. The other chief concern was getting the right look. There are always things nagging in my head, little green devils asking, "Is this right or wrong?". But the energy and time we all spent early-on in gave us great results.
How did you work with Ron on set? Does he direct beside the camera, or from a video village?
Ron's knows about the magic of cinema. He comes with enormous experience, and is absolutely lovely on-set. We talked a lot and had a great rapport. He's hyperactive, full of energy and always humorous. He's good at sitting in a video village looking at footage, assessing the performances and how takes will cut together. But he is equally great up by the camera with the actors.
How about your work with the VFX department?
There are around 800 VFX shots in Rush. Jody Johnson and the team from DNeg were involved from the very early stages. They understood the aesthetics of what I wanted to achieve, and made sure their work maintained the proper textures and looks from the lens and down the pipe into post production. Their pre-viz work was very helpful in guiding our planning of various scenes, and they helped with a lot of the invisible stuff – like set extension and crowd replication. Their close work with the art department help us transform footage shot at Dunsfold into Monza, Kayalami, Watkins Glen or the exit lane at Nürburgring. I think they really nailed the Lauda crash ­– it's a massive, climactic marriage between cinematography, props and VFX.
Where did you do the DI, and what did it contribute to the movie?
I worked with Adam Glasman at Company 3 in Soho, and we completed the DI together in about three weeks. As we had already worked closely early-on to establish the looks, the DI was one of the most straightforward I have ever done. We mainly concentrated on controlling the textures and bringing a consistency to the different footage. We spent time eradicating the middle tones, pushing the reds, yellows and greens, crushing the blacks and popping the whites. We also did around 250 camera moves in the DI, which we had planned in advance, mainly to reframe the footage captured with the smaller cameras. I am very proud of the final result, as you really can't see the joins between the archive, VFX shots and the live action material we shot.
Overall, how did Rush challenge you/push your skills?
I like to work on, and get drawn to, more demanding films. When I think about Slumdog Millionaire, Dread 3D, Trance, 127 Hours and many of Lars' films, they have all been complicated, and I find that pleasing. I'm not sure a film is worth doing if it doesn't push you in some way.
The acid test on Rush was when Ron and Andrew took the movie to a private screening for professional F1 drivers, including Lewis Hamilton, Felipe Massa and Niki Lauda, and some of the sport's big players, like Bernie Ecclestone. They loved it, and really grasped the sheer danger of the sport back then. I believe some of the current F1 drivers looked at Lauda and asked whether it was really like that?