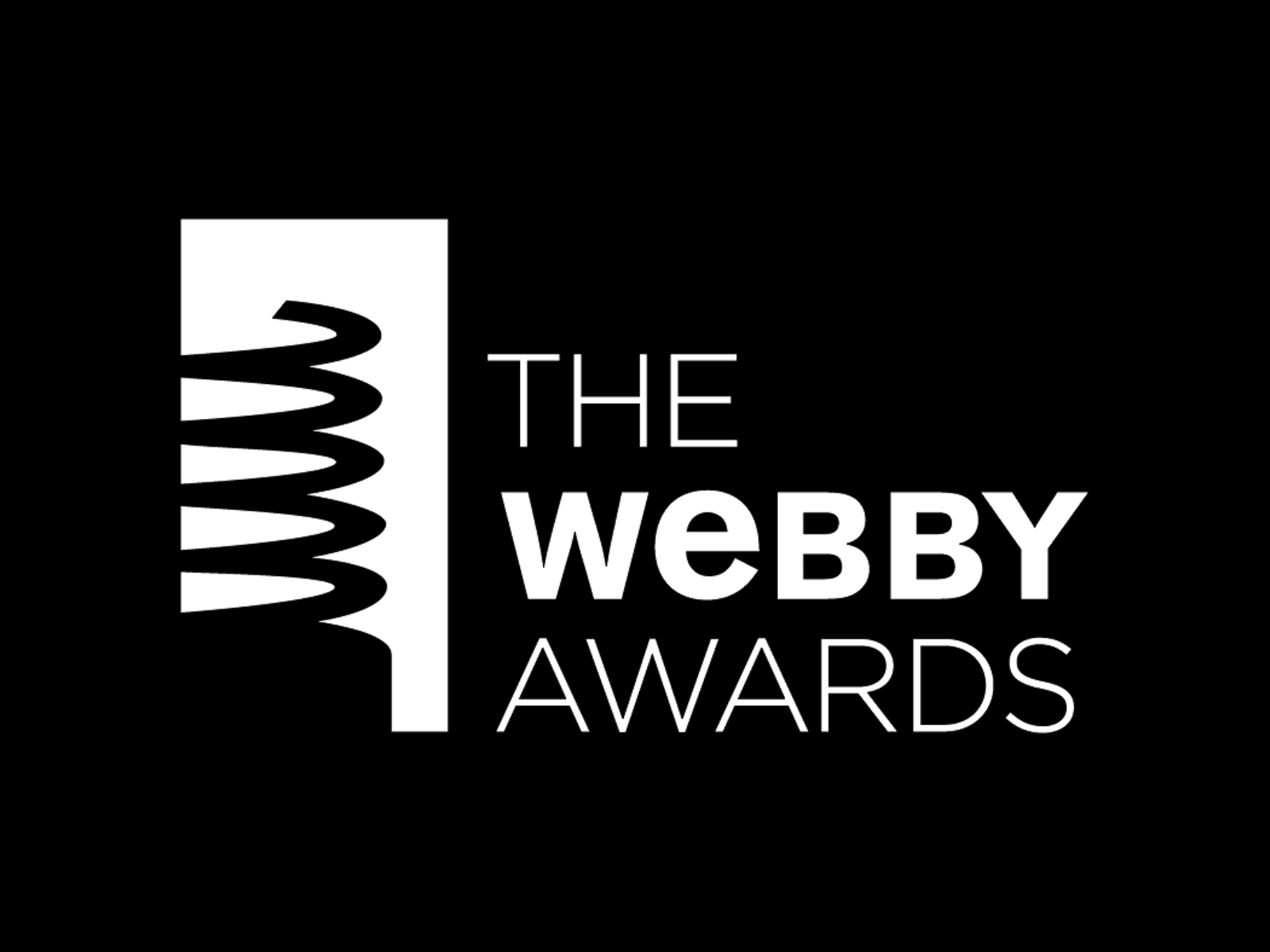 The International Academy of Digital Arts & Sciences (IADAS) announced the Winners for the 27th Annual Webby Awards.
Winners include companies, content and campaigns from Apple TV, Adobe's Frame.io, ESPN's 30 for 30 Podcast, Headspace, Discord, Nike's Just A/Run, Etsy, Disney's TikTok, Pod Save America, Spotify's Wrapped, Blokhaus, Mozilla's IRL: AI in Real Life podcast, Verizon's Halftime Show and Google Store; pop culture phenomena such as Ted Lasso, Stray, HBO Max's "Negroni Sbagliato," and Recess Therapy's "It's Corn;" as well as cultural icons including Lizzo, Former President Barack Obama, Doja Cat, BLACKPINK, the cast of Stranger Things, the cast of Wakanda Forever, Trixie Mattel, Hugh Jackman, Christina Aguilera, Hoda Kotb, Patrick Mahomes, Jimmy Kimmel, Roger Federer, Serena Williams, Trevor Noah, and more.
The Webbys will once again honour a group of individuals for their outstanding work on the Internet this year with Special Achievement Awards. They join the ranks of past Special Achievement Winners including Megan Thee Stallion, Yara Shahidi, Prince, Solange, Miley Cyrus, Dwayne 'The Rock' Johnson, Ava Duverney and the founders Instagram and  Black Lives Matter. This year's Special Achievement Winners include:
Webby Lifetime Achievement Award – Shigetaka Kurita, the creator of the emoji, for his significant contribution to the worldwide cultural zeitgeist and impact on the way we communicate.
Webby Breakout of The Year Award – ChatGPT, the game-changing, generative AI writing tool that created a digital phenomenon that's changing the way we work and create.
Webby Artist of The Year – SZA for the instant classic SOS, the true intention and consideration she injects into her work, and for her ingenious use of the Internet to share unique, brilliantly honest art.
Webby Special Achievement Award – Tracee Ellis Ross for her ingenious use of the Internet to share multidimensional stories of belonging, increase Black representation in the beauty industry, and serve as a constant, positive force.
Webby Podcast of The Year – SmartLess, honouring Jason Bateman, Sean Hayes and Will Arnett for bringing nostalgia and laughter to listeners on their podcast SmartLess.
Webby Best Actress – Sharon Horgan for capturing the Internet's attention with her acclaimed Apple TV+ show Bad Sisters, which she created, executive produced and stars in, as well as for her incredible career in comedy as a voice of radical self-awareness and razor sharp wit.
Webby Special Achievement Award – Tobe Nwigwe for his innovative use of the Internet to create art that is imaginative and poignant as seen in his album moMINTS and his role as 'Nick' in the Netflix series Mo.
Webby Special Achievement Award – Under the Desk News for making the news accessible and understandable to young people through their candid, hard-hitting and synoptic reporting, all done in bite-sized pieces on Tik Tok.
"This year's Webby Winners speak to the incredible potential of the Internet and the people who shape it." said Claire Graves, president of The Webby Awards. "They have set the benchmark for excellence in their respective category and are an inspiration for us all to continue striving towards a more connected and creative digital world."
Webby Winners are selected by the IADAS. Members include Questlove, DJ and Producer; Tan France, Fashion Designer, Television Personality & Author; Natalie Guzman, Co-President & CMO, Savage X Fenty; Werner Vogels CTO, Amazon; Roxanne Gay, Host, The Roxanne Gay Agenda; Quinta Brunson, Writer, Director and Actor; Ziwe Fumudoh, Comedian and Writer; Reshma Saujani, Founder, Girls Who Code; LeVar Burton, Actor, Podcaster and TV Host;  Takashi Murakami, Artist; Samantha Bee, Comedian; and Tracy Chou, Founder & CEO, Block Party.
For the first time, the Academy is recognising the Webby Podcast Company of the Year for the organisation that has earned the most honours across the Podcast categories. With 4 wins, including nods for The Big Lie, The Sandman: Act III and Finding Tamika, in addition to 13 nominations the inaugural award was won by Audible. In addition, the Academy announced MTV Entertainment as the Webby Media Company of the Year, for earning the most honours across all Webby categories, winning an impressive 11 wins and 7 nominations overall.
Host Roy Wood Jr. (The Daily Show with Trevor Noah, Roy Wood Jr.: Imperfect Messenger) will return to this year's star-studded Webby Awards ceremony, which takes place at Cipriani Wall Street in New York City on Monday, May 15. Fans will be able to watch special moments and the hallmark 5-Word speeches from all the Winners by following @TheWebbyAwards across YouTube, Instagram and TikTok.
–
2023 Winner Highlights:
Rihanna's Savage x Fenty Show Vol. 4 won the Webby People's Voice Award for Fashion, Beauty & Lifestyle, Branded Entertainment (Video)
The Daily Show with Trevor Noah – "America's Door Problem" won the Webby Award for Comedy, General Video (Video)
Recess Therapy's "It's Corn" won the Webby People's Voice Award for Video Remixes/Mashups, General Video (Video)
Trixie Mattel Transforms Into Dr. Manhattan won the Webby People's Voice Award for Fashion, Beauty & Lifestyle, General Video (Video)
Christina Aguilera – Beautiful (2022 Version) won the Webby Award for Music Video, General Video (Video)
Discord won the Webby Award for Community, General Websites and Mobile Sites, (Websites and Mobile Sites)
Patagonia won the Webby Award for Best Practices, Features & Design (Websites and Mobile Sites)
Spotify's 2022 Wrapped won the Webby Award for Best Mobile Visual Design – Aesthetic, Mobile Specific Features & Design (Websites and Mobile Sites)
Google Store won the Webby Award for Best Mobile User Experience, Mobile Specific Features & Design (Websites and Mobile Sites)
Variety.com featuring Hugh Jackman won the Webby Award for Best Writing (Editorial), Features & Design (Websites and Mobile Sites)
Rare Beauty by Selena Gomez won the Webby Award for Fashion & Beauty, General Social (Social)
Doja Cat x Taco Bell: A "Contractual" Partnership won the Webby Award for Best Influencer or Creator Endorsement, Features (Social)
Gold Blooded: Golden State Warriors 2022 NBA Champions won the Webby Award for Sports, General Social (Social)
My BTS Story won the Webby Award for Best Community Engagement, Features (Social)
LIZZO'S BIG GIRLS | Womxn's History Month | Animated Social Video won the Webby Award for Arts & Entertainment, Social Video (Social)
Etsy won the Webby Award for Best Overall Social Presence – Brand, Features (Social)
Disney's TikTok won the Webby Award for Entertainment, General Social (Social)
HBO Max's "Negroni Sbagliato" won the Webby Award for Best Use of Video, Features (Social)
#PinkVenomChallenge – YouTube Shorts x BLACKPINK won the Webby People's Voice Award for Best Partnership or Collaboration, Features (Social)
Marvel Studios' Black Panther: Wakanda Forever won the Webby Award for TV, Film & Entertainment, Social Content Series (Social)
Pod Save America: Obama's Advice For Democratswon the Webby Award for Featured Guest, Individual Episodes (Podcasts)
ESPN's 30 for 30 Podcasts won the Webby Award for Sports, General Series (Podcasts)
Mozilla's IRL: AI in Real Life won the Webby Award for Technology, General Series (Podcasts)
The Big Liewon the Webby Award for Scripted (Fiction), Limited-Series & Specials (Podcasts)
Finding Tamika won the Webby Award for Documentary, General Series (Podcasts)
Nike – Just A/Run won the Webby Award for Augmented Reality, Individual (Advertising, Media & PR)
FIFA 23 x TED LASSO won the Webby Award for In-Game Integration, Individual (Advertising, Media & PR)
Netflix Stranger Things Global Rift Takeover won the Webby Award for Experience Marketing, Individual (Advertising, Media & PR)
The Coors Light featuring Patrick Mahomes won the Webby Award for Best Partnership or Collaboration, Advertising Campaigns (Advertising, Media & PR)
Steak-umm Beef Sheets featuring Jimmy Kimmel won the Webby Award for Digital Campaign, Advertising Campaigns (Advertising, Media & PR)
Barilla – The Promise featuring Roger Federer won the Webby Award for Best Influencer Endorsements, PR Campaigns (Advertising, Media & PR)
Stray won the Webby Award for Best User Experience, Features (Games) and Technical Achievement, Features (Games)
The Apple TV app won the Webby Award for Best Streaming or OTT Service, App Features (Apps, dApps and Software)
Adobe Camera to Cloud powered by Frame.io won the Webby Award for Creative Production, Software Services & Platforms (Apps, dApps and Software)
Headspace won the Webby Award for Best User Interface, App Features (Apps, dApps and Software)
Blokhaus's Performance in Code: Tezos at Art Basel won the Webby Award for Integrated Mobile Experience, App Features (Apps, dApps and Software)
Never Done Evolving won the Webby Award for Technical Achievement, Virtual Video Features, (Metaverse, Immersive & Virtual)
Burberry x Minecraft won the Webby Award for Best Partnership or Collaboration, Metaverse & Immersive Features (Metaverse, Immersive & Virtual)
Verizon Pepsi Halftime Ultra Pass won the Webby Award for Best Audience Integration, Virtual Video Features (Metaverse, Immersive & Virtual)
Never Done Evolving featuring Serena Williams won the Webby Award for Technical Achievement, Virtual Video Features (Metaverse, Immersive & Virtual)