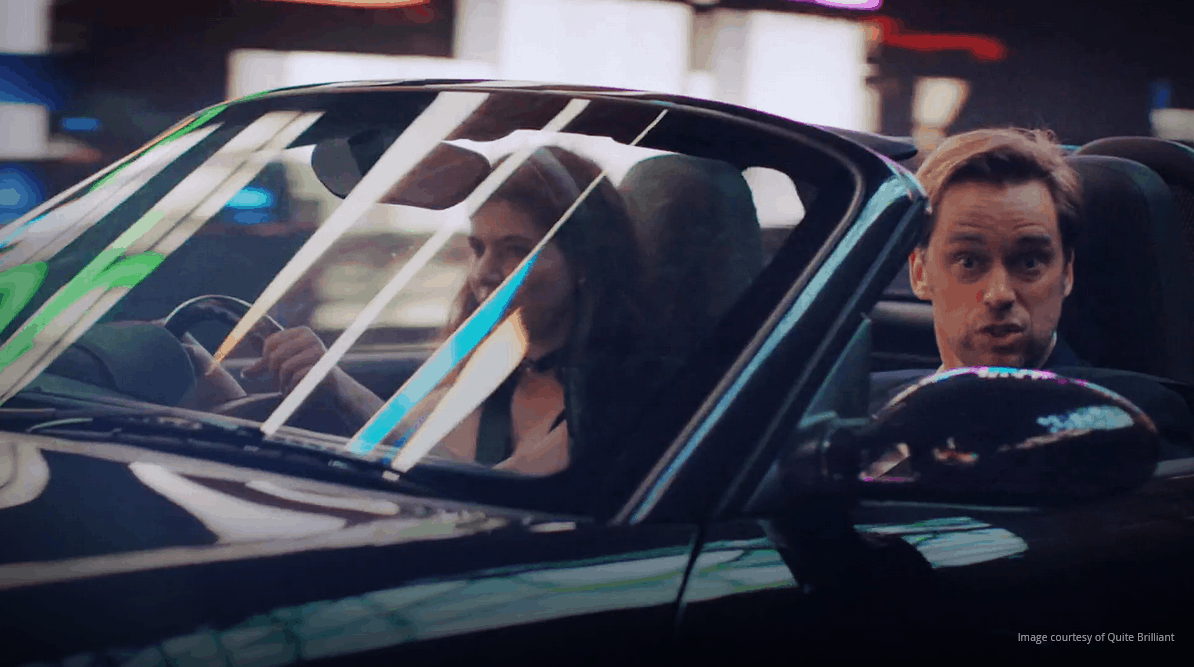 Quite Brilliant is one of a new wave of multi-disciplined media companies awake to the infinite creative possibilities of this method of film production. The agency has worked on a large number of short-form projects, and believes virtual production is a great choice for clients looking to deliver content such as TV commercials on fast-paced schedules.
Quite Brilliant's Managing Partner Russ Shaw can vouch for this based on personal experience. Driving back from a shoot in early in 2020, he and Director Nick Jones had a conversation about how game engines are being used to create photoreal car commercials.
That sparked a journey into the world of virtual production that saw Quite Brilliant create an experimental test film to assess the viability of the techniques for future projects. Fast forward less than a year and the results speak for themselves—Quite Brilliant is a key partner in opening one of the UK's newest permanent LED stages.
Quite Brilliant's foray into virtual production is part of a wider story—what some are describing as the great film production renaissance. "Creativity is right back at the forefront again," says Shaw, Managing Partner at Quite Brilliant. "When you've worked in virtual production, you find yourself thinking of ideas all the time—like what crazy vistas you could now be shooting against, just as if you could be teleported instantly to anywhere in the world."
Instant photorealistic backdrop changes 
After their initial conversation last year, Shaw and Jones began to get excited about the potential of game engine technology for filmmaking. Shaw started calling around to find places where they could experiment with virtual production.
Eventually, he learned that Universal Pixels and Rebellion Studios were putting up a temporary LED wall in a new studio space outside London. The team decided to write a script and embark on an exciting journey which would take them through the whole process of producing a test film from start to finish, teaming up with Satore Studio to bring the project to fruition.
The resulting short film transports its protagonist through a diverse range of environments, including outer space, a pulsating nightclub, and a lush pine forest. In contrast to traditional filmmaking, which may necessitate building different sets or traveling to different locations to capture footage, the team filmed everything in one location and on one set using an LED stage. This enabled them to swap in photorealistic backdrops in the click of a button, with impressively plausible results.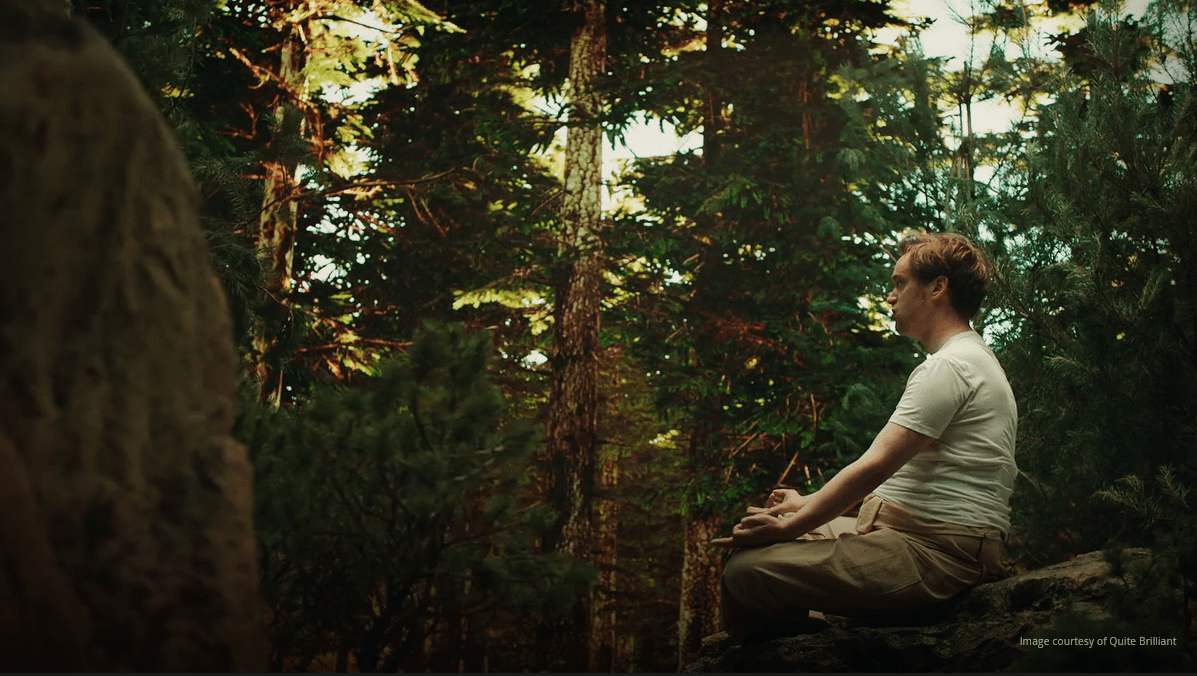 Highly realistic set lighting 
At its core, the setup the team used involves a camera, tracking device, Unreal Engine, foreground props, and LED screens. The camera is mounted with a tracking device, providing  XYZ camera positioning and lens information to a server, which in turn tells another machine running Unreal Engine that it needs to pan, tilt, roll, zoom, or pull focus on a CG model displayed in the engine's viewport.
Unlike traditional CG, the scene is rendered in real time, so the camera view—along with the lighting—can be changed in front of your eyes. This image is then fed to the LED screen, in this instance via disguise RenderStream, which creates the illusion of depth or parallax to the lens of the camera as it's moved.
For Shaw, the instant on-set results achievable with this way of filmmaking are nothing short of revolutionary. "The camera tracking and real-time parallax of the projected environment are game changers," he says. "To achieve this level of movement with such a high level of photorealism—which I might add is only going to get better and better with every iteration of hardware—is so exciting."
Shaw was also taken aback by the realism of the lighting they were able to reach using an LED screen. "The ability to achieve such highly accurate foreground lighting in real time just elevates everything you shoot for me," he says. "With a traditional chroma approach, to produce the same results would require a lot of careful lighting thought or post-production projection mapping—particularly when shooting reflective surfaces like a car."
By using a roof-mounted LED display with extremely high brightness values, the team was able to use the lighting from the CG environment to illuminate the foreground talent and set so the color temperatures matched and looked realistic.
In some scenes only the sky with drifting clouds was shown, but in the scene featuring the car, street lamps and color streaks were also displayed. "This worked brilliantly over the car's black reflective bodywork and windscreen," says Shaw. "I think this in particular highlights the difference between shooting against a green screen versus an LED screen, as the reflections are just so natural."
LED screen versus green screen 
Shooting on a LED stage completely changes the filmmaking pipeline, as Shaw discovered. "It actually takes most of the post-production and repositions it as pre-production," he explains. Most of the environments the team used were purchased models from the Unreal Marketplace, "which is an Aladdin's cave for virtual assets," says Shaw.
By undertaking the bulk of the work preshoot, the team can now create a very accurate animatic for clients upfront, right down to camera angles, which can then be signed off or used for research, reducing any risks or surprises. "This benefits us as a production company because what has been made for research can be reused for the main shoot— which means it's not wasted time," explains Shaw.
As you'd expect, the project was a huge learning curve for Shaw and his team. "Shooting in virtual production gives a 'live' feel to everything—much like traditional shooting on location, everything in virtual production is moving and tracking in time to each other so it feels much more alive than green screen," he says.
"Additionally, shooting in virtual production is of great benefit to actors, because they can actually see and feel the realistic backgrounds they are performing in—not just green voids."
A virtual production revolution 
When it came to selecting the real-time platform to power the virtual production setup, the decision was easy. "For me, Unreal Engine is the only viable option for this kind of work," says Shaw. "The talent pool appears bigger from our experience, and undoubtedly, it's only going to grow more rapidly as more education facilities roll out graduates from their newly introduced  virtual production courses."
Virtual production has famously been used on The Mandalorian, along with other big-budget productions. Shaw believes now is the time for smaller production companies and studios to start exploring the technology. "They should absolutely be experimenting with it," he says.
For those creating short-form content like TV ads, virtual production workflows can expand creative horizons and offer a cost-effective production method. "I'm genuinely so excited about the future for commercials with virtual production," says Shaw. "As the technology keeps improving and the asset libraries keep growing, the speed benefits and cost savings to clients are going to be too hard to resist."
The growth of more accessible virtual production facilities heralds an exciting new era for filmmaking. "I really think we're just at the tip of the iceberg for this technology," says Shaw. "Let's not forget that extended reality, photogrammetry, and motion capture are areas that are also being developed all the time, so the virtual world will just keep growing."
Quite Brilliant is set to be at the forefront of the virtual production revolution in the UK, partnering with Arts Alliance Ventures to open Garden Studios—a brand new 160,000-meter-squared creative hub in London, offering sound stages, workshops, and technical facilities.
Open for bookings now, its first of several virtual production studios is a 12-by-4-meter curved LED wall, with ceiling and totems made up of Roe Diamond 2.6mm panels, Brompton S8 processors, and an extensive range of camera kit and accessories to choose from provided on-site by Procam, plus multiple instances of Unreal Engine.
This new venture feels like a fitting culmination to a journey that started with that off-the-cuff conversation on a drive home last year. Shaw now believes virtual production enables creators to completely reimagine what it means to create a film. "What I really took from this was that it has the ability to restart production," he says. "Crews don't have to travel and you can achieve multi-location setups in a fully light-controlled environment—think all-day golden hour, and you have a director of photography's dream."
Shaw concludes by pointing out that industry disruptors are always the catalyst for new ways of working, which inevitably leads to the inquisitive pioneers thriving. "I believe virtual production is one of these disruptors," he says.
This is an Unreal engine article. For more information, head over to the website.