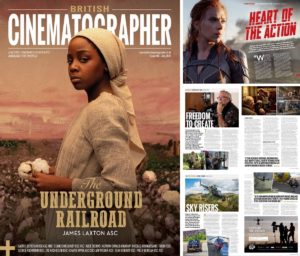 The July 2021 issue of British Cinematographer is now here! You can find out more about just some of the fascinating interviews and articles you can expect to find inside our latest edition now by reading on…
JAMES LAXTON ASC ON THE UNDERGROUND RAILROAD
In our cover story special, we catch up with cinematographer James Laxton ASC to find out more about his experiences of lensing the ambitious 10-part Amazon series The Underground Railroad.
In this not-to-be-missed interview, he discusses reuniting with director Barry Jenkins once again to tell a powerful story rooted in the history of the American South and the atrocities of slavery.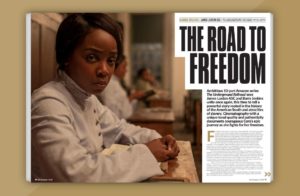 GABRIEL BERISTAIN BSC ASC AMC ON BLACK WIDOW
It was cinematographer Gabriel Beristain BSC ASC AMC who was tasked with capturing the look of Marvel Studios' action-packed spy thriller Black Widow.
He tells Zoe Mutter about working alongside director Cate Shortland, being a "master of the three camera set-up", and how colour played a starring role in the graphic novel-influenced film.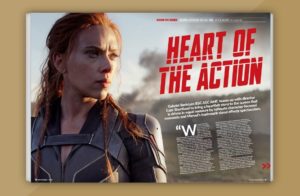 VISIONARY… SEAN BOBBITT BSC
In the latest edition of our Visionary profile, we celebrate the phenomenal work of Sean Bobbitt BSC. In an incredible insight into his career and philosophy, he shares some extraordinary stories and discusses creating imagery relevant to a truth, captivating audiences, and his life-changing filmmaking experiences.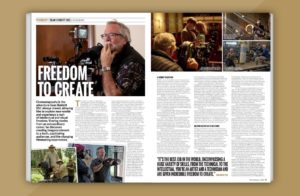 INDUSTRY WIDE SHOT… AERIAL FILMING
Drones, helicopters, and fixed-wing aircraft are helping filmmakers produce creative and spectacular shots that soar. We examine the developments in the ever-evolving world of aerial cinematography.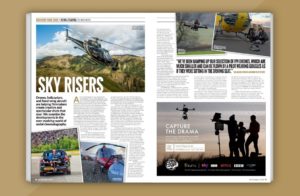 AUTUMN DURALD ARKAPAW ON LOKI
Having previously been portrayed by Tom Hiddleston in a series of Thor and Avengers films, Marvel character Loki now finds himself as the subject of his own Disney+ miniseries.
Cinematographer Autumn Durald Arkapaw discusses how the pandemic gave cast and crew additional time to plan shooting the action-adventure series,  her bond with director Karen Herron, and her references for the project.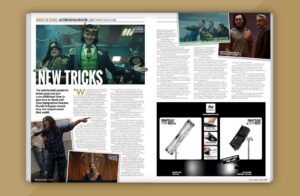 NICOLAS KARAKATSANIS ON CRUELLA
Cruella serves as the origin story for an infamous and fashionable Disney villainess first introduced to moviegoers in the animated classic 101 Dalmatians in 1961.
Belgian cinematographer Nicolas Karakatsanis tells us all about how he lensed a production filled with colour, energy, and dark humour.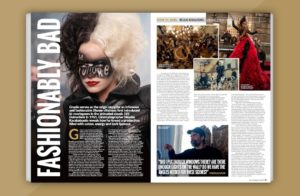 SEAMUS MCGARVEY BSC ASC ON THE NEVERS
Set in Victorian London, HBO fantasy drama series The Nevers tells the story of 'The Touched', an ostracised segment of the population that has developed abnormal abilities following an alien encounter.
Seamus McGarvey BSC ASC talks to us about his time lensing the first two episodes of the series and collaborating with filmmaker Joss Whedon once again.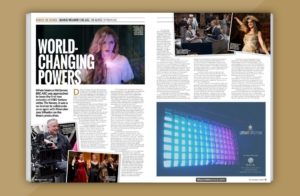 ALICE BROOKS ON IN THE HEIGHTS
Directed by Jon M. Chu (Crazy Rich Asians), In The Heights is the film version of the hit 2005 Broadway musical of the same name.
Alice Brooks discusses capturing the vibrant spirit of New York's immigrant neighbourhood and bringing the energetic film to life.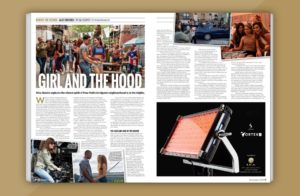 HERE'S WHAT ELSE YOU'LL FIND INSIDE OUR LATEST EDITION…
BSC President Mike Eley talks about the reputation that cinematographers have to uphold in the filmmaking process in this month's edition of President's Perspective.
We explore the work of IMAGO's Technical Committee. The pandemic has driven a number of changes to the committee's operation from inspiring new dedicated councils to the development of new solutions to support cinematographers.
In this month's Letter from America, Steven Poster ASC analyses how the introduction of 6P Colour marks a giant step toward the holy grail of end-to-end, device-independent colour management.
Polly Morgan BSC ASC breaks down an action-packed and tightly choreographed scene from A Quiet Place Part II along with bespoke car rig, kit, and teamwork at its core.
In our latest edition of Cinematic Classic, we examine the work of cinematographer Douglas Slocombe OBE BSC as Indiana Jones and the Raiders of the Lost Ark celebrates its 40th anniversary.
We look at the incredible career, filmmaking inspirations, and philosophies of camera operator Charlie Rizek.
In our latest instalment of Point of View, Rizwan Wadan explores the power film and TV have to change perceptions and shares details of the work being done to prevent the misrepresentation of Muslims on screen.
We share behind-the-scenes insight into Robin Fox's work on The Lost Pirate Kingdom; George Richmond BSC on Free Guy; Zac Nicholson BSC's cinematography for The Pursuit of Love; Ari Wegner ACS's lensing of Zola; Chayse Irvin ASC CSC on Don't Go Tellin' Your Momma; and Laura Bellingham on The Power.
There's also our comprehensive rundown of what DPs are currently shooting, plus much, much more!
Digital and Print & Digital Subscribers can read our 106th edition now by clicking here.
Print subscribers* will receive their copies in the post within the next fortnight.
Not a subscriber yet? Don't worry – you can get your annual subscription now from just £30 ($39) by clicking here.
*Issue 106 will only be received in printed format by those with an active 'Print' or 'Print & Digital' subscription purchased before 29th June 2021. Any new 'Print' or 'Print & Digital' subscription purchases made from 29th June 2021 onwards will NOT receive this issue in print as part of their purchase.