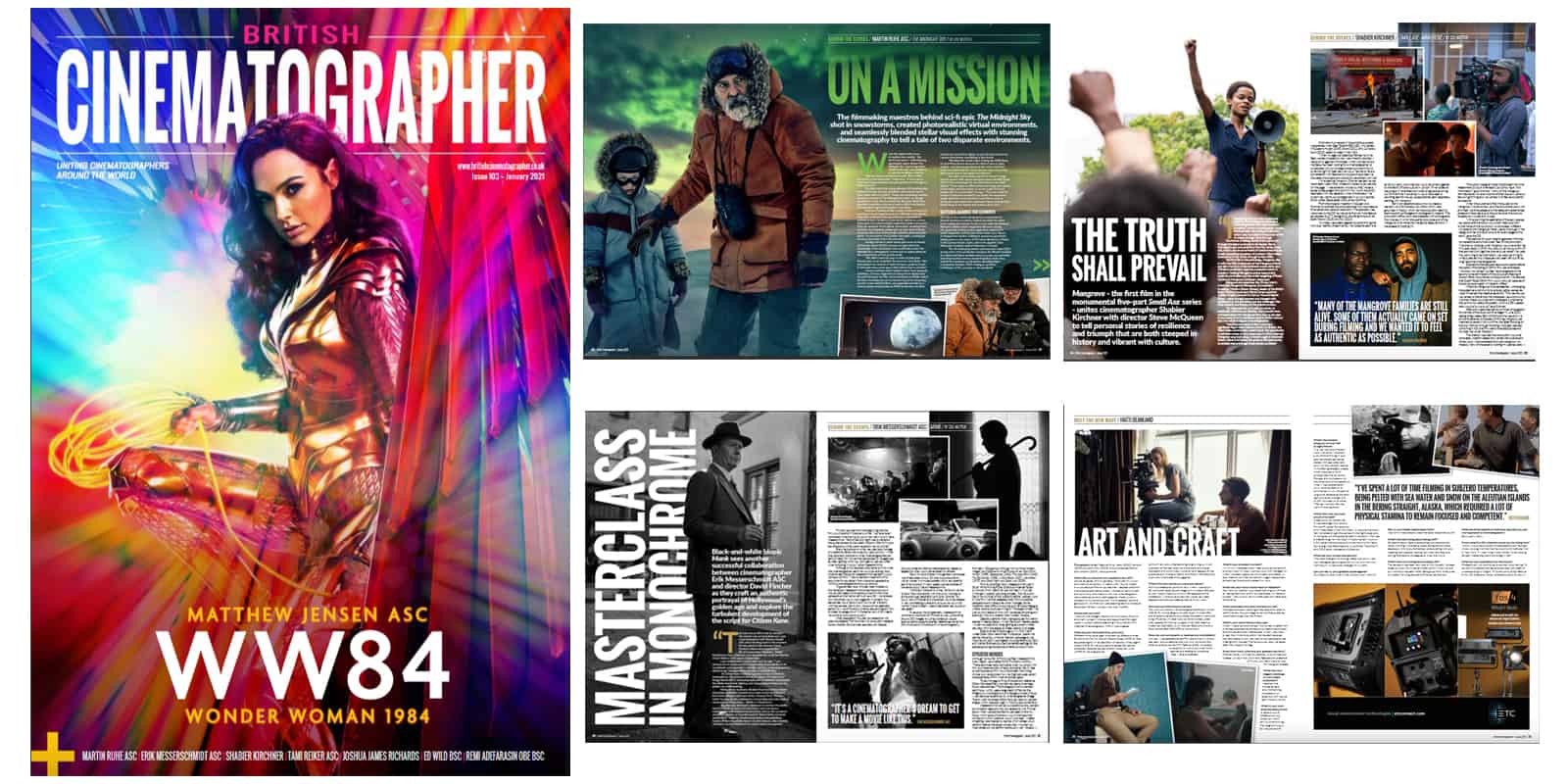 We're delighted to announce that the January 2021 issue of British Cinematographer is now here! You can find out more about just some of the exclusive interviews and articles you can expect to see inside our bumper 103rd edition now by reading on…
MATTHEW JENSEN ASC ON WONDER WOMAN 1984
In our first cover story special of the year, we catch up with Matthew Jensen ASC to discuss his time reuniting with director Patty Jenkins to bring a vision of an optimistic, pure & pop-orientated movie to life on Wonder Woman 1984.
Jensen tells us all about drawing inspiration from the fun-filled films of the late '70s and early '80s, shooting epic action sequences and the stunning results achieved by shooting on a mixture of formats including 35mm film and IMAX.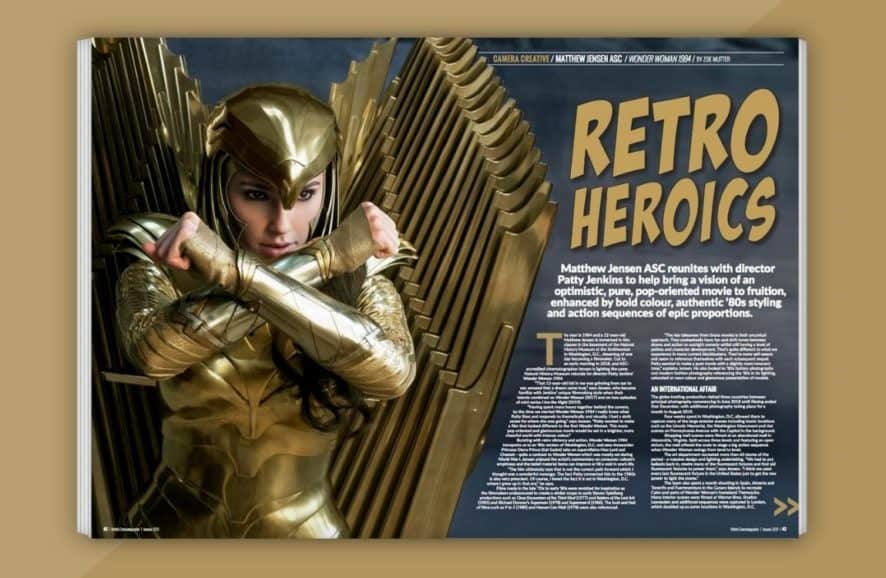 MARTIN RUHE ASC ON THE MIDNIGHT SKY
Sci-fi epic The Midnight Sky presented cinematographer Martin Ruhe ASC with the unique, ambitious task of exploring two disparate environments – the Artic and space.
Speaking to British Cinematographer's Editor, Zoe Mutter, he discusses his second director-DP collaboration with George Clooney, battling against the elements and creating photorealistic virtual environments to bring the film to life.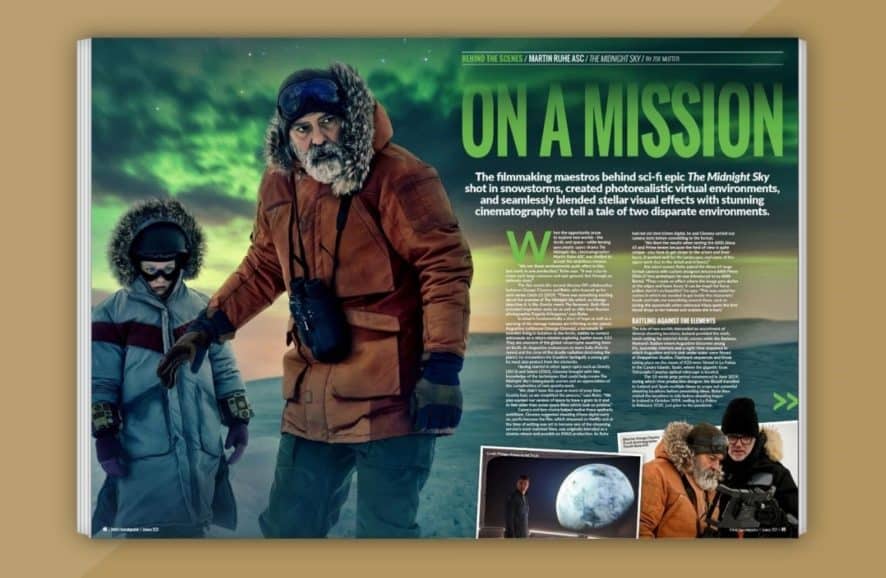 JOSHUA JAMES RICHARDS ON NOMADLAND
It was Joshua James Richards' responsibility to capture Chloé Zhao's deeply intimate story of self-discovery, Nomadland.
The film – inspired by a non-fiction book by journalist Jessica Bruder – tells the story of a woman who embarks on a journey across America after losing everything she owns during the recession. In a fascinating interview, Richards shares his experiences lensing the heartfelt tale and giving the audience the deeply emotional experience of the characters.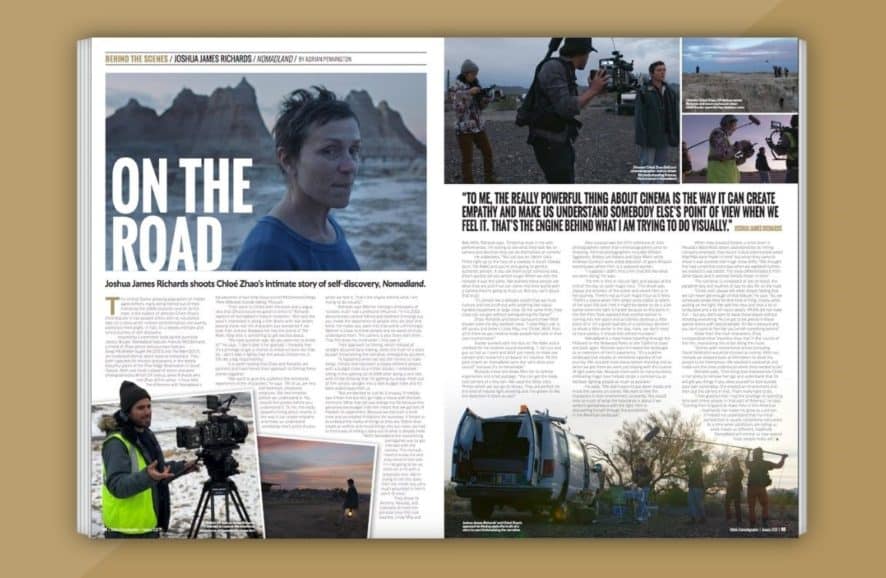 HATTI BEANLAND MEET THE NEW WAVE
In the latest instalment of our ever-popular feature, the super-talented Hatti Beanland tells us about the best advice she's ever been given, the challenges of shooting in sub-zero temperatures and the films that she's most proud of in her career so far.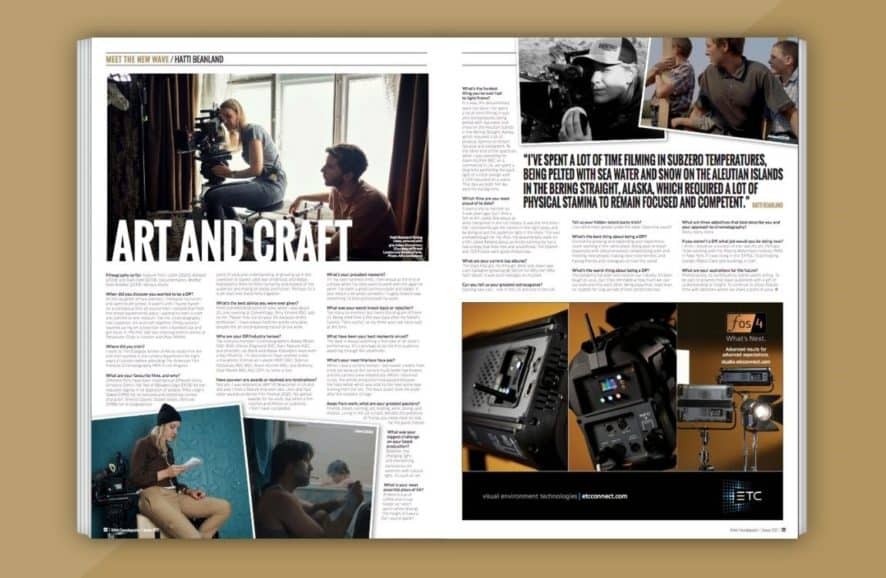 SHABIER KIRCHNER ON SMALL AXE
The monumental five-part Small Axe series saw cinematographer Shabier Kirchner unite with director Steve McQueen to tell personal stories of resilience and triumph that are steeped in history and vibrant in culture.
Kirchner explores the creative techniques used to tell compelling narratives of London's West Indian community in the 1960s through to the 1980s and shares his experiences of lensing Mangrove – the first film in the series which focuses on the true story of the Mangrove Nine.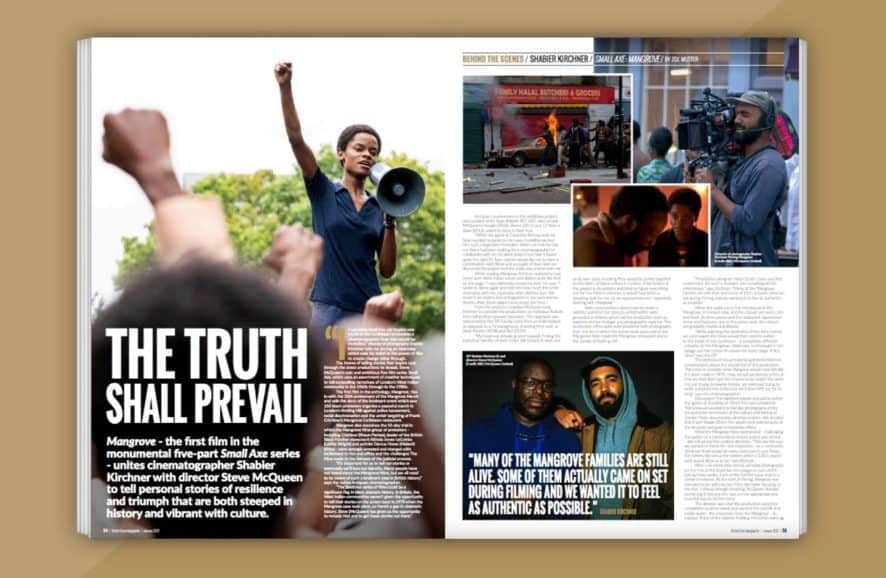 REMI ADEFARASIN OBE BSC ON JINGLE JANGLE: A CHRISTMAS STORY
Keen to immerse himself in a variety of genres – from historical drama Elizabeth: The Golden Age (2007) through to family comedy Fighting With My Family (2019) – cinematographer Remi Adefarasin OBE BSC was thrilled to explore the unique world inhabited by Netflix's fantasy musical Jingle Jangle: A Christmas Journey.
He reflects on his time working alongside writer-director David E. Talbert to bring the festive musical extravaganza to life.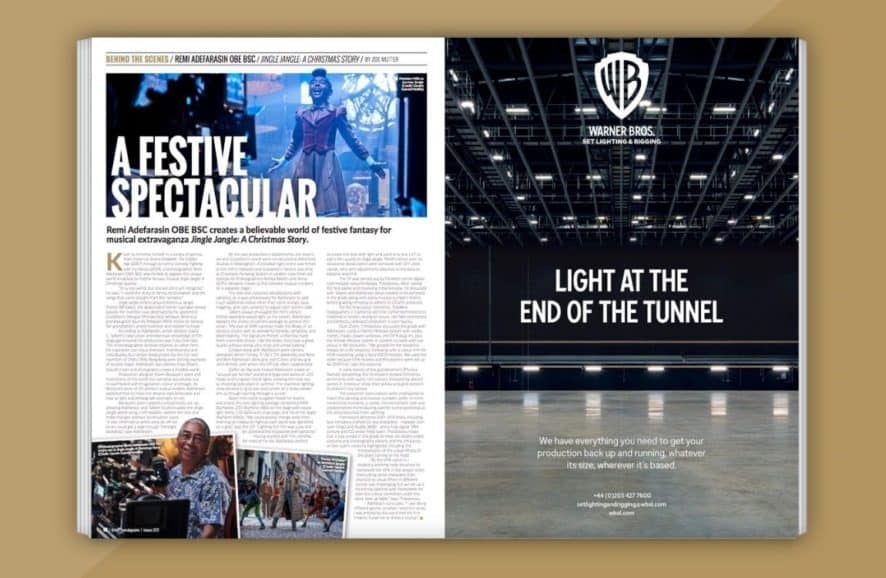 HERE'S WHAT ELSE YOU'LL FIND INSIDE OUR LATEST EDITION…
BSC President Mike Eley reflects on 2020 and the impact of Brexit on the industry in our latest edition of President's Perspective.
IMAGO's Interim Chair Ron Johanson OAM ACS examines the global federation's history and valuable work and shares details of its future.
In this issue's Letter From America, Mark London Williams gives us the low down on the latest COVID-safe production protocols in the US as the demand for content is expected to reach new highs this year.
In our all-new feature, Cinematic Classic, we celebrate Gordon Willis ASC's masterful work lensing The Godfather trilogy.
We also talk to Erik Messerschmidt ASC on Mank, Ed Wild BSC on The Wilds, Simona Susnea on Audrey: More Than an Icon, Tami Reiker ASC on One Night in Miami and Alexander Dynan on After Love.
We also shine a light on gaffer Howard Davidson, we take a look at the DP-colourist collaboration in the first of a new series examining the art and craft of cinematography, and we look back at EnergaCAMERIMAGE 2020.
There's also our comprehensive rundown of what DPs are currently shooting, plus much, much more!
We've introduced some new sections into this edition which we'd love to hear your feedback on.
Digital and Print & Digital Subscribers can read our 103rd edition now by clicking here.
Print subscribers* will receive their copies in the post within the next fortnight.
Not a subscriber yet? Don't worry – you can get your annual subscription now from just £30 ($39) by clicking here.
*Issue 103 will only be received in printed format by those with an active 'Print' or 'Print & Digital' subscription purchased before 18th January 2021. Any new 'Print' or 'Print & Digital' subscription purchases made from 18th January 2021 onwards will NOT receive this issue in print as part of their purchase.