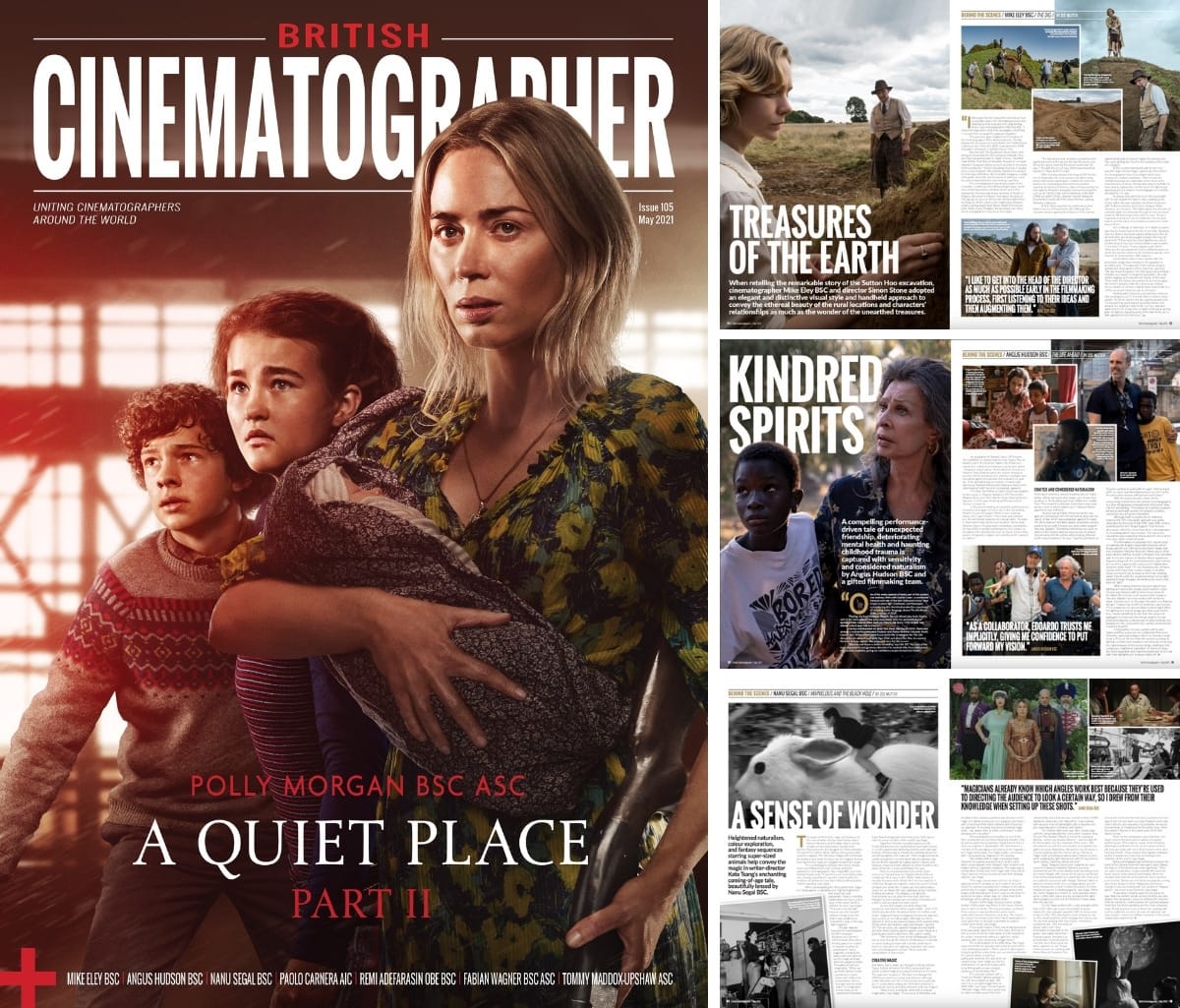 The May 2021 issue of British Cinematographer is now here! You can find out more about just some of the incredible interviews and exclusive articles you can expect to find inside this not-to-be-missed edition now by reading on…
POLLY MORGAN BSC ASC ON A QUIET PLACE PART II
In our latest cover story special, we catch up with cinematographer Polly Morgan BSC ASC to find out about her time working alongside writer-director John Krasinski to bring Paramount Pictures' gripping horror A Quiet Place II to life.
In a fascinating interview, she discusses her creative influences for the film, the "amazingly freeing" experience of shooting on 35mm film, and the motivations behind her light choices.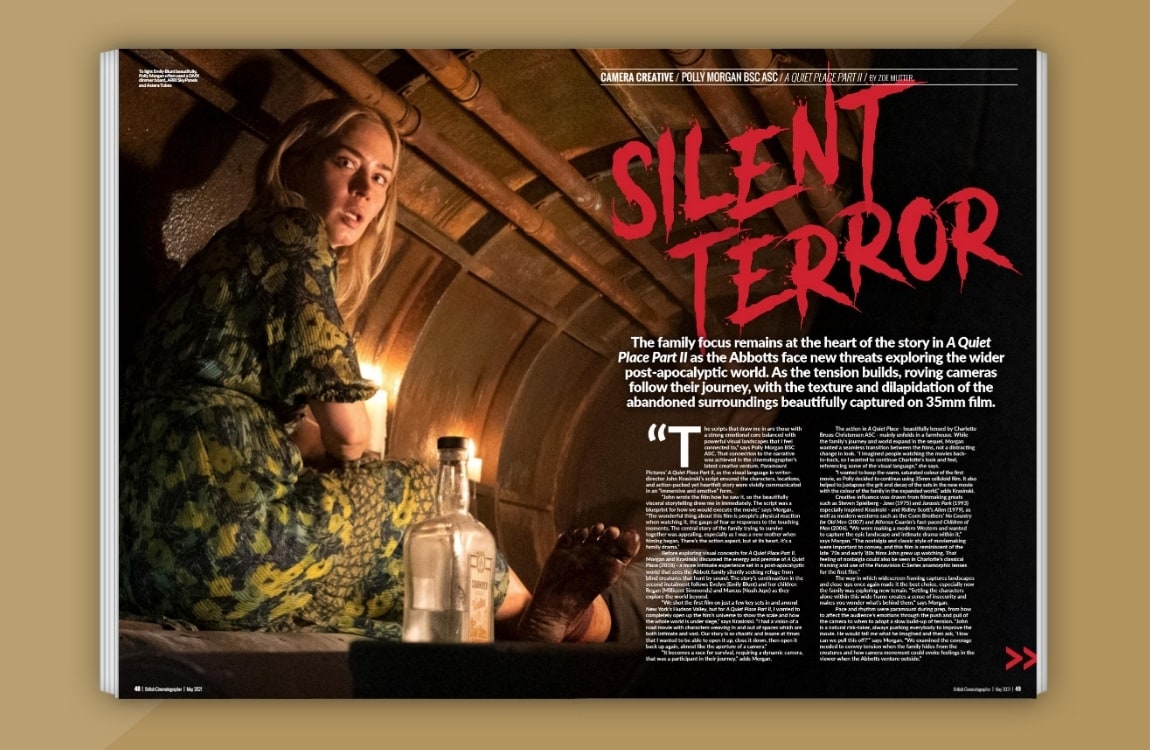 MIKE ELEY BSC ON THE DIG
Adapted for the screen by Moira Buffini, Netflix drama The Dig retells the remarkable story of the Sutton Hoo excavation back in 1938.
It was Mike Eley BSC's responsibility to capture the look of the film. He tells us all about the creative collaboration with director Simon Stone, shooting large format, and the challenge of shooting most of the film in one field.
ANGUS HUDSON BSC ON THE LIFE AHEAD
The Life Ahead – starring Hollywood icon Sophia Loren – tells the heartfelt story of a Holocaust survivor with a daycare business who takes in a young street kid who recently robbed her.
Having collaborated on short film Away We Stay in 2010, there was already a connection between cinematographer Angus Hudson BSC and Italian director Edoardo Ponti, Loren's son. Hudson reflects on his cherished experience shooting the Italian-language drama back in the summer of 2019.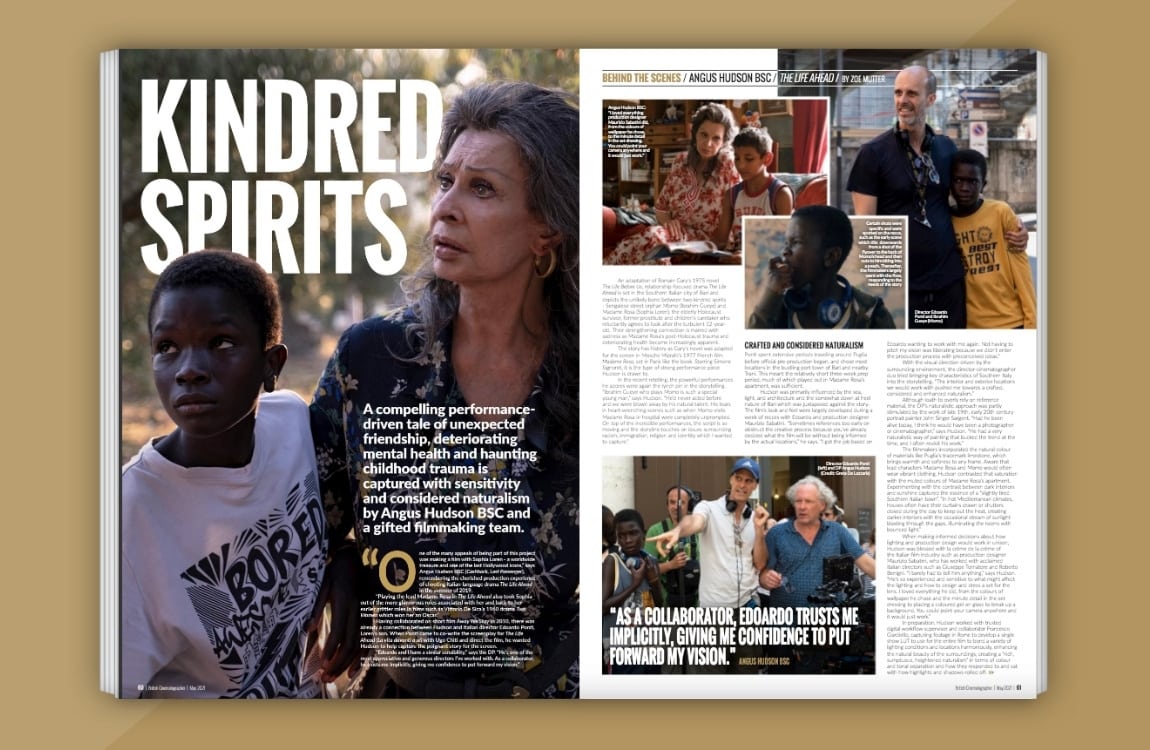 NANU SEGAL BSC ON MARVELOUS AND THE BLACK HOLE
"Magicians already know which angles work best because they're used to directing the audience to look a certain way, so I drew from their knowledge when setting up these shots."
Cinematographer Nanu Segal BSC discusses her time filming enchanting coming-of-age tale Marvelous and the Black Hole.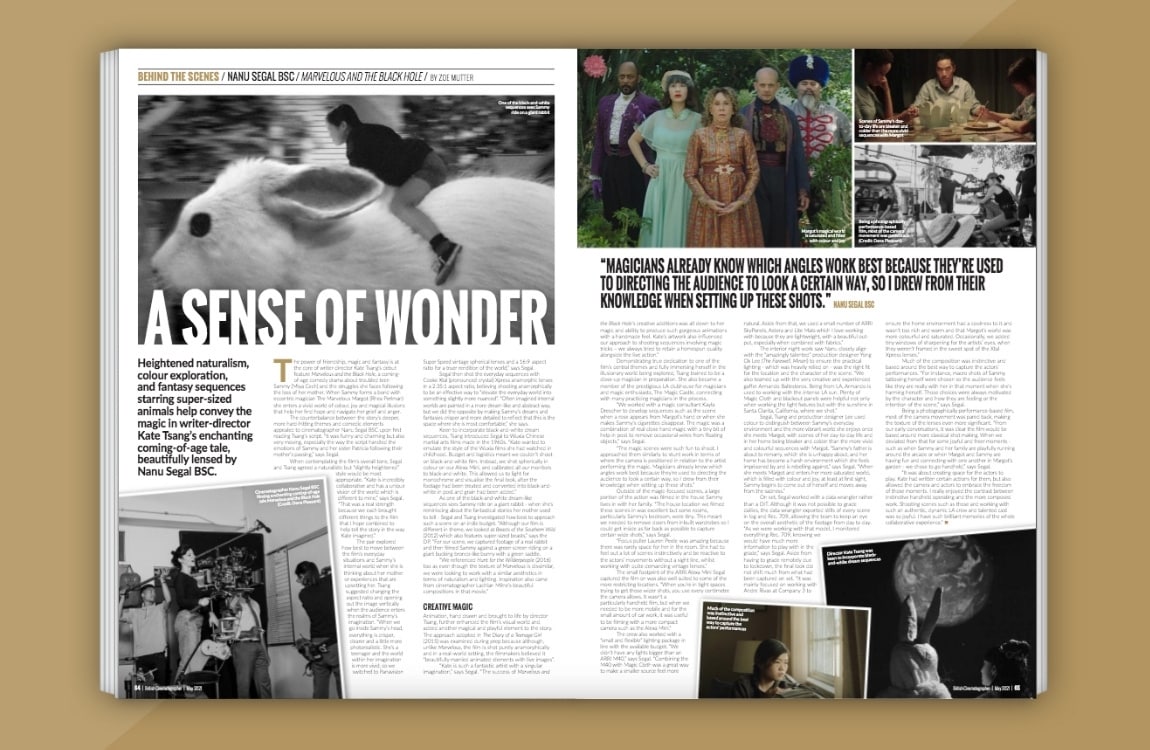 TOMMY MADDOX-UPSHAW ASC ON SNOWFALL
Based in the inner-city neighbourhoods of 1980s Los Angeles, FX's Snowfall examines the effects of the city's devastating crack cocaine epidemic. 
Cinematographer Tommy Maddox-Upshaw ASC was welcomed into the Snowfall production family to shoot season three and four. He shares his experiences lensing the hit crime drama with British Cinematographer Editor, Zoe Mutter.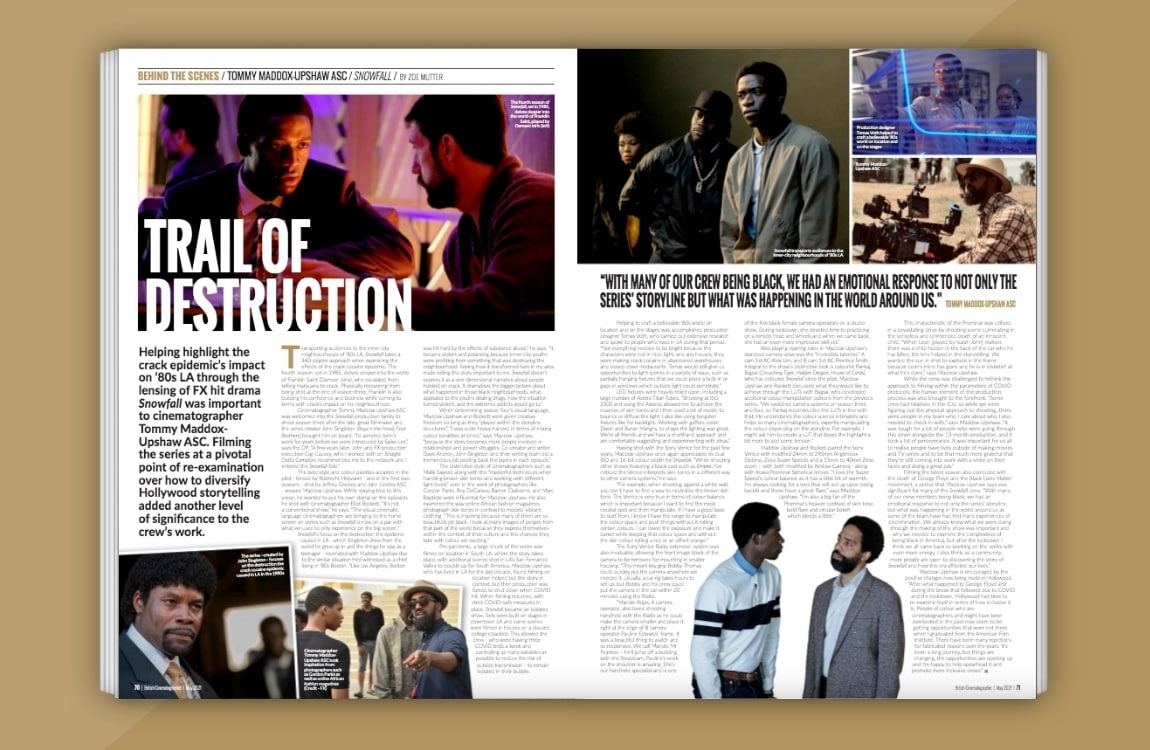 FABIAN WAGNER BSC ASC ON ZACK SNYDER'S JUSTICE LEAGUE
Batman, Superman, Wonder Woman, Cyborg, Aquaman, and The Flash, align forces in Zack Snyder's Justice League which was released on HBO Max to great acclaim earlier this year.
Fabian Wagner BSC ASC shares incredible filmmaking insight into the creation of the highly anticipated action epic.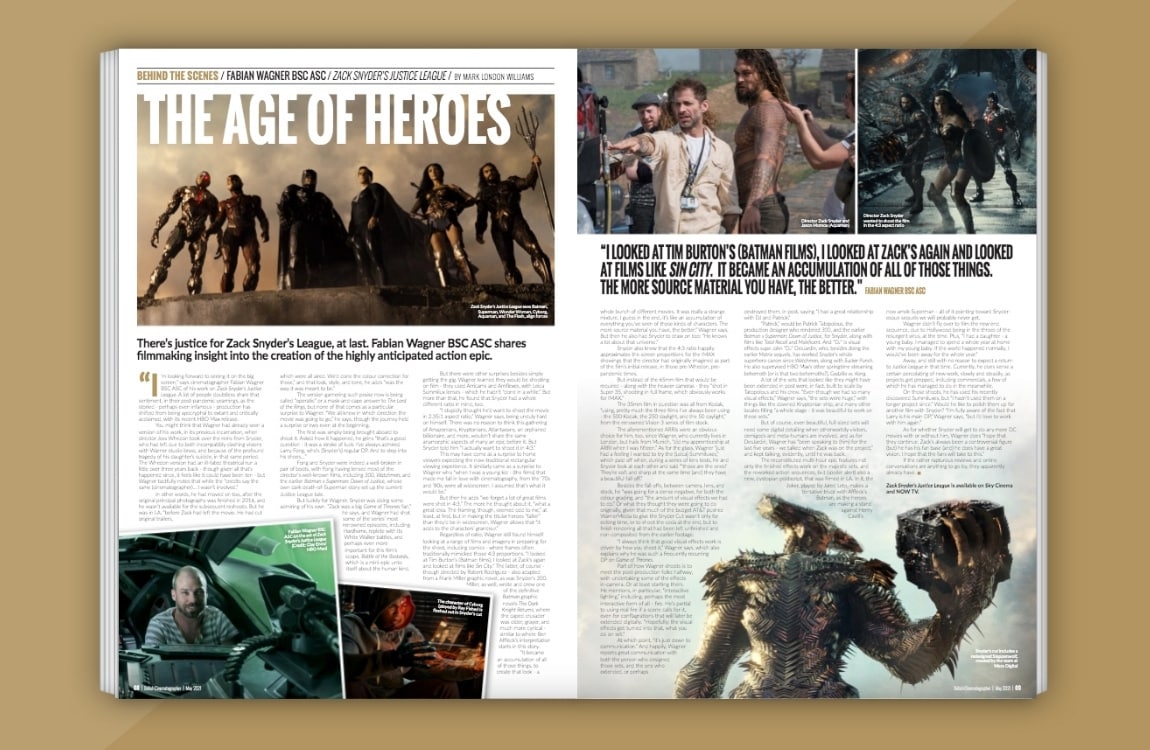 VISIONARY… ELLEN KURAS ASC
We celebrate the inspiring talent of cinematographer Ellen Kuras ASC. The supreme storyteller discusses being drawn to stories told through visual mediums and how she is fascinated by the meaning that is created in film and photography.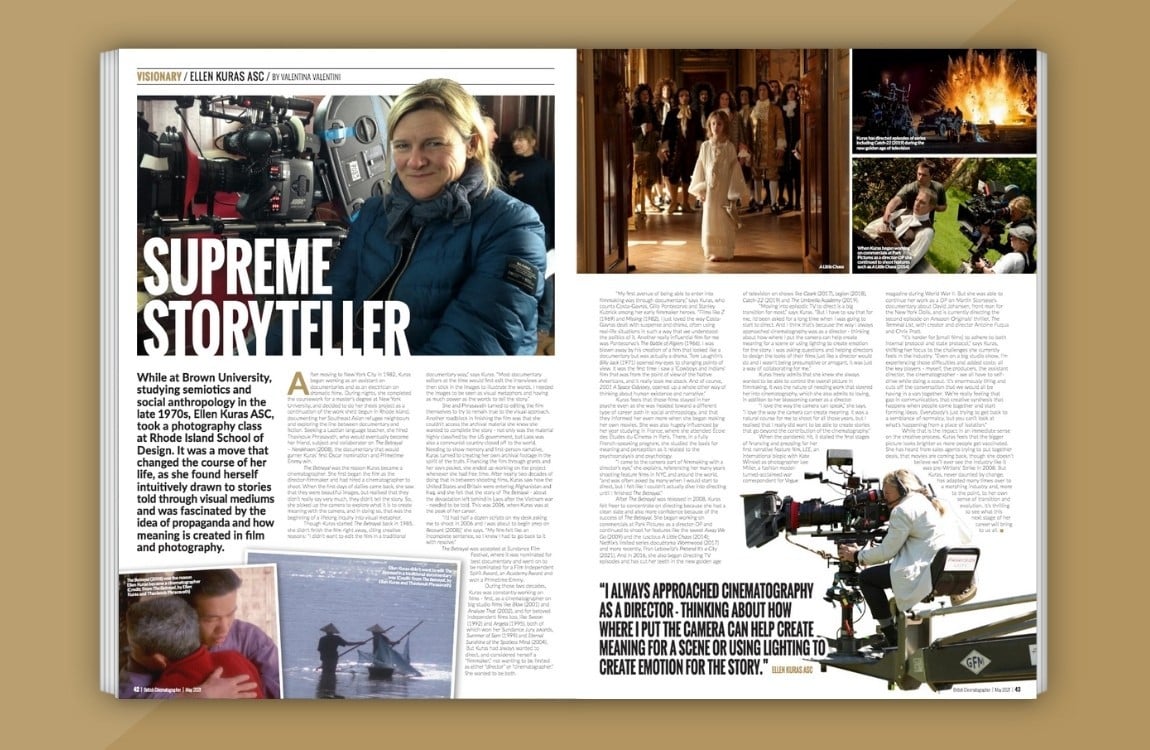 HERE'S WHAT ELSE YOU'LL FIND INSIDE OUR LATEST EDITION…
BSC President Mike Eley examines the opportunities for change and reflection and the new ways of thinking the industry can embrace in this month's edition of President's Perspective.
As IMAGO's Diversity & Inclusion Committee celebrates its five-year anniversary, its Co-Chairs Nina Kellgren BSC and Elen Lotman ESC examine how the initiative can help promote change throughout the industry.
In the latest instalment of Letter from America, Steven Poster ASC discusses how cinematographers, as storytellers, should protect the vision that develops from the first reading of a script and remain a part of the filmmaking process throughout.
In our latest edition of Cinematic Classic, Bill Pope BSC reflects on his lensing of The Matrix – a pioneer of the action sci-fi genre, famed for its innovative effects and high-concept narrative.
We explore the vibrant career of senior colourist/co-head feature colour at Company 3, Stephen Nakamura.
In our new feature, Point of View, the National Film and Television School Director Jon Wardle looks back on the evolution of the School's training offerings and the learning philosophy at its core as they mark their 50th anniversary.
We share behind-the-scenes insight into Paolo Carnera AIC's work on The White Tiger; Remi Adefarasin OBE BSC on Locked Down; Alan Stewart BSC's cinematography for Tom and Jerry; Jenna Rosher's lensing on Billie Eilish: The World's a Little Blurry; and Matthew Goodman, Erin Ranney, and Mark Sharman share their experiences of shooting wildlife documentaries.
We also look back at this year's BSC Awards, reflect on 70 years of the Operators Awards, and cinematographer Ben Moulden is the focus in Meet the New Wave.
There's also our comprehensive rundown of what DPs are currently shooting, plus much, much more!
Digital and Print & Digital Subscribers can read our 105th edition from Friday 7th May by clicking here.
Print subscribers* will receive their copies in the post within the next fortnight.
Not a subscriber yet? Don't worry – you can get your annual subscription now from just £30 ($39) by clicking here.
*Issue 105 will only be received in printed format by those with an active 'Print' or 'Print & Digital' subscription purchased before 4th May 2021. Any new 'Print' or 'Print & Digital' subscription purchases made from 4th May 2021 onwards will NOT receive this issue in print as part of their purchase.