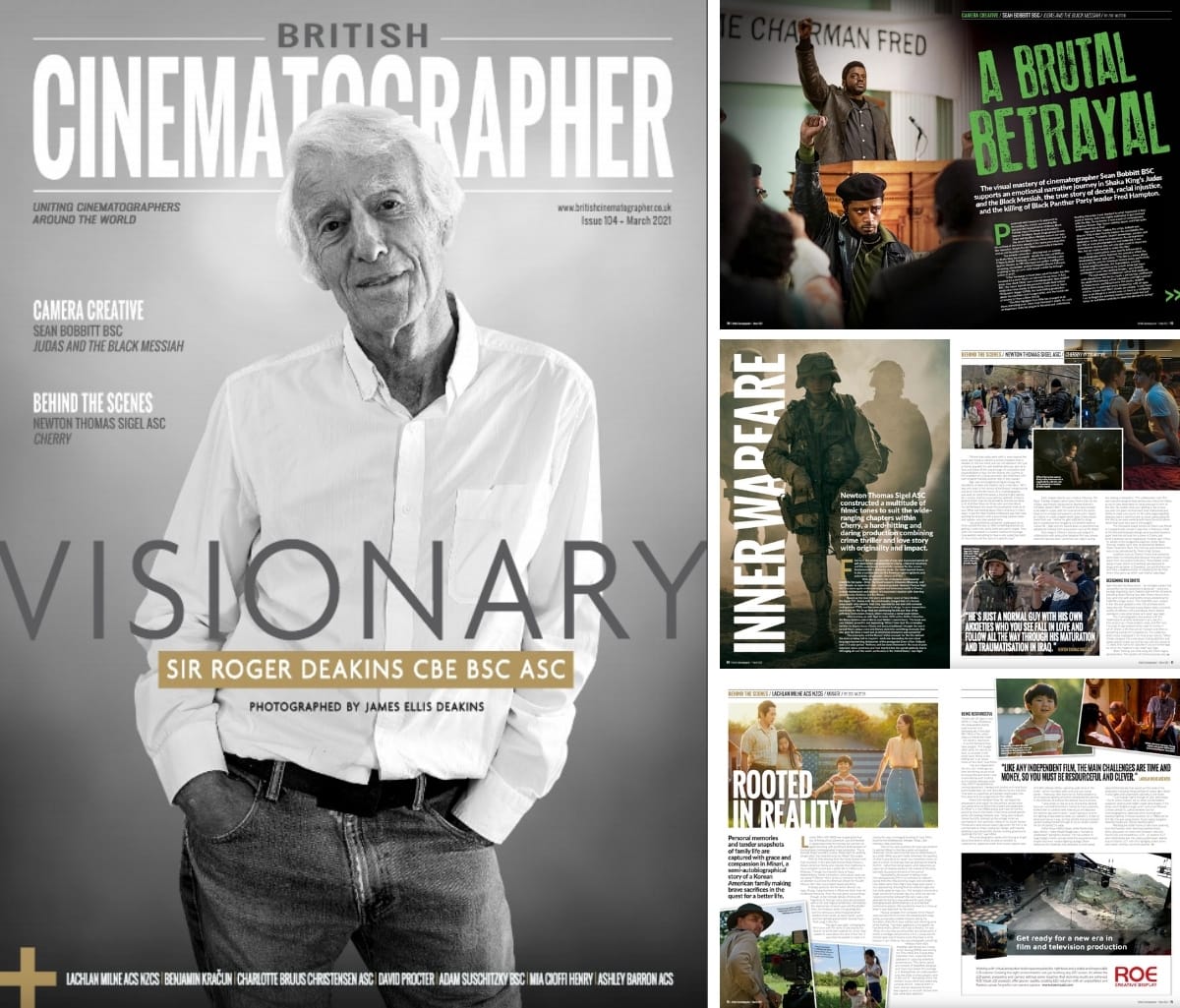 We're very excited to announce that the March 2021 issue of British Cinematographer is almost here! You can find out more about just some of the exclusive interviews and articles you can expect to find inside this incredibly special edition now by reading on…

ON THE COVER… SIR ROGER DEAKINS CBE BSC ASC

In our extraordinary cover story special, we talk to the two-time Academy Award winner Sir Roger Deakins CBE BSC ASC about his truly remarkable life and career. In this not-to-be-missed interview, the master craftsman shares his valuable insights and discusses his filmmaking highlights, creative influences, and a long-standing passion for collaboration.
Following his recent knighthood, we also catch up with frequent collaborators, fellow cinematographers, key industry figures and friends who share memories of working with the legendary cinematographer and reflect on the impact his work has had.
And that's not all! In our latest issue, we debut our brand-new Masterclass section and, of course, it's only fitting that a master cinematographer should kick off proceedings. In the first installment of our new feature, Sir Roger shares insights into a selection of scenes from his vast filmography.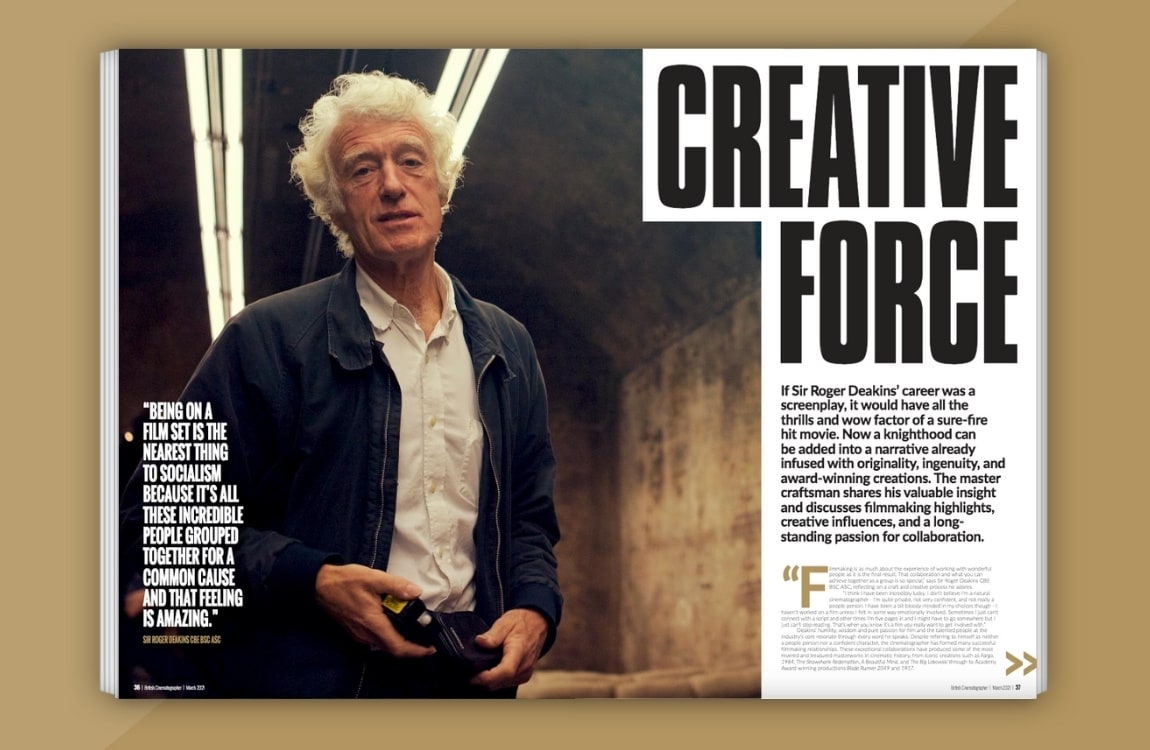 SEAN BOBBITT BSC ON JUDAS AND THE BLACK MESSIAH
Warner Bros. Pictures' biographical drama Judas and the Black Messiah tells the true story of deceit, racial injustice, and the killing of Black Panther Party leader Fred Hampton.
Sean Bobbitt BSC shares his experiences working alongside director and co-writer Shaka King, pairing the ARRI Alexa Mini LF with ARRI DNA LF lenses to capture the film's rich tapestry, and lensing the technically demanding shootout scene.
NEWTON THOMAS SIGEL ASC ON CHERRY
Based on the true-life story and debut novel of Nico Walker, the Apple TV+ drama Cherry tells the tale of a former army medic who returns from Iraq, haunted by war and with extreme undiagnosed PTSD and becomes addicted to drugs.
It was the role of Newton Thomas Sigel ASC to lense the emotionally charged story. He discusses working in collaboration with directing powerhouses Anthony and Joe Russo once again, shooting with the Sony VENICE, and constructing a multitude of filmic tones to suit the wide-ranging chapters within the film.
LACHLAN MILNE ACS NZCS ON MINARI
It was the responsibility of Australian cinematographer Lachlan Milne ACS NZCS to capture the look on Minari, the semi-autobiographical story of a Korean American family making brave sacrifices in the quest for a better life.
Milne tells us how he immediately fell in love with the heartfelt story and how he and a small, dedicated crew resourcefully worked to bring the film to life despite time and money challenges.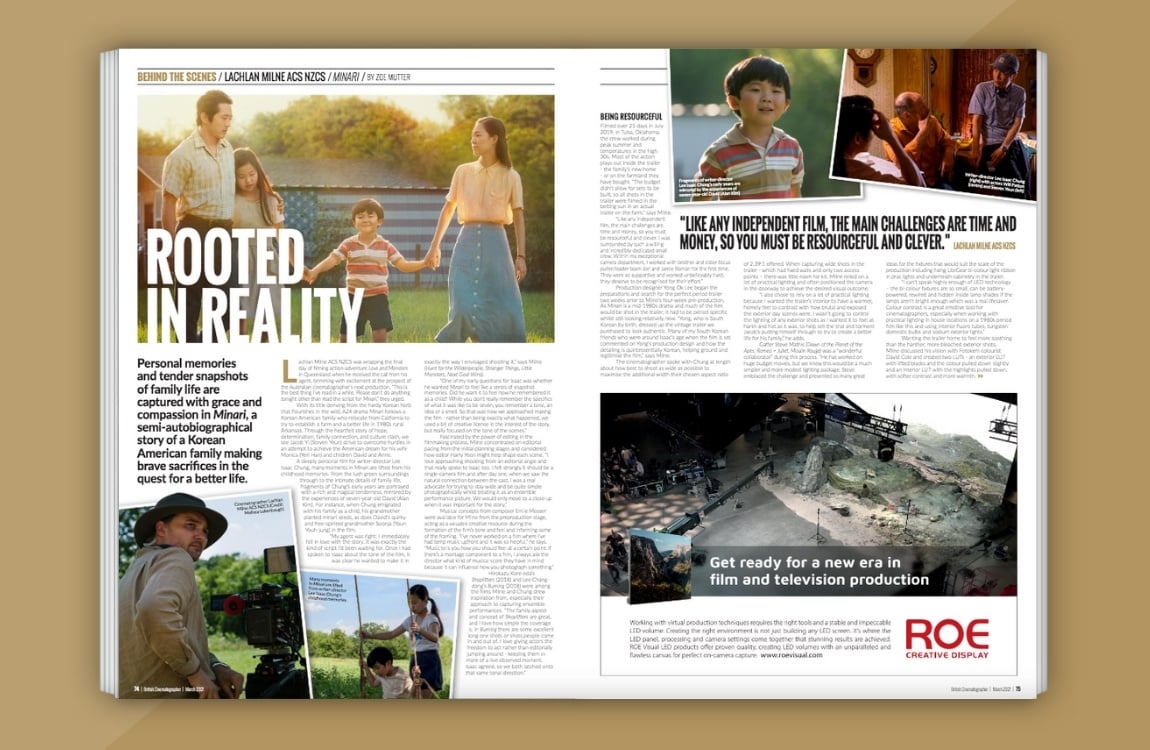 CHARLOTTE BRUUS CHRISTENSEN ASC ON BLACK NARCISSUS
Cinematographer Charlotte Bruus Christensen ASC ventured into directorial territory for the first time when making three-part mini-series Black Narcissus – the BBC, DNA Films and FX co-production based on Rumer Godden's 1939 novel.
Zoe Mutter caught up with her in a fascinating interview in which she shares her references for the film, discusses the challenges of shooting at almost 4,000 feet in the mountains of Nepal, and adopting delicate camera movements to tell a story of stifled desires.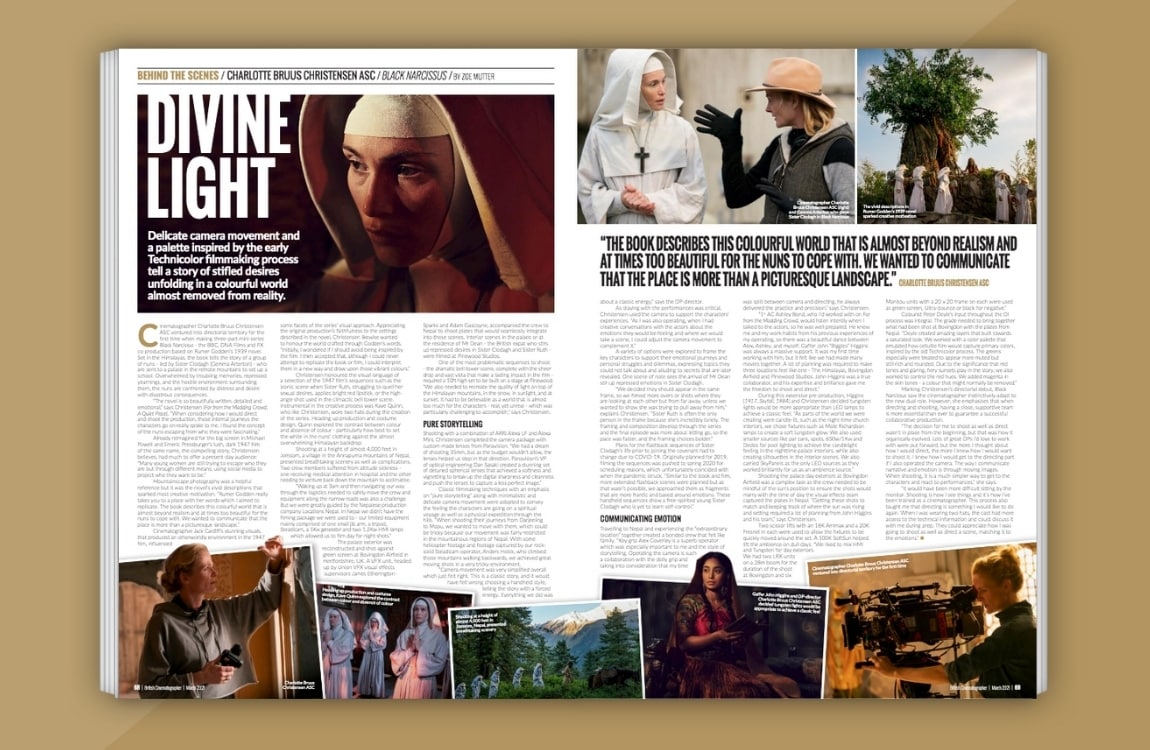 JUNIOR AGYEMAN-OWUSU… MEET THE NEW WAVE
Up-and-coming UK camera op/Steadicam® operator and associate member of ACO, Junior Agyeman Owusu, has been making waves in the production community.
He discusses his biggest inspirations, career highlights so far, and the challenges he overcame on his most recent production.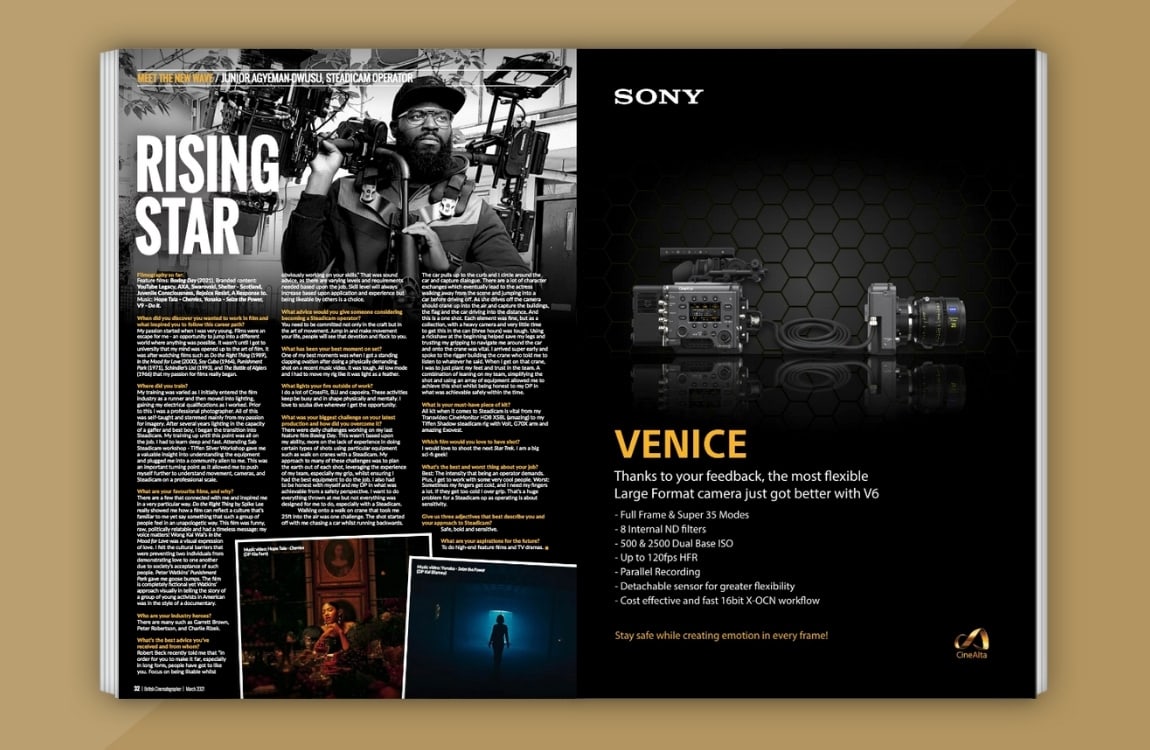 HERE'S WHAT ELSE YOU'LL FIND INSIDE OUR LATEST EDITION…
BSC President Mike Eley BSC discusses the BSC's Diversity & Inclusion Committee's objectives and the influence the society can have in creating a more inclusive industry to ensure talent is recognised in our latest edition of President's Perspective.
IMAGO's Interim Chair Ron Johanson OAM ACS outlines the collaborative spirit encouraged by the federation and the importance of supporting fellow cinematographers through both highs and lows.
In the latest installment of Letter From America, David Heuring examines the impact of the pandemic and streaming on the theatrical experience and highlights the power that can only be achieved on the big screen.
With the help of David Johnson BSC, we look back at Alien, the film that defined Derek Vanlint CSC's career in our second installment of Cinematic Classic.
In our all-new feature, Point Of View, we ask sustainability experts and filmmakers what actions need to be taken for the industry to transition to zero carbon emissions by 2050.
We talk to Benjamin Kračun about Promising Young Woman; David Procter about Black Beauty; Adam Suschitzky BSC and director Samuel de Ceccatty discuss Adrift; Ashley Barron ACS shares insight into the lensing of The Tailings; and Mia Cioffi Henry explores the productions processes behind Superior.
We also shine a light on gaffer John Attwood, Tania Hoser speaks to three fellow illuminatrix cinematographers about their process of turning visual concepts into cinematic reality, and we provide a roundup of some of the latest UK studio developments and the role they will play in the future of filmmaking.
There's also our comprehensive rundown of what DPs are currently shooting, plus much, much more!
Digital and Print & Digital Subscribers can read our 104th edition from Monday by clicking here.
Not a subscriber yet? Don't worry – you can get your annual subscription now from just £30 ($39) by clicking here.
LIMITED TIME OFFER: Purchase a Print or Print & Digital subscription before 4th May 2021 and receive 7 copies of our award-winning publication for the price of six including this very special 104th edition (print copies of the 104th edition will be delivered in the post in May 2021 along with our 105th issue).